Thai family of three are focus of local coronavirus outbreak in northern Bangkok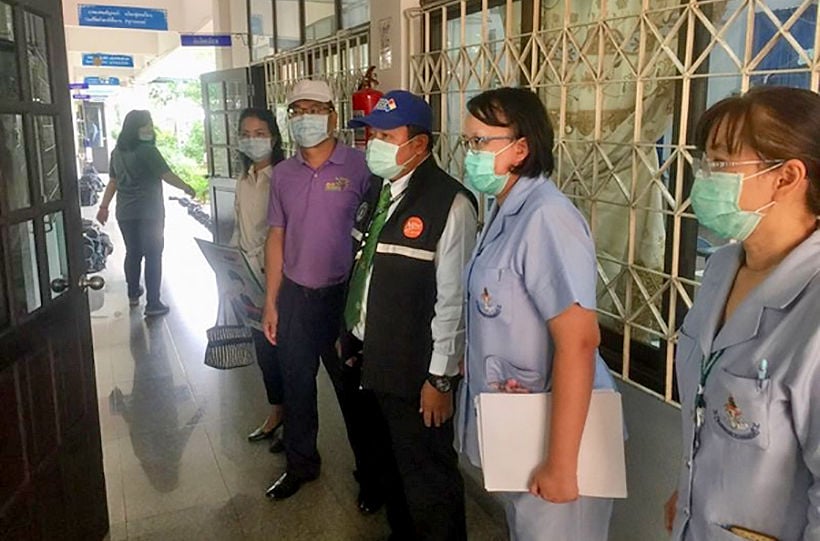 UPDATE
Three worrying new Thailand coronavirus cases are being reported as coming from the same family. A 65 year old man, the grandfather in the family, had returned from Japan with his wife but didn't disclose his situation or travel history to health workers when he took himself to hospital with a fever. The grandfather tested positive and his workplace, B.Care Medical Centre in Bangkok's Sai Mai district, has been closed down. The grandson, who is also confirmed as being infected by the virus, potentially infected 50 children in his classroom and possibly more at his school.
Officials quizzed and tested 30 students and 11 teachers at Phraharuthai Donmuang School in Bangkok's Don Meuang district who had had contact with the man's grandchild. They were advised to quarantine themselves at home for 14 days. The school's other 100 students were asked to avoid public activities and crowded places.
Meanwhile the Thai health ministry is asking Thai people not to be tempted by cheap flights "but travel within Thailand instead". The spokesman claims "that a cheap holiday could turn into an expensive problem". He said at-risk countries include China, Macau, Hong Kong, Taiwan, South Korea, Singapore, Italy, Iran & Japan.
And TMB Thanachart bank is confirming this afternoon that a family member of an employee of the Don Mueang branch has tested positive for coronavirus. The bank says the branch is closed for disinfecting "because the grandfather's son works there". The son is also now in self-quarantine, according to The Nation and The Nation.
(In this latest update there are confusing alternative reports which have reported the grandson as a granddaughter, and various branches of banks included in the reports. The Thaiger will try and clarify the confusion as soon as possible.)
EARLIER STORY
Two new coronavirus (Covid-19) cases have been confirmed in Thailand, bringing the total number of cases to 37. Of these, 22 have made full recoveries. The new cases are a 31 year old woman whose relative had visited Guangzhou, China, and a 29 year old driver who chauffeured Chinese tourists.
Sukhum Kanchanapimai, permanent secretary for public health, says the woman is a maid and was initially diagnosed with pneumonia of unknown cause. Later, doctors learned she had a relative who'd returned from Guangzhou. She is now being treated at Rajavithi Hospital.
The man showed up with fever and a cough after being in close contact with Chinese tourists, and was admitted to Bamrasnaradura Infectious Diseases Institute in Nontha Buri province just west of Bangkok. Health officials are investigating whether friends and family of the patients are also infected.
"We found more confirmed cases because the Public Health Ministry improved its surveillance on February 18, increasing the number of countries, visitors and provinces under close watch."
The good news, Sukhum says, is that another coronavirus patient has fully recovered and been discharged in Krabi. The patient was a 32 year old Chinese woman who had landed in Bangkok before Wuhan airport was locked down. He said that of the 37 confirmed cases, 22 (60%) have been discharged, 12 of whom were Thai.
1,580 patients have so far been "under investigation." Of these, 1,160 were diagnosed with influenza and discharged under monitoring. The other 420 remain in hospital.
SOURCE: Bangkok Post
Keep in contact with The Thaiger by following our
Facebook page
.
The post-Covid-19 era: Radical changes in Bangkok's property market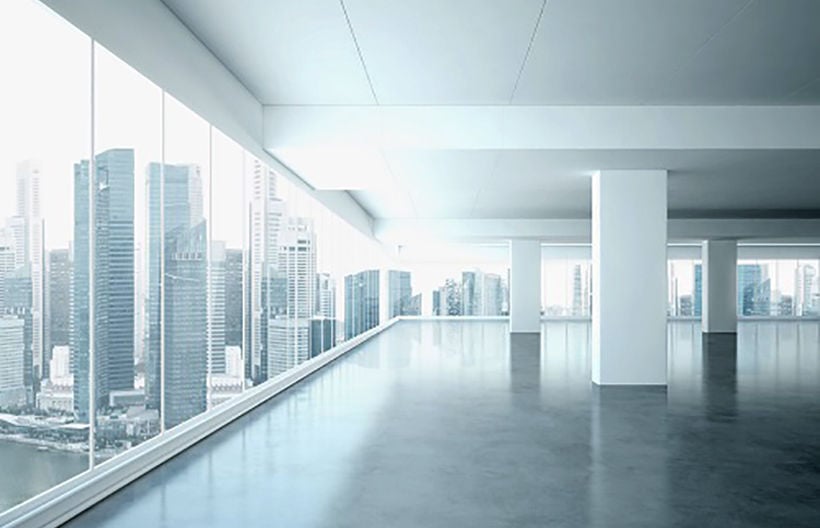 Property consultants CBRE have come up with their own evaluation of the current Bangkok office market, already getting pounded by regional trends and a high baht, now suffering another challenge – the Covid-19 coronavirus outbreak. They report that this situation will "create another split in our historical timeline – pre and post Covid-19" in Thailand.
"At present, people are talking about how a 100 year event like the Covid-19 global outbreak will affect Bangkok property," says CBRE property consultants.
"For many years now, companies have been exploring remote work or work-from-home strategies to either minimise costs or cope with the changes of Millennial behaviour during the pre-Covid-19 period. At this time, almost every company, even those who are underprepared, is being forced to undertake this new way of working without a choice," according to Ms. Roongrat Veeraparkkaroon, Head of Advisory & Transaction Services, CBRE Thailand.
Companies are experimenting a work-from-home policy and perceive an opportunity that it could work when applied to certain business functions and set the right balance between empowering and monitoring teams. This could mean that the future workplace will have a combination of agile workplaces which could be a permanent office as well as work-from-home, and co-working space.
The outbreak is acting as a catalyst that will give a company a clear view whether its remote working policy, which it has been considering, works. Once businesses realise what platform or infrastructure they are missing to support remote work, tech services companies will be one of the first beneficiaries after the storm has passed.
"Many organisations will be looking for satellite offices and cloud-based platforms as a Business Continuity Plan to ensure their businesses will not go dark if their headquarters could not be accessed. Co-working space will be one of the best choices in this case as the company can rent space on demand only when needed. However, in the post-Covid-19 world, co-working space operators will need solid measures to satisfy users that their space are safe and well-prepared."
CBRE found that while some hotels in Bangkok have decided to shut down during the lockdown period as occupancy rates were in a single-digit level, some organisations have been renting meeting or conference rooms within hotels for weeks to be their backup meeting space when needed.
"Agile workplace has been a hot topic in the pre-Covid-19 world, where collaboration and engagement are encouraged. Initially, agile workplace might sound like a high-risk option for companies at this time; however, as the name suggests, agile workplace or Activity Based Work areas can be easily reconfigured to support social distancing strategies and split teams within offices. Paperless office makes this transition even more seamless."
In a bigger picture, CBRE Research witnesses many office developments in Bangkok will be delayed as construction activities are halted or postponed as developers take a more defensive stance to assess the situation on a daily basis.
It is also possible that development plans will be revised to make projects more appealing in the Post-Covid-19 era with better property management system, air filtration (as PM2.5 still lingers in the Bangkok skyline) or a well-thought-out BCP to support the tenants.
"Agile and adaptive will be key words in the post-Covid-19 office market, not only to increase efficiency of a workplace but to prepare a business for any unforeseen changes that could occur in the future."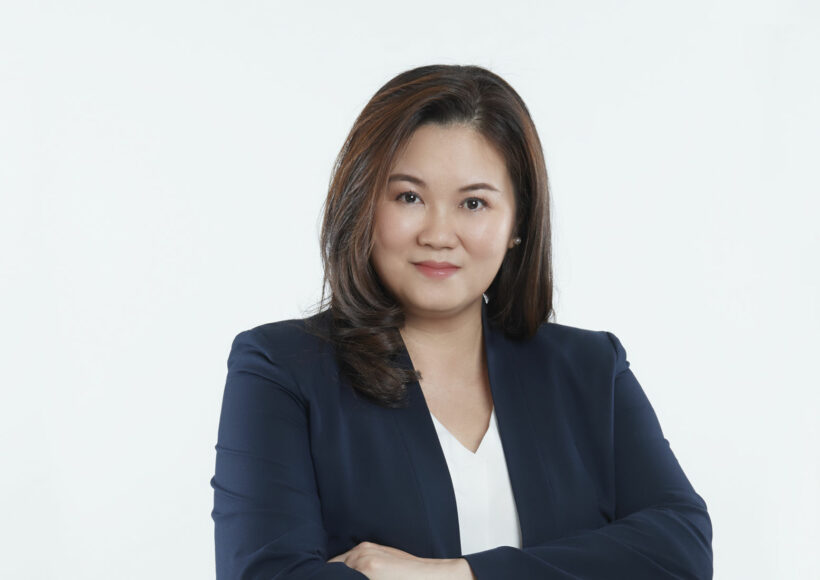 PHOTO: Ms. Roongrat Veeraparkkaroon, Head of Advisory & Transaction Services, CBRE Thailand – CBRE
Keep in contact with The Thaiger by following our
Facebook page
.
Summer storm warning for 55 of Thailand's 76 provinces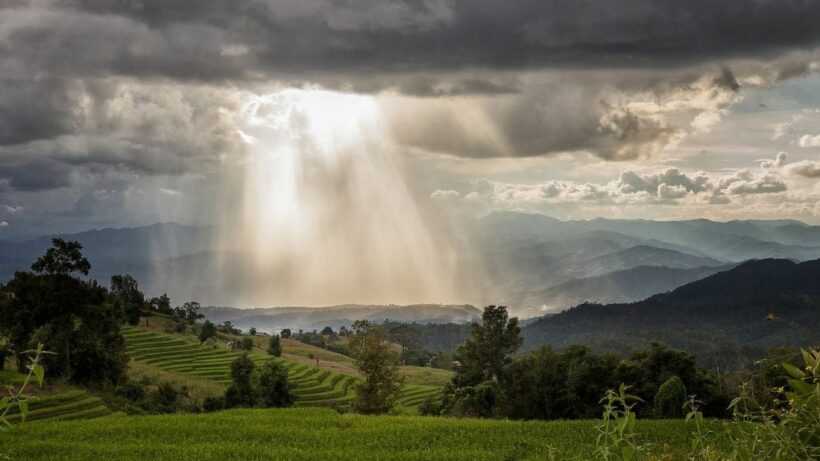 Today Thailand's Meteorological Department warned people in 55 northern, north-eastern, central and eastern provinces to prepare for possible "strong winds and hail from summer storms", that are expected through until Sunday. This time of the year is also know as the bridging season between the annual dry and wet seasons. Weather can be unsettled in parts of thailand during this time.
According to the forecast, the storms are due to the convergence of southerly and south-easterly winds, driven by the cold front over Vietnam, Laos and the South China Sea, and the increasingly warm weather over northern Thailand.
Summer storms, some severe, could affect the following provinces from today…
Nan
Phrae
Uttradit
Tak
Kamphaeng Phet
Sukhothai
Phitsanuloke
Phichit
Phetchabun
Loei
Nong Bua Lamphu
Nong KhaiBung Karn
Udon Thani
Sakhon Nakhon
Nakhon Phanom
Chaiyaphum
Khon Kaen
Kalasin
Muk Dahan
Maha Sarakham Roi-et
Yasothon Amnat Charoen
Nakhon Ratchasima
Buri Ram
Surin
Si Sa Ket
Ubon Ratchathani
Nakhon Sawan
Lop Buri
Saraburi
Ayutthaya
Bangkok
Nakhon Nayok
Prachin Buri
Sa Kaew
Chachoengsao
Chon Buri
Rayong
Chanthaburi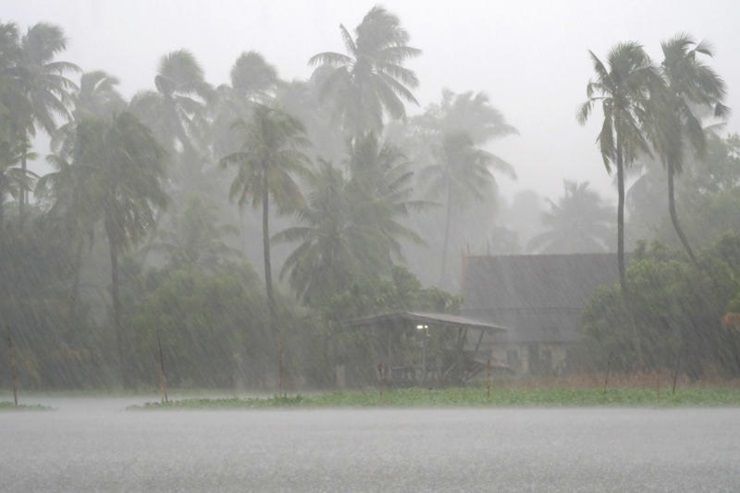 On Saturday and Sunday, the storms are forecast in:
Chiang Mai
Lamphun
Lampang
Phayao
Phrae
Uttradit
Sukhothai
Tak
Kamphaeng Phet
Phitsanuloke
Phichit
Phetchabun
Roi-et
Loei
Nong Bua Lamphu
Nong Khai
Bung Karn
Udon Thani
Sakhon Nakhon
Nakhon Phanom
Muk Dahan
Chaiyaphum
Kalasin
Khon Kaen
Maha Sarakham
Roi-et
Yasothon
Amnat Charoen
Nakhon Ratchasima
Buri Ram
Surin
Si Sa Ket
Ubon Ratchathani
Uthai Thani
Nakhon Sawan
Lop Buri
Chainat
Ang Thong
Sing Buri
Saraburi
Ayutthaya
Bangkok
Nakhon Nayok
Prachin Buri
Sa Kaeo
Chachoengsao
Chon Buri
Rayong
Chanthaburi
Trat
The weather department says people should beware of severe weather and keep off unsecured buildings and wilderness areas. Farmers should beware of crop damage. Ships at sea should proceed with caution and watch the forecast in their area..
SOURCE: Thai PBS World
Keep in contact with The Thaiger by following our
Facebook page
.
Bangkok Airways cancels all domestic flights from April 7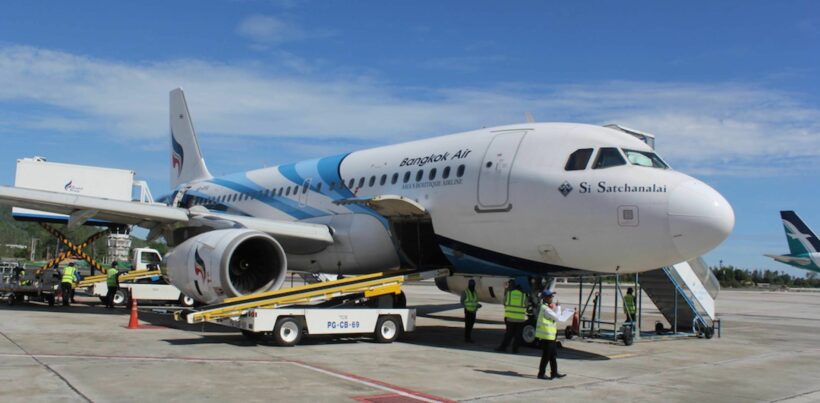 Bangkok Airways has announced today that they will cancel all it domestic flights from April 7 – 30. The company's vice president, Tresarum Sitakalin says the flights that are being cancelled are…
Bangkok – Chiang Mai
Bangkok – Phuket
Bangkok – Trat
Bangkok – Sukhothai
Bangkok – Samui
Samui – Phuket
"The company had previously decreased flight frequencies on these routes and also using some of their smaller ATR aircraft instead of their Airbus 320 aircraft."
"From April 7 onwards until April 30, we will cancel all flights."
Requesting for a refund can be done at www.bangkokair.com/refund or contact their ticketing offices at +662 270 6699 or Bangkok Airways Call Centre on 1771 . For passengers who purchased their tickets through travel agencies, please contact their travel agency directly.
SOURCE: The Nation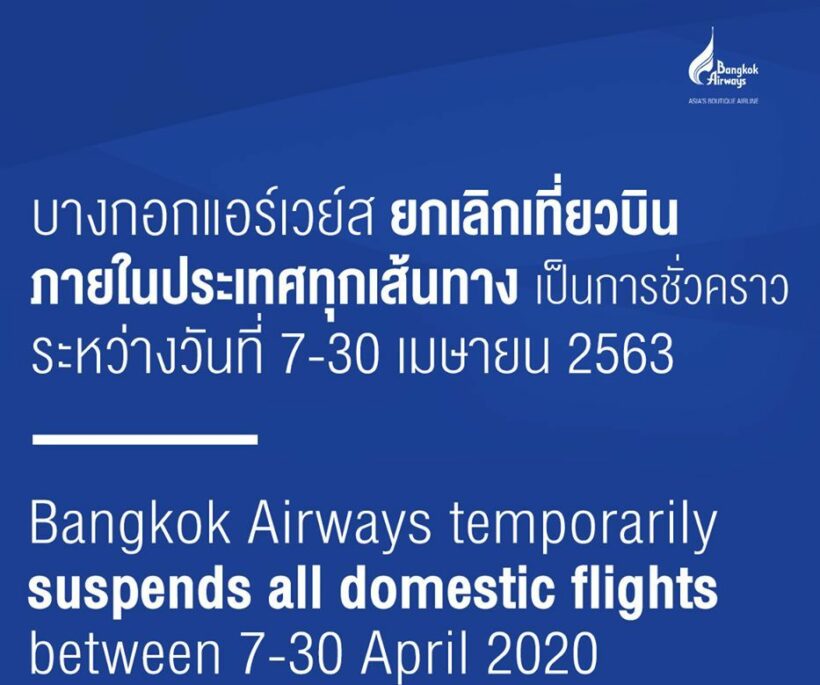 Keep in contact with The Thaiger by following our
Facebook page
.