Second locally produced Covid-19 vaccine proves effective in monkey trials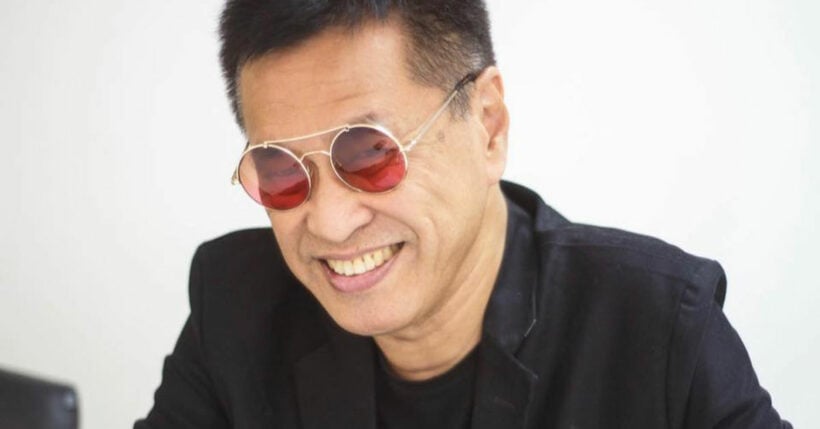 A doctor at Chulalongkorn University yesterday announced that announced tests of a new locally produced Covid-19 vaccine on monkeys have proven successful. The head of the Thai Red Cross Emerging Infectious Disease Health Science Centre, Dr Thiravat Hemachudha, says the latest vaccine, which uses proteins from tobacco leaves, was been tested on mice and monkeys with satisfactory results and will now go through a purification process before being tested in humans. The vaccine is developed by a Thai company named "Bai Ya".
"This vaccine is not the same as the one being developed by physicians at Chulalongkorn University's Faculty of Medicine. This vaccine, made with proteins from a special type of tobacco leaf, is easy and cheap to produce, even at an industrial scale. Also, there will be no patent-related problems with this approach."
Thiravat explained that the vaccine is made by integrating the virus' DNA into tobacco leaves. The plant responds to the DNA and produces proteins about a week later, which are extracted to make the vaccine. Thiravat says the vaccine not only produces antibodies but can also stimulate cells to produce antibodies themselves when meeting the same virus.
According to the doctor, Bai Ya is in talks with the National Vaccine Institute to see whether it's ready to collaborate in the purification process of the potential vaccine.If the NVI agrees, the drug will be ready for human trials in 3 months. If not, a new factory will have to be built, delaying human trials by 9 months.
After human trials, the vaccine's manufacturing at an industrial scale could take place quickly, Thiravat says. He added that tobacco leaves can be grown to produce over 10 million doses of the vaccine in a single month.
The vaccine is expected to be effective with Covid-19 and other seasonal and emerging infectious diseases as well.
But, Thiravat pointed out, there are not enough Covid-19 patients in Thailand for human trials, and that side effects must be considered.
SOURCE: Bangkok Post
Keep in contact with Thaiger by following our Facebook page.
Never miss out on future posts by following Thaiger.
Bang Lamung Hospital is full, province using field hospitals and ASQ hotels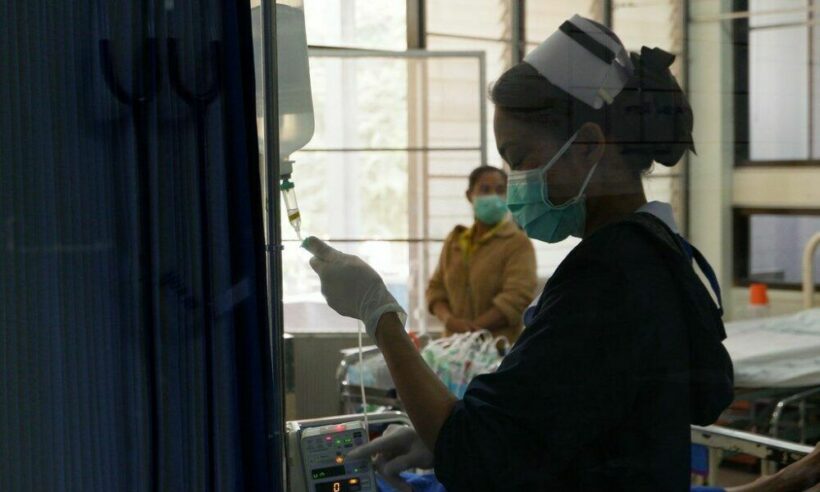 A spokesperson from the Bang Lamung Hospital in Pattaya says that all the beds put aside for Covid patients are now full and doctors are now having to refer newly infected people to Sattahip where the Navy have set up a field hospital. They're also referring some patients to ASQ hotels.
The hospital said they had put aside 30 ward beds and 12 private rooms for Covid-infected patients but the beds had already been taken up following up to 500 people seeking tests at the hospital each day.
Chin Buri has reported another 97 infections today, about the same as the rest of this week. That makes the total in the province to 807 since the start of the month.
Confirmed by the government earlier this week, Thailand hospitalises everyone who tests positive. Or, alternatively they are sent to a field hospital or the government's quarantine facilities where Thais were given free quarantine when they repatriated back to Thailand over the past year.
But the current upsurge of new infections being discovered in Chon Buri, and the rest of the country, is putting a strain on facilities. Some people who have tested positive are even being sent to ASQ hotels where the hospitals had used up their quota of available beds.
Public health officials in Chon Buri are currently urging people who are not considered 'at risk' to avoid hospitals at this time to allow faster processing of people who are considered at risk.
Keep in contact with Thaiger by following our Facebook page.
Never miss out on future posts by following Thaiger.
Covid UPDATE: New cases rise to 1,543, DDC recommends work from home in red zone areas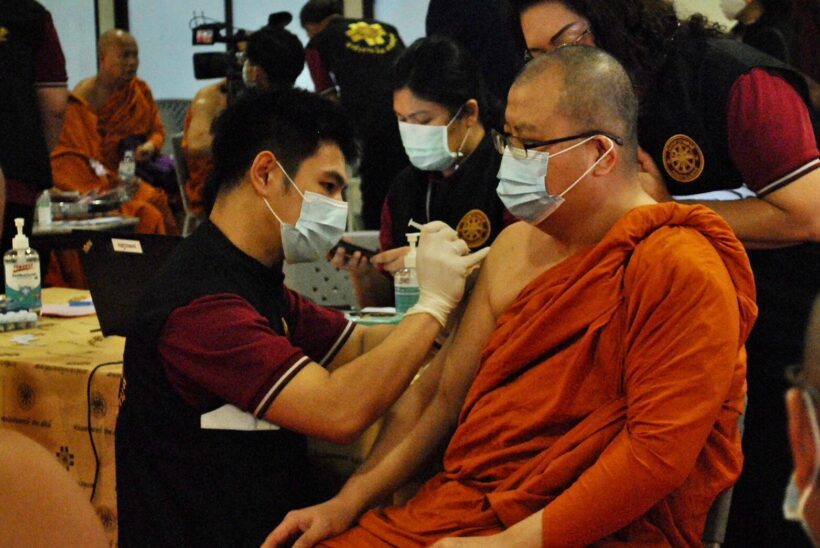 Thailand's Covid-19 infections are still on the rise, with the Kingdom reporting 1,543 new infections in the last 24 hours. Only 3 of those are imported with 1,540 being cases of community transmission. Thailand has now recorded 37,453 infections. 8,973 patients are receiving hospital treatment, 41 of whom have pneumonia.
11 people are currently in a serious condition on ventilators.
1,540 were community cases, most from the hot zone of Bangkok with 409 new infections. Chiang Mai had 278 new cases, Prachuap Khiri Khan 98 and Chon Buri (including Pattaya) 98.
UPDATE: Dr Chawetsan Namwat, the acting director for emergency health at the Department of Disease Control, says that people will need to consider working from home for 2 weeks if they live in a red zone area.
He said that it may be necessary to increase restrictions further to mitigate the upward trajectory of Covid-19 that is expected to rise after Songkran. Those red zone areas include Bangkok, Chiang Mai, Chon Buri, Samut Prakan, Narathiwat, Prachuap Khiri Khan, Samut Sakhon, Pathum Thani and Sa Kaeo.
"To reduce risks, people should work from home after the Songkran festival."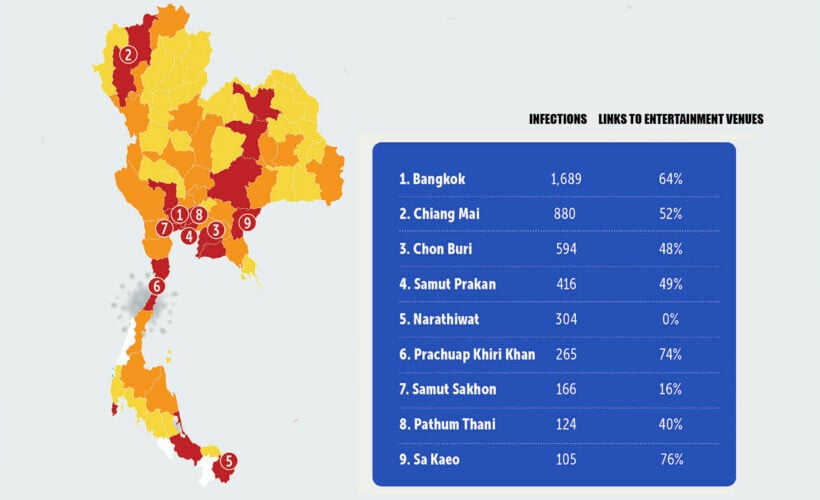 Here's the trajectory of the outbreak since April 1…
April 1 – 26 infections
April 2 – 58 infections
April 3 – 84 infections
April 4 – 96 infections
April 5 – 194 infections
April 6 – 250 infections
April 7 – 334 infections
April 8 – 405 infections
April 9 – 559 infections
April 10 – 789 infections
April 11 – 967 infections
April 12 – 985 infections
April 13 – 965 infections
April 14 – 1,335 infections
April 15 – 1,543 infections

Keep in contact with Thaiger by following our Facebook page.
Never miss out on future posts by following Thaiger.
Bangkok officials issue advice for Covid contacts required to self-isolate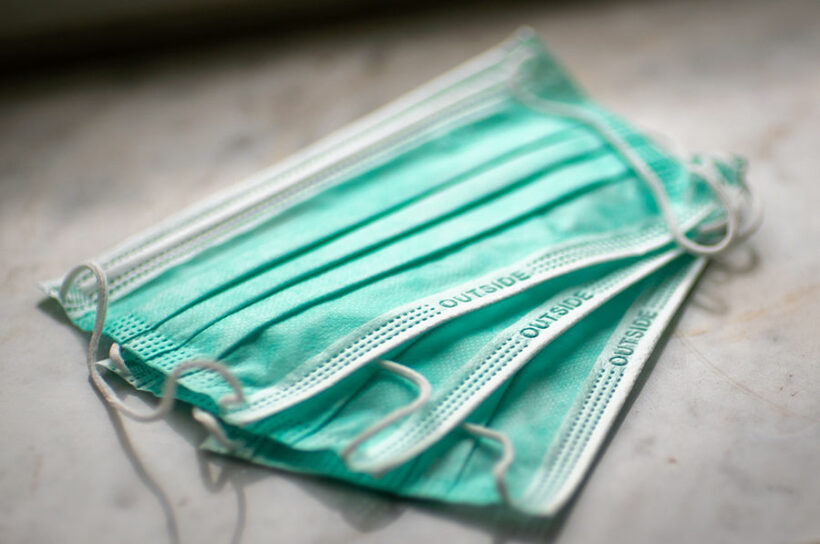 The governor of Bangkok says anyone who has had contact with a Covid-19 patient must self-isolate for 10 days, the incubation period for the virus. Nation Thailand reports that Governor Aswin Kwanmuang has issued advice for those self-isolating, saying they must adhere to the following 4 steps.
1. Sleep in a separate room to other residents
2. Do not eat with other people living in the house
3. Separate trash, as garbage used by a potentially infected person can be a source of transmission
4. Use a separate bathroom where possible. If not possible, the potentially infected person should be last to use the bathroom, washing sinks and the toilet seat after each use
The governor says people who live alone in a house or condo can use a food delivery service, but must wear a mask while in the presence of food delivery workers, as well as washing their hands regularly. Condominium residents must advise the building manager that they are self-isolating and avoid using common areas such as elevators.
Masks should be worn at all times indoors and all residents should observe social distancing while in common areas. Building managers are responsible for instructing residents to observe disease prevention measures and should also undertake regular disinfection of common areas and manage potentially infectious waste appropriately.
Nation Thailand lists the following numbers for those who need further medical advice.
Covid-19 situation at the Bangkok Health Office Hotline (02) 203 2393 or (02) 203 2396 or (02) 203 2883 and (02) 245 4964 (24 Hours)
BKK COVID-19 website hotline (02) 203 2393 and (02) 203 2396 (service hours 8am-10pm)
People with Covid-19 symptoms should contact the Erawan Centre, Bangkok 1646. People at risk of exposure to infectious cases can call the Emergency Operation Centre at 097 046 7549 and the Department of Disease Control at 1422.
Infected patients can get more advice on self-isolation at the Medical Department Hotline 1668, the National Institute of Emergency Medicine 1669 or the NHSO 1330 hotline, 24 hours a day.
SOURCE: Nation Thailand
Keep in contact with Thaiger by following our Facebook page.
Never miss out on future posts by following Thaiger.