Rayong illegal gambling employee dies after testing positive for Covid-19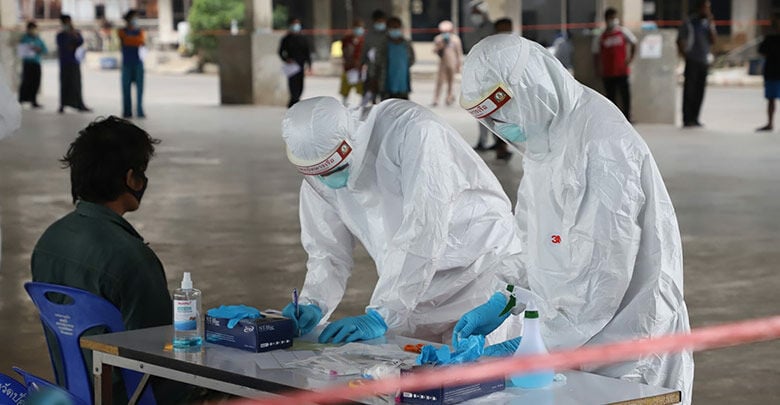 A man who worked at a gambling den in Rayong died after testing positive for Covid-19, the Deputy Public Health Minister Satit Pituthecha announced this evening. The 45 year old man, who also had underlying conditions related to asthma and diabetes, became sick and died on the way to the hospital, according to Satit. No other details have been released.
Nearly 100 people in Rayong, many linked to the illegal gambling den, have tested positive for Covid-19. Thailand currently has a record high of 2,045 active Covid-19 cases with more than 1,000 cases involving migrants working in Samut Sakhon.
Thailand now has 61 Covid-19 related deaths. The last Covid-19 related death was on November 6. A 66 year old retired government worker who returned to Thailand from the United Kingdom died after testing positive while in quarantine.
SOURCE: Coconuts Bangkok
Keep in contact with The Thaiger by following our Facebook page.
Never miss out on future posts by following The Thaiger.
Health Minister volunteering to receive first Covid jab, as effectiveness rate questioned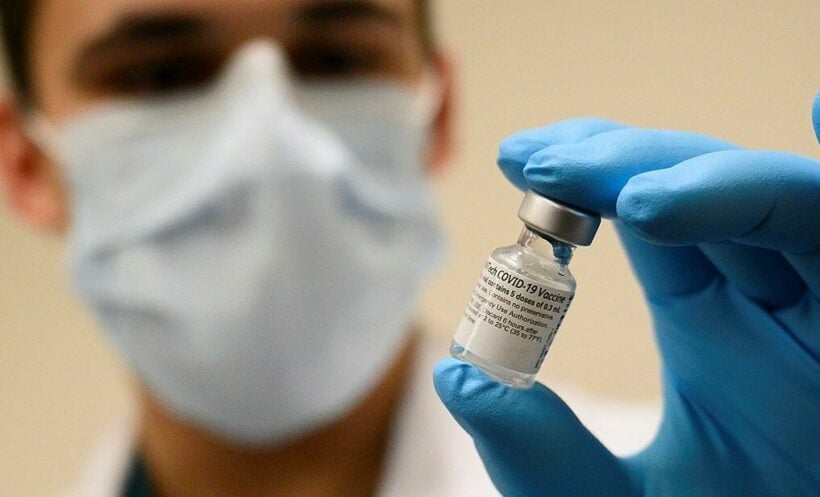 "I'll go first!"
Thailand's Public Health Minister has repeated his pledge to be the first person to receive the Covid-19 vaccine, in a bid to allay people's concerns. Questions have been raised about the Chinese-manufactured Sinovac Biotech jab after its effectiveness rating was revised downwards by researchers in Brazil.
Anutin Charnvirakul says the vaccine process will be overseen by Sophon Mekthon from the Ministry of Public Health and all safety criteria will be met. The Pattaya News reports that the minister says he has confidence in the safety of the vaccine and is willing to prove it by being the first person to get the jab. It's not the first time he has made this suggestion but there has been no official confirmation that the Health Minister will be first in line.
Thailand has ordered 2 million doses of the vaccine, with the first 200,000 expected to arrive next month. The government has also ordered 26 million doses of a Covid-19 vaccine produced by AstraZeneca in partnership with Oxford University but is not expected to take delivery of that vaccine until the middle of the year.
SOURCE: The Pattaya News
Keep in contact with The Thaiger by following our Facebook page.
Never miss out on future posts by following The Thaiger.
Pattaya City mayor planning local rollout of Covid-19 vaccine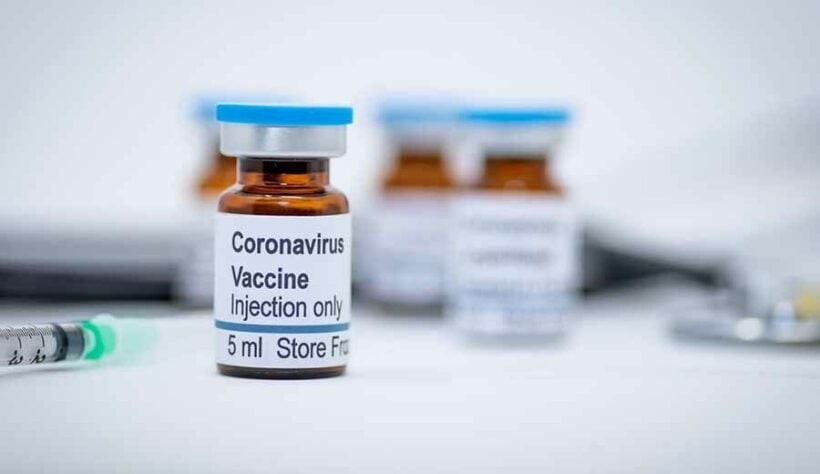 The mayor of Pattaya city says officials hope to be able to buy 240,000 doses of the Covid-19 vaccine for administration to local residents. Sonthaya Khunpluem is reviewing finances and plans to set aside approximately 80 million baht for vaccine procurement, subject to government approval.
"Currently, house registration of Pattaya City has reached a total population of 120,000 people, then we would need about 240,000 shots of the vaccine. If the price of the supplied vaccine was approximately 300 baht, Pattaya would need a budget of at least 72 million baht in order to cover all the residents in the city."
The move comes following confirmation from the government that local authorities could purchase their own vaccines in order to speed up the process. A number of other local authorities have also said they intend to do the same. The government has stipulated that only vaccines approved by the Food and Drug Administration can be purchased.
Sonthaya hopes that by vaccinating Pattaya residents, tourism in the area could get a boost and the economic recovery could begin. The Pattaya News reports that officials from the Pattaya City Finance Office and other relevant agencies have met to review projects planned for the year ahead, to determine Pattaya's spending power for buying vaccines.
It's understood the vaccine would be offered to local residents for free, but what is not known is if that includes foreign residents. Officials have also not confirmed when the rollout is expected to begin, or which vaccine would be used.
SOURCE: The Pattaya News
Keep in contact with The Thaiger by following our Facebook page.
Never miss out on future posts by following The Thaiger.
Arrest warrants sought for 8 civilians suspected of smuggling migrant workers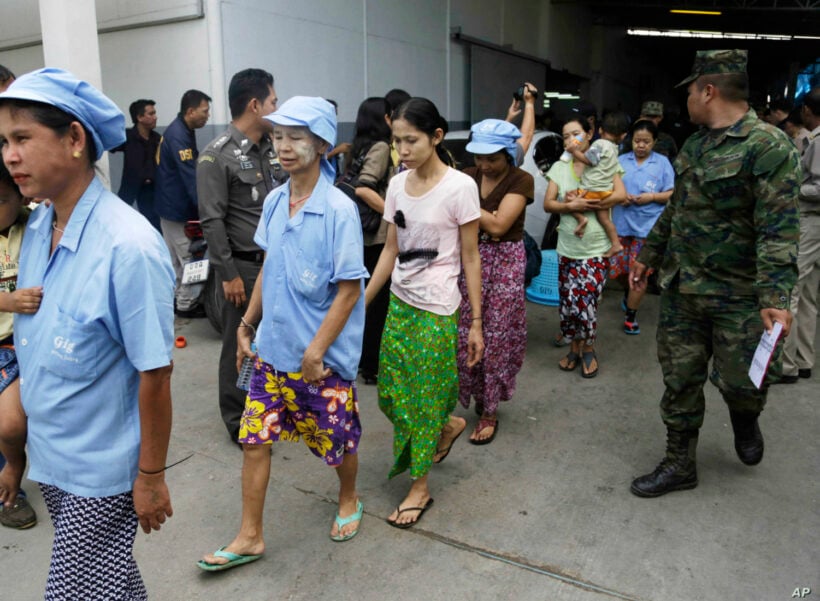 Deputy national police chief Damrongsak Kittiprapas has confirmed that arrest warrants are being sought for 8 civilians implicated in the illegal smuggling of migrant workers. The Bangkok Post reports that the 8 face charges of aiding and abetting illegal immigration. The workers were trafficked from Myanmar to the central Thai province of Samut Sakhon, where the latest outbreak of Covid-19 began last month. 20 police officers are also being investigated for their role in the smuggling operation. They have been suspended from duty pending a full investigation. It's thought there are up to 25 police officers suspected of involvement.
"After tracing the migrant workers' route into Samut Sakhon and then jobs at its shrimp market, we found that most received direct assistance from more than 20 police officials and eight civilians. They smuggled the workers across the border in Sangkhla Buri district of Kanchanaburi and then provided transport to get them to Samut Sakhon."
Damrongsak says an investigative committee is being set up prior to criminal prosecution and disciplinary action being taken against the police officers involved.
"A formal fact-finding procedure will be carried out before both disciplinary and legal action is pursued against them."
The committee, which is being chaired by the assistant national police chief, will work with a separate panel set up by the government to investigate the role of police officers in people smuggling. The committee is mostly made up of police officers. Damrongsak says PM Prayut Chan-o-cha insists that investigating officers carry out their duties in an honest and transparent manner.
SOURCE: Bangkok Post
Keep in contact with The Thaiger by following our Facebook page.
Never miss out on future posts by following The Thaiger.