Phuket hotels fighting for their lives as domestic tourism fails to support the island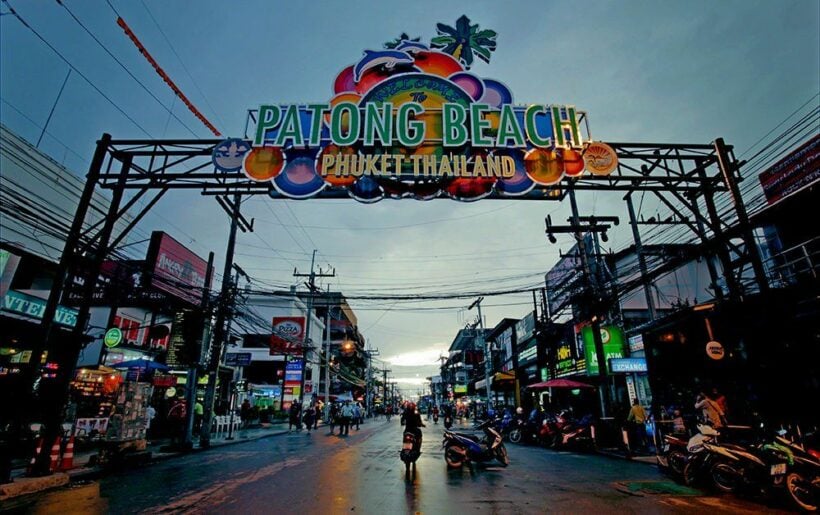 In the wake of last weekend's ministerial talkfest and discussions with local industry players on the island, Bill Barnett paints a bleak picture of a tourist island in freefall. All the shops, restaurants and hotels can't remain empty, or merely keep their doors open with a handful of domestic customers, forever.
Phuket's hotel industry is reaching breaking point and drastic economic support from the government will be needed for it to survive the high season. The warning from a slew of industry leaders who fear the island has reached a crucial turning point.
In the wake of the controversial "Phuket Model" international travel reopening scheme, reality is biting back as hotels in Thailand's leading resort island are unable to sustain operating viability based on domestic tourism.
According to the Airports of Thailand, passenger arrivals at the aviation gateway have plunged 65% year-on-year from January through July of this year.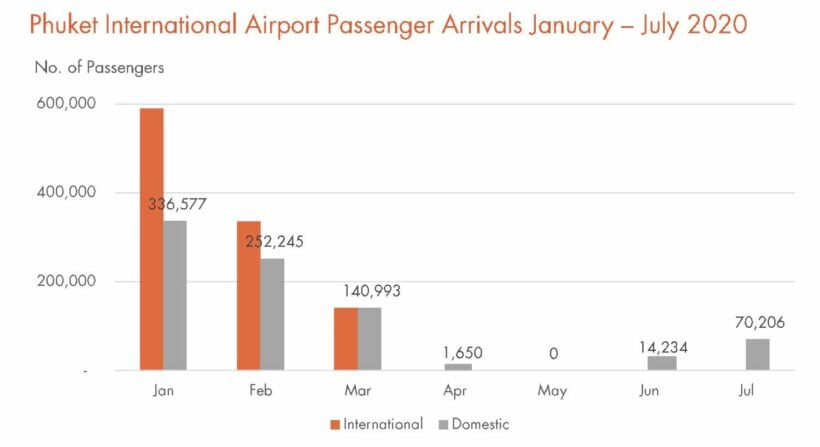 What is clear is that the 86,000 rooms in Phuket's registered accommodation establishments cannot realistically break-even or even be cash-flow positive with only domestic demand. This realistically could set the scene for 50,000 job losses in the hotel sector this year if there's no support forth coming or international visitors are not allowed in.
One of the green shoots is the Alternative Local State Quarantine program, with over 60 island properties applying. While this program is meant to emulate the ASQ program in Bangkok, given there are no direct international flights to Phuket, the government needs wider support of a return of international travellers at a local level and implement inter-ministerial coordination before it could materialise. But this may take months.
Anthony Lark, President of the Phuket Hotels Association that represents 78 hotels in Phuket said: "The math simply doesn't work with single-digit occupancies being reported. No amount of induced local demand can prevent the dramatic continued loss of jobs and rapidly eroding financial crisis for owners and operators. We strongly advocate a safe, pragmatic, and strategic reopening for foreign travellers."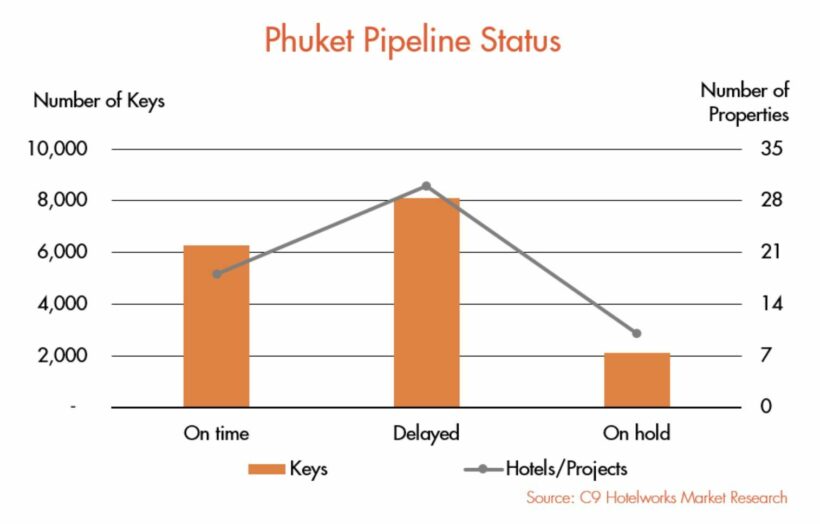 With tourism being the lead economic indicator in Phuket data newly released by hospitality consulting group C9 Hotelworks reveals the Covid-19 impact on the hotel development pipeline with 69% of hotels now being delayed or put on hold. Looking at the economic consequences, at the end of 2019, there were 1,758 licensed accommodation establishments on the island and today incoming projects stand at 58 hotels, representing a 19% rise in supply with 16,476 additional rooms planned.
C9 Hotelworks Managing Director Bill Barnett said: "Thailand's failure to relaunch overseas tourism creates a dangerously perilous scenario for Phuket's hospitality industry. The domino financial impact is not only on hotels and the expanded tourism sector, but it suffocates the development pipeline. This will negatively trigger the erosion of jobs in construction, real estate, retail and ultimately be manifested in consumer credit defaults. The situation is bad, and likely to get worse, as operating hotels remaining incur losses day in and day out."
In terms of updating the Phuket hotel situation on the ground, there continues to be much controversy and a lack of national and local consensus over the proposed "Safe and Sealed' sandbox long-stay program. While a stark warning was issued last week by the Bank of Thailand over the potential disruption to the heavily tourism-dependent country, the fate of Phuket's coming high season remains very challenged.
Citing a way forward C9's Bill Barnett commented: "Any reopening plan must not only be well planned but has to win the hearts and minds of the Thai people to see any chance of success. While the island may hold the keys to the Kingdom in leading a restoration of tourism, but the more critical issue is how hotels can fight for their lives in the current state of limbo."

Speaking about Phuket's current situation Anthony Lark added: "Firstly, greater proactive dialogue between the public and private sector has to be undertaken. We can't simply say we are now in unknown territory forever. Steps must be taken and a single voice formed.
"Secondly, the Bank of Thailand has to look at interim measures to assist hotels with short-term operating bridge loans to weather the storm and retain jobs. Tourism is a human endeavor and without protecting and nurturing our Thai workforce there will be no recovery."
Keep in contact with Thaiger by following our Facebook page.
Never miss out on future posts by following Thaiger.
Aviation authority calling for 20,000 vaccine doses for crew, ground staff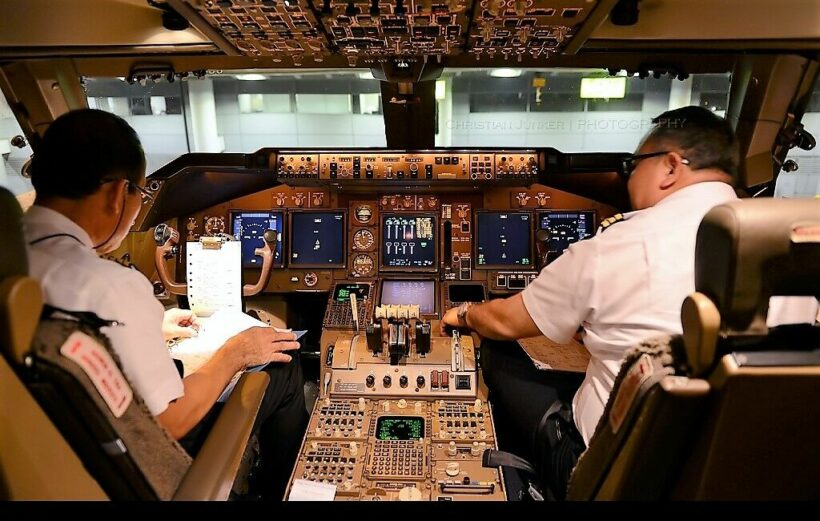 The Civil Aviation Authority of Thailand is calling for vaccine doses to protect around 20,000 airline crew and ground staff before the country re-opens to international tourists. The CAAT says it's vital that those working in the aviation industry are protected and has submitted its request to the Centre for Covid-19 Situation Administration.
According to Suthipong Kongpool from the CAAT, there are around 20,000 airline employees, including crew and ground staff, who will need to be vaccinated. As 2 doses are required, a total of 40,000 doses are needed to fully protect staff. The Bangkok Post reports that the CAAT will meet on Thursday to review the aviation sector's readiness for when the country re-opens without international arrivals having to quarantine.
Suthipong says they are seeking enough vaccine doses to protect employees of Thai-registered carriers.
"It's a confidence-building measure for tourists and those providing the services to them."
From July, the southern island of Phuket will be the first part of the country to waive quarantine for vaccinated international arrivals, subject to 70% of local residents being vaccinated. The "sandbox" project is a pilot programme that will be expanded to other areas if it proves successful. Between October and the end of the year, 5 other provinces – Phang Nga, Surat Thani, Krabi, Chon Buri, and Chiang Mai – are expected to adopt the programme. Officials hope to be able to re-open the country fully from January 2022.
According to the CAAT, the first foreign visitors expected to return to Phuket will be Chinese tourists, given that country's success in managing the pandemic. Meanwhile, the CAAT says Thailand will see a 7% increase in air traffic this month compared to last, with a total of 36,150 domestic and international flights.
SOURCE: Bangkok Post
Keep in contact with Thaiger by following our Facebook page.
Never miss out on future posts by following Thaiger.
Labour union angry over changes to Thai Airways staff contracts under rehab plan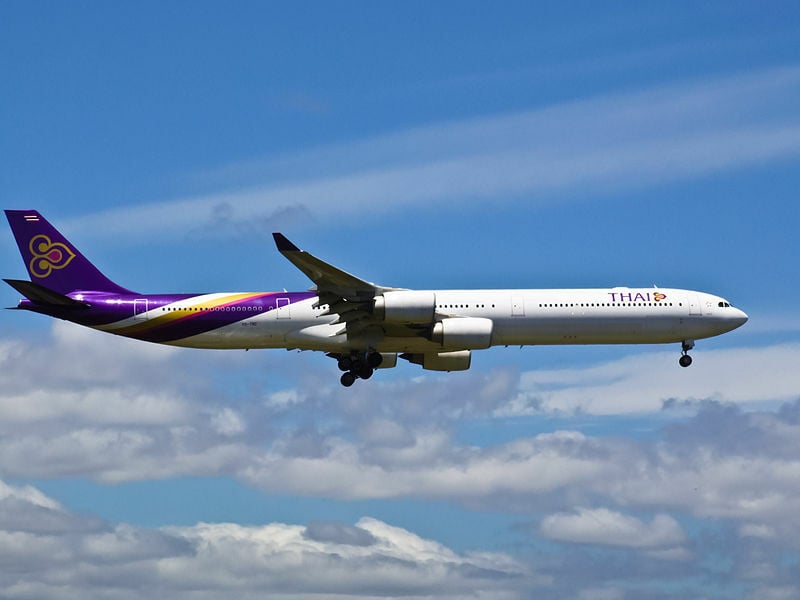 Union representatives are questioning changes made to the employment terms of Thai Airways staff as part of the national carrier's debt-restructuring plan. The labour union claims the changes have removed or diluted several staff entitlements and welfare benefits, pointing the finger at acting president, Chansin Treenuchagron, who signed the orders.
The union is calling on the Department of Labour Protection and Welfare to review the changes to check if they align with a debt-restructuring plan submitted to the Central Bankruptcy Court. According to a Bangkok Post report, the union believes the signed orders may go against the terms of the rehab plan currently being reviewed by creditors. They include an order related to the company's new organisational structure, as well as the screening of workers who will continue to be employed by the carrier during and after the rehab process.
Union representatives accuse the airline of changing the terms and conditions of employee contracts, meaning weaker welfare benefits. They are asking the DLPW to confirm if the changes comply with the 1940 Bankruptcy Act, the 1975 Labour Relations Act, and the 1998 Labour Protection Act. The union says that if the changes are found to violate the acts, Chansin should be ordered to cancel the orders and draw up new employment terms that comply with the airline's rehab plan and with employment law.
SOURCE: Bangkok Post
Keep in contact with Thaiger by following our Facebook page.
Never miss out on future posts by following Thaiger.
Leader of Thai cryptocurrency exchange warns regulators about tight restrictions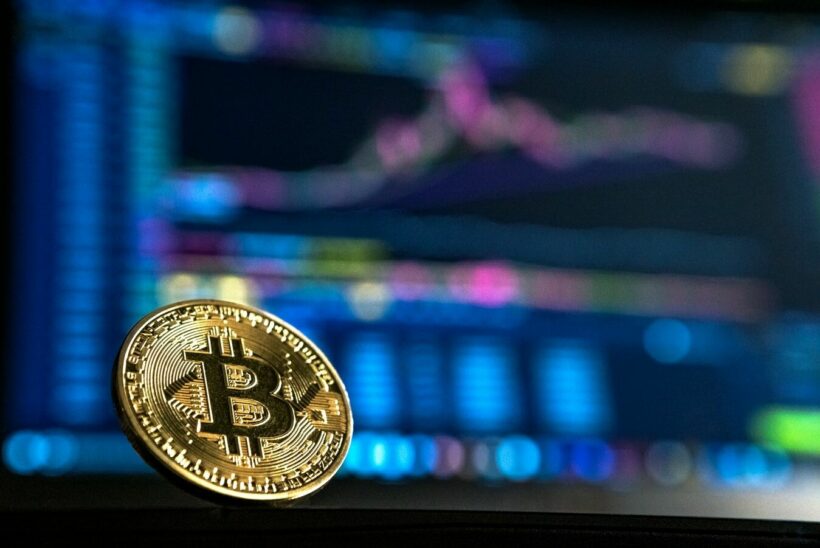 The co-founder of Thailand's largest cryptocurrency exchange has slammed regulators for plans to set requirements that would limit who can trade cryptocurrency. Following a drastic spike in domestic crypto trading, Thailand's Securities and Exchange Commission, decided to look into tighter restrictions and say traders will be soon required to have experience, be educated in trading or pass an exam.
Too many regulations will push some Thais away, according to 33 year old Atichanan Pulges, co-founder and CFO of Bitkub. He warns that too many restrictions might drive amateur traders to unregulated international platforms in other countries.
Atichanan told Bloomberg that these restrictions will do little to stem the increasing popularity of cryptocurrencies in Thailand. The SEC's restrictions were proposed in response to an unprecedented surge in crypto trading beginning in November 2020. According to the SEC's own data, crypto-trading in Thailand jumped six fold from 18 billion baht in November to 124 billion baht in February. Bitkub themselves reported a daily turnover of 4.2 billion baht throughout February, a jump of nearly 40% from the previous month.
Thai authorities continue to struggle with the increasing popularity of cryptocurrencies, as they strive to balance embracing innovation with protecting investors. The SEC recently walked back potential restrictions which would have limited crypto purchases to those with a minimum income of 1 million baht after public backlash. Instead, they've proposed a program to educate potential investors of the risks involved in investing in the notoriously volatile crypto market.
Undeterred by any potential regulations, Bitkub – who claim to host around 90% of crypto trading in Thailand – have announced plans to expand over the coming year, aiming to double their current staff to 500 and introduce their own debit card. The company is also aiming to achieve the coveted 'unicorn' status (a private valuation of more than $1 billion) at some point in the near future.
SOURCE: Bloomberg
Keep in contact with Thaiger by following our Facebook page.
Never miss out on future posts by following Thaiger.