Everyone tested for Covid-19 in Rayong, Bangkok negative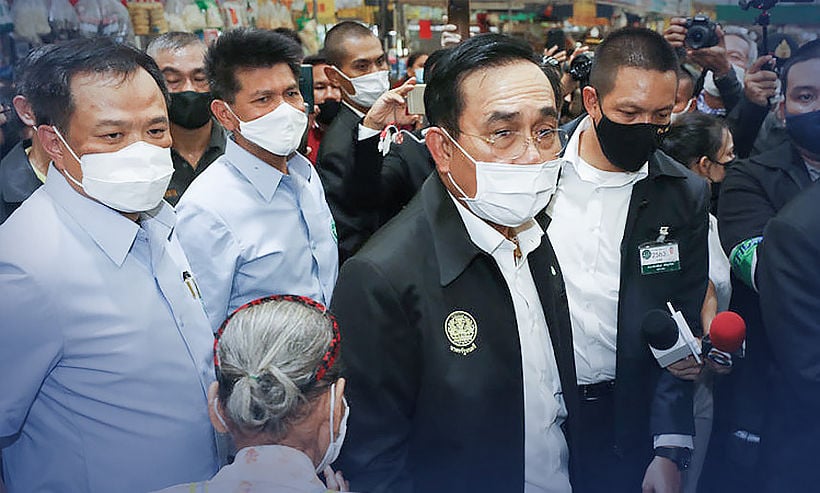 The Department of Disease Control has announced the results of Covid-19 testing among 1,603 high-risk people involved in the incidents of an Egyptian military crew member (in Rayong) and a 9 year old girl from Sudan (in Bangkok). The results in Rayong province show that all of 1,336 people tested are negative, while in Bangkok, all 267 tested in a Sukhumvit condominium are also negative.
The swab tests were conducted on those who visited the Passione Shopping Centre, in the downtown district of the eastern province, at the same time as members of an infected Egyptian military mission on July 10. People living at the OneX condominium in Bangkok, where the family of an African diplomat stayed, were also tested.
Anyone who visited the D Varee Diva Central Rayong Hotel between July 8 and 11 is also urged to come forward for testing. The testing is being provided free to everyone and the government has apologised for the slip ups, assuring people "it won't happen again".
Although the results returned so far are all negative, health authorities urge those tested to stay home for 14 days, to continue wearing face masks, observe social distancing and to wash their hands often.
More people in Rayong province were queuing this morning to get free tests, being offered for the third consecutive day in front of the Passione Shopping Centre. It was reported that that first person showed up at about 4:30am, even though testing doesn't begin until 10am. Only 300 people are tested daily and today's quota has already been met.
SOURCE: Thai PBS World
📱 Download our app on Android or iOS for instant updates on your mobile
📧 Subscribe to our daily email newsletter
👍 Like/Follow us on Facebook
🔔 Subscribe to or Join our YouTube channel for daily video updates
More staff to man Covid-19 hotlines after complaints of unanswered calls
Thousands of people have been calling Thailand's Covid-19 hotline each day and many calls from those seeking hospital beds, medical attention or ambulance services are going unanswered. PM Prayut Chan-o-cha even called 2 of the hotline numbers and he says no one answered his calls. Now the Bangkok Metropolitan Administration plans to revamp the emergency call centre with plans to add more staff and call lines.
For the past month, in the midst of the largest wave of infections in Thailand since the start of the pandemic, up to 3,500 people have called the 1669 Covid-19 hotline each day, according to Bangkok Governor Aswin Kwanmuang. Many people have complained that they have been unable to reach the staff. The governor says the BMA plans to allow callers to leave their names and numbers allowing staff to call them back.
"Currently the 1669 hotline has staff working three shifts to answer inquiries around the clock… However, since the new wave in March, up to 3,500 people have been calling daily. Callers who exceed our capacity will have to wait for their turn, and if they hang up and dial in again, they will be put at the end of the queue. This has resulted in many people complaining that the line was never available."
After the prime minister's calls to both the 1668 and 1669 hotlines went unanswered, Prayut said he would look into how the hotlines were managed to fix the problem.
"I tried both numbers, but nobody answered. I want to find out if this is because there are too few health personnel manning the lines, or if they are too busy tending to patients in hospitals."
The BMA will also get more medical staff to help transport Covid-19 patients to hospitals after complaints that some have waited at home long periods waiting for an ambulance. The governor says the some of the night staff workers while change to a day shift to help with transporting patients during busy hours.
"In the early phase, we will move some of the staff on night shift to work on day shift from 8am to 4pm, which is the period when more people require medical services… Then, we will increase the ambulances as well as their trips per day to make sure that no patients are left at home.
SOURCE: Nation Thailand
📱 Download our app on Android or iOS for instant updates on your mobile
📧 Subscribe to our daily email newsletter
👍 Like/Follow us on Facebook
🔔 Subscribe to or Join our YouTube channel for daily video updates
K-Pop's BTS launching pop-up in Bangkok May 1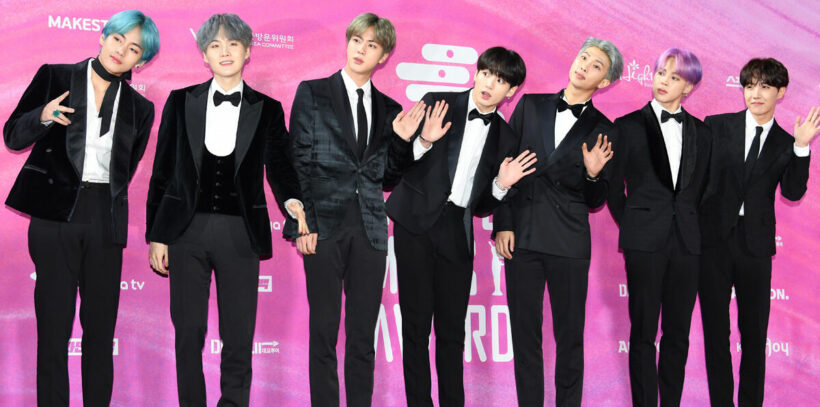 Thai BTS fans are celebrating as the first official BTS pop-up in Thailand is set to open in Bangkok on May 1. The world-famous K-Pop group will launch the Map of the Soul pop-up at EmQuartier in Bangkok. Until now, Thai fans, or ARMY as they are known, have waited while pop-ups shops were launched around the world. The exhibit will be open from May 1 to July 25 and access will only be available by pre-registration online, which opens tomorrow.
ARMYs worldwide were devastated when Covid-19 forced the postponement of BTS's "Map of the Soul" world tour, but the band, famous for their appreciation and interaction with their fans – they hold the Guinness World Record for most Twitter engagement! – have worked to find ways to raise fan morale during the pandemic. They released the album BE with a Grammy-nominated single "Dynamite" and launched these pop-up events where Bangkok ARMYs can pose in front of BTS music video backdrops and shop for official BTS merchandise.
Tickets purchased online will reserve fans a 1 hour visit to the pop-up on a certain date and time slot. Reservations for each week will open on the Friday previous for booking of the event on the M Floor of The EmQuartier. Bookings must arrive 10-15 minutes early and be verified by mobile phone OTP, after which fans will receive a wristband and queue for safe entry.
Strict Covid-19 safety measures will be in place, limiting the number of entries at a time, requiring social distancing and masks, and offering hand sanitiser when entering and exiting.
BTS, the 7-member South Korean boy band formed in 2011 debuted in 2013 and became one of the biggest bands in the world holding 18 Guinness World Records, appearing frequently in Time magazine influence lists, and setting music records on charts around the world. They've sold 20 million albums and equalled The Beatles' record for reaching 4 number 1 albums in the US within one year.
It was estimated their sales account for about the same of South Korea's entire GDP as Korean Air, being the reason to visit cited by 1 in every 13 tourists, and over 40% of all music sales in the country along with 25% of American K-Pop sales, having the top-selling worldwide physical album of 2020.
BTS have addressed the UN and their endorsements have caused companies and organisations to experience huge jumps in income, including multiple charities they have raised millions for. Their charitable work, devotion to fans, and addressing of difficult topics in their music such as mental health, loss, bullying, individualism and other social commentary have earned BTS praise as more than just your average boy band. Huge turnout is expected for the Bangkok opening of the BTS Map of the Soul pop-up at the EmQuartier next month.
SOURCE: The Smart Local
📱 Download our app on Android or iOS for instant updates on your mobile
📧 Subscribe to our daily email newsletter
👍 Like/Follow us on Facebook
🔔 Subscribe to or Join our YouTube channel for daily video updates
Covid UPDATE: 1,470 new Covid-19 infections, 7 deaths, provincial totals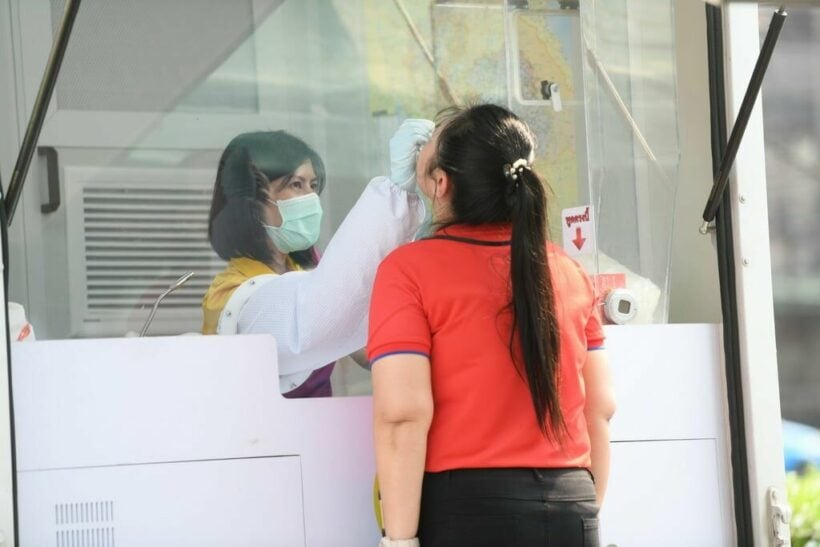 1,470 new Covid-19 infections and 7 deaths were reported today by the CCSA. 446 new cases are in Bangkok which remains the hotzone of new infections, although the latest outbreak has now spread to most Thai provinces. Out of the 7 deaths, one was a 24 year old Thai woman with a history of visiting an entertainment venue in the southern province Surat Thani where other Covid-19 infections were reported.
The young woman's death is a rare case as the vast majority of Covid-related deaths in Thailand are the elderly or older adults with pre-existing conditions. Health officials say the woman suffered from obesity and died 3 days after testing positive for the virus. At present, there are 18,148 patients in state care… 14,555 in hospitals and 3,593 in field hospitals.
Since the start of the pandemic last year, the CCSA has reported a total of 48,113 Covid-19 infections and 117 coronavirus-related deaths.
The other Covid-related fatalities include…
68 year old Thai woman with pre-existing conditions of asthma
83 year old man from Bangkok with pre-existing conditions of high blood pressure
80 year old woman with pre-existing conditions of diabetes
45 year old woman in Bangkok with high blood pressure
59 year old man in Bangkok with pre-existing conditions of diabetes
86 year old man in Bangkok with pre-existing conditions of heart disease
Here are the provincial totals for today, as published by the NBT…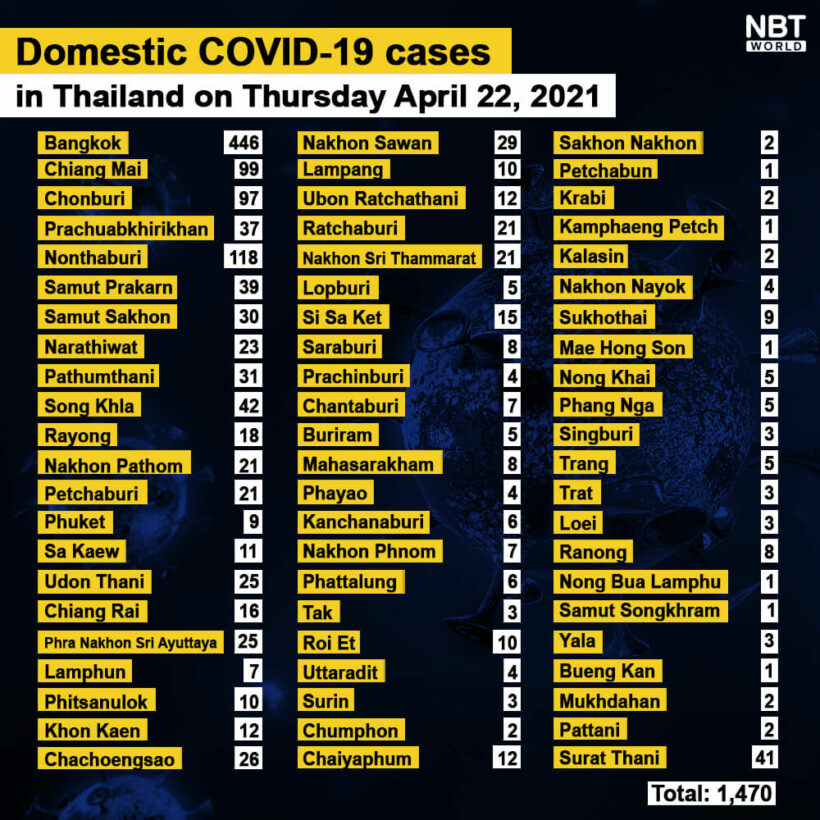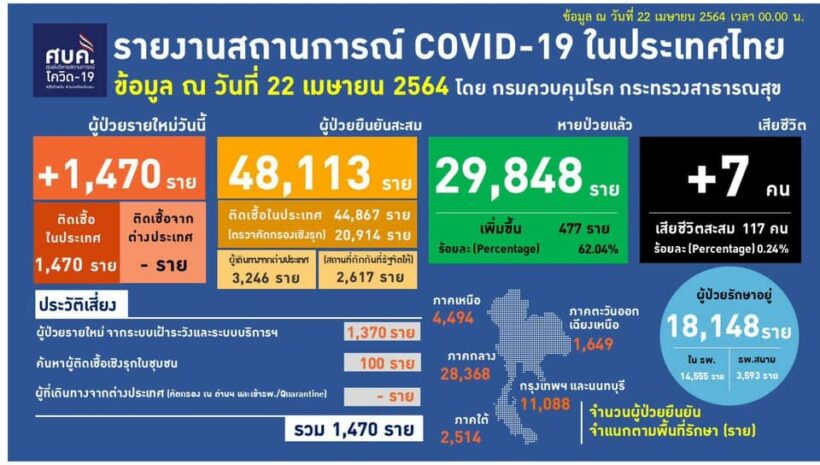 SOURCE: CCSA | Pattaya News | Nation Thailand
📱 Download our app on Android or iOS for instant updates on your mobile
📧 Subscribe to our daily email newsletter
👍 Like/Follow us on Facebook
🔔 Subscribe to or Join our YouTube channel for daily video updates