Covid-19 causes 'Koi' to contemplate an abortion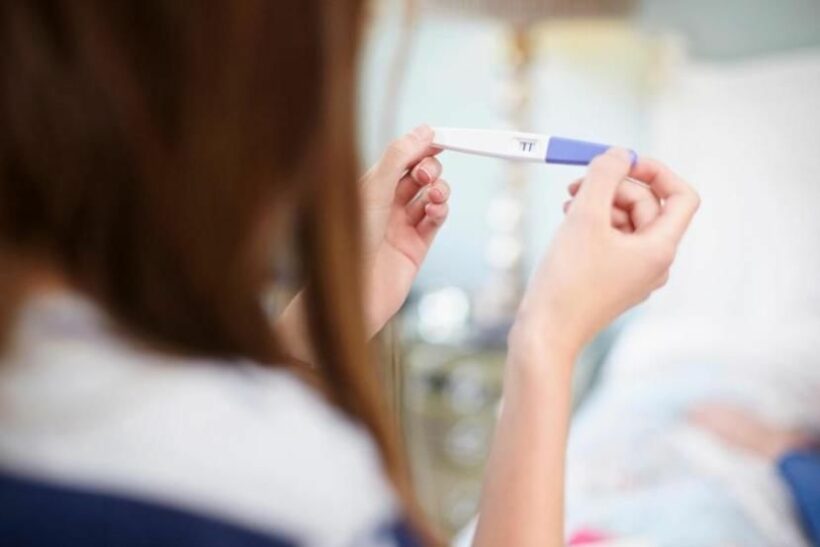 The Planned Parenthood Association of Thailand, under the Patronage of HRH the Princess Mother, marks their 50th anniversary tomorrow, but today more than ever, Thai women are being forced to ask the difficult question of how to manage an unplanned pregnancy during the Covid-19 global pandemic.
As government policies to contain the Covid-19 virus continue to devastate Thailand's economy, some pregnant women are considering abortion as a solution to an unplanned pregnancy.
39 year old Koi from the northeast city of Khon Kaen chose to terminate her pregnancy after her family's earnings massively dropped due to the Covid-19 pandemic.
"My pregnancy was unplanned. I was six weeks in. This new reality was disorienting. I know it isn't a good way and many people may think what I'm about to do is morally wrong, but I have no choice and it's hard to accept."
Koi, her husband and two children aged 14 and 10, own a food shop in downtown Khon Kaen. Their income has dropped 50% to 70%, her savings nearly wiped out.
Koi and her husband were earning roughly 30,000 baht, but now they earn less than 10,000 baht per month, barely enough to feed her family, the Bangkok Post reports.
"When I found out I was pregnant again I was shocked because I don't know how I can afford a third child. We have extremely limited funds and live in a small house. No one knows when we will return to ordinary life. The Covid-19 pandemic has really destroyed our livelihoods."
After discussing the unplanned pregnancy with her husband, Koi thought for days what is best for her family before allowing a close friend to take her to a family planning clinic in Khon Kaen run by the PPAT.
After speaking with doctors at the clinic, Koi said "I needed someone who could advise me and listen to my problems. I came to the right place, as the doctors here paid attention to my case."
"She did not pressure me and explained everything to me, especially the risk of conceiving at 39 years old. So, I thought it over and decided to terminate my pregnancy. I want my child to grow up with good health and access to high quality education. I don't want my child to be a burden on society if he or she is not properly nourished."
Somchai Kaemthong, PR director of PPAT said PPAT works under the medical guidelines and practices of the Medical Council.
"Women can have an abortion if they are no more than 12 weeks pregnant and they must give their consent before. If women under 20 want to end their pregnancy, parents must give their consent." Mr Somchai said.
SOURCES: Chiang Rai Times | Bangkok Post | PPAT
📱 Download our app on Android or iOS for instant updates on your mobile
📧 Subscribe to our daily email newsletter
👍 Like/Follow us on Facebook
🔔 Subscribe to or Join our YouTube channel for daily video updates
Phuket begs Kolour attendees to come for Covid-19 testing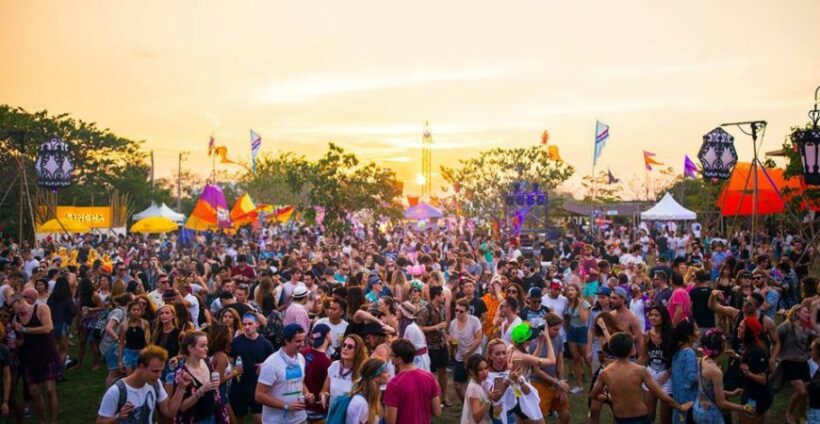 Health officials in Phuket put out a public statement this week compelling all foreigners who attended clubs and Kolour events to report for Covid-19 testing. As many might expect, the response has been lacklustre at best. Spreading the message around the foreigner and expat community in Phuket, the message is aimed at the multitudes of people, mostly foreign who attended Kolour and related events that turned into a Covid-19 superspreader event. Many foreigners have not come forward, much to health officials chagrin.
Online and on social media, foreigners and Thais shed light on why this urgent public health request is going largely unheeded. Foreigners fear the repercussions of coming forward, especially since Thailand is not allowing staying home or elsewhere in isolation if someone tests positive for Covid-19. Quarantine is mandatory, and with infection numbers exploding across the country, many fear the less-than-posh comforts of being quarantined in an emergency field hospital.
Cost is the other factor that likely is preventing foreigners from turning themselves in to be tested for Covid-19. While Phuket health officials may test people for free, anyone found infected with Covid-19 will be financially responsible for all the costs of their treatment and quarantine. Foreigners with limited financial resources, especially after a year of holing up in Thailand to ride out the Coronavirus, may resist reporting to authorities when they cannot afford the mandatory quarantine and medical treatment.
Perhaps recognizing this hesitation, the message includes a plea for all attendees to self-quarantine and self-monitor for any symptoms over the next week, even if they fail to report or test negative. The note also reminds everyone to wear masks in public at all times. The statement to the public also instructed anyone who attended any of the Covid-19 spreading nightlife events to report to the Acute Respiratory Infection Clinic area of Vachira General Hospital to receive a Covid-19 swab test.
SOURCE: The Pattaya News
📱 Download our app on Android or iOS for instant updates on your mobile
📧 Subscribe to our daily email newsletter
👍 Like/Follow us on Facebook
🔔 Subscribe to or Join our YouTube channel for daily video updates
BREAKING: Covid Provincial restriction update – latest from the CCSA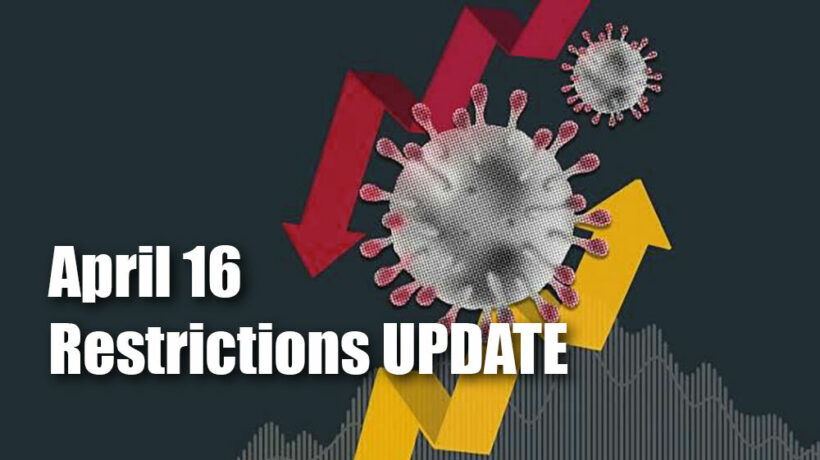 The CCSA has announced its updated restrictions for the 18 'red zone' provinces this afternoon. The new measures start on Sunday and will be in place for at least 2 weeks. The restrictions are basically as we published earlier today. There are no 'lockdowns' or curfews despite a popular blogger jumping the gun and posting that there were curfews announced.
Here are the key points as announced by the CCSA late this afternoon…
Across all provinces…
• Closures of schools, all nightlife venues, pubs and clubs
• No events can have more than 50 people
Provincial red zones (listed below)…
• Dining-in allowed until 9pm (but can do takeaway until 11pm)
• Serving of alcohol banned
• Shopping centres and fitness centres to be closed by 9pm
• Convenience stores, markets, supermarkets must be closed by 11pm
Everywhere else…
• Dining-in allowed until 11pm
• Serving of alcohol banned
• Shopping centres to be closed by 9pm
Earlier today it was announced that Red Zones would have to have their restaurants closed at 9pm, and other provinces by 11pm. No alcohol to be served.
Additionally, people are being 'asked' to refrain from traveling to "Red Zone" provinces. Businesses are also being 'asked' to allow staff to work from home or introduce other measures to minimise risk of infection at the workplace.
The Red Zone provinces are, in no apparent order…
1. Bangkok
2. Chiang Mai
3. Chon Buri
4. Samut Prakan
5. Prachuap Khiri Kan
6. Samut Sakhon
7. Pathum Thani
8. Nakhon Pathom
9. Phuket
10. Nakhon Ratchasima
11. Nonthaburi
12. Songkhla
13. Tak
14. Udon Thani
15. Suphanburi
16. Sa Kaeo
17. Rayong
18. Khon Kaen
Earlier today Public Health Minister Anutin Chanvirakul said that the government is "confident it can overcome the current Covid-19 crisis without needing to impose a nationwide lockdown".
📱 Download our app on Android or iOS for instant updates on your mobile
📧 Subscribe to our daily email newsletter
👍 Like/Follow us on Facebook
🔔 Subscribe to or Join our YouTube channel for daily video updates
Friday's Covid-19 cases, province by province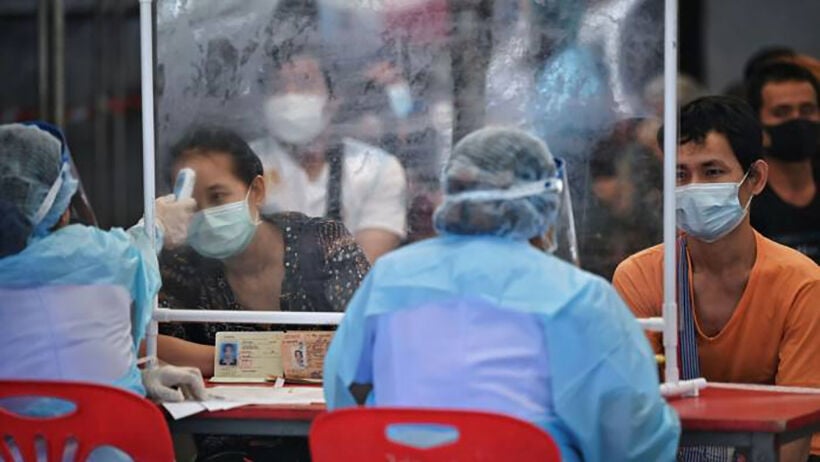 Today's provincial totals, as reported in the past 24 hours. Bangkok, Chiang Mai, Chon Buri (including Pattaya) and Prachuap Khiri Khan and Samut Prakan lead the way. Other prominent locations include Phuket with 30 new cases, Surat Thani, which includes the 3 Gulf islands of Samui, Pha Ngan and Tao, with 11, and Chiang Rai with 77. Infographic from NBT World.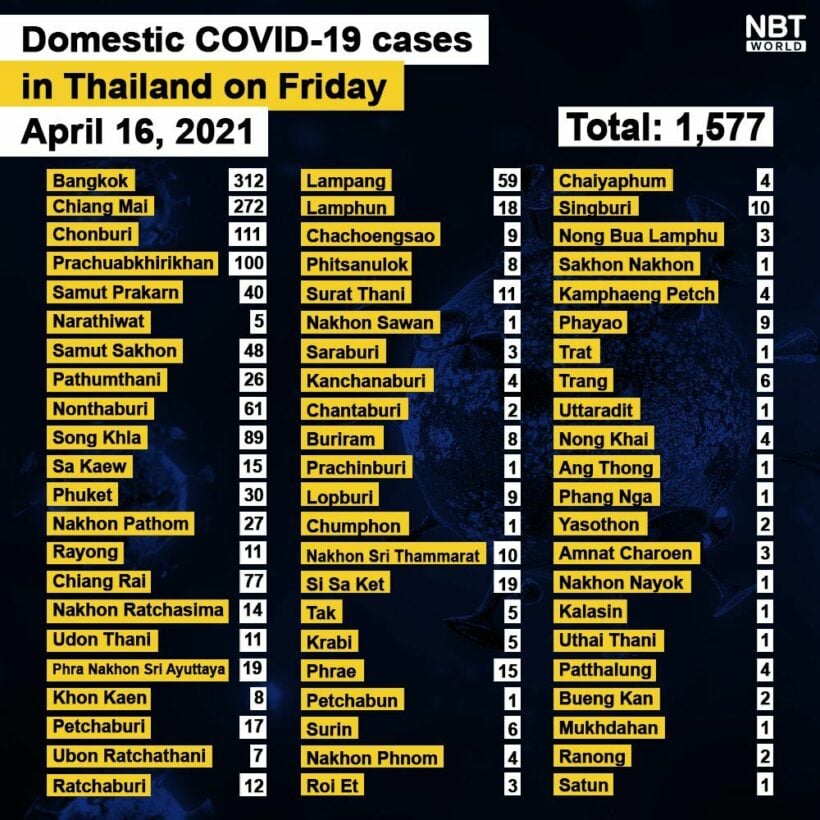 📱 Download our app on Android or iOS for instant updates on your mobile
📧 Subscribe to our daily email newsletter
👍 Like/Follow us on Facebook
🔔 Subscribe to or Join our YouTube channel for daily video updates