Covid-19: 1 new imported case, 27 days with no local transmissions (June 21)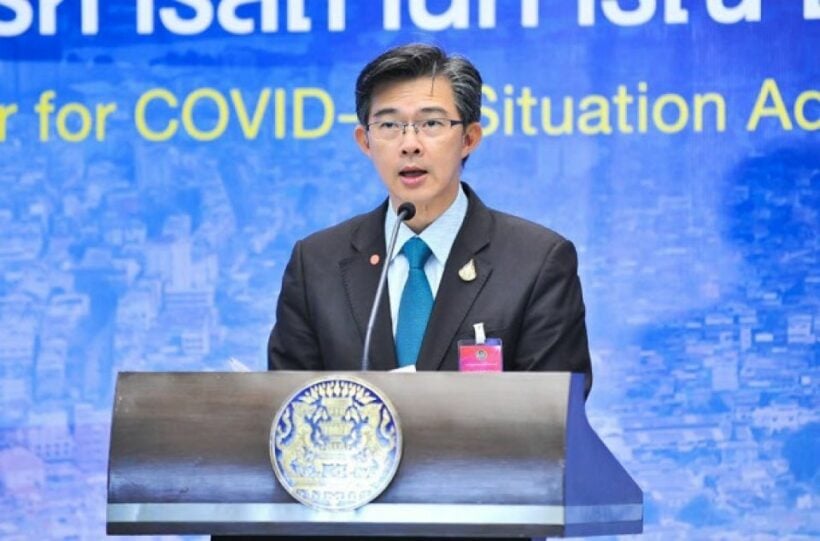 The Centre for Covid-19 Situation Administration this morning announced 1 new case of Covid-19 discovered in state quarantine over the previous 24 hours. The case is a 6 year old Thai boy who recently returned from South Africa on a repatriation flight.
Thailand has reached 27 consecutive days without a domestically transmitted case. As of today, the total number of confirmed cases in the country since the outbreak began stands at 3,148 (2,444 domestic and 211 imported). 72 are under treatment, 3,018 have recovered and been discharged, making the recovery rate 96%. The death toll remains at 58.
Globally, the total number of confirmed cases has risen to around 8.9 million, up 158,000 from yesterday; 4.7 million have recovered while deaths have surpassed 467,000. The total number of new infections continue to accelerate. The current hotspots in the world are US, Russia, Brazil, India and the UK.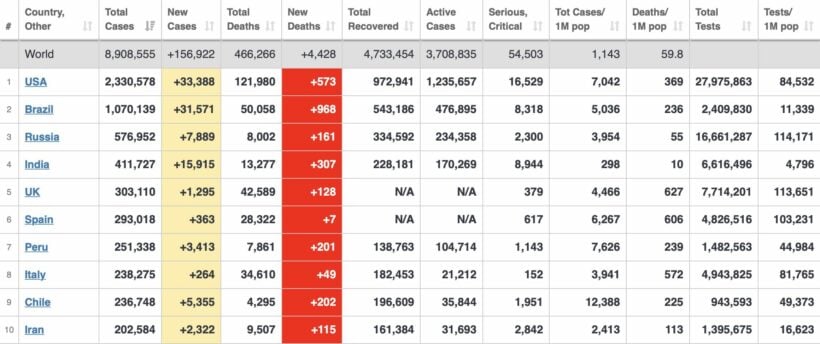 SOURCES: Nation Thailand | The Pattaya News
Keep in contact with The Thaiger by following our
Facebook page
.
India aims to have Covid-19 vaccine by mid-August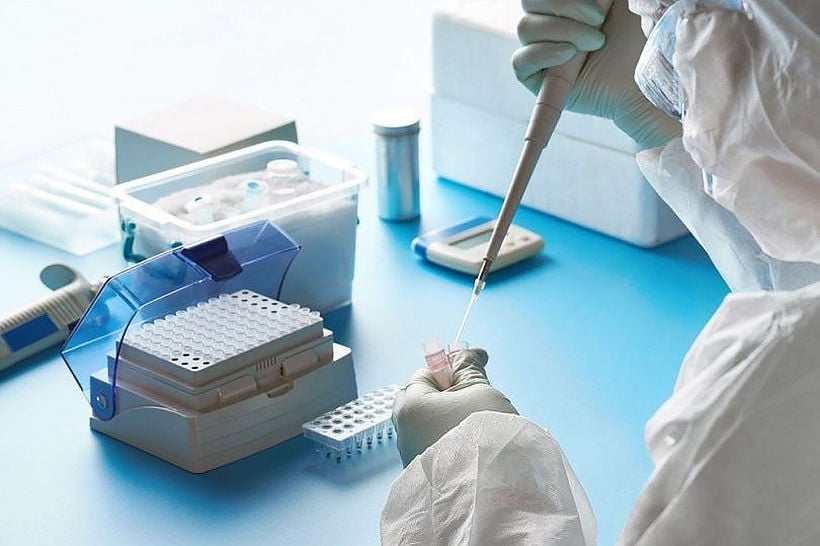 But scientists are skeptical at the speed of the development. India has announced its plan to take its first Covid-19 vaccine from human trials to general use by mid-August, just 6 weeks from now. Bharat Biotech International, an unlisted vaccine maker, received regulatory approval to start human clinical trials for its experimental vaccine earlier this week, but it's already got India's top medical research body expediting the process.
Bloomberg reports that a July 2 letter from the Indian Council of Medical Research to clinical trial sites said the vaccine is "envisaged to be rolled out for public health use by August 15, after completion of all clinical trials," and that it's "one of the top priority projects which is being monitored at the topmost level of the government."
There is no evidence that Bharat Biotech's vaccine is safe for human use, not to mention effective at providing any protection, short or long term. The "envisioned" timeline is far shorter than other front-runner vaccine efforts from American and Chinese drug makers, most of whom started human clinical trials months ago, and are now entering the last of 3 stages of testing.
There has never been an effective vaccine developed for any of the coronavirus family of diseases – SARS, MERS, the 'common cold' – 229E (alpha coronavirus), NL63 (alpha coronavirus), OC43 (beta coronavirus), HKU1 (beta coronavirus) – or Covid-19 (SARS-CoV-2). Influenza (Flu) is NOT a coronavirus.
The announcement of a potential vaccine underlines India's desperate need to find a way to stem the coronavirus, which has infected nearly 650,000 people and killed over 18,600 in the country, making it Asia's new epicentre with the world's fourth-largest outbreak. In its letter, the ICMR urged the trial sites to enroll volunteers by Tuesday.
The proposed speed has alarmed many in the medical fraternity. According to a tweet from a medical researcher at India's Manipal University…
"Such an accelerated development pathway has not been done EVER for any kind of vaccine, even the ones being tried out in other countries. Even with accelerated timelines, this seems rushed and hence, has potential risks."
The government of Indian PM Narendra Modi is anxious to create the impression it has gained control over the outbreak, after abandoning a costly lockdown that caused tremendous economic suffering without slowing the spread of the virus. The August 15 deadline for the Bharat vaccine may reflect that political pressure: that's the day India celebrates its Independence from the British.
SOURCE: Bloomberg | Bangkok Post
Keep in contact with The Thaiger by following our
Facebook page
.
Covid-19 update: 40 days with no locally transmitted cases (July 4)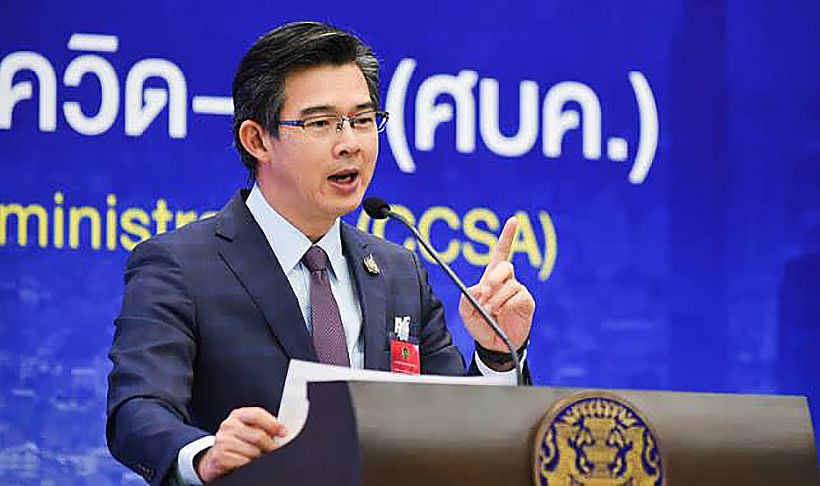 The Centre for Covid-19 Situation Administration confirmed this morning that Thailand has not recorded a single locally transmitted case of Covid-19 in 40 days. 5 imported cases were reported today of repatriated Thai nationals – 1 from Kuwait, 1 from the UK and 3 from Sudan. All were discovered in state quarantine facilities.
CCSA spokesman Dr Taweesilp Visanuyothin says Thailand remains on guard, and social distancing measures will continue to be enforced despite the 40 day milestone, as factors such as illegal immigrants remain a potential danger of contagion. Border control is a top priority for Thailand and although limited international travel is resuming, very strict precautions remain.
Only very limited groups of foreigners can enter, and numbers are severely restricted. These groups include those with work permits and medical reasons, but entry requires extensive paperwork, quarantines and is approved on a case-by-case basis.
General travel and tourism remain closed for the foreseeable future due to the threat of Covid-19 resurgence around the world, according to Taweesilp. Thailand is exploring potential "travel bubbles" with some countries that are deemed to have controlled the virus, as determined by the World Health Organisation.
As of today Thailand has had a total of 3,185 cases, of whom 3,066 of those recovered. There have been 58 deaths related to the virus.
SOURCE: The Pattaya News
Keep in contact with The Thaiger by following our
Facebook page
.
Global Covid-19 cases exceed 11 million people. Deaths over 529,000.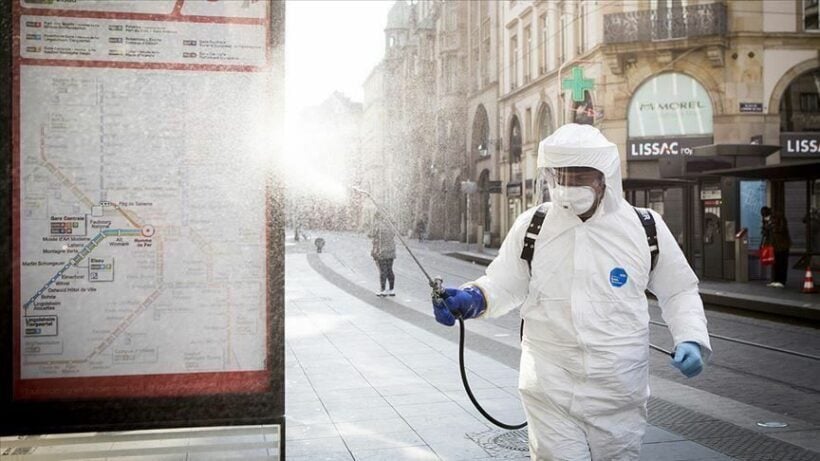 Covid-19 infections around the globe surpassed 11 million yesterday, another grim milestone in the spread of the virus that's has killed more than half a million people since the outbreak began just over 6 months ago. According to the World Health Organisation, the number of cases is now more than double the figure for severe influenza illnesses recorded annually.
1 million new infections has been added to the total in less than 1 week, with the world infection rate starting to accelerate.
Some hard-hit countries are now starting to ease earlier lockdowns introduced to slow the spread of the virus, and making extensive changes to work and social life that could last until a vaccine is available. Other countries are experiencing a resurgence in contagion, prompting authorities to reinstate lockdowns, in what experts say could be a recurring pattern into 2021.
In a new global record, the US reported more than 55,400 new cases on Thursday, as infections rose in a majority of states. Nearly a quarter of the known global deaths have occurred in the US… over 132,000 as of today. The recent surge has put US President Donald Trump's handling of the crisis in the spotlight and led several US state governors to halt plans to reopen their states after strict lockdowns.
Latin America, where Brazil has 1.5 million cases, makes up 23% of the global total of people infected. India is now the epicentre in Asia, rising to nearly 650,000 cases.
Asia and the Middle East have around 12% and 9% respectively, according to the worldometers tally, which uses verified government reports.
In third world and developing countries with limited testing capabilities, case numbers are likely to reflect a small proportion of the total infections. Experts caution that official data doesn't tell the full story, with many believing that both cases and deaths have likely been underreported in some countries. But the data, following the most scrutinised and tracked virus in history, certainly shows developing trends and provides health professionals with critical information.
The first death linked to the new coronavirus was reported on January 10 in Wuhan, China, before infections and fatalities surged in other parts of China, then Europe, then in the US, Russia and now South America. The pandemic is now entering a new phase, with India and Brazil battling over 10,000 cases a day, putting a major strain on medical resources.
Countries including China, New Zealand and Australia have experienced new outbreaks in the past month, despite largely eliminating local transmission.
Thailand has had no local transmissions of Covid-19 for 40 days.
SOURCE: Reuters
Keep in contact with The Thaiger by following our
Facebook page
.