Thailand News Today – February 26, 2020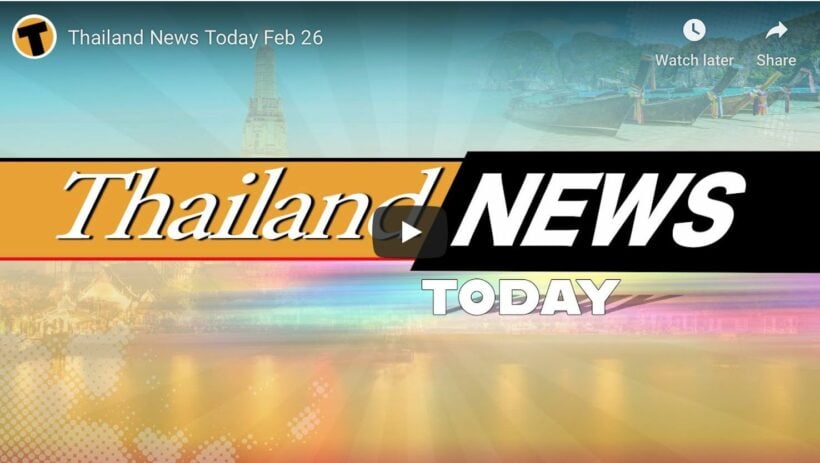 Fugitive shot dead in gunfight with police in Nakhon Si Thammarat
A fugitive is dead after a gunfight with police in the southern province of Nakhon Si Thammarat. The 30 year old man, from the province's main city district, was wanted on three warrants for theft. Police were notified today about two thieves attempting to break into a house. When police arrived, the two opened fire before fleeing. One of the burglars ran into a house and attempted to take a student hostage, but the boy freed himself and ran away. The man started firing on police and a gunfight erupted. He was shot several times before being arrested. He was rushed to hospital, where he was pronounced dead.
Opposition MP alleges PM and army behind cyber propaganda
An opposition MP says he's holding PM Gen Prayut Chan-o-cha responsible for a network of social media that have been allegedly running a cyber campaign against critics of the current government. They accuse the PM and supporters of the government about spreading fake news and derogatory comments about them. An MP of the now-disbanded Future Forward Party, Viroj Lakkana-adisorn, says the 'network' includes specific websites and social media that's been targeting leaders and supporters of the opposition political party as well as human rights activists in the violence-hit southern regions of the country. Viroj was addressing the allegations during a no-confidence debate in Parliament.
Fugitive shot dead in gunfight with police in Nakhon Si Thammarat
Pattaya City police arrested a highly intoxicated Bangkok man yesterday afternoon for carrying a large knife and threatening tourists and locals on a Pattaya Beach. Reuben Tuck reports… (Reuben VO)
Chevrolet Thailand says 'no' to compensation demands for cars sold before discounts were announced
Yesterday, a group of Chevrolet car buyers submitted a letter to Chevrolet Sales (Thailand) at the company national HQ at Rasa Tower, in Bangkok's northern suburbs. They were demanding the company should compensate them for having bought their cars at full price, just before Chevrolet announced it was pulling out of manufacturing cars in Thailand. Specifically they were complaining about paying the full price after Chevrolet announced a promotion to sell their backlog of vehicles at nearly 50% off, the day after the announcement. But Chevrolet has responded by saying there will be no compensation.
Cambodia burns, Bangkok chokes, schools closed
Bangkok mums and dads will need to sort out what to do with the kids for the rest of the week after the Bangkok Metropolitan Administration closed public schools from today because of the excessive air pollution. Most of the smoke and haze, this time, is blowing in from Cambodia with light easterly winds. All schools under the supervision of the BMA will close until Friday. This afternoon Bangkok has the 8th worst air quality on the world. Even worse, Chiang Mai ranks at number 4 with only Dhaka, Delhi and Lahore, Pakistan ahead of it.
Thai coronavirus cases hit 40, up from 37
Thailand has confirmed three more coronavirus cases, taking the country's total to 40. Two of the new patients, all Thai nationals, had returned from vacation in Japan's northern island of Hokkaido and came into contact with the third patient, an 8 year old boy. The male patient had not disclosed his travel history when he first sought medical attention and risked becoming a super-spreader, an incident of large transmission from a single source. Around the world there are now 81,017 confirmed cases, 2,765 deaths and more than 30,000 people fully recovered. The developing hotspots for new cases are central South Korea and northern Italy.
Keep in contact with The Thaiger by following our Facebook page.
Never miss out on future posts by following The Thaiger.
Thailand News Today | Governor off respirator, sex-trafficking arrest, condo prices falling | January 14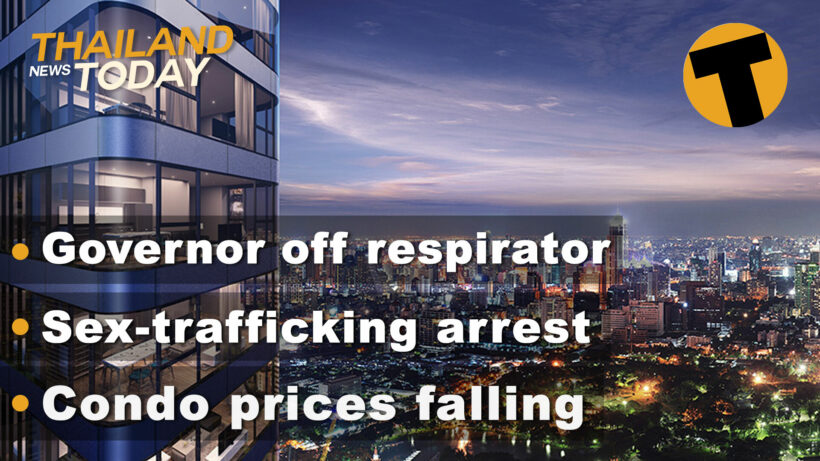 The Samut Sakhon governor is continuing to recover from a dangerous bout of Covid-19 and is expected to be taken off a ventilator today. The 58 year old was in "critical condition" after contracting the virus on December 27. His infection was reported just a week after the outbreak at one of the largest seafood markets in the coastal province where thousands of migrant workers have now tested positive for Covid-19.
He was treated with an anti-viral drug and put on a ventilator on December 31, along with a cocktail of muscle relaxants and sleeping enhancers. The governor has not been reported as having any striking pre-existing medical conditions before his bout of Covid-19.
The governor's wife, who also tested positive for Covid-19, has recovered and been discharged from the hospital. We wish them both a full and speedy recovery.
Condo prices in Bangkok are falling and are expected to continue to fall throughout 2021. Thailand's real estate market, like much of the rest of the world, isn't anticipated to pick back up again until the pandemic eases.
The average price of new condo in Bangkok is expected to fall by 5%, according to Nexus Property Marketing. New condos will declined by 3.9% while condo resales are expected to decline by 6.7%, according to Juwai IQI.
Marciano ???, business development Manager from FazWaz.com says that it's certainly a buyers market at the moment….
(VIDEO)
"Prices have dropped, discounts are available and the market will likely take a sharp turn upwards after the pandemic is behind us."
Nexus Research says that with 33,000 unsold condo units being completed, adding to the unsold stock in Bangkok, the average prices of resale condo units will also decline due to the competition with newly-completed condos.
3 people, including 2 brothers, have been arrested on charges of sex trafficking, accused of sending women to Brunei for serve as prostitutes. The 55 and 49 year old brothers were detained under an arrest warrant issued by the Criminal Court, charged with a sex trafficking operation involving over 3 people.
Following the arrest of the first suspect, Somchai was arrested in the northern province of Chiang Rai, with his brother taken into custody in the neighbouring province of Nan. They are charged with sending Thai women to Brunei for the purpose of prostitution, conning the women with promises of well-paid masseuse work.
The allegations against the traffickers came to light when a couple of their alleged victims reported to the Thai Embassy in Brunei to file a complaint. The women say the men lured them to Brunei with false promises, saying they could earn between 100 – 200,000 bath per month, as well as being provided with free food and accommodation.
Thailand's Public Health Ministry has called for more information from the makers of the Chinese Covid-19 vaccine, after its effectiveness rating was revised downwards by researchers in Brazil. The Sinovac Biotech vaccine was originally confirmed as 78% effective in trials in the South American country, but that has now changed to just over 50%.
The research team at Brazil's Butantan Institute say the discrepancy is a result of the higher rate not including patients who recorded "very mild" symptoms and did not need any medical treatment. They insist the vaccine is still 78% effective in preventing mild cases that do need treatment and 100% effective at preventing moderate to serious infections.
Meanwhile, the Thailand's Department of Medical Sciences says the government still plans to take delivery of 2 million doses of the vaccine, starting with 200,000 next month. The next shipment of 800,000 doses will arrive by the end of March, followed by the final shipment of 1 million doses by the end of April. Medical workers, healthcare volunteers and elderly and other "high risk" groups will be prioritised to receive the vaccine.
In total, the ministry hopes to eventually vaccinate 70% of the population with the various vaccines, with the goal of achieving some level of herd immunity.
The government has retained its price control on 55 products and service items including medical face masks, a synthetic fibre used as a raw material to make medical face masks, alcohol and alcohol-based hand sanitiser, and recyclable paper.
The meeting of the Central Committee on the Prices of Goods and Services has decided to maintain the price control list for 55 items, 50 of which are products and five services. The list is scheduled to be proposed for cabinet approval next week.
The committee also agreed to a maximum retail price for medical face masks of 2.5 baht apiece, excluding face masks made of cloth.
And an update of the Covid-19 situation in Thailand today…. 271 new Covid-19 infection and 2 deaths were reported at the daily briefing, raising Thailand's total number of infections to 11,262.
There are now 3,533 active cases being treated.
One of today's reported deaths was a 72 year old British man who died after contracting Covid-19.He arrived in Thailand on December 7 and started experiencing Covid-19 symptoms 4 days later. The man had pre-existing health conditions including lung cancer, diabetes and hypothyroidism.
The other virus-related fatality was a 53 year old Thai man from Pathum Thani, just north of Bangkok.
Out of the 271 new Covid-19 cases, 78 are local transmissions, 181 cases were detected in proactive testing campaigns, and 11 cases detected in quarantine.
Keep in contact with The Thaiger by following our Facebook page.
Never miss out on future posts by following The Thaiger.
Thailand News Today | Chinese vaccine, Thailand 'drug hub', Covid update | January 13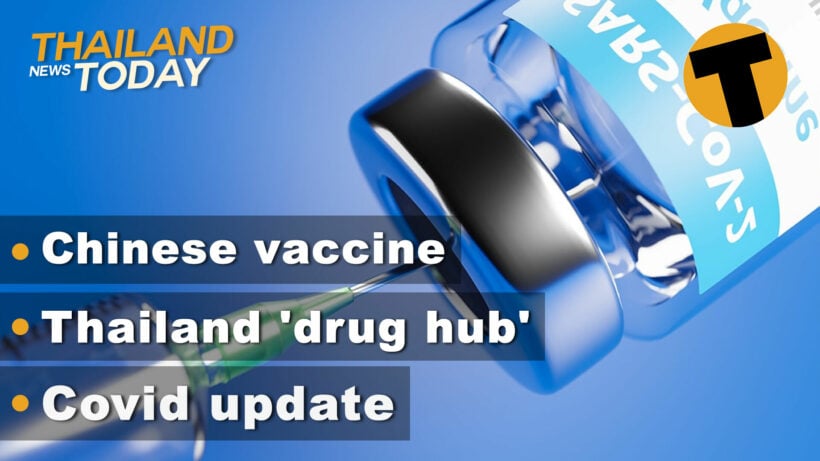 Confusion reigns over the effectiveness of a Chinese Covid-19 vaccine due to be rolled out in Thailand next month. Thailand has ordered 2 million doses of the Sinovac Biotech vaccine.
The rollout of this particular vaccine among high-risk groups in Indonesia will start this week. However, questions now hang over the vaccine's efficacy rate, originally reported as 78% in trials in Brazil but more recently downgraded to just over 50%. In total, 4 different rates of effectiveness have been published.
In Indonesia data from a local trial indicates an efficacy rate of 65%. However, with only 1,620 participants, the trial is considered too small for the data to have much value. Last month, Turkey reported an efficacy rate of 91.25% in its trials, but the sample size was again deemed too small.
The largest trial of the Chinese vaccine has been in Brazil, with 13,000 participants. There are, however, 2 quite different efficacy rates have been reported.
It's not the first time there has been confusion over efficacy rates of the new vaccines, with AstraZeneca initially reporting 2 different rates depending on the dosage administered. The Chinese vaccine still meets the efficacy threshold required for regulatory approval, at over 50%.
The Office of the Narcotics Control Board says Thailand is being used as a transit hub for gangs smuggling ketamine into the Kingdom from Taiwan and China.
The drug is then destined for re-export to places like Hong Kong and Malaysia, where it can fetch high retail prices. But they say the use within Thailand is on the up too, and that it's becoming more prevalent in areas with a lot of nightlife venues.
This week, 7 Bangkok users died from a new variant, known as "K powdered milk" and includes a cocktail of illicit drugs.
Officials says drug dealers are now providing ketamine at substantial discounts in order to hook customers and claim the drug is being produced in India, China, and Myanmar. Drug enforcement agencies in countries on the Mekong River are working together to share knowledge on the trade and smuggling operations. They claim the drugs are being smuggled through border areas in the northern province of Chiang Mai and the north-eastern provinces of Nong Khai, Nakhon Phanom and Bung Kan.
In the last few days police arrested 4 more people suspected of trafficking the new K-based drug cocktail which is said to be linked to 7 deaths in Bangkok over last weekend.
The Association of Thai Travel Agents is urging the government to do away with the mandatory 14 day quarantine for vaccinated foreign arrivals by the third quarter of this year.
The president of the ATTA says 30% of 10,000 inbound tourism companies have had to close for good due to the financial devastation caused by the government's restrictions and border closure.
He adds that a further 50% have closed temporarily, with only 20% of inbound tourism companies still operating. Those still in business have survived by shifting their focus to domestic tourists but are now suffering as a result of the resurgence of Covid-19 and a risk-averse domestic travel sentiment. He says, in order to help them survive, the government must focus on getting the second wave under control by next month and bring cases of local transmission down into double digits.
He also mentioned that, with vaccination programs already underway in many countries around the world, tourists who can prove they've been vaccinated should be exempt from mandatory quarantine.
At this stage the Thai government has foreshadowed that even people vaccinated against Covid-19 will still have to do the 14 day quarantine until more data can be collected about the efficiency of the various vaccines.
And some local Covid-19 updates… 157 new Covid-19 infections were reported today, well down on the daily totals over the past week.
There are now 3,981 active Covid-19 cases in Thailand. 90 of the new cases were local transmissions, 42 cases were detected in proactive testing.
One of the cases was a 3 month old baby in Bangkok who tested positive for Covid-19 yesterday, the youngest case in the new wave of infections.
And a major wet market in Bangkok, the Klong Toey Market, has closed for cleaning after a vendor tested positive. The market will reopen on Saturday. Health officials say she came in close contact with 10 people. Those people have been isolated.
And back to where the current wave kicked off, the central province of Samut Sakhon, provincial officials have announced the opening of a fourth field hospital by this Friday. The facility consists of 2 buildings with 350 beds to treat both asymptomatic and mildly symptomatic cases. Nation Thailand reports that it is located in the Nadee area of Muang district.
More than 180 migrant workers have finished their 14-day quarantine and been released from the first field hospital, which was opened in the Central seafood Market where this outbreak first began. A total of 472 patients who were in quarantine have now been discharged.
Since the latest resurgence was detected on December 20, Samut Sakhon has recorded a total of 3,341 infections.
Keep in contact with The Thaiger by following our Facebook page.
Never miss out on future posts by following The Thaiger.
Thailand News Today | Bangkok may ease restrictions, Phuket bar curfew, Vaccine roll out | January 12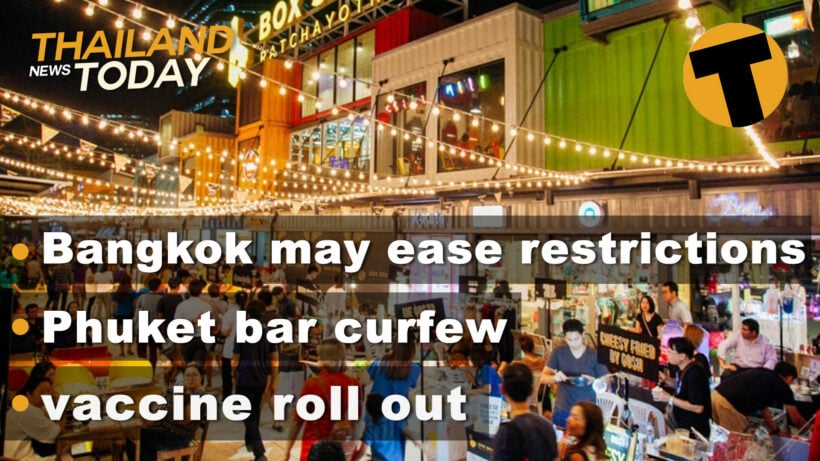 • Starting off in the capital today, where officials in Bangkok say they may look at lifting some restrictions, despite yesterday's reported infections going up by another 37, to a total of 1,989.
But officials say they're optimistic about the overall situation. The BMA has announced that, provided the capital avoids any further "super-spreader" events, officials may consider lifting restrictions in coming weeks.
They've also revealed that patients in the first cluster visited or worked at restaurants, nightlife venues, or massage parlours in the capital. Officials are now tracing other customers or employees from those venues. Nearly 16,000 "at risk" people, who visited markets in the city, have already been tested.
• Meanwhile, down south in Phuket, bars and other entertainment venues are being told to close at midnight, according to the latest order imposed by the Phuket Governor. Restaurants can stay open late, but are ordered to stop selling alcohol at midnight. The order is effective from today until at least January 20.
Phuket also recently announced travel restrictions for arrivals on the island. Those travelling from the "highest-risk" areas within the "red zone" provinces"must now self-quarantine for 14 days" upon arriving to Phuket. That includes people arriving from Bangkok.
All arrivals are also being instructed to download the Mor Chana application and fill out the short questionnaire.
• 287 new Covid-19 infections have been reported across Thailand today, most of them from the original Samut Sakhon cluster that kicked off the latest wave back on December 20. There are currently 4,035 active Covid-19 cases. Of the 287 cases reported today, 153 were local transmissions, 125 were detected through active case finding among a mostly migrant worker community in Samut Sakhon and 9 cases were detected in quarantine facilities for those arrivingfrom overseas.
• The national police are investigating what they say is a new illicit drug cocktail suspected of being linked to 6 deaths in Bangkok on Sunday. While autopsy results declaring the cause of death have not been released yet, police say 6 people in Bangkok died on the same day apparently after consuming the drug mixture called "K powdered milk" or K Nompong, in Thai.
Police say the incident, where so many people died on the same day, and possibly from the same illicit concoction, has never happened before. 5 of the 6 people who died in the Wat Phraya Krai district were found with a white powder at the scenes.
"K powdered milk" is a combination of a variety of other illicit narcotics and an off-the-shelf sleeping tablet, according to the national police chief. The drugs are crushed up together and resemble powdered milk.
Last night police arrested a 23 years old female suspected of selling the drugs in the Sai Mai district, near the Don Mueang Airport.
We've got a full video about this dangerous new concoction on Bangkok's streets at our YouTube channel.
• Health officials have formed a sub-committee to oversee the rollout of the various Covid-19 vaccines in Thailand. The team will be responsible for the overall vaccine program, including deciding priority groups.
Meanwhile the Department of Disease Control has announced that private hospitals can also go ahead with offering approved Covid vaccines, outside of the government's free program.
In the announcement it said…. The situation with the pandemic is changing fast. We are going to see more pharmaceutical companies requesting Thai Food and Drug Administration approval and that means private hospitals will be able to provide Covid-19 vaccines."
The Thai government has ordered 2 million doses of the Chinese vaccine, and 60 million doses from AstraZeneca. It's understood frontline medical workers, healthcare volunteers, and high-risk groups will be the first to get the 2 million Chinese doses when the rollout begins next month.
• An angry motorbike passenger involved in a collision that injured 3 in Pattaya has attacked the driver involved in the crash. The Pattaya News reports that 3 people were injured after a motorbike drove into road barriers at an intersection on South Pattaya Road.
Emergency workers arrived at the scene to find a damaged motorbike and the injured driver and his 2 passengers. The driver had sustained injuries to his face and was bleeding heavily. Both passengers had sustained minor injuries. None of the injured have been named.
Keep in contact with The Thaiger by following our Facebook page.
Never miss out on future posts by following The Thaiger.