Thailand News Today – February 26, 2020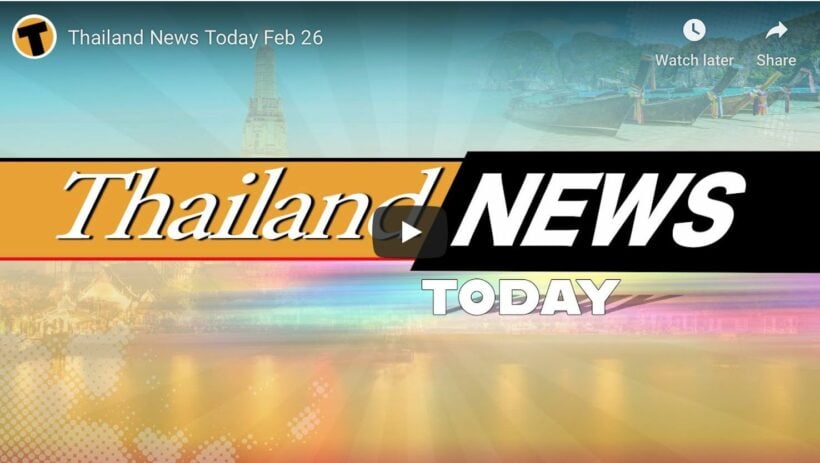 Fugitive shot dead in gunfight with police in Nakhon Si Thammarat
A fugitive is dead after a gunfight with police in the southern province of Nakhon Si Thammarat. The 30 year old man, from the province's main city district, was wanted on three warrants for theft. Police were notified today about two thieves attempting to break into a house. When police arrived, the two opened fire before fleeing. One of the burglars ran into a house and attempted to take a student hostage, but the boy freed himself and ran away. The man started firing on police and a gunfight erupted. He was shot several times before being arrested. He was rushed to hospital, where he was pronounced dead.
Opposition MP alleges PM and army behind cyber propaganda
An opposition MP says he's holding PM Gen Prayut Chan-o-cha responsible for a network of social media that have been allegedly running a cyber campaign against critics of the current government. They accuse the PM and supporters of the government about spreading fake news and derogatory comments about them. An MP of the now-disbanded Future Forward Party, Viroj Lakkana-adisorn, says the 'network' includes specific websites and social media that's been targeting leaders and supporters of the opposition political party as well as human rights activists in the violence-hit southern regions of the country. Viroj was addressing the allegations during a no-confidence debate in Parliament.
Fugitive shot dead in gunfight with police in Nakhon Si Thammarat
Pattaya City police arrested a highly intoxicated Bangkok man yesterday afternoon for carrying a large knife and threatening tourists and locals on a Pattaya Beach. Reuben Tuck reports… (Reuben VO)
Chevrolet Thailand says 'no' to compensation demands for cars sold before discounts were announced
Yesterday, a group of Chevrolet car buyers submitted a letter to Chevrolet Sales (Thailand) at the company national HQ at Rasa Tower, in Bangkok's northern suburbs. They were demanding the company should compensate them for having bought their cars at full price, just before Chevrolet announced it was pulling out of manufacturing cars in Thailand. Specifically they were complaining about paying the full price after Chevrolet announced a promotion to sell their backlog of vehicles at nearly 50% off, the day after the announcement. But Chevrolet has responded by saying there will be no compensation.
Cambodia burns, Bangkok chokes, schools closed
Bangkok mums and dads will need to sort out what to do with the kids for the rest of the week after the Bangkok Metropolitan Administration closed public schools from today because of the excessive air pollution. Most of the smoke and haze, this time, is blowing in from Cambodia with light easterly winds. All schools under the supervision of the BMA will close until Friday. This afternoon Bangkok has the 8th worst air quality on the world. Even worse, Chiang Mai ranks at number 4 with only Dhaka, Delhi and Lahore, Pakistan ahead of it.
Thai coronavirus cases hit 40, up from 37
Thailand has confirmed three more coronavirus cases, taking the country's total to 40. Two of the new patients, all Thai nationals, had returned from vacation in Japan's northern island of Hokkaido and came into contact with the third patient, an 8 year old boy. The male patient had not disclosed his travel history when he first sought medical attention and risked becoming a super-spreader, an incident of large transmission from a single source. Around the world there are now 81,017 confirmed cases, 2,765 deaths and more than 30,000 people fully recovered. The developing hotspots for new cases are central South Korea and northern Italy.
Keep in contact with The Thaiger by following our
Facebook page
.


Can't get enough Thaiger? Try Thaiger Radio @ 102.75FM with music, weather, traffic, news & local programming or view some Thailand Top 10s lists.

Thailand News Today – Tuesday, April 7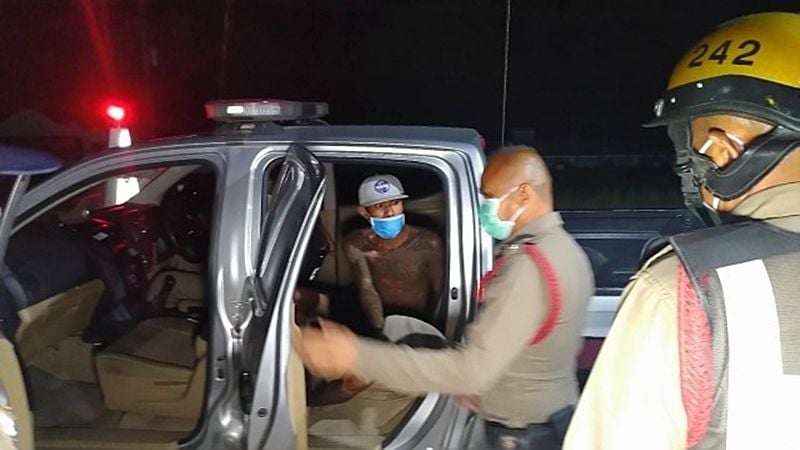 New coronavirus cases in Thailand fall to 38, 1 more death
In another dramatic drop in new case numbers, Thailand's Centre for Covid-19 Situation Administration reported only 38 new Covid-19 coronavirus cases in the previous 24 hours, and one additional death.
The cumulative death toll for Thailand now stands at 27.
The 38 new infections appears to show a declining trend from the 51 cases reported yesterday and and the 102 logged on Sunday, but officials warn there is no way to know the actual number of cases and how quickly the virus is spreading because, as is the case worldwide, very few people in Thailand have been tested.
Of the new 38 cases, 17 people were in close contact with previous patients. 11 of them were in Bangkok and contracted the disease from family members, colleagues and friends. 7 new patients worked in crowded areas or closely with foreigners: 
Other new cases included 3 health workers, 3 visitors to crowded places and 3 Thais who returned from overseas. 5 cases are still under investigation.
Surat Thani village headman kills monk and his assistant
Avillage headman in Surat Thani has been arrested after allegedly killing a monk and his assistant near the entrance to Khao Phela monastery. 
Police arrived at the scene at 2am where they found a pickup loaded with torches, fuel and coconut husks. A 48 year old man was lying dead on the back of the vehicle with a gunshot wound to his neck.
10 metres away was the dead body of a 49 year old monk lying on the ground. He had two gunshot wounds, one in the back of his head and the other in his chest.
A .32 handgun was found near his body.
55 year old Manop Kopin, the headman of a village in tambon Samor Thong, was waiting for authorities and surrendered himself. Police are continuing the investigation.
Indonesian cases spike, 24 doctors have now died
The Indonesian archipelago has announced its highest daily increase in Covid-19 coronavirus cases. There has also been a concerning rise in the deaths of doctors and health workers at the frontline of the national fight against the disease. Statistics have doubled in the last week.
The 209 confirmed deaths is the highest death rate and number of fatalities in Asia, outside of China. 
A spokesman for the Indonesian Doctors Association, also confirmed that 24 Indonesian doctors have now died from Covid-19 causing regional medical authorities to fear that the real rate of Covid-19 infections in Indonesia is much higher than reported.
CAUTION: Sterilising machines unsafe for humans
Thailand's Food and Drug Administration deputy secretary-general says that The World Health Oraganisation is encouraging people not to use any Covid-19 "sterilising machine services", including UV and spray tunnels.
He says they are harmful to the skin and exposure to the radiation or chemicals may even cause cancer.
"Most of the antiseptic used in the spray tunnels are those allowed for sterilising surfaces of various materials, but not for human skin. 
Don Mueang Airport uses hiatus to upgrade
Bangkok's Don Mueang international airport is turning the Covid-19 crisis into an opportunity to do a make-over whilst there is virtually no one in the terminal.
The coronavirus outbreak has forced the suspension of domestic and international flights, grinding air traffic into and out of Don Mueang airport to a complete halt.
So the airport is pushing ahead with a refurb costing 126 million baht.
There are three projects – a 99 million baht improvement of the air-conditioning system, a re-carpeting of most of the terminal priced at 18 million baht, and a nine million baht switch to LED lights to save energy.
Don Mueang is the country's second busiest airport, after Suvarnabhumi. A plan is also afoot to expand Don Mueang largely served by budget carriers.
Keep in contact with The Thaiger by following our
Facebook page
.
Thailand News Today – Friday, April 3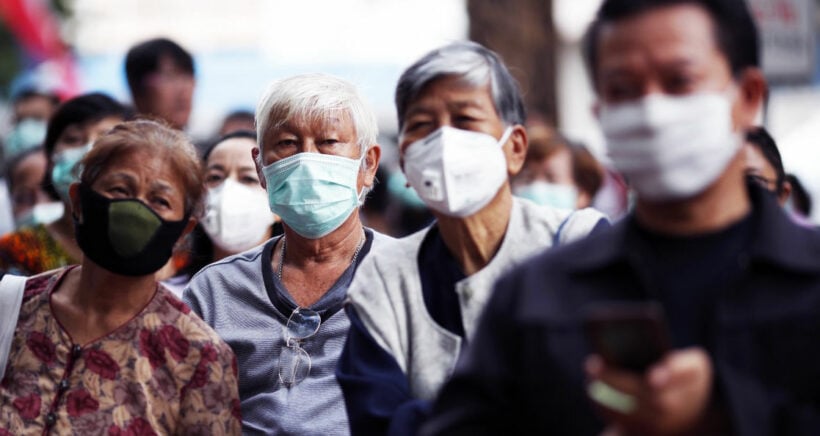 hosted by Tim Newton
103 new virus Covid-19 coronavirus cases confirmed, 4 more deaths
Covid-19 coronavirus cases in Thailand rose to 1,978 with 103 cases confirmed since yesterday, and another 4 patients dying. 
Today's number continues a the trend of new cases in Thailand levelling out. 104 new cases were reported yesterday, 120 on Wednesday, 127 on Tuesday.
Nationwide curfew goes into action from today
A nationwide curfew goes into effect in Thailand today.
The curfew will prohibit the public from leaving their homes between 10pm and 4am. All arrivals to Thailand are banned until April 15 while the government prepares quarantine centres and field hospitals.
Exemptions from the curfew include medical and banking personnel as well as logistics workers handling consumer goods, agricultural produce, pharmaceutical products, medical supplies and equipment, newspapers, fuel, post, products bound for export and imported goods. The latest details about that story at thethaiger.com
Massive pay cuts for Thai Airways staff
Beginning tomorrow, employees of Thai Airways will no longer work and will be forced to take a significant cut in pay – some up to 50%. The announcement comes after the airline said it would halt all flights due to the Covid-19 outbreak, which has forced many countries to close their borders. Airlines around the world are becoming increasingly grounded as international travel grinds to a halt.
All public transport in Bangkok to stop in time for nightly curfew
Public transport services in the Bangkok area will be closed from 9.30pm – 4am.
Normally service hours for the MRT, BTS and Airport Rail Link end at midnight but due to the current situation, services will cease at 9.30 so staff and passengers have time to make their way home.
Bus services will finish a bit earlier so buses can reach their depots by 9pm.
More than 100 horses dead as African Horse Sickness strikes Thailand
The director-general of the Department of Livestock Developmentsays more than 100 horses in Thailand have died from African Horse Sickness.
It's the country's first instance of the illness, which only affects animals. Latest government data show at least 131 horses have died across 4 provinces. The government has quarantined sick horses to limit the spread of the disease. Horses that contract the illness can have fevers of over 39C, difficulty breathing and bleeding in the eyes, according to officials.
Summer storm warning for 55 of Thailand's 76 provinces
Today Thailand's Meteorological Department warned people in 55 northern, north-eastern, central and eastern provinces to prepare for possible "strong winds and hail from summer storms", 
The storms are expected through to Sunday. This time of the year is also know as the bridging season between the annual dry and wet seasons. Weather can be unsettled in parts of Thailand during this time.
According to the forecast, the storms are due to the convergence of southerly and south-easterly winds, driven by the cold front over Vietnam, Laos and the South China Sea, and the increasingly warm weather over northern Thailand.
Keep in contact with The Thaiger by following our
Facebook page
.
Thailand News Today – Thursday, April 2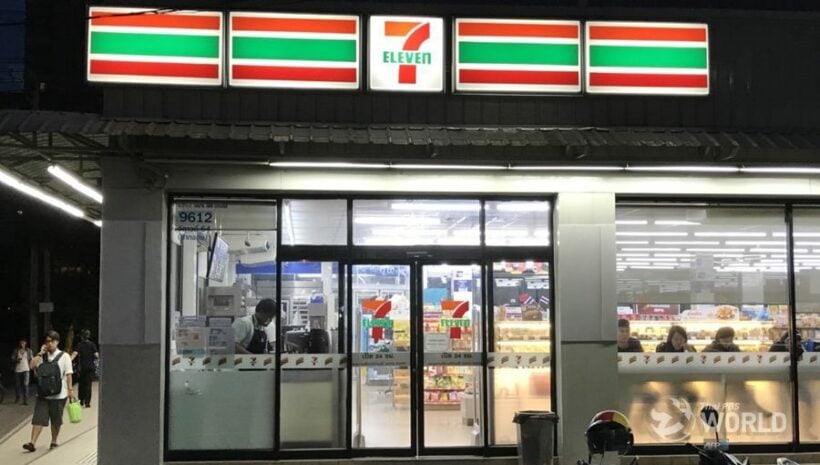 Hosted by Tim Newton
Thailand confirms 104 new coronavirus cases (Thursday)
Thailand now has at total of 1,875 Covid-19 coronavirus cases, another drop in newly announced cases.
104 new cases were confirmed over the last 24 hours and 3 more patients died. Total deaths now stand at 15. This continues a hopeful trend of new cases in Thailand dropping as restrictions tighten across the country. 120 new cases were reported yesterday, 127 on Tuesday.
Bangkok, Phuket order convenience stores closed overnight to battle virus
To fight the spread of the Covid-19 coronavirus, Bangkok's convenience stores and food shops will be closing overnight. They will be closed from midnight to 5am, effective from now until end of April.
• All public and private parks in communities, housing estates and condos will also be closed from tomorrow until April 30.
• Official document services, usually performed at district offices, will also be suspended (except for the issuance of birth and death certificates, marriage registrations, divorce certificates and approval of household certificate and ID card copies).
• The Interior Ministry has extended the validity of expired ID cards until the end of July.
• Rents paid by vendors in 10 markets owned by City Hall will be waived until the situation has returned to normal.
Meanwhile, down south in Phuket, island officials have taken similar measures.
All 24 hour convenience stores must close from 8pm to 3am until April 30, and all motorbike shops are ordered closed. Violators face up to a year in jail and/or a fine of up to 100,000 baht
Thai Airways goes into hibernation until end of May, others ground fleets too
After a decade of financial struggles and corporate upheaval, Thailand's national flag carrier, Thai Airways, with a previous reputation as one of Asia's premier airlines, is ceasing all flights for a period of at least two months.
The once proud airline made the initial announcement a week ago, suspending some flights at that time. Then the acting president said yesterday that employees have been asked to take two months off from tomorrow until May 31. Some staff salaries are being reduced by 10-50%.
Phuket rooftop party busted, drugs seized
Police have arrested 9 foreigners and 5 Thai women for partying in Patong in violation of orders against gathering in crowds, to control the spread of coronavirus disease. They were arrested on the rooftop of a rental house on Sirirat Road in Patong last night after police received a complaint about a loud party. Those arrested included Australians, British, Americans, Ukrainians and Thais.
Police officers seized 4 grams of cannabis and 0.94 gram of cocaine. They also seized several bottles of liquor and loudspeakers. 
Thailand's food delivery services are booming
Whilst most businesses have been turned upside down by the disruptions caused by the Thai government's reaction to Covid-19, at least one business is booming at this crazy time.
With restaurants closed to sit-down customers, the delivery services are providing a valuable service getting food to customers stranded at home whilst applying social distancing for the safety of their drivers and hungry customers.
Last year Kasikorn Bank Research reported that Thailand's food delivery business in 2019 was worth 33-35 billion baht, up 14% from the previous year. Now most of the Food Panda and Grab Food drivers are anecdotally reporting their business is up 100% compared to a few weeks ago, sometimes making 15 deliveries over a two hour period.
Keep in contact with The Thaiger by following our
Facebook page
.