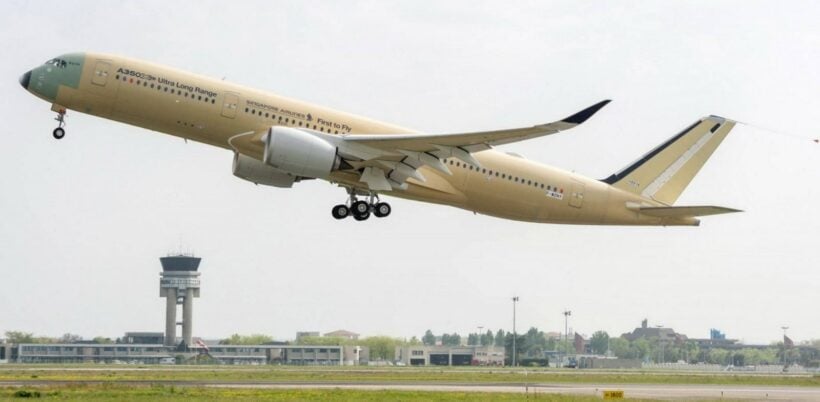 PHOTO: Aviation International News
Imagine sitting for 19 hours in one seat, travelling nearly 17,000 kilometres, from Newark to Singapore. The route, a return to long distances for Singapore Airlines since it canned the same route with the Airbus A340 in November 2013, will now be a lot more comfortable.
The Singapore Airlines Airbus A350-900 Ultra Long Range service is being relaunched as a daily route in October this year. The new generation plane is being fitted with new generation seats.
The incredibly lengthy routes planned for the ULR aircraft necessitated some updates, including shifting the seat-back pocket higher for improved knee and shin space, redesigning the bottle holders and cocktail table.

Travelers on this premier route will only have a choice of just two premium classes: the 67-seat Business Class cabin, or the 94-seat cabin of Premium Economy, seats so good, say the makers, they could almost pass for Business Class.
Zodiac Aerospace has completely redesigned the idea of an aircraft seat, literally from the bottom, up. Zodiac have extensively trialled the new seats in their factory in Texas, USA and also sent seats to Singapore. Singapore Airlines asked some of their frequent fliers to come and test drive the new seats and even stay at the test facility overnight and report on the sleeping experience.
Zodiac say that every inch has been considered and reconsidered, so that the Premium Economy seats and their 38 inches of legroom include calf and foot rests, a cocktail tray, over-shoulder reading lights, adjustable winged headrests, 13.3-inch screens, and three power points per seat (two USB ports and one universal AC outlet).

PHOTO: cnn.com
Fliers on the new ultra long range Airbus will also be able to enjoy noise-canceling headphones, pillows and blankets, 1,400 on-demand entertainment options, amenity kits, full-size bottles of water.
Champagne and complimentary drinks (including Singapore Sling cocktails of course), and the ability to pre-order meals like seafood thermidor or Singaporean nasi lemak from the airline's previous Business and First Class menu will also be a standard part of the new long-range experience.
Layout for the seating in the main cabin will be 2-4-2 – usually A350 aircraft have a 3-3-3 layout so the seats in the Premium Economy section are not only a little wider but also enjoy some 38 inches of legroom, up from the minimal 31 or 32 inches most of us have to endure in modern economy sections.
No matter how you configure a seat, 19 hours is going to still be a very long time in one place and a recipe for numb-bum. Perhaps an opportunity to binge watch, well, anything.
A return to supersonic flight anyone?