First 'China coronavirus' case confirmed in Japan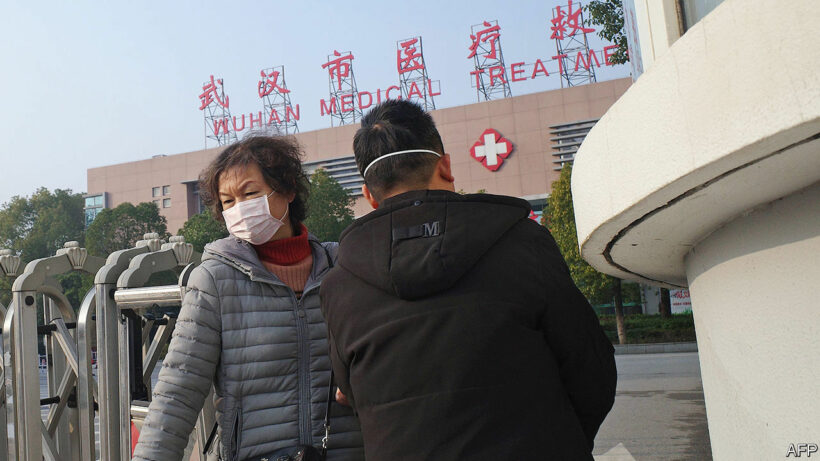 As Thailand's airports continue screening passengers arriving from China, Japan has confirmed its first case of the new China coronavirus that has killed one and attracted a travel alert from the US State Department. The patient, a man from Kanagawa prefecture near Tokyo, had recently visited the Chinese city of Wuhan, where an outbreak of a pneumonia strain is believed to be caused by the new coronavirus.
The US State Department issued a warning on Wednesday about travel to the Wuhan region in China, citing an alert by the US Centres for Disease Control and Prevention which urges citizens travelling in the region to avoid contact with animals, animal markets or animal products, among other precautions.
Health authorities in Thailand announced on Wednesday they are stepping up screening of passengers arriving by air ahead of the Chinese New Year holiday, when 800,000 Chinese tourists are expected to head for the Kingdom.
Though there has been no known human-to-human transmission, the World Health Organisation says the new virus could spread and is warning hospitals worldwide. Coronaviruses are a large family of viruses that can cause infections ranging from the common cold to Severe Acute Respiratory Syndrome, aka. SARS. Some of the virus types cause less serious disease, while some, like the one that causes Middle East Respiratory Syndrome (MERS), are far more severe.
The Japanese patient returned from Wuhan and was hospitalised with a fever. He was released yesterday after the symptoms subsided.
SOURCE: The Bangkok Post
Keep in contact with The Thaiger by following our
Facebook page
.


Find more SE Asian News courtesy of The Thaiger.

Broke? Find employment in Southeast Asia with JobCute Thailand and SmartJob Indonesia. Rich? Invest in real estate across Asia with FazWaz Property Group or get out on a yacht anywhere with Boatcrowd. Even book medical procedures worldwide with MyMediTravel, all powered by DB Ventures.

Are you considering a medical procedure abroad? With Thaiger Medical you can research hospitals and doctors, choose a destination in Thailand or abroad, and book an appointment today.

Thailand is making you fat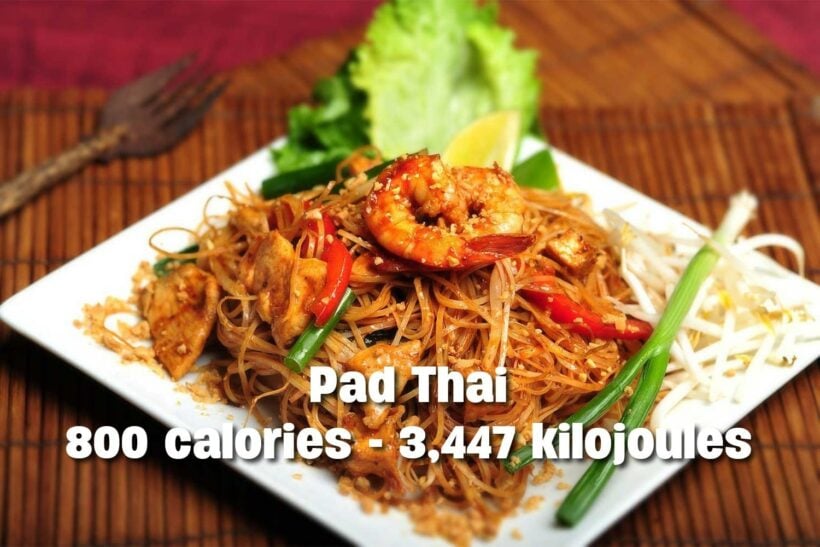 "…compare a Big Mac to an average Pad Thai and there's at least double the kilojoules in the Thai noodle dish."
I came to Thailand as a fit, healthy 70 kilogram Australian. After six years in Thailand I'm now a reasonably fit, healthy 76 kilogram Australian. Why? Well, Thai food, despite its healthy appearance and fresh origins is also full of fats, sugars and salt. For example, compare a Big Mac to an average Pad Thai and there's at least double the kilojoules (or calories) in the Thai noodle dish. (There's plenty of variation in Pad Thai servings but we took an average from three websites reporting on the nutritional value of Thai food). One website went as far as reporting that your average Pad Thai had FOUR times as many calories in it.
(A big Mac has 1075 kilojoules per 100 grams of weight and weighs approx. 200 grams)
Whilst Thai food is generally fresh, cooked quickly, full of nutrition (vegetables, carbohydrates and protein), it's also full of calories. But the problem goes deeper than this. And it partly answers the question as to why Thais, as a population, are growing taller and fatter than in the past – they're getting a lot more calories than in the past.
Head to your local convenience store and scan the shelves. Anything fresh is difficult to find. Many foods that would have traditionally come without sugar are now laced with additional sugar – yogurt, fruit juice, bread, and we're hardly past the front counter yet.
Anecdotally, I would suggest that the ingredients for your average Thai meal have evolved over the past 100 years and now there is a lot more salts, sugars, MSG and saturated fats than a century ago (the MSG argument is something for another time). Of course, all these things make most foods taste better, I won't deny it.
Thai food is still a great source of all the nutrients you need to get through the day but eating large Thai meals with lost of noodles and white rice is not going to help you return to your 20 year old surfer body. White rice has about as much nutrition as cardboard. Cook it in a sea of saturated fat (fried rice) and you're on the way to a big calorie intake.
Nutritionists recommend avoiding six types of Thai foods including Pad Thai, yellow, green and red curries, Tom Kha soup (Tom Yum is ok), stir fries and Thai tea (the orange sweet milky concoction).
Well, that's about every Thai meal I love 🙁
chefjohnhowie.com has a list of Thai food dos and don'ts.
Meanwhile Hayden Rhodes, Phuket nutritionist and well-being consultant, says there are three things to take into account when consuming our beloved Thai food.
1) Most food is fried, many times in cheap nasty rancid vegetable oils. Avoid fried Thai food.
2) Thai food over the years has followed the SAD… standard American & Australian Diet (very SAD) which means consuming more sugar per head per year. Sugar makes you fat. Period. Ask for no sugar to be added to Thai dishes (yes- it's in everything!)
3) A lot of Thai food is full of chemicals 'fresh from the farm'; detoxification processes will be hampered – body fat will be stored. Ask your fancy hotel or beach club where their food comes from and 99% will likely be 'Macro'. Find out who uses organic ingredients and eat there. Yes – this will have a direct impact on your energy, mineral content in your body and your fat line… oops I meant waist line."
Add to the high calorific content of all our favorite Thai foods is the relatively inexpensive and plentiful alcohol and street food stalls every 50 metres along any road and you're heading for a fright when you step onto the scales. It's also a lot easier to jump on the motorbike in Thailand to travel short distances we might have happily walked back in our home country.
So next time you see a friend heading into McDonalds for a Big Mac, rather than fat-shaming them, they might actually be trying to lose weight! (We certainly don't recommend eating Bic Macs or 'fast food' too often though)
Health aficionados and doctors would always recommend a balanced food intake with fresh food at the top of the list along with regular exercise, at any age.
Good advice! So it's back to the swimming pool and gym, and choosing Tom Yum over Pad Thai.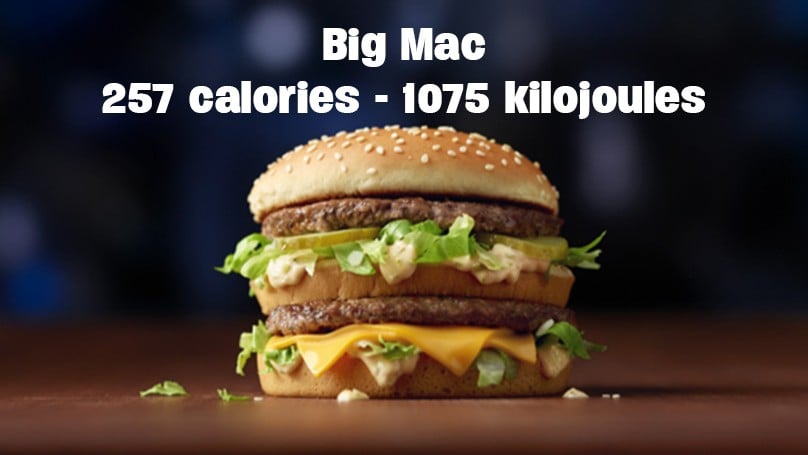 (per 100 grams of weight)
Keep in contact with The Thaiger by following our
Facebook page
.
More than 100 Chiang Mai students hospitalised with food poisoning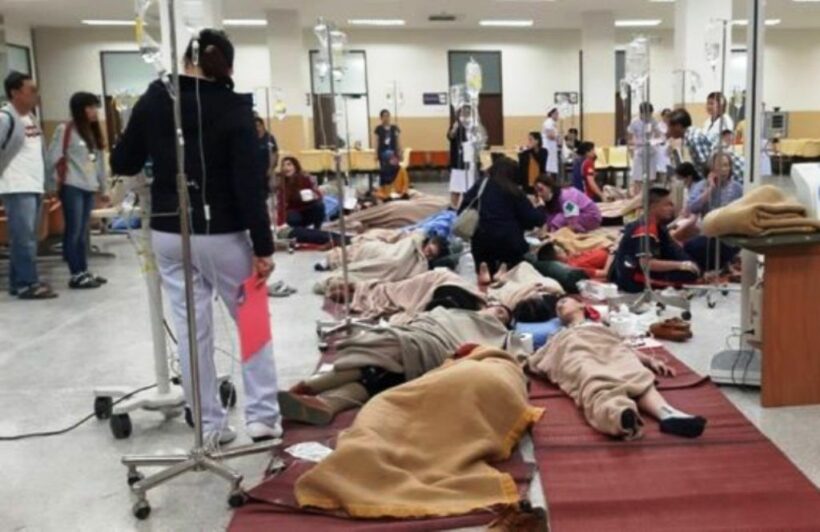 There was chaos at Chiang Mai hospitals yesterday when around 130 students were hospitalised with food poisoning. The grade 8 students from Montfort College in Chiang Mai had eaten lunch at the San Sai scout camp when they began showing symptoms of food poisoning, including diarrhea, vomiting and stomach cramps.
There were an estimated 400 students at the camp: about 89 were taken to the local San Sai Hospital and another 50 taken to other Chiang Mai area hospitals. 30 doctors and nurses were dispatched to the camp in Mae Faek subdistrict of Chiang Mai's San Sai to treat other students who did not require hospitalisation.
The senior permanent secretary for the San Sai district was called in to monitor the situation and was meeting with Chiang Mai's governor Charoenrit Sanguansat. All but four of the children had been released from hospital after receiving treatment by late last night.
Details of the food poisoning remain unclear other than a boiled chicken dish with dipping sauce was served for the children's lunch.
SOURCES: The Chiang Rai Times | Chiang Mai One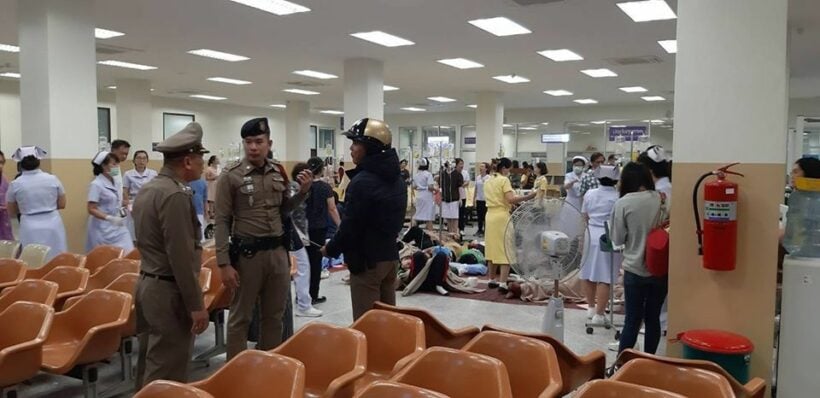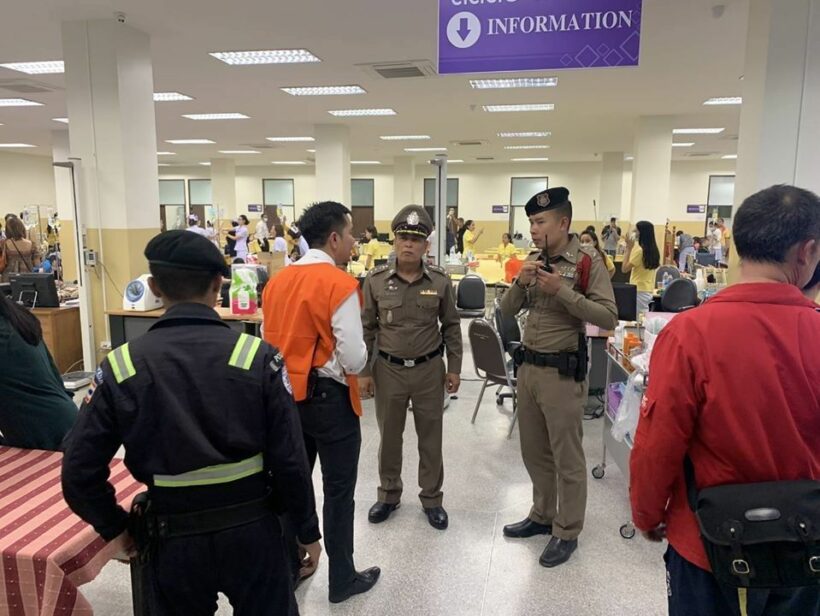 Keep in contact with The Thaiger by following our
Facebook page
.
Cannabis oil gaining traction in Thai medical circles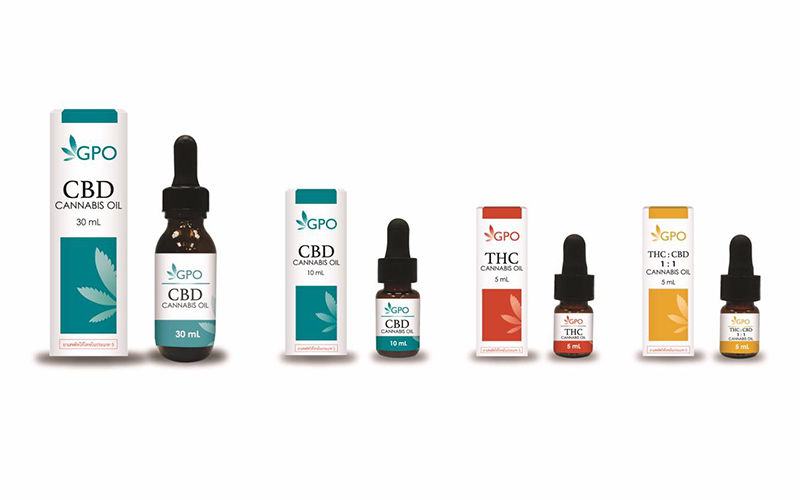 Last week's opening of Thailand's first two full-time clinics dispensing cannabis oil (cannabidiol, or CBD) for medical treatment has brought international attention, not only to the kingdom's burgeoning cannabis industry, but to the oil's many reputed benefits. Around 25 CBD clinics have been operating part-time since the government agreed in 2018 to amend drug laws to allow the use and production of medical cannabis.
Marijuana has not yet been deciminalised in Thailand, and possession and dealing can still bring harsh penalties. But CBD has become the health industry's new shining star, with producers flogging it as a quick-fix for everything from anxiety to attention deficit hyperactivity disorder (ADHD) and chronic pain, despite it only recently becoming legal in Thailand. It's now manufactured into a wide variety of products, meaning it's no longer necessary to simply take it orally. CBD tinctures, mixtures of cannabidiol and a medium such as alcohol, other plant based oils or even vinegar, are extremely potent and can be taken sublingually, with a dropper under the tongue, the quickest method of absorption.
CBD tinctures offer high bioavalability, which means they're absorbed rapidly into the body. Thus tinctures are not only extremely potent, but cost-effective as well.
Some of the medical benefits attributed to CBD could include:
• The control of epileptic seizures: Since 2018, UK doctors have prescribed CBT to patients with epilepsy
• Pain relief: According to CNET, most people who use CBD use it to manage chronic pain, arthritis and joint pain.
• Treatment of type 2 diabetes: CBD has well documented anti-inflammatory properties, which can not only reduce the pain associated with diabetes but may also help to regulate blood sugar levels.
• Doesn't get you high: Anyone turning to cannabis oil for a buzz will be disappointed: CBD is non-psychoactive (it contains little or no THC, the compound in marijuana that creates euphoria) and non-addictive.
• Sleep aid: Cannabis has long been used as a cure for insomnia. CBD, once absorbed interacts with the body's endocannabinoid system, helping to create a state of balance, promoting better sleep.
With health minister Anutin Charnvirakul championing medical cannabis as a cash crop and even hinting at legalising recreational use, Thailand's cannabis industry is poised to grow to US$661 million (21 billion baht) in value by 2024, according to Prohibition Partners, a cannabis research firm.
SOURCE: Chiang Rai Times | CNET
Keep in contact with The Thaiger by following our
Facebook page
.