Thai political leader proposes legal brothels and sex shops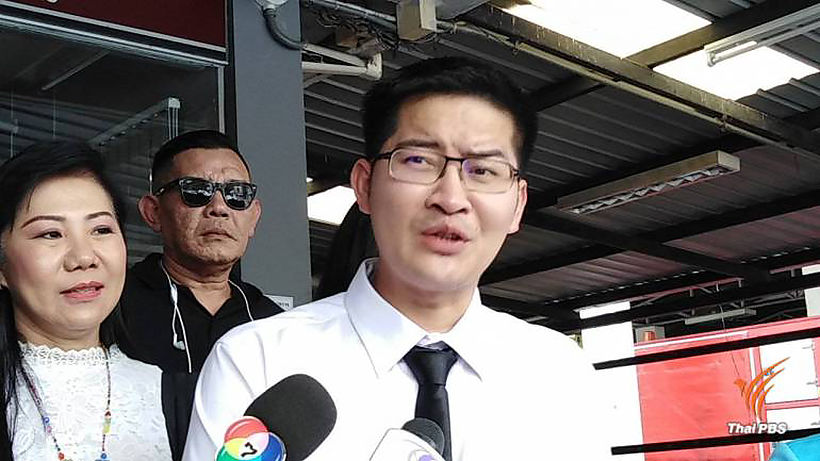 A controversial Thai MP is proposing licenced brothels and sex shops as a way of addressing the problem of sexual abuse in Thailand. Mongkolkit Suksintharanont, leader of the Thai Civilised Party and a member of the House committee studying ways to reduce rape and other sexual violations, commented in a Facebook post that he would raise the proposal with committee members at their meeting yesterday.
Explaining his logic, Mongkolkit commented that humans, by nature, are sexual creatures, and laws and cultural norms regulating sexual activity are artificial and make humans different from other animals. He says that most rapes are perpetrated by men to release sexual tension, adding that offences are committed in families, in workplaces among colleagues and even in schools among classmates, and that rapes reported to police are a fraction of those actually committed.
He claims his idea of state sanctioned brothels and sex shops follows the Swiss model, adding that it could help reduce rape and corruption among officials for turning a blind eye to Thailand's illegal sex trade.
SOURCE: Thai PBS World
Keep in contact with The Thaiger by following our
Facebook page
.
Opposition MP alleges PM and army behind cyber propaganda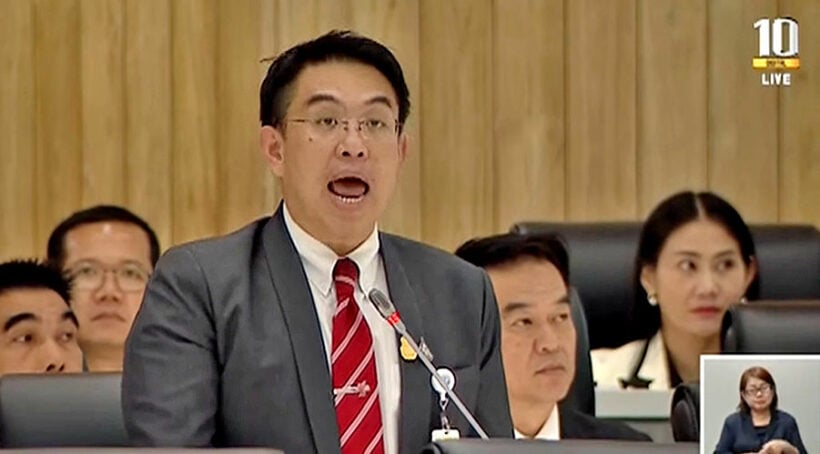 An opposition MP says he's holding PM Gen Prayut Chan-o-cha responsible for a network of social media that have been allegedly running a cyber campaign against critics of the current government. They accuse the PM and supporters of the government about spreading fake news and derogatory comments about them.
An MP of the now-disbanded Future Forward Party, Viroj Lakkana-adisorn, says the 'network' includes specific websites and social media that's been targeting leaders and supporters of the political party as well as human rights activists in the violence-hit southern regions of the country. Viroj was addressing the allegations during a no-confidence debate that was targeting Thai PM Prayut, who also acts as defence minister.
Thai PBS World reports that he provided evidence from a website, pulony.blogspot.com, which has been publishing information critical of human right activists in southern Thailand. He said the website is linked to a network of social media which routinely re-post its contents. The allegation is that the PM was knowledgable about such activities and that the government was supporting the people 'gaming' the information and opinions on targeted websites.
Viroj described the websites as part of the so-called information operation and named the Internal Security Operation Command, the country's top intelligence and security body, as complicit in the propaganda. He alleged that their operations were under the direct command of the PM and targeting critics of the military and government.
"The purpose is to denigrate these people. To sow seeds of hatred."
Viroj made his allegations under parliamentary privilege during the ongoing no-confidence debate currently being heard in parliamentary sessions.
SOURCE: Thai PBS World
Keep in contact with The Thaiger by following our
Facebook page
.
Bangkok police on alert at student rallies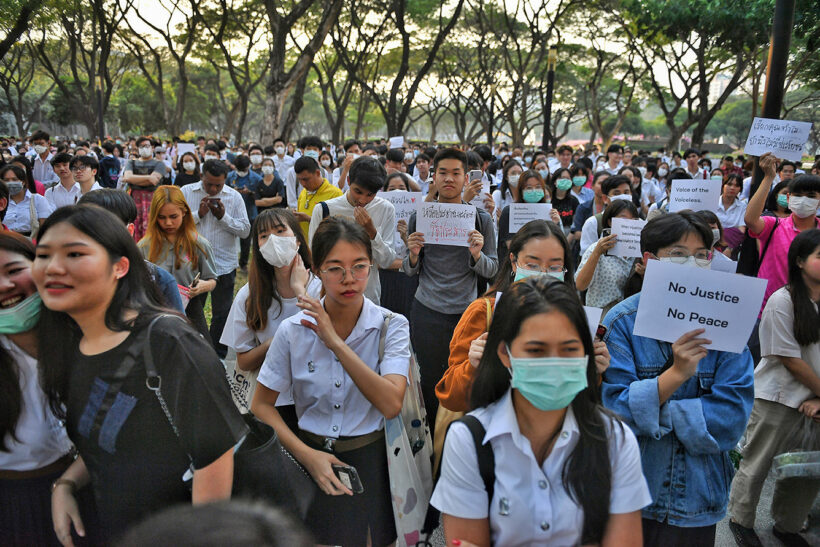 Authorities in greater Bangkok are keeping a watchful eye on students organising political rallies at universities in and around Bangkok, warning them to strictly adhere to public assembly laws. Last night, activities were held by students at Mahidol University, Silpakorn University's Tha Phra campus, Chiang Mai University and Maejo University, also in Chiang Mai, following the Constitutional Court's decision to disband the popular Future Forward Party (FFP) over a breach of election law. Today, students at Walailak University in Nakhon Si Thammarat and Thammasat University's Lampang campus are expected to follow suit.
"Although public gatherings to make demands or to mount resistance are a democratic right, the organisers and participants are reminded that they must act within the bounds of the law."
The string of gatherings followed Saturday's event where groups of students and people joined a rally at Thammasat University.
On Monday at Chulalongkorn University, students led by those from the Faculty of Arts, gathered on campus at 5pm and took turns speaking onstage. At Kasetsart University at about the same time, a large group of students and people gathered to issue a statement.
The statement complained about a loss of freedom and of injustices over the past five years, as well as the arbitrary appointments of cronies of the junta to key positions, which they described as its legacy.
Deputy national police spokesman Kissana Phattanacharoen says police officers, including plainclothes officers, are being deployed to rally sites "to ensure the safety of the protesters and monitor their movements."
Kissana points out that prior permission must be obtained to stage rallies in certain locations, while acts done with the intent to provoke unrest are prohibited.
SOURCE: Bangkok Post
Keep in contact with The Thaiger by following our
Facebook page
.
Future Forward ruling sparks flash mob at Bangkok's Thammasat U.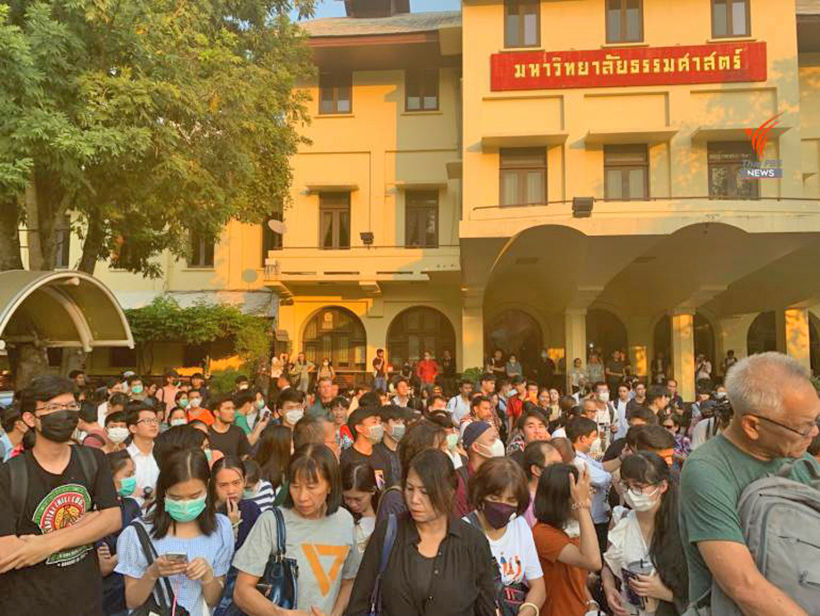 The Student Union of Thailand held a brief rally at the campus of Thammasat University yesterday, to protest the Constitutional Court's decision to dissolve the Future Forward party, strip its MPs of their status and and ban its executive committee members from politics for ten years.
Students and members of the public who support the now-defunct party attended, lighting candles as a gesture of "protest against injustice in Thailand."
Two sheets of white cloth were laid on the ground of the Pridi Courtyard, where protesters could express their thoughts about the court's decision. The event also featured the poetry readings and speeches by students.
Plainclothes policemen were sent to observe the event, which ended peacefully at about 7pm.
SOURCE: Thai PBS World
Keep in contact with The Thaiger by following our
Facebook page
.