Want that perfect picture? Just wait your turn.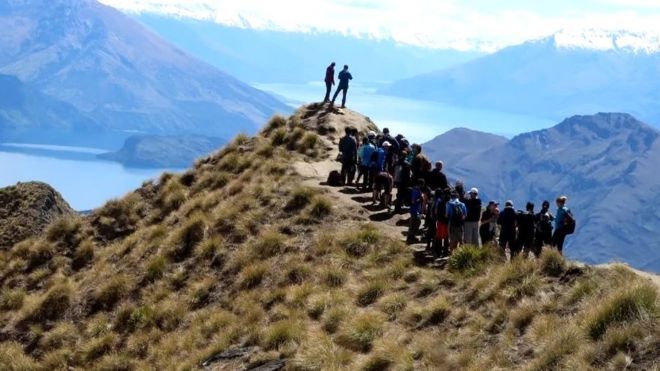 PHOTO: Tomas Alfoldi
In this modern day of social media it seems so many are out to get that 'perfect shot', and will go to great lengths to get it. Seeing a picture of someone perched on some isolated cliff overlooking some natural wonder and thinking to yourself  'I've got to get that picture!'.
We're often confronted with the challenge of arriving at iconic tourist locations and being faced with the challenge of finding a small sliver of space in which to take a picture while cutting out all other tourists. For some pictures though you may need a lot of clear space to get THAT profile pic that puts your friends to shame. So what do we do?
Wait in line and be patient.
Roy's Peak, in Wanaka, New Zealand has become famous for its set-piece location, and an image of one tourist's battle to obtain his own pic and the realities he faced, has been trending on social media.
The New Zealand's Department of Conservation said that due to the massive spike in popularity thanks to social media, the Peak had seen an increase of over 10% in visitors over the last two years.
Online comments hold concern for the preservation of the park and the Department of Conservation have asked all visitors to be considerate of the wildlife and make sure one is fully equipped and fit for the hike.
It seems The Peak is not the only location with line ups, here is another picture from Sai Wan Swimming Shed in Hong Kong.
Have you come across this in your travels? SEND in your pictures so we can them with everyone.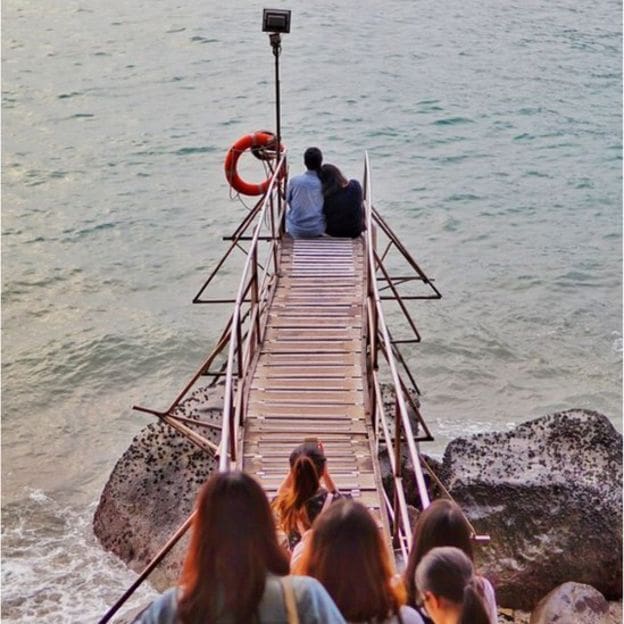 PHOTO: Kenny Lee


Looking to jettison some items before jetsetting away or chartering a yacht? Look no further than Thaiger Classifieds where you can find and post items, work, property and more for free.
Japan's legendary cherry blossom is only 5 hours away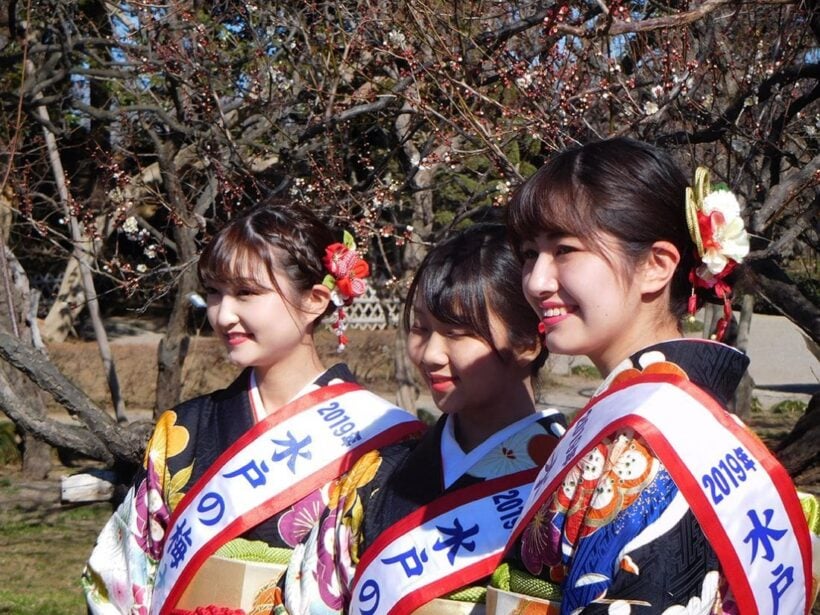 by Kaoru
Do you travel frequently between Thailand and North America and want to break your journey on the way? Or are you simply looking for somewhere to escape the scorching weather forecast for the next few months? 
Japan has become a very popular holiday destination among Thais with visitor numbers expected to reach one million a year. Many of them are excited to see snow in winter but March~April is a more pleasant time of year with spring flowers and festivals all over the country. Cherry blossoms are well known but the plum blossom season starts earlier in mid-February and the flowers last longer. 
While in Thailand I met so many expats, mainly farang, who had "been there, done that" all over Asia but not yet been to Japan. It seems these days, it's the free-spending Thais who are travelling in numbers. Budget airline Nok Scoot started flying from Don Muang to Tokyo Narita last year and Thai Lion has now joined the competition. 
Those of you bound for North America can connect flights in Tokyo or Osaka, flying legacy carriers like JAL or ANA out of Bangkok Suvarnabhumi (BKK.) Actually, Tokyo has two international airports, Haneda (HND) which is close to the city and Narita (NRT.)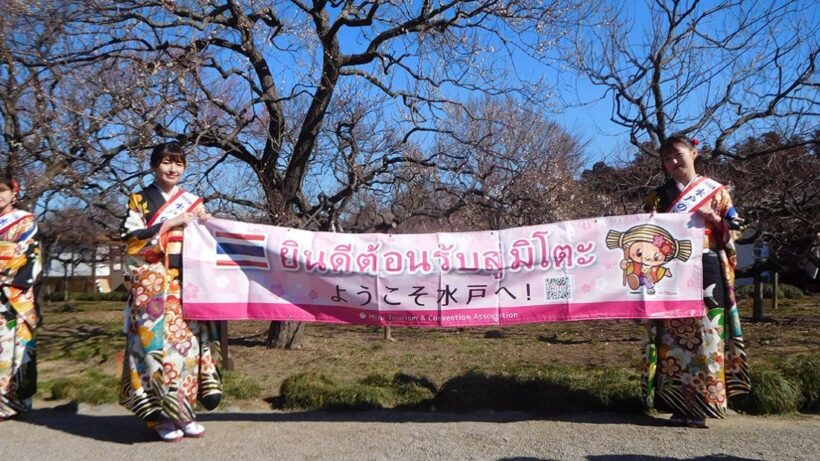 Narita Airport is about 60 kilomentres from Tokyo but lies close to a temple town of the same name, only 10 minutes by train. Plum blossom festival is held there until March 3, Buddha's Birthday is celebrated earlier than Thailand in April, and there will be two days of drum (taiko) performances on April 13 and 14.
However the largest plum blossom festival in the region is held between February 16 and  March 31 in Mito, Ibaraki Prefecture, about an hour and a half from NRT by coach.
To visit this event you might need a stopover of at least one night. The main venue is the Kairakuen Garden with 3,000 plum trees spread over 50 hectares.  On selected dates an outdoor tea ceremony will be held, and you may also like to taste local plum wine which is sweet and a lot milder than sake (Japanese rice wine.) 
"Plum Blossom Ambassadors," ladies dressed in traditional costume (kimono) greet visitors at the gardens. Thailand is a photogenic country and so is Japan. I was in Chiang Mai until a few weeks ago, so with memories still fresh from the Flower Festival, I quickly approached of them for a photo shot. 
Then, a prominent feudal lord who ruled Mito reappeared from a few hundred years ago and also wanted to join the photo. Known as Mito Komon, his retired life is dramatised as a legendary figure who travels around the country disguised as a commoner, confronting villains and exposing corruption while helping the weak.
Even if you are familiar with Asia you will notice big differences as well as similarities when you come to Japan. "Will I be able to communicate and find my way around?" You might ask. Japan's ranking in terms of English proficiency is in the same league as Thailand, only slightly ahead, according to one research by an international language education organisation. That sounds challenging to any foreign visitor but it shouldn't put you off- If you enjoy life in Thailand you already know how to adapt to a different culture. 
* Special thanks to Mito Tourism and Convention Association for arranging my visit. Thai visitors please let them know beforehand that you are coming so that they can display their welcome banner.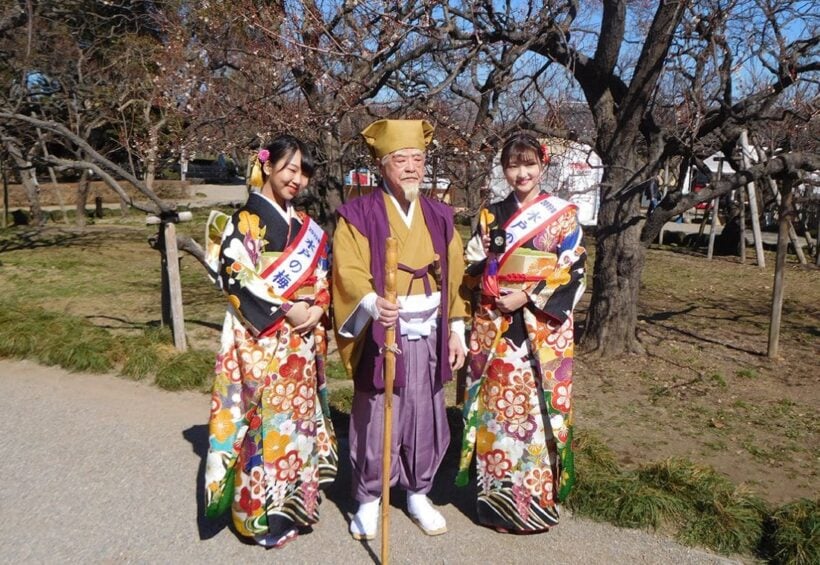 Kingdom from the sky – a tribute to the Thailand we love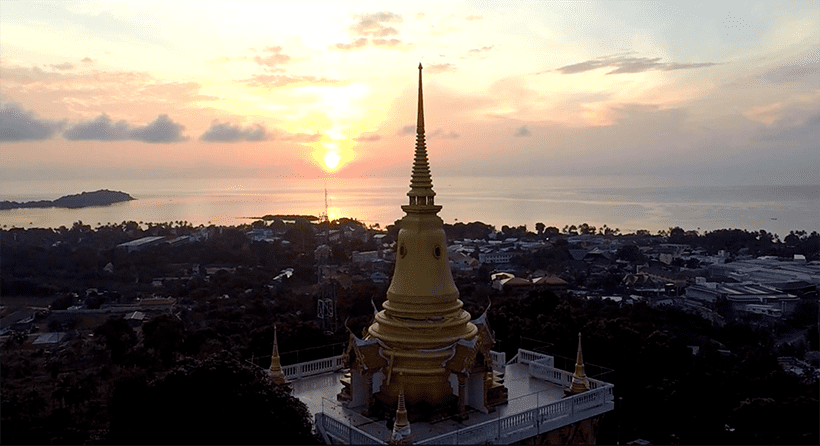 Amongst the chaos, the pungent aroma of spicy street food and bad driving, there's also the daily connection with Thailand's deep secrets – the land, the light, the hidden beauty.
Just 2 Guys Creative have captured some of this in a short tribute to Thailand from the air, all shot on a DJI Phantom 2. Click full screen and HD, turn up the volume and recall the reasons we all decided to stay here in the first place.
There's also some spectacular fireworks shots from an angle you probably haven't seen before.
Try and pick the locations, many in the southern part of Thailand.
Click HERE to watch and enjoy.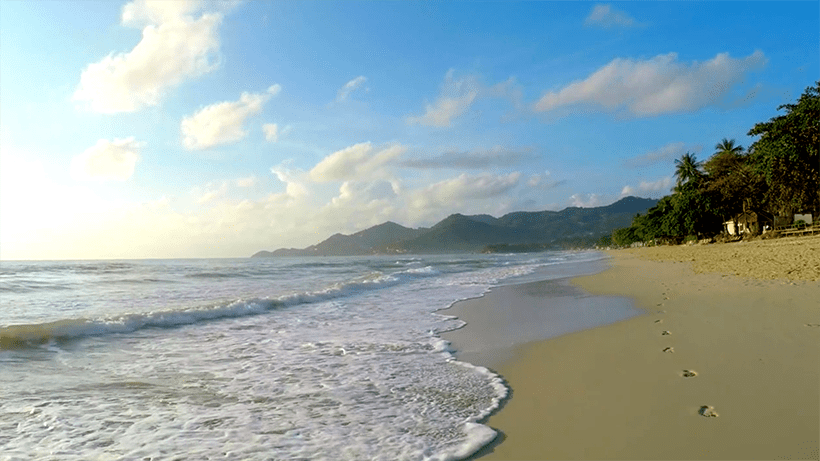 Airport smokers kicked out of Thai terminals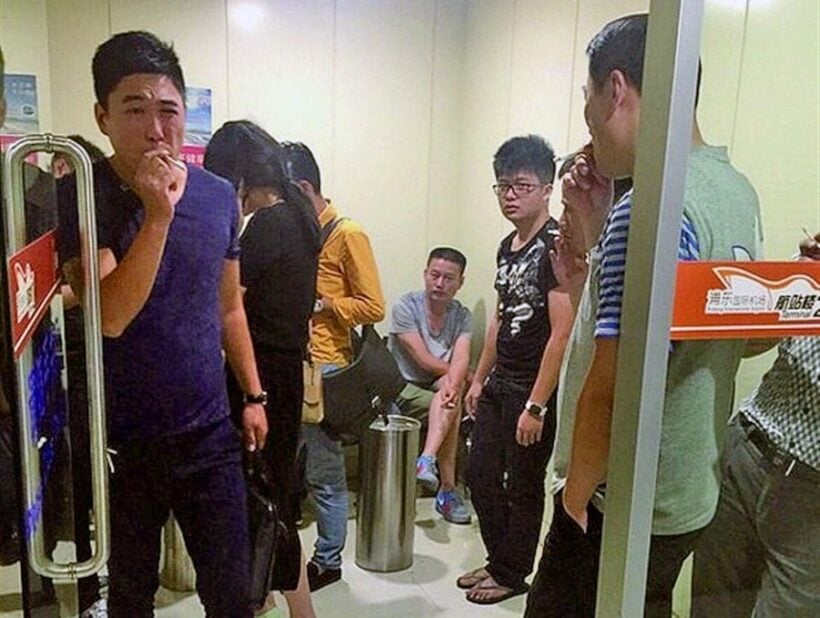 The Southeast Asia Tobacco Control Alliance (SEATCA) says they strongly support Thailand's move to ban smoking inside the passenger terminals of all its airports, to protect employees and non-smoking travellers from exposure to secondhand smoke.
On February 3 this year, the Airports of Thailand (AoT) removed all smoking rooms inside the airports of Suvarnabhumi, Don Mueang, Phuket, Chiang Mai, Hat Yai and Mae Fah Luang.
This is in line with Thailand's Tobacco Products Control Act of 2017 (TPCA) and the Ministry of Public Health announcement in 2018 that required offices of government agencies and state enterprises, including airports, to declare no smoking areas to protect non-smokers.
Those caught violating the new laws will be fined up to 5,000 baht.
"We are very pleased with this news and we urge the government to monitor the compliance and  strictly impose the penalty," said Dr. Domilyn Villarreiz, SEATCA's Smoke-free Program Manager.
"Studies have shown that secondhand smoke can transfer from designated smoking areas into nonsmoking areas in airports, where nonsmoking travellers and employees can be exposed."
"In addition to subjecting nonsmoking travellers who pass through these areas to involuntary secondhand smoke exposure, designated or ventilated smoking areas can also result in involuntary exposure of airport employees who are required to enter these areas or work near them."
"Tourism is an important economic driver for the Thai economy. Successful tourism relies not only on available and efficient tourism infrastructure such as airports and other transportation facilities but also on a healthy and welcoming environment."
"This is a big move for Thailand considering it is frequented by 39 million international tourists annually. This is not only good for the environment but ultimately good for people's health and the economy," added Villarreiz.
Meanwhile cigarettes and tobacco products are still being sold in the same terminals in the duty-free areas.
by Wendell C. Balderas, Media and Communications Manager, Southeast Asia Tobacco Control Alliance (SEATCA)