Top 10 busiest airports in the world – first half of 2018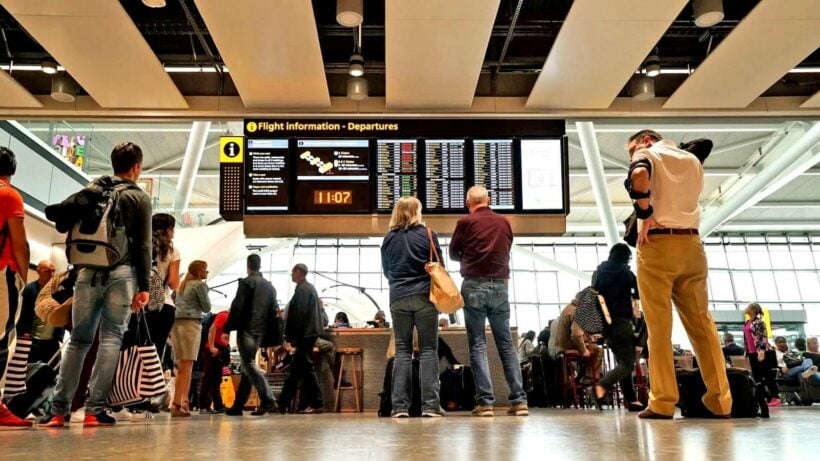 Beijing Capital International Airport is still the world's second-busiest airport by passenger traffic, witnessing with nearly 50 million passengers passing through in the first half of this year. This from the Civil Aviation Data Analysis, a civil aviation data platform based in Shanghai.
The list, comprising 17 international airports around the world, ranks airports in terms of passenger traffic as of the end of June.
So where is the world's busiest airport?
Hartsfield–Jackson Atlanta International Airport remains the world's busiest airport, with passenger traffic of 52.64 million in the first six months, while Indira Gandhi International Airport in Delhi saw the fastest growth of passengers with an increase of traffic of 13.41 percent.
No 10 – Indira Gandhi International Airport
Total passengers: 35.04 million
No 9 – Shanghai Pudong International Airport
Total passengers: 36.69 million
No 8 – Hong Kong International Airport
Total passengers: 36.91 million
No 7 – London Heathrow Airport
Total passengers: 38.07 million
No 6 – O'Hare International Airport, Chicago
Total passengers: 39.45 million
No 5 – Tokyo Haneda Airport
Total passengers: 41.06 million
No 4 – Los Angeles International Airport
Total passengers: 42.68 million
No 3 – Dubai International Airport
Total passengers: 43.74 million
No 2 – Beijing Capital International Airport
Total passengers: 49.38 million
No 1 – Hartsfield–Jackson Atlanta International Airport
Total passengers: 52.64 million

PHOTO: Passengers are waiting in the terminal of the Hartsfield–Jackson Atlanta International Airport, Dec 17, 2017 – VCG


Looking to jettison some items before jetsetting away or chartering a yacht? Look no further than Thaiger Classifieds where you can find and post items, work, property and more for free. Be sure to check out YonderTours for things to do in Thailand and tours across the country.

Find more Travel top 10s and top 10s in Thailand on The Thaiger.
Songkran Survival Guide – Top 10 Tips (2019)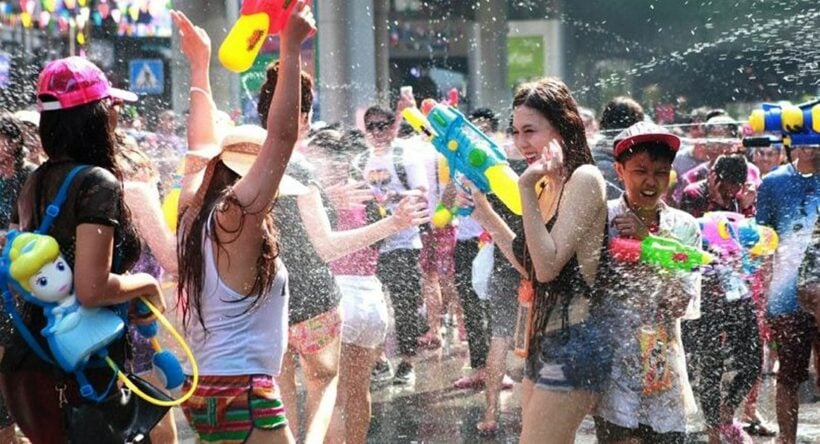 Songkran is a celebration of the Thai New Year on April 13 each year. What started as a respectful washing of Buddha images with water to welcome in the forthcoming wet season, has turned into a mega-water fight.
No prisoners are taken in this annual water battle – if you head outside or drive along the roads you WILL get wet. If you're in a car it WILL get water thrown at it and probably a few handprints made with the sludge left over from the Prickly Powder.
It is a celebration and there's plenty of music, noise, smiles AND water.
Sawasdee pi mai!! Happy Songkran.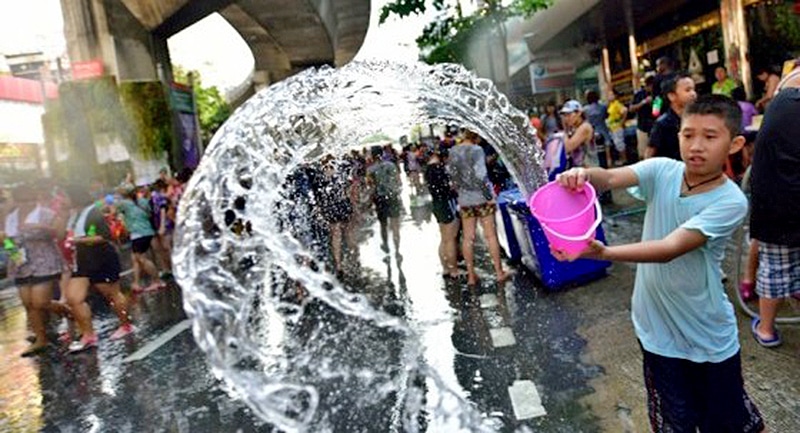 1) Wear goggles
Where did that water come from that just shot in your eye? You don't know and you probably don't want to know! Suffice to say your eyes are at danger from the many things that end up in the water, including the prickly powder that was thrown at you and now dribbling down your forehead or added to the water before it was squirted at you. It will sting either way.
A cheap pair of swimming goggles are a perfect accessory for the Songkran Fashionista. And keep your mouth closed as much as possible. You really don't want to be drinking that stuff being shot at you. Be aware that come people reload their water guns with iced water that is very bracing when it hits you – it's not all nice room temperature Evian heading in your direction. Second option, protective eyewear.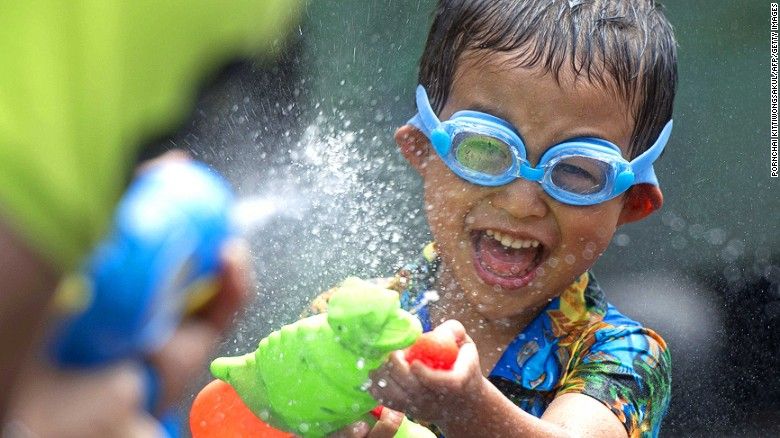 2) Have an exit strategy
Getting into an area where Songkran is going to be 'busy' is easy enough. Getting out can be another thing altogether. If you park your bike nearby it's probably going to get parked in and leave you waiting to get to wherever you were intending to go next.
If you intend to drink alcohol whilst 'partaking of the new year waters' then definitely plan to get a taxi home or have someone organised to get you back to your hotel safely. Having an exit strategy is a good financial investment tip – it's also a very good tip for Songkran as well.
Know how you're going to escape if 1) you need to or 2) when you want to.
3) Riding bikes will be VERY hazardous
Riding motorbikes at any time of the year is dangerous on Thailand's roads. It's a LOT more dangerous during Songkran. You might be quietly going to pick up a sandwich at your local convenience store and WHOOSH, an entire bucket of water is thrown at you from Songkran revellers on the side of the road. In fact, if you're on a motorbike you're considered a good target.
So don't wear your favourite Armani outfit if you're on a motorbike and either avoid getting on a motorbike on April 13 or take it EXTREMELY slowly – you WILL get water thrown at you.
4) Don't take phones or cameras with you
Water and electronic devices don't usually mix. You want to capture all the fun of Songkran but you want to get your expensive camera back home still working, right? You have two options. 1) Leave any expensive electronic equipment, including your phones, at home 2) Put them in a plastic zip-lock bag and keep them secure in a bum bag.
Even the latest 'waterproof' phones can get broken easily in the argy-bargy of a water skirmish. Consider taking your phone with you very carefully and think about how you're going to protect it – putting it in your pocket ain't going to cut it during Songkran!
5) Apply sunscreen
It's hot, damn hot. It's the hottest time of the year (which is what the water festival is all about). So the sun is likely to to be out. You're going to be running around outside enjoying yourself so Mr Sunshine is going to love giving you a good case of sunburn unless you cover up. Obviously, you'll need a waterproof application of SPF30+. Wear a hat and protect yourself from the sun.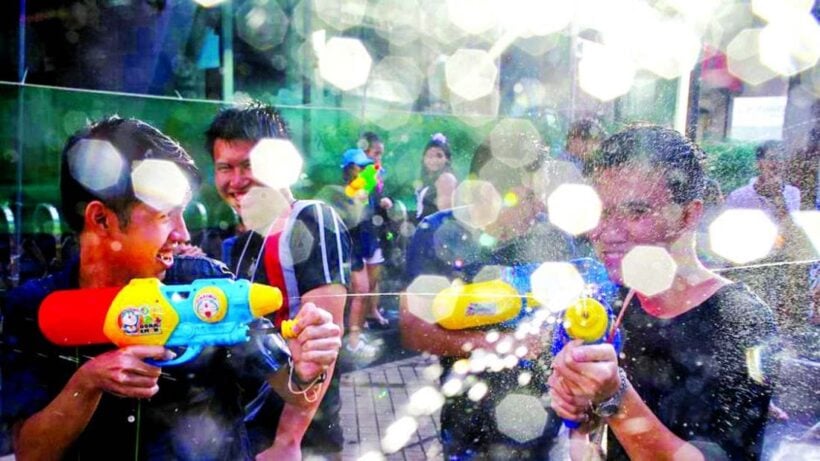 6) Hydrate
Ironically, dehydration is a big problem each Songkran. You're having water thrown at you all day. The last thing you'll be thinking about is drinking water. But all that running around in the heat, despite the water being thrown at you, is going to dehydrate you very quickly. So take a water bottle or keep in reach of a convenience store where you can get refreshed throughout the day. DON'T refill from the tanks people are refilling their guns!!! Just don't.
7) Be aware of the prickly powder
The type of powder used in Songkran has gone from just plain powder to what's called Prickly Powder. When its applied to your face it leaves a burning sensation – not painful but you'll certainly notice it. You certainly don't want that stuff in your eyes – it will really sting. The powder seems about as prevalent as the water these days so be prepared to not only be saturated but coated in a white/grey sludge for most of the day.
8) Consider how you're going to refill your gun
You're all ready. You've got a water gun all full and ready for action. Locked and loaded! You rush out and start firing it at a few people and in approximately 2 minutes, you're empty. You're going to need to figure out how you're going to reload your water gun otherwise it's going to be a very short day or a day spent running away from people because you're out of ammunition. Sea water is a great alternative if you're near a beach.
9) Enjoy yourself, don't take it seriously
If you head out into daylight during Songkran you're likely to get wet. Period. Wear clothes that are going to be comfortable when totally saturated – cotton and natural fibres will retain the water a lot more than synthetic fibres that will tend to repel the water better and dry quicker. Wear a 20 baht plastic raincoat if you really need to but it sort of defeats the purpose of the day.
People are going to rush up to you and throw water at you, usually with a great big smile to go along with it. If you're out there, smile along with them and enjoy the locals' celebration of their new year. If you get your brand new Zara wool suit ruined by a bucket of water on April 13 you only have yourself to blame.
10) Seek an alternative
So, you've done Songkran for years and you really don't want to do it again. No problems. You can go and sit in a quiet cinema for a few hours, walk around the shopping centres or enjoy Songkran-lite at many of the international hotels who host 'toned down' family-friendly Songkran celebrations.
Otherwise stay at home and read a book or binge-watch some Netflix. It's one day (or two days if you are in Patong or Chiang Mai) each year – you will survive avoiding the streets for one day.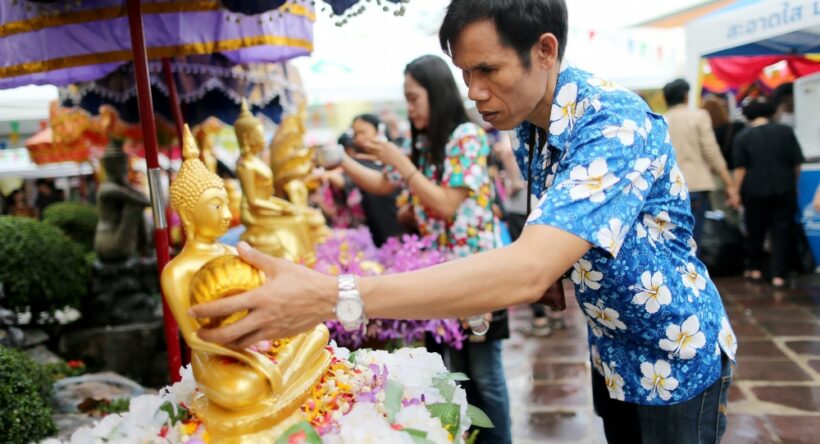 Phuket ranked sixth Best Destination in the World – Trip Advisor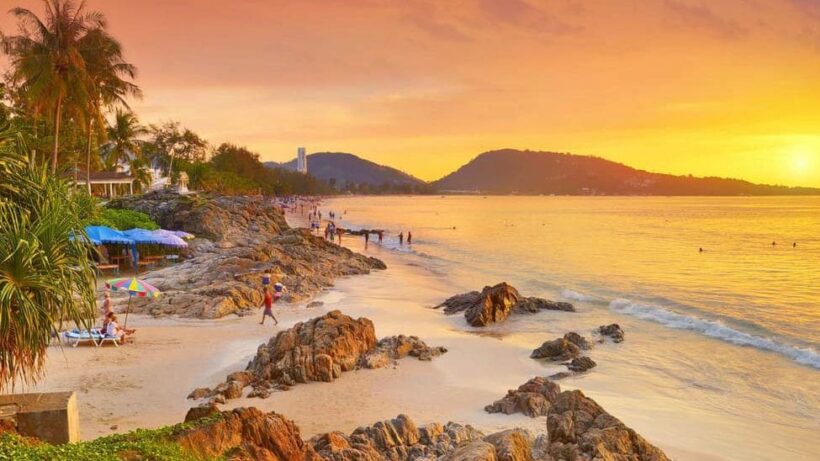 PHOTO: Patong Beach. Phuket was the only Thai destination in the 2019 list of the World's Best Destinations
Last year's royal wedding between Prince Harry and Meghan Markle has put the Brexit-obsessed London on top of a list of the World's Best Destinations in the TripAdvisor's annual Traveler's Choice Awards.
London beat its close European counterparts, Paris and Rome in the rankings determined by reviews and ratings over the past 12 months for hotels, restaurants and experiences on the TripAdvisor platform.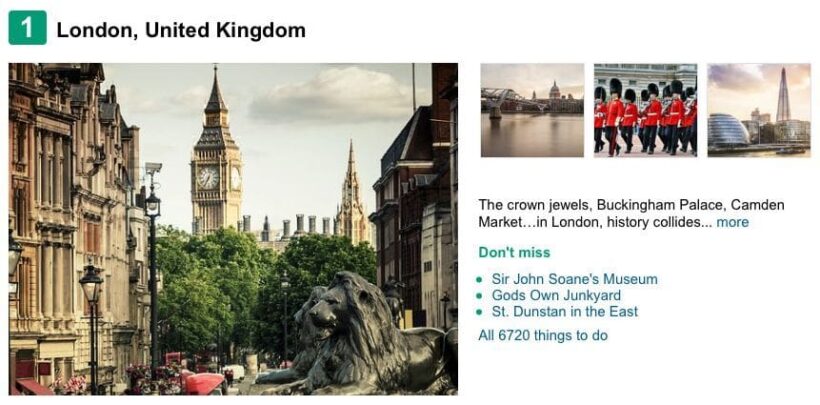 They were followed by Crete in Greece, Bali in Indonesia and Phuket in Thailand. American cities all but vanish from the list whilst some of the Asian favourite destinations are making their way up towards the top each year.
2019's was also the first time New York, a long-time favorite with travellers, slipped out of TripAdvisor's top 10 to rank only the 13th best-rated destination in the world.
Here are the World's Best Destinations in the TripAdvisor's annual Traveler's Choice Awards…
1. London, UK
2. Paris, France
3. Rome, Italy
4. Crete, Greece
5. Bali, Indonesia
6. Phuket, Thailand
7. Barcelona, Spain
8. Istanbul, Turkey
9. Marrakech, Morocco
10. Dubai, United Arab Emirates
11. Prague, Czech Republic
12. Siem Reap, Cambodia
13. New York City, New York, US
14. Jamaica
15. Hanoi, Vietnam
16. Tokyo, Japan
17. Playa del Carmen, Mexico
18. Lisbon, Portugal
19. Kathmandu, Nepal
20. Jaipur, India
21. Hurghada, Egypt
22. Hong Kong, China
23. Cusco, Peru
24. Sydney, Australia
25. Tel Aviv, Israel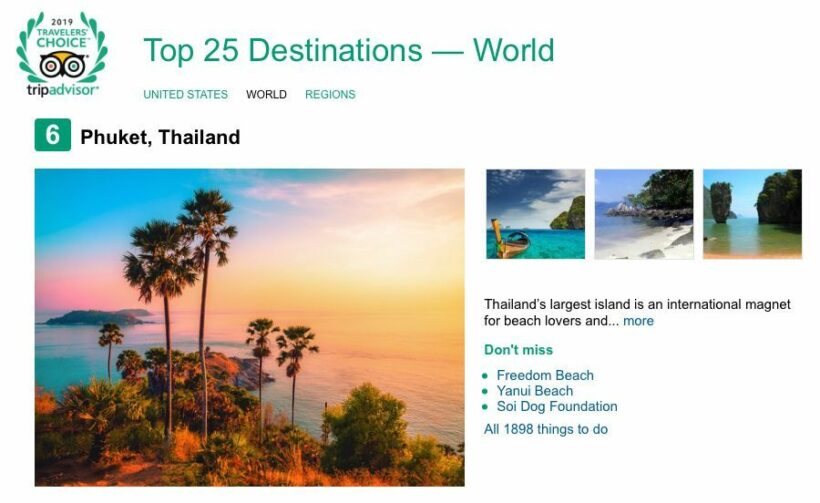 Top Five things to consider if you're buying a condo in Thailand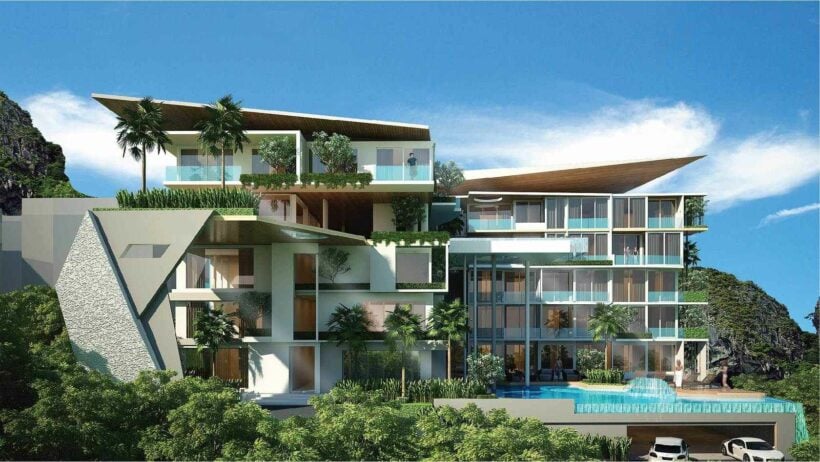 Not quite a Top Ten but some good straight-talking about buying condominiums in Thailand from Desmond Hughes from Hughes Krupica…
One of the most commonly read or spoken summary of foreign ownership of property in Thailand is along the lines of
"Foreigners can buy a foreign freehold condominium in their name".
At this sentence, many foreign investors switch off, and assume that the rest of the detail provided by the author may be legal mumbo jumbo or a thinly veiled attempt to win their business.
In fact, there is quite a lot you should know about Thai condominiums, before you start property hunting. As my clients don't generally spend their time reading legal journals and legislation unless they have to, I have set out a mixture of legal and practical matters below without much distinction:
1. Only 49% of the Registrable Area of a condominium can be sold to foreigners.
In Bangkok, this is not likely to have any impact on you. Most of the buyers and owners of condominiums in Bangkok are Thai nationals. Even in condominiums popular with foreigners, it is an uncommon phenomena that foreigners would ever outnumber Thais as owners in a building. You might ask why the rule even exists, but there is a fear and protectionism in many Asian countries, not just Thailand, to try and keep foreigners 'controlled' through numbers and perecentages.
In other places – Phuket; Pattaya; Koh Samui; Chiang Mai and Hua Hin particularly you should apply caution to ensuring that the correct 'quota' of foreign units is available to be sold to you on a freehold basis.
2. Banks often advertise they will give finance, even potentially to foreigners, but in the end – don't
I speak from personal experience and from that of my clients. For my first condo investment in Bangkok, I had to take out a loan with HSBC which was then taken over by a Thai bank. My loan had to be in foreign currency, because in order to buy a foreign freehold condominium – you have to send foreign currency into Thailand from overseas to generate 'foreign exchange transaction forms' to register the title to a foreigner at the land office. This means a lot of hoops for a bank to jump through simply to provide a mortgage. Foreigners are also viewed as flight risks by Thai banks and they do not wish to spend their time chasing foreign assets. This all means that a very high percentage of the foreign buyer market is cash based, which is good for the stability of that part of the condo market.
If you are tempted to try and take out finance applications to banks, be aware that the banks are looking for you to have some business in Thailand; perhaps to be married to a Thai national who preferable from the bank's perspective will have some degree of wealth for self-support; and that you have other assets in Thailand with a history of using and paying off credit such as credit cards.
3. There is an oversupply of condominiums in Bangkok at the moment and rental yields are traditionally low in terms of % compared to more expensive Asian neighbors – Hong Kong and Singapore, and further afield
A condo in a prime rentable area at a high investment price can remain rentable due to its extremely useful location and amenities. If such condo has a 24 hour supermarket in the basement of the retail area and dozens of restaurants, as a condo building I am thinking of does have such amenities, then it will remain rentable for some time if the property is maintained. However, another condo at the end of the same 'Soi' and post building and delivery could remain unrented after many months and even if the rent is cut to 50% of the market price. Don't just take my word for the state of the market for condo rentals in Bangkok, ask the agents.
In addition to this, the authorities are taking a closer eye at tax declarations and 'cracking down' on undeclared taxes – not just personal income tax, but the 'business tax' of 12.5% for renting units out. This all adds to the costs of investing and renting in a condo, and you must calculate this into your budget and forecasts to avoid living in fantasy land about dream returns.
3. You won't have any say in how the condominium is managed
Unless you buy up over half of the voting rights attached to units in the entire building, you will be a minority voice on issues like the raising of the common area fees; use of the 'sinking fund' – the fund to make capital repairs, changes to the rules and regulations and general maintenance decisions, even of some significance. Don't imagine standing up at an co-owners meeting voicing your opinions and somehow making headway in 'changing' the direction of the management of a building. The way in which a building is managed boils down to how the developer has structured ownership, whether the developer retains many units and a large % of the voting rights or not, and whether the developer plans to self-manage or outsource management of the asset to a reputable or not-so-reputable management company.
If you don't check the management plan then I can reference lots of analogous situations where you would take more care – if you buy a car, you should think if there are any decent repair centres nearby and at a reasonable price – Ferraris in Phuket aren't currently easy to maintain, I would imagine, as a non-Ferrari owner and observer of the state and condition of the roads in that Province. You also wouldn't, I hope, buy a smart phone without knowing you could have the phone service, fixed and various parts replaced on reasonably short notice. As a property is a far higher value of investment, a lot of investigation into the management plan is necessary.
4. Don't Believe the Hype – It's a Sequel
False Media, we don't need it do we? If you see a glossy marketing brochure and are told that the developer 'has to deliver on its promises by law' – be wary. To take one example, I bought a condo under which a 'private wine cellar area with personal secure wine bottle storage space' would be provided to every buyer. Amazingly, without any shame at all, the famous developer constructed an unchilled cheap wooden cabinet with glass doors, no locks next to 4 sofa chairs in the open space corridor between a swimming pool and the gym. If you wanted to fry an egg on the 'wine cabinet' then that was highly likely to have been possible.
These kind of things are not all 'horror stories' – I actually got a decent condo notwithstanding the missing items. However, you will often have to compromise when in more highly regulated and supervised jurisdictions, you would not. Compromise is a very common work in Thai society and it applies to business and consumer purchases too.
5. Set up your ownership for easy re-sale
If you are buying a condo as a 'foreigner' and paying cash, then you can buy your condo through a foreign company, and sell the company later. This is only worth doing if the cost of setting up and maintaining the foreign company is reasonable and the company you set up is 'saleable' and attractive to others. You should not carry out this kind of structuring to 'avoid tax'. However, you can set up this kind of structure, pay tax on the purchase, and subsequently deal with your company as you see fit, provided a buyer is willing to buy it. If such a company receives rental income, then even if it is foreign it is till liable to taxes as the use of the 'immoveable property' for generating revenue isn't deemed to be 'outside' of Thailand, and that applies even if the company tries to contract for and receive the rent outside of Thailand.
Desmond Hughes has operated and owned 2 law firms in Asia in 14 years spanning Thailand; Vietnam; Indonesia with clients in all of Asia and other markets investing inwards into the region with his existing firm Hughes Krupica possessing a large market shares in its fields of expertise.