The Silk Road. The road less travelled.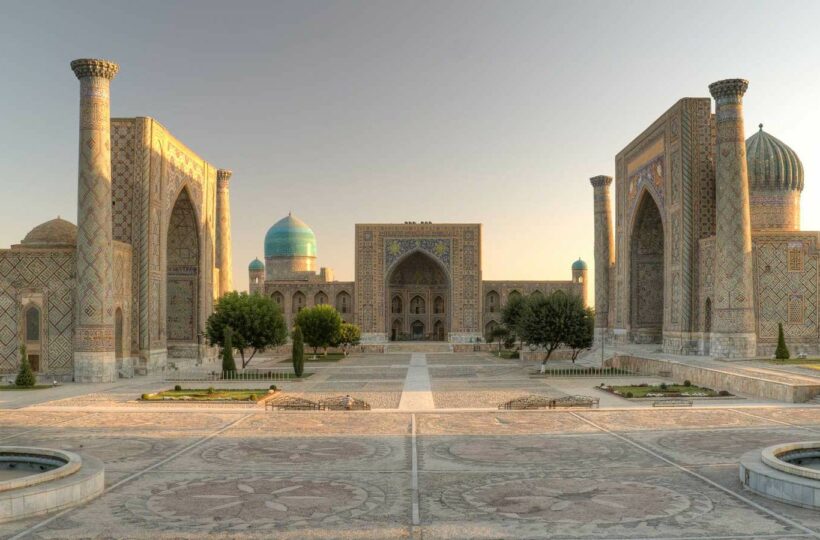 The Silk Road – the ancient trade route linking China to Europe – passes through some of the least-visited and mysterious countries in the world. And if you're thinking about exploring the road, you should read John Brenson's guide, Silk Road Traveller: In The Heart Of Central Asia, for his insight and knowledge of the region.
The Silk Road passes through countries such as Uzbekistan, Turkmenistan, Kyrgyzstan, Kazakhstan and Tajikistan – off-limits before the fall of the Soviet Union. But John says it's now possible to visit these places and the history of the road has many parallels today. "It was an early form of globalization to connect the east and west – a place for merchants and travellers. Because of the nature of the land, with the deserts to the north and mountains to the south, it created a path with wonderful cities that sprung up along the route. Now they're open again to people like us and well worth seeing."
John wanted to experience the whole route actually on the ground, rather than just the well-known sections like Samarkand and Tashkent. "My idea has always been to travel overland rather than flying and missing bits out. I think you get more of an idea of the whole of Central Asia by doing that," he told me. "You can start off in Turkmenistan then travel through into Uzbekistan and see what's left off the Aral Sea. You can cross Uzbekistan by train – it's got one of the best train networks in the area. And from there, you can see the vast Steppe in Kazakhstan. To the south of that is Kyrgyzstan and Tajikistan with the mountains. I think by doing it overland you appreciate the distances, the lay of the land and the way people would have seen it hundreds of years ago because it's still physically the same. You still get the feeling of a path through Central Asia."
I asked John whether the route of the Silk Road is fixed, but he explained that it's constantly changed over time. "People have tried varying ways to reach their destinations over the years. The path would have changed depending on who was in charge at the time, which were the dangerous places to go and also which were the friendliest places, where they would have been welcome."
The city of Samarkand is one of the most popular and well-known destinations on the Silk Road. It's been given UNESCO World Heritage Status and John told me it's well worth a visit. "It's impressive and there's something about it. The colours of the buildings change by the hour and it gives a powerful impression to a visitor." And although it's a big city, John said the historic centre is still very easy to visit. "Modern Samarkand is a city of half a million people and outside of the main tourist area it's like any other large Uzbek city. But most of the tourist highlights are within a golden mile. You can walk in ten or fifteen minutes between the three major parts. There's a lot to see within a fairly small area and it can be done on foot."
But John also recommended getting away from the larger cities and tourist spots on the route. "I was very interested in some of the towns and villages along the east of Kazakhstan which are even less well known. These are places you've probably never heard of, like Taldykorgan, Ust'-Kamenogorsk and Semipalatinsk. They're places that you wouldn't even have an idea of what they look like."
Another interesting spot on the route, but perhaps not for the best reasons, is the Aral Sea, which has been named as one of the worst environmental disasters on the planet. John told me it's lost 80% of its size due to the mismanagement of rivers feeding the sea.
Visiting the country of Turkmenistan was also a difficult experience, said John, because of the authoritarian regime in charge there. "It's a very closed country. You haven't got the same freedom to walk around as you have in the others. You feel you're being watched at every moment. As soon as you get a camera out, there's a clamour of people running around to try to stop you doing anything, shouting 'delete, delete.' The other countries in the region feel more relaxed and the people seem more free to talk with you."
Although John encountered problems in Turkmenistan, he says he never felt unsafe in any of the places he visited. "I didn't feel any danger at all throughout any of the countries," he told me. "That's always a good feeling. I think there's less crime in that part of the world than there is in Europe."
This ancient trade route has changed constantly over time and even today, it's being heavily influenced by the politics of the region. John says the eastern end of the route, near China, still has a heavy Russian influence. "Some of the towns have a 19th century Tsarist feel with wooden houses and small villages. People settled there after escaping religious persecution. It's an insight into how Russia developed as a power over two hundred years and built the towns in the borderland of what was to become the Soviet Union."
That influence is still strong and John's big tip for visiting the area is to learn some basic Russian. "I'd recommend learning at least the Russian Cyrillic alphabet, so you can read the signposts. And if you can use a few words of Russian it will be helpful because there aren't many people who speak English in these areas."
You get a copy of Silk Road Traveller: In The Heart Of Central Asia by John Brenson on Amazon.
Keri Jones
Great Destinations Radio Show can be heard on The Thaiger 102.75 FM Saturdays and Sundays at 9am.


Looking to jettison some items before jetsetting away or chartering a yacht? Look no further than Thaiger Classifieds where you can find and post items, work, property and more for free. Be sure to check out YonderTours for things to do in Thailand and tours across the country.
Fly on the 'Honu', snazzy new Airbus jumbo design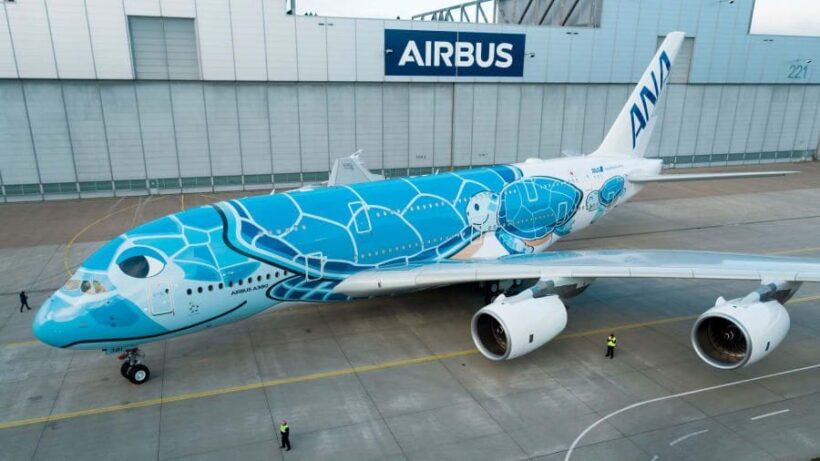 PHOTOS: Airbus Industrie
Japanese airline All Nippon Airways has just taken delivery of the first of three 'sea turtle' editions of the superjumbo A380 aircraft.
In May, the airline will add the "Flying Honu" to its fleet. The first of the new super jumbo double-decker jets is painted bright sky-blue and displaying a sea turtle design as a 'honu'. Honu is the term used for sea turtles in Hawaii, this airplane's destination.
The smart new A380 will serve the route from Tokyo to Honolulu. Later in the year it'll be joined by an emerald green and orange turtle version of the planes.
The introduction of this aircraft is the first time that first class will be available on ANA's Honolulu route, along with Business, Premium Economy and Economy.
The ANA versions of the A380 will carry 520 passengers.
With the arrival of 'Honu', ANA becomes the 15th airline to operate the A380, loved for not only being big, but also quiet and extra smooth.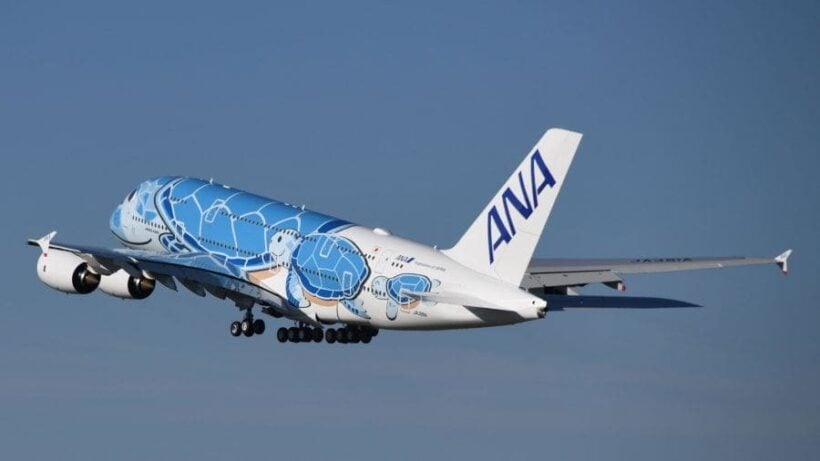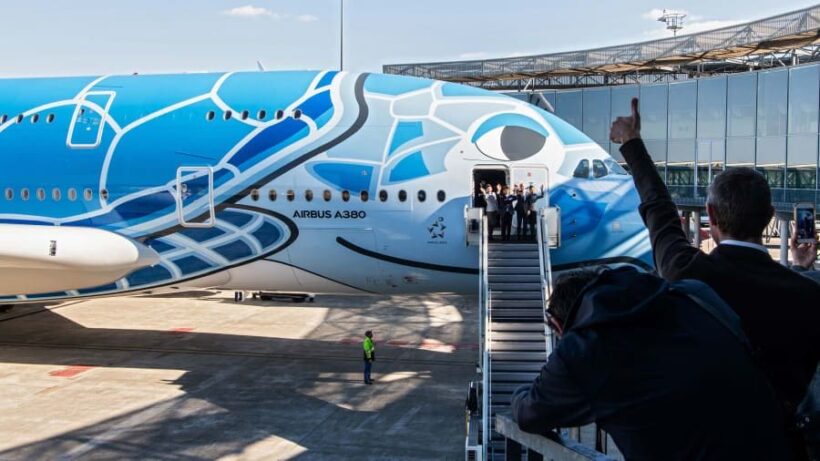 Welcome to Yonder Tours. Plan your next trip here.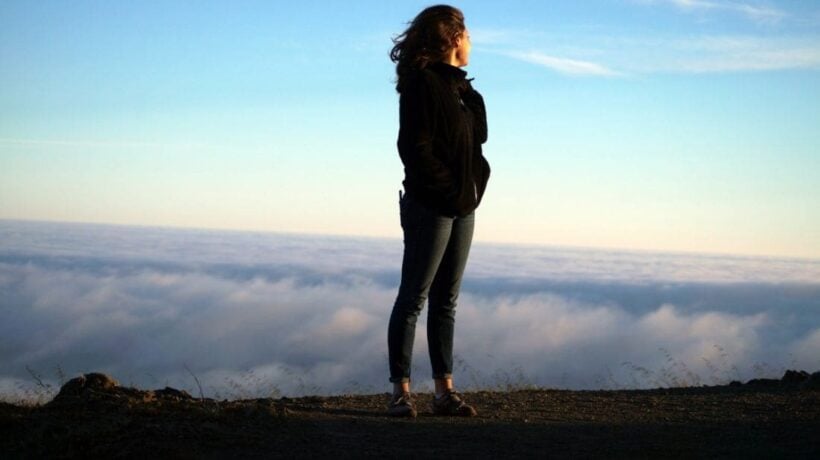 Where do you want to go? Where is your next trip or tour? How many days? What's your budget?
Check out all your options and more than 38,000 different tried and tested tours at the new Yonder Tours. Anywhere in the world, any length, many, many options from reputable tour operators.
Yonder Tours is the latest initiative from DB Ventures, South East Asia's foremost start up studio. The group already has FazWaz, MyMediTravel, The Thaiger and JobCute in its list of start up leaders and is working with other south east asian start ups to develop their ideas into scalable businesses.
Yonder Tours allows you to simply search for a tour anywhere in the world, check all the details and pricing and then go forward to a complete booking and confirmation with the tour operator.
At the stage the site has a concentration of tours in Thailand and around south east Asia but amongst the 38,000 tours you can book anything from a day trip to a month-long holiday at any price point, all from your laptop or smartphone, anywhere in the world.
Where do you want to travel next in the wide blue yonder?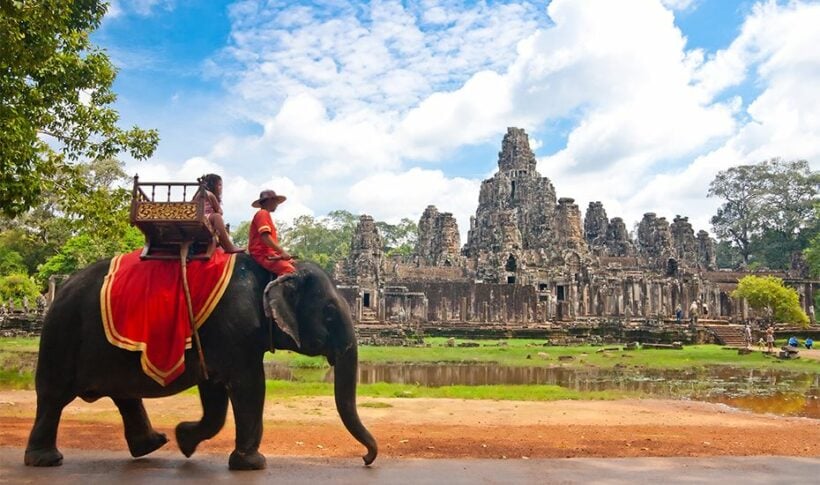 Siam Songkran Festival lights up this year's Songkran in Bangkok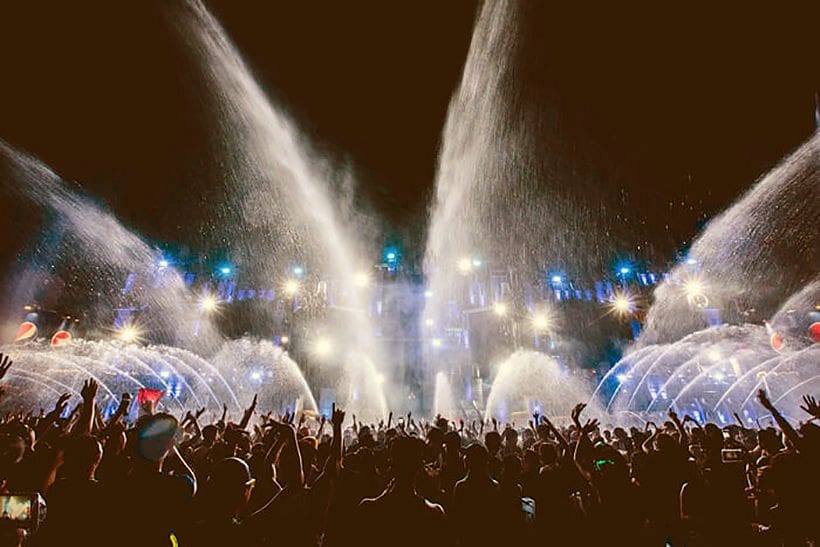 Sick of running around Bangkok with your 200 baht Tesco water pistol? Combine the annual water festival with a world class music festival instead.
Welcome to Siam Songkran, Thailand's newest four-day Songkran festival set to be held April 12 – 15 at Bangkok's largest city centre entertainment zone, SHOW DC Arena.
A time of tradition, Songkran is also a time of fun with family and friends, and Siam Songkran is set to blend Thai and Western cultures with a packed music and entertainment program and the largest water fight in Bangkok.
Held over four days with four outdoor zones and two huge stages showcasing live music from the biggest acts in Thailand and around Asia. Headliners include Yellow Claw, Afrojack, Coone and Crisis Era, while many others will perform such as Dolf, Zatox, Darren Styles and more.
#SIAMSongkran tickets can be purchased online at www.siamsongkran.com and range from 1,500 baht for a single day pass, to 6,400 baht for a VIP 4 Day Pass. For those looking for the ultimate festival experience, special VVIP Packages are available from 100,000 baht (for 6 pax) to 385,000 baht – the first festival pack with a pool suite.
Powered by SHOW DC, Clubbing Asia, One and Zaap, Siam Songkran will take place April 12 – 15 at SHOW DC.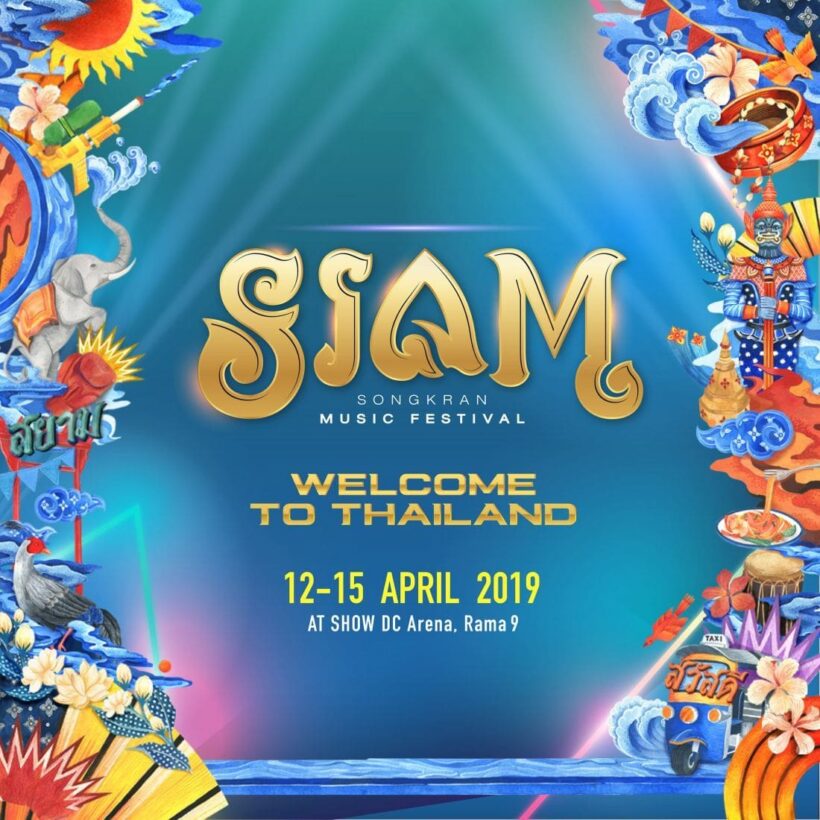 Link for further details HERE.