Top 10 ways to cope with the humidity in Thailand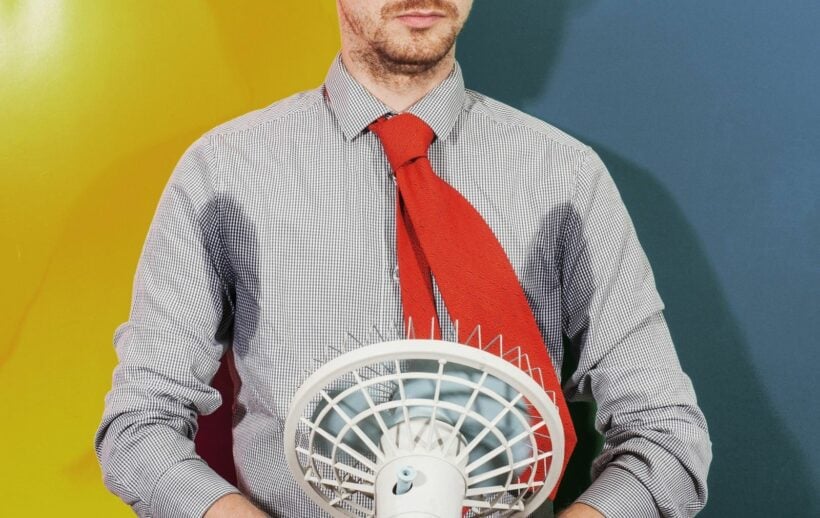 It's humid most of the year in Thailand. In the southern areas, during the 'wet season', it's hot and humid all the time. You will sweat, a lot. Or in the case of ladies, you will perspire. Plenty of showers and common sense are your best simple advice. You WILL get used to it after a month or so and probably never worry about it again. In the meantime, here's the Top 10 ways to do something about it…
1. Drink plenty of water
Drink lots of (bottled) water. Don't drink out of the taps, even in the fanciest of hotels. Drinking lots of water will keep you hydrated and help you avoid headache, nausea and dizziness. If you come from a cooler climate you will find yourself needing to drink at least twice as much as you did before. (The Thaiger suspects that the water supply in many built up areas is probably potable these days – the 'don't drink the tap water' story has been around for three decades. But be safe and drink the bottled water, it's very cheap in Thailand.)

2. You need more salt than usual
…but most Thai food has plenty of salt already. When sweating you lose a lot of salt in the form of sweat. Just eating a few Thai meals each day will provide you with all the salt you need. But the evils of adding extra salt aren't quite as evil when living in Thailand.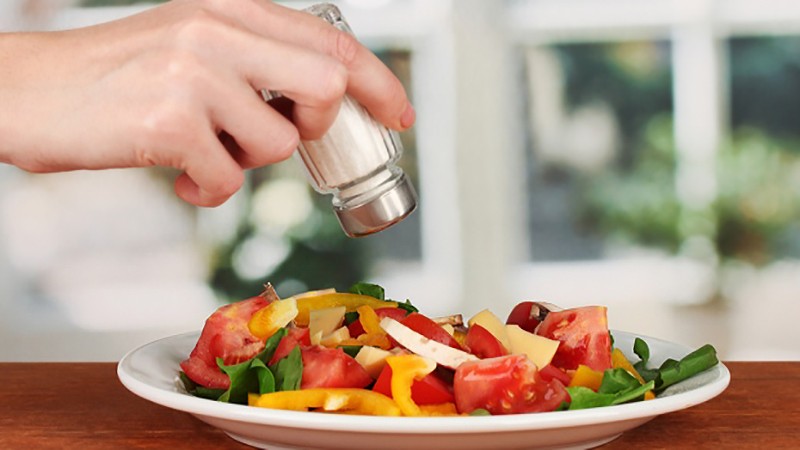 3. Wear loose fitting clothing made from natural fibres
Most of the time you're only going to be wearing a single layer. Go for light colours and natural fabrics like cotton and linen. You will almost never wear a jacket or need a tie. Ladies, think 'hot summer days'. Here's your excuse to wear one of those outrageous tropical print shirts. But don't feel too inclined to get your gear off – the Thai's don't appreciate TOO much skin – respect the local customs regarding skimpy clothing. Speaking of your clothes, beware closing the wardrobe door in the wet season. Without air circulation, after even less than a week, you'll open to wardrobe doors to a sea of black mould. Just leave them open.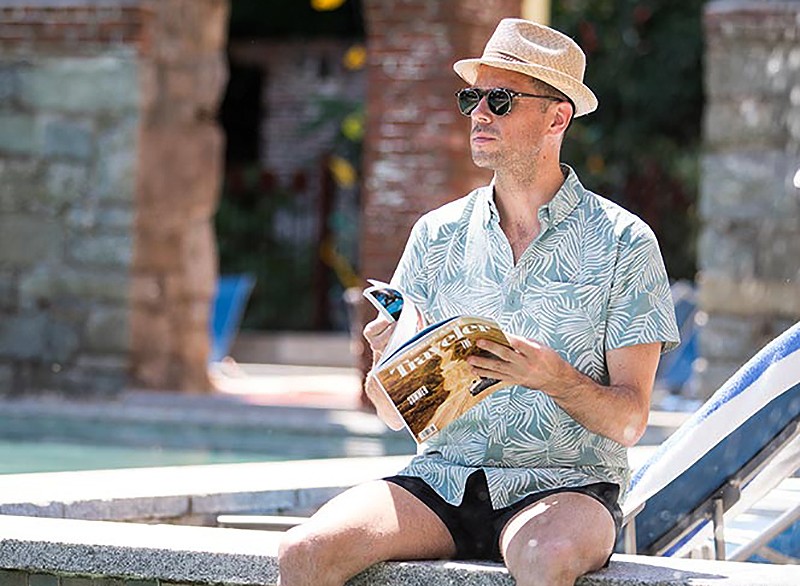 4. Exercise first thing in the morning or last thing at night
Don't exercise in the middle of the day unless you're insane. The heat of the day is best spent shopping, inside an air-conditioned office or as a siesta time. Go for a swim, take a nap. If you do need to be outside refer Item 3! All the running events (getting increasingly popular around Thailand) are held around 4 or 5 am. Get the idea? Take a bottle of water with you and drink more than you might usually drink during your exercise.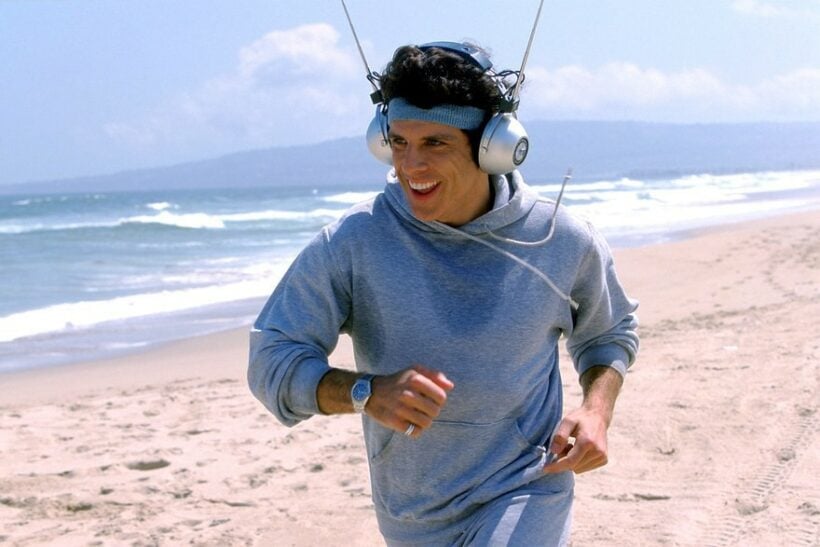 5. Wear a hat
Hats can be fashionable but in Thailand they're also very functional. A hat will stop sweat dripping down your face and prevents the sun hitting you directly on your head, face or eyes. Sunglasses are also very important to protect your eyes from damaging UV. They also tell your brain that it's not quite as bright as it actually is. Shade, generally, is worth pursuing as standing out in the sun, at any time, can really drain your energy and dehydrate you faster. Although the sun light isn't particularly intense, it is hot, hot, hot when added to the humidity level.

6. Take your time – sabai, sabai
There's no need to rush – adjust to a slower pace. Do what the locals do. Thai's rarely rush around and tend to manage their pace to the levels of the heat and humidity. Rushing around will just heat up your body temperature and expose your body to heat-stress. Sabai, sabai (relax!)

7. Avoid air-conditioning, if you can
OK, it's hot, we get it, but AC will likely cause your body even more stress if you spend all day in an air-conditioned room. Seek out cool places, sure, but try a fan, sitting in a cool breeze or under a tree. AC will really dry your air passages and your skin. For sleeping turn on the AC for an hour before you go to bed then use the ceiling fan (or a floor fan) for the rest of the night. Very few locals, even expats, will use AC for sleeping.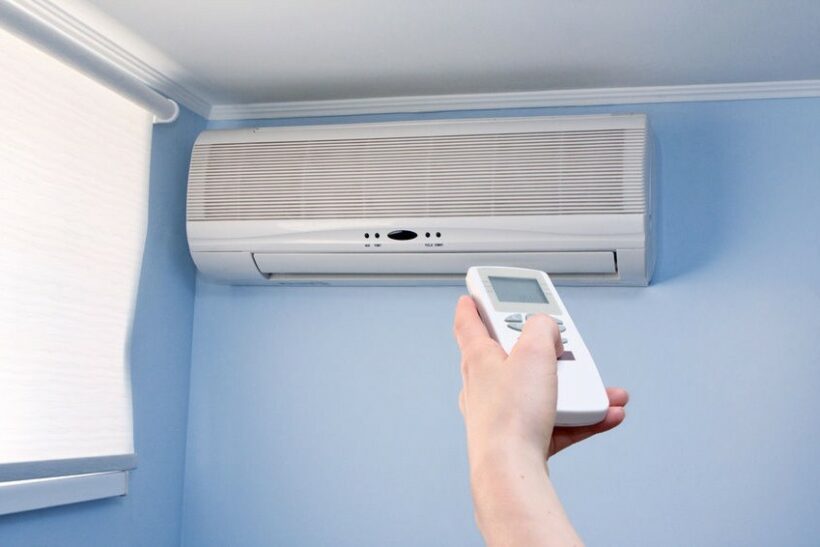 8. When in Rome, do as the Romans do
When it Thailand, watch the locals. They're not running around the streets in the middle of the day and enjoy many showers during the day as well. Turn down the hot water when you head to the shower. Many Thais don't even have hot water connected to their shower. Why bother? Especially if you live in the southern areas where the running water is quite warm, like the tropicals seas. A cold-water shower a few times a day will help keep you cool and refreshed. After showering it's a good precaution to use some talcum powder in the 'nether regions' as sweat build-up and bacteria will thrive in a humid climate, sometime leading to rashes and itching. Nasty!

9. Mop up the sweat
You will sweat. Your body needs to sweat to help maintain your body temperature. A damp towel carried around in a plastic bag will be a perfect way to wipe your face, neck or hands from time to time. Some of us perspire more than others but there's no problem in mopping up the perspiration from time to time – you're not the only one sweating you know.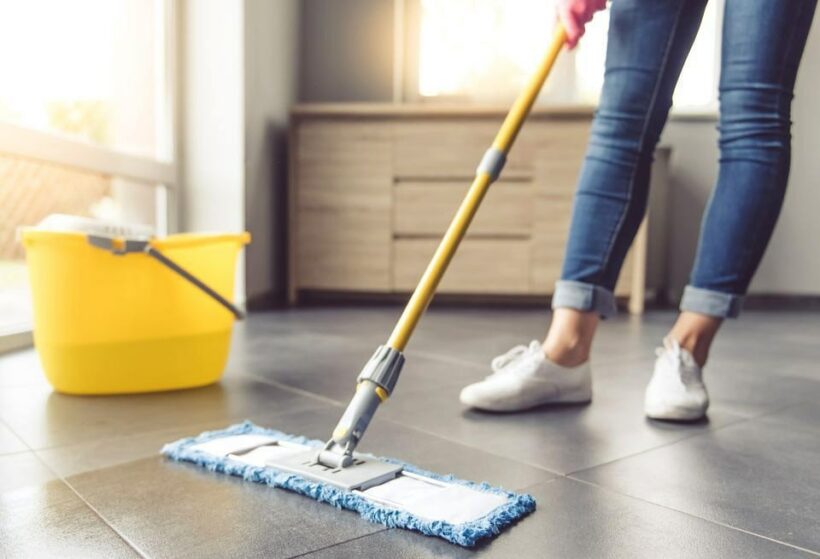 10. Eat healthy, light food
Lighter, less stodgy food is going to make your body work less to digest and keep you feeling a lot cooler and refreshed. Local fresh fruit and salads should be included in a humid-climate diet. Some of the Thai spicy dishes can be quite light as well but maybe keep off the heavier curries until the evening. Coconut water is available everywhere, cheap and very refreshing. You also have the prefect excuse for an ice-cream too!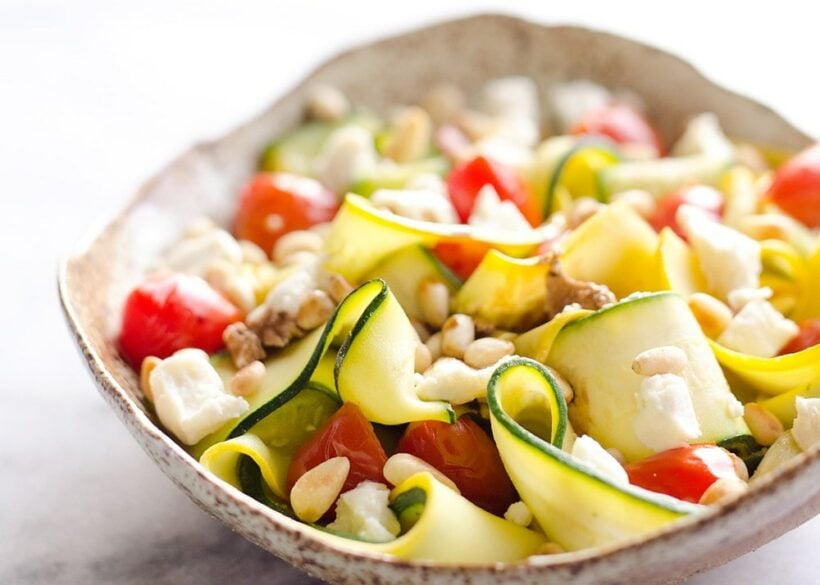 Find more Thai Life top 10s and top 10s in Thailand on The Thaiger.
Chinese tourists spend big during Chinese New Year holiday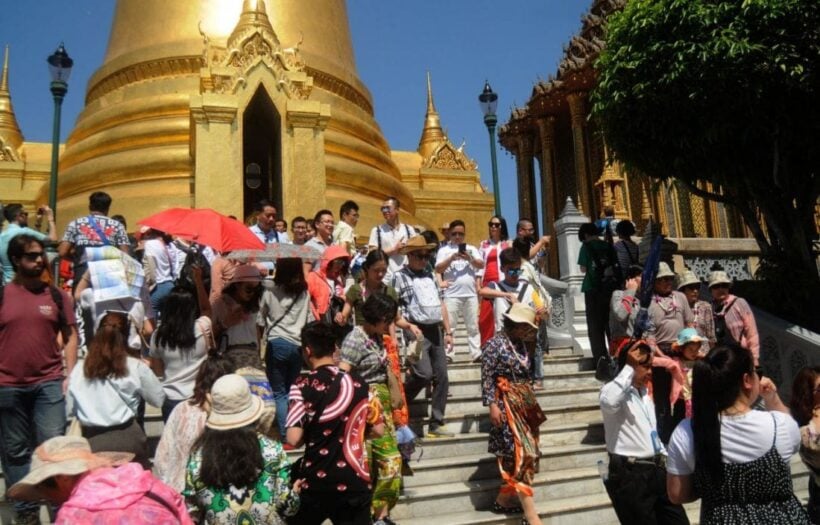 Spending by Chinese tourists during the Chinese New Year holiday around the world was the highest in Thailand.
Alipay, a leading digital payment platform offered by Ant Financial, an affiliate of Alibaba Group has done the sums. The transactions were recorded between February 4-10, and data drawn from the 54 international markets where Alipay is accepted.
The number of transactions in Thailand ranked second worldwide after Hong Kong, and topped the list in Southeast Asia with an average spending of 1,646 yuan (7,650 baht).
The high spending was put down to convenience stores and duty-free shops accepting Alipay and offering special promotions for Alipay users.
King Power Duty Free recorded a 50 per cent increase in transactions thanks to discounts for Alipay users, while transactions at convenience stores also rose by 38 per cent due to their "Alipay corner".
Chinese visitors are also now able to get tax refunds at 7-Eleven branches in the capital.
Chinese spenders, although spending less time per holiday, spend more per person, per day than other tourist demographics entering the country.
Read a previous story about tourist spending patterns HERE.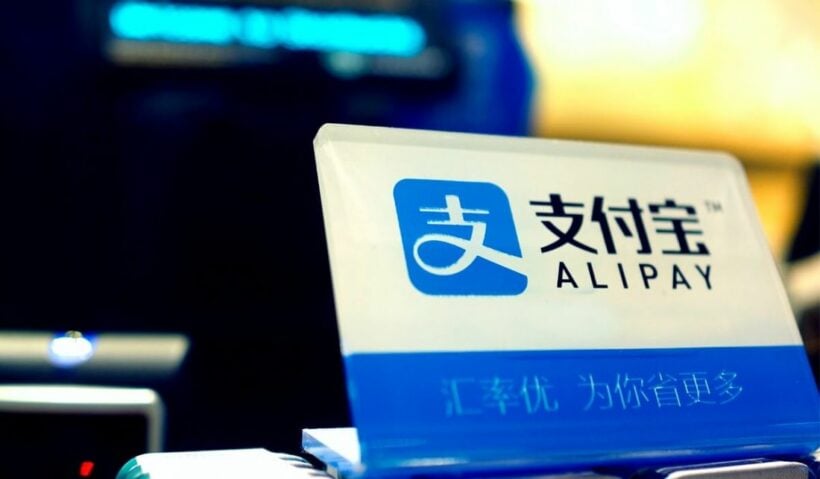 Top 10 Phuket fitness options – get fit on a tropical paradise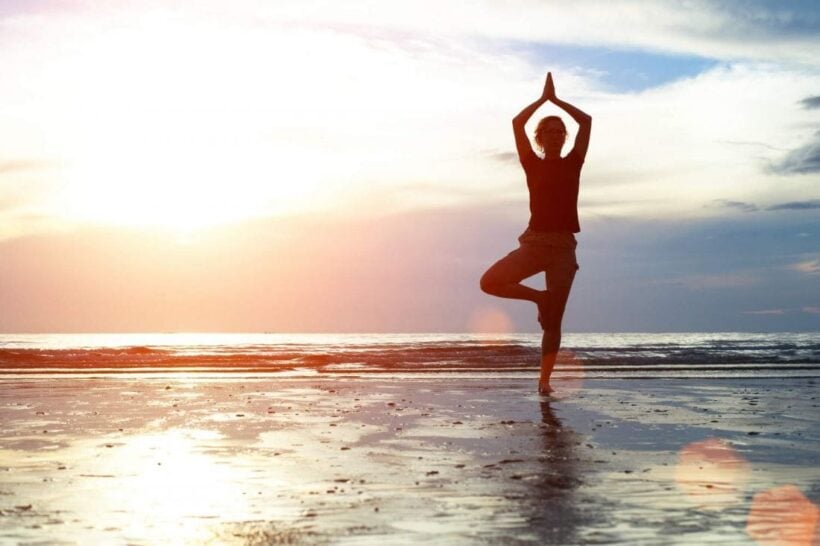 by Krix Luther
Living and working in Phuket for more than 11 years as a full-time Personal Trainer, I have had the pleasure of watching the island develop and make its mark on the wider Health and Fitness industry. I can comfortably say it is becoming an important Health, fitness and wellness hub of South East Asia.
The island has an incredible amount to offer, so much so, you could get lost if you don't know exactly what you're looking for. Knowing what is what, what to do, where to start and which is best for you and your fitness journey, can be a daunting task.
Here's a snapshot of what the island has to offer, whether you're a beginner, average gym rat, fitness enthusiast or pro athlete. You will find something that suits you. 
So, in no particular order, here are the Top 10 Phuket fitness options.
1. Phuket Detox Centres
Phuket Detox Centre? At first, most people think a Detox centre is some sort of Drug Rehab facility. Although a lot of detox centres in Phuket will state they can aid their clients in overcoming some addictions, their primary objective is to help people cleanse and detoxify the body through different variations of fasting and or dieting.
(The Thaiger recommends you should consult with a medical professional before undertaking any detox treatment)
Phuket detox centres offer similar options. Full fast (which means eating nothing but supplements), Juice cleanse, Raw Food Diet and Healthy Eating. There are plenty of other programs available around the island.
Included in these programs are, yoga, meditation and fitness/movement classes, morning beach walks, wellness talks and a variety of other holistic practices, all tailored to help the body heal itself, emotionally, spiritually, mentally and physically.
I have worked with pretty much every major detox centre on the island, and they all have their own niche,  styles and methods.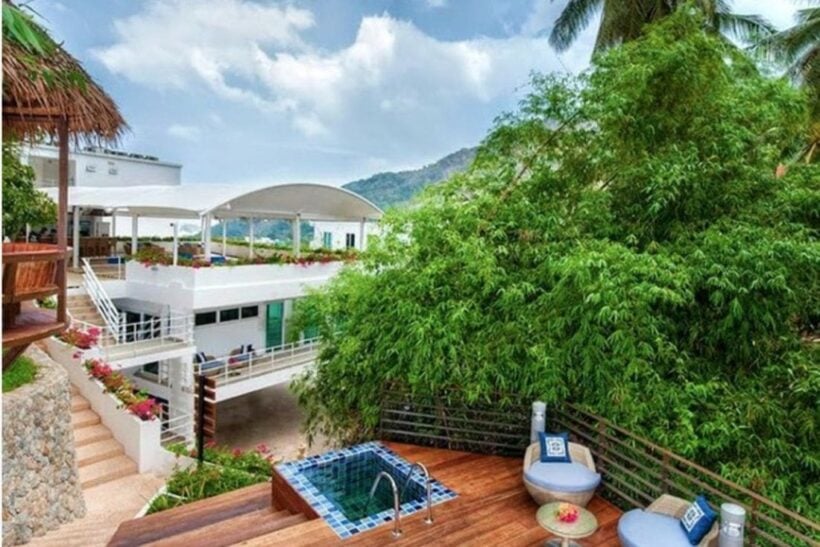 2. Phuket Muay Thai Camps
Thai Boxing (Muay Thai) is Thailands national sport and is huge in Phuket. 13 years ago there was only a handful of local Muay Thai Gyms in Phuket. It wasn't until a gym called Rawai Muay Thai decided to build a professional website, social media presence and advertise Muay Thai training in Phuket to westerners abroad.
Watching its explosive success, it wasn't long until more gyms popped up doing the same thing. Sinbi Muay Thai, Tiger Muay Thai, Dragon Muay Thai, etc. Then with the growing popularity of UFC, some of these Muay Thai Gyms started hiring MMA coaches along with Brazilian Jujitsu specialists and trainers with wrestling backgrounds. I believe Phuket Top Team were the first to do this followed by Tiger, now you have dedicated MMA gyms like AKA Thailand joining the island.
Muay Thai Gyms in Phuket seem to be popping up as fast as 7 Elevens, some are closing with equal speed as well. But if you are looking to better your Muay Thai game or just would like to get fit by trying something new, then you can check out the list of well established Muay Thai gyms in HERE.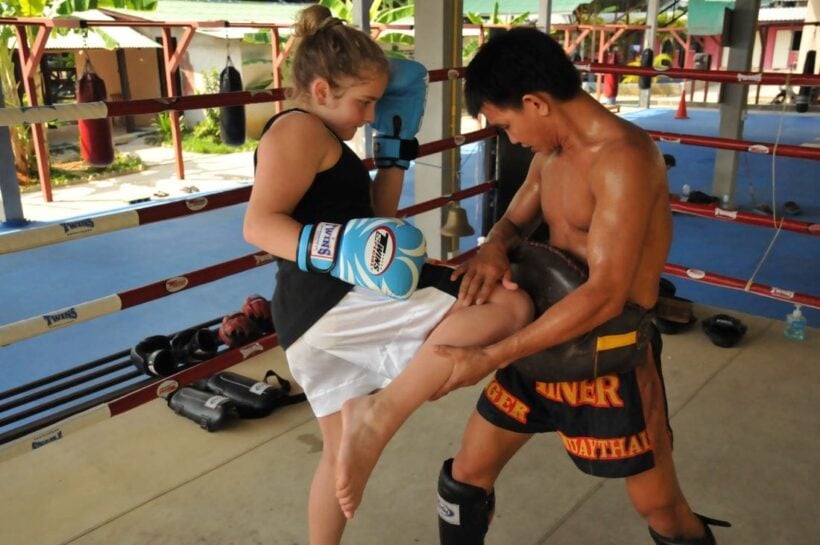 3. Phuket Fitness Centres
There are a lot of gyms now that are just 100% dedicated to fitness classes. Like Phuket Cross Fit, Yoga, TRX, Circuit & HIIT training, correction workouts, workshops and more. They don't have a regular weightlifting facility or gym membership where you can just rock up and hit the weights whenever you want. It is just a pure class schedule fitness centre.
The main open Phuket fitness centres I would say are Titan Fitness and Unit 27. By "open" I mean you can pop in for 1 class or buy into monthly or block packages. Then there is Phuket Fit, and Phuket Cleanse that is more closed and comprehensive, what I mean by that is they include on-site accommodation and meals, and you can not just walk in for the one-off session, you have to be booked into their program.
All are great facilities. If this is something that's more of an interest to you, then you can check them out HERE.
4. Phuket Gyms
Phuket has a vast selection of high-end gyms, with top-notch equipment and facilities as well as your old school dirty, rough, broken equipment, no hygiene, Rocky Balboa style gyms. Whichever your preference, Phuket has a gym that suits your needs and budget. So if you are just looking to join a gym on your visit then here is a list of the best gyms in Phuket.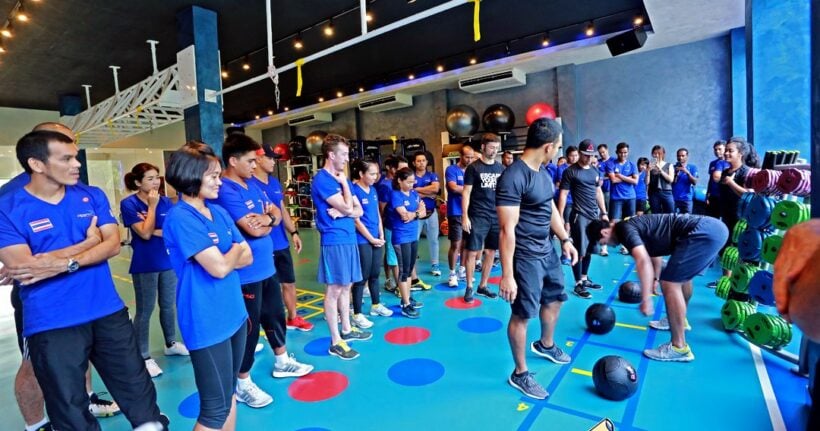 RPM Health Club, Koh Kaew – PHOTO: Phuket Index
5. Phuket Personal Trainers
There are a lot of Personal Trainers in Phuket but only a few freelance ones. Most are attached to a gym or fitness centre and cannot work outside these places. Many people wonder, is a personal trainer worth it? In my biased opinion, the answer would be "Yes… if you can find a good one."
You can read my article here on "what makes a good trainer." So you can make your own assessment of the trainer you hired or are about to hire.
6. Phuket Yoga Retreats
Just like personal trainers, there are a lot of yoga instructors in Phuket and few Freelance ones like my friend Kim White. But there are also some great Phuket yoga retreats. These yoga retreats are similar to the detox centres, they are enclosed facilities with accommodation, food, yoga classes along with other holistic heal classes and workshops.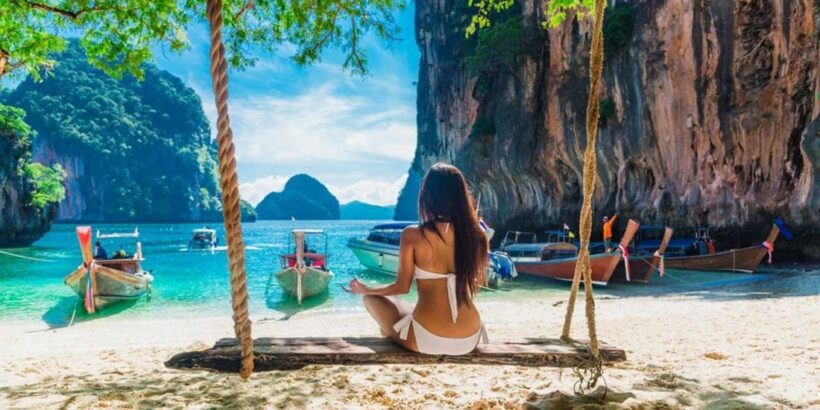 PHOTO: Yoga Health Journal
7. The Great Outdoors
One of the best things about Phuket is that it's beautiful, the oceans, the beaches, and nature surrounded it. Despite the island's obsession with getting rid of single-use plastics it still has fantastic places to swim and snorkel.
You can hire a bike and cycle around the mountain roads and be mesmerised by the stunning views, or you can join in the Clean The Beach Boot Camp and have a great workout on the beach once every two weeks, exercising in the sand, the ocean and nature. There is nothing like kicking off the shoes and training in your bare feet. Enjoy the beaches, rainforests, walks and activities around the island. It's warm and hot all year round (with a bit of rain between May and November).  Here's a list of our Top 10 beaches.
As a last resort, and you're not a 'bicycle' sort of person, rent a motorbike and let the engine do the hard work for you. Make sure you wear a helmet (it's law), have the appropriate health or travel insurance and appropriate driving license.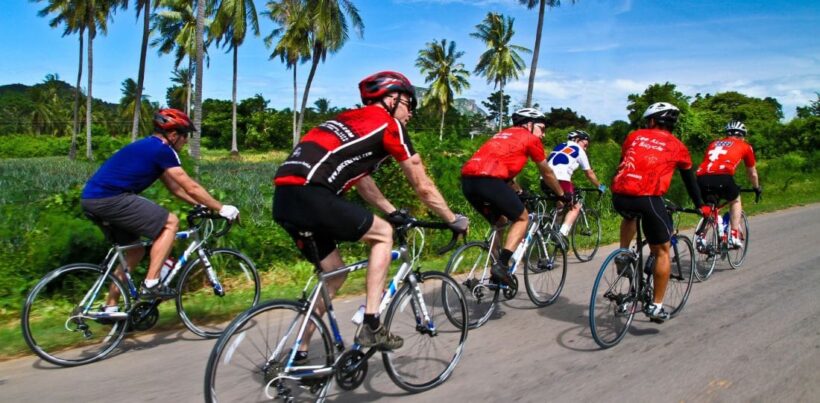 8. Meditation
In the health and fitness industry, meditation is very much underrated, but there are a lot of physical benefits of meditation, not just mental/psychological ones. And in Phuket, there is a great place to learn how to meditate or take your meditation to the next level at the Phuket Meditation Centre.
If it's something you were curious about then I would highly recommend trying it out. They have free introductory classes every Tuesday and Thursday. 
9. Phuket Free Diving/Scuba Diving
Just like the great outdoors there are some great spots to do a bit of diving in Phuket. Whether you are a hardcore free diver or looking to get your first Scuba Diving certificate, then Phuket has some great options for you. Make sure your divers are accredited and check their experience in diving around the island.
10. Massage, Ice Baths, Sauna
If you going to train hard, then you best recover hard. There is nothing like booking a fitness holiday and overtraining in the first week and getting injured. Phuket has some great relax and recovery facilities, from massages to Sauna and Ice Baths and even float therapy in a sensory deprivation tank. These are great for reducing stress, lowering cortisol levels and preventing you from seeing those classic signs and symptoms of overtraining.
Phuket expat re-invents the way sewing machines work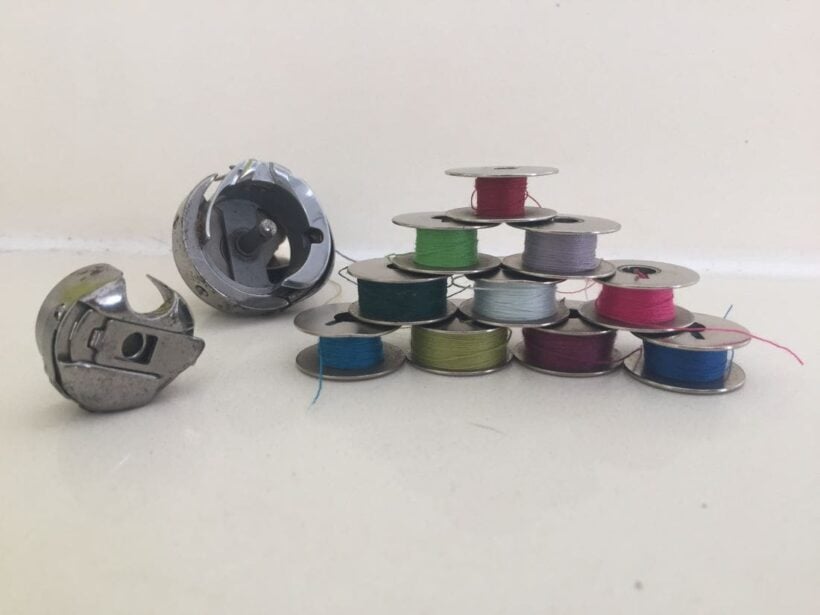 British inventor creates a new sewing system that eliminates the bobbin.
When you list the worlds top inventions the sewing machine is rarely included, it's lucky if it makes it into the top 50!
But there are very few moments in our daily life when we are not close to something that's been produced using a sewing machine.
Now a recent patent, developed by a Phuket expat, is set to bring the sewing machine back into the forefront. Templeton Hancock, a British sewing machine mechanic and former sewing machine demonstrator living in Rawai, has created a new Everlasting Bobbin Sewing (EBS) System that eliminates the need for constantly changing thread bobbins.
A bobbin is a spindle or cylinder, with or without flanges, on which wire, yarn, thread or film is wound. Bobbins are typically found in sewing machines, cameras, and within electronic equipment. In non-electrical applications the bobbin is used for tidy storage without tangles – Wikipedia
"The inception to create the EBS System came to me after a conversation I had with a customer who voiced her frustration with having to continually change the bobbin.  It made me question why no one had come up with a satisfactory solution to discard it."
"The EBS System offers huge benefits not just to manufactures but to everyone who regularly uses a sewing machine; it saves time, improves the quality and finish of garments, reduces waste and make the sewing machine more user-friendly and lessens the impact on the environment."
The first patented sewing machine was in 1790 to an Englishman, Thomas Saint. Over the next 60 years, the machine was modified and improved to something that is still mechanically recognisable in comparison to today's machines.
Since the 1980's there have been significant electronic advancements to the sewing machine, but the need for a refillable bobbin has always harkened back to its introduction in 1853.  Over the years, there have been many who have tried to solve this bobbin dilemma. The simple EBS System provides the solution.

So, how does it work?
With current technology, the needle and upper thread pass down into the machine bed.  As the needle draws back up, the upper thread is left behind, just slightly, but it is enough that a loop is formed.  Machines are timed so that a rotating hook underneath the machine, spinning off a centrally placed drive shaft, can catch this loop and pass it over the bobbin and bobbin case to create a locking stitch.
The EBS System is different.  The drive shaft is moved to one side and the hook is placed within a bearing which has drive teeth on its circumference. A void is now created within the bearing which allows for a thread feed tube to supply endless amounts of thread to freely pass without interruption from the rotating hook, eliminating the need for a bobbin.
The bobbin holds, on average for #40 weight thread, around 34.3m of thread.  In manufacturing this can equate to the bobbin running out on average, every 9-11 minutes. Methods of turn around to get the machine operational again can vary from 22 seconds to 3 minutes, cutting into the amount of hourly units produced and also increasing wastage/seconds garments for the item in production when the thread ran out. 
Analysis of Operation in manufacturing puts aside an average 20% of Standard Allocated Hours (SAH) for changing the bobbin, adjustments and staff rest breaks. By removing the need to refill the bobbin and using the EBS System, manufacturing can be increased by as much as 19%.
Realising the problem with the bobbin, many manufacturers have opted for using a chain stitch instead of a locking thread for seaming. The downside being that the chain stitch uses more thread, creates a bulkier seam and is not as strong as the lock stitch. 
By using the EBS System instead of a chain stitch, a factory making jeans (for example) could save an average of 8.9m of thread per unit produced (depending on method of manufacture), and at the same time produce a better quality garment with stronger and less bulky seams.  8.9 metres multiplied by the amount of units produced each day, week and month, equates to being considerable saving even before you add back in the garments that would usually be discarded as wastage/seconds which have now been mostly eliminated.
The EBS System is not just limited to clothing. Footwear, upholstery, luggage and automotive manufacturers are also to benefit from the lack of a bobbin.  When the bobbin thread runs out, holes have been made in the material and it takes a short time before the machine operator notices.
The precision of the fit and strength of the material has been compromised and a labour intensive task now begins to reinforce the stitch and try to match the holes already created in the material. 
A continuous stream of thread will reduce the amount of wastage of leather and vinyl products in the pursuit of perfection that is expected and demanded by consumers.
The EBS System is not just for industrial use.
The simplicity of the design makes it versatile to be used in the domestic market. The EBS System is a relief to home sewing enthusiasts whose interests are within home decor and quilting. No more will they suffer the frustration when the thread runs out in the middle of a project. 
The versatility of the EBS System is that it can also be used with the current refillable bobbin for those small repairs and quick fixes that would require a variety of short lengths of different coloured thread.
The EBS System also looks to the future. A.I. and automation is making advances into the sewing industry, but these machines still need to be carefully monitored as they still rely on the need for a refillable bobbin.  Using the EBS System machines will enable manufactures to run for 24 hours with very little supervision, with an endless flow of lower lockstitch thread.
US Patent #10156034  PCT#IB2019/050843
For further information contact Templeton Dean Hancock… [email protected]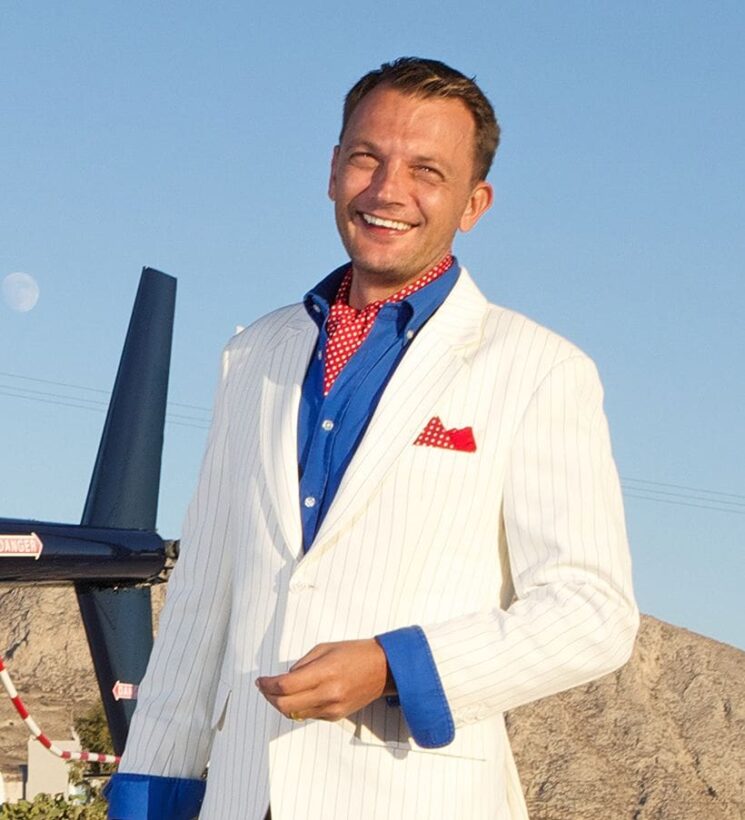 Templeton Hancock, Phuket-based seining machine mechanic and inventor