Top 10 ways to cope with the humidity in Thailand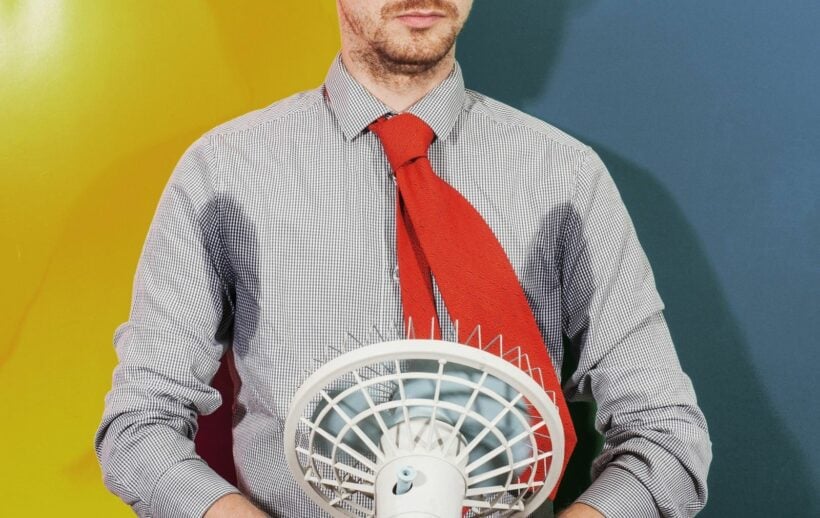 It's humid most of the year in Thailand. In the southern areas, during the 'wet season', it's hot and humid all the time. You will sweat, a lot. Or in the case of ladies, you will perspire. Plenty of showers and common sense are your best simple advice. You WILL get used to it after a month or so and probably never worry about it again. In the meantime, here's the Top 10 ways to do something about it…
1. Drink plenty of water
Drink lots of (bottled) water. Don't drink out of the taps, even in the fanciest of hotels. Drinking lots of water will keep you hydrated and help you avoid headache, nausea and dizziness. If you come from a cooler climate you will find yourself needing to drink at least twice as much as you did before. (The Thaiger suspects that the water supply in many built up areas is probably potable these days – the 'don't drink the tap water' story has been around for three decades. But be safe and drink the bottled water, it's very cheap in Thailand.)

2. You need more salt than usual
…but most Thai food has plenty of salt already. When sweating you lose a lot of salt in the form of sweat. Just eating a few Thai meals each day will provide you with all the salt you need. But the evils of adding extra salt aren't quite as evil when living in Thailand.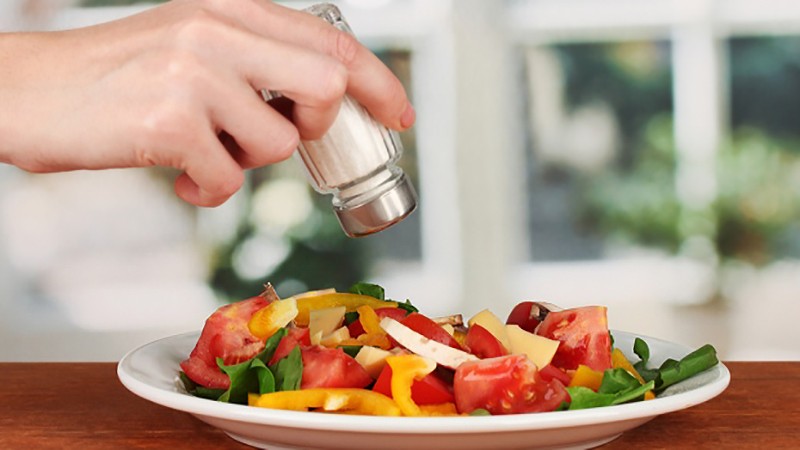 3. Wear loose fitting clothing made from natural fibres
Most of the time you're only going to be wearing a single layer. Go for light colours and natural fabrics like cotton and linen. You will almost never wear a jacket or need a tie. Ladies, think 'hot summer days'. Here's your excuse to wear one of those outrageous tropical print shirts. But don't feel too inclined to get your gear off – the Thai's don't appreciate TOO much skin – respect the local customs regarding skimpy clothing. Speaking of your clothes, beware closing the wardrobe door in the wet season. Without air circulation, after even less than a week, you'll open to wardrobe doors to a sea of black mould. Just leave them open.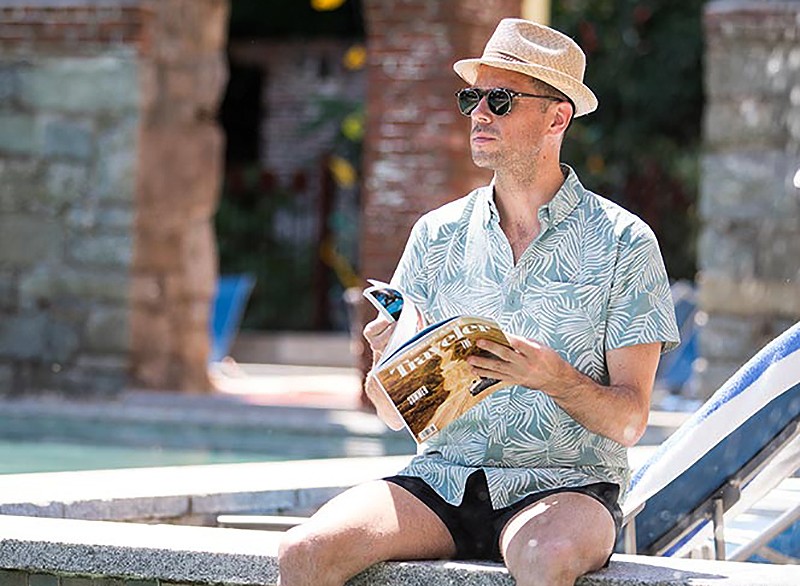 4. Exercise first thing in the morning or last thing at night
Don't exercise in the middle of the day unless you're insane. The heat of the day is best spent shopping, inside an air-conditioned office or as a siesta time. Go for a swim, take a nap. If you do need to be outside refer Item 3! All the running events (getting increasingly popular around Thailand) are held around 4 or 5 am. Get the idea? Take a bottle of water with you and drink more than you might usually drink during your exercise.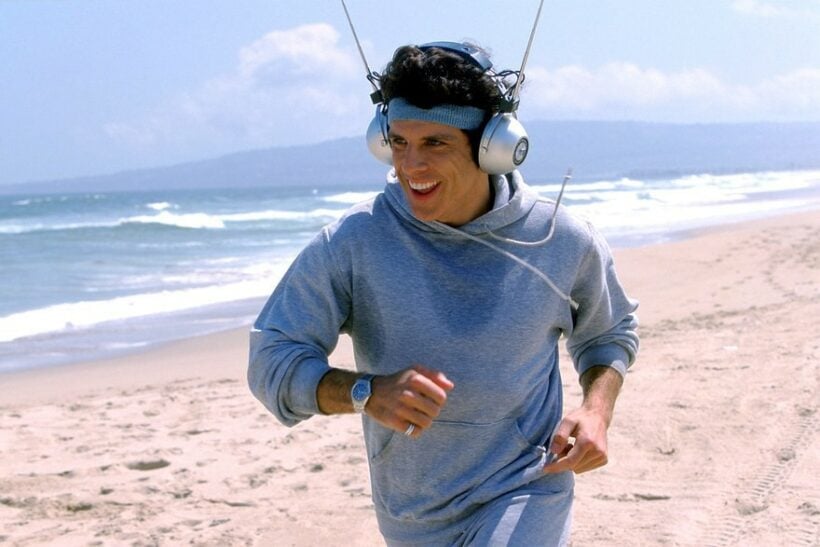 5. Wear a hat
Hats can be fashionable but in Thailand they're also very functional. A hat will stop sweat dripping down your face and prevents the sun hitting you directly on your head, face or eyes. Sunglasses are also very important to protect your eyes from damaging UV. They also tell your brain that it's not quite as bright as it actually is. Shade, generally, is worth pursuing as standing out in the sun, at any time, can really drain your energy and dehydrate you faster. Although the sun light isn't particularly intense, it is hot, hot, hot when added to the humidity level.

6. Take your time – sabai, sabai
There's no need to rush – adjust to a slower pace. Do what the locals do. Thai's rarely rush around and tend to manage their pace to the levels of the heat and humidity. Rushing around will just heat up your body temperature and expose your body to heat-stress. Sabai, sabai (relax!)

7. Avoid air-conditioning, if you can
OK, it's hot, we get it, but AC will likely cause your body even more stress if you spend all day in an air-conditioned room. Seek out cool places, sure, but try a fan, sitting in a cool breeze or under a tree. AC will really dry your air passages and your skin. For sleeping turn on the AC for an hour before you go to bed then use the ceiling fan (or a floor fan) for the rest of the night. Very few locals, even expats, will use AC for sleeping.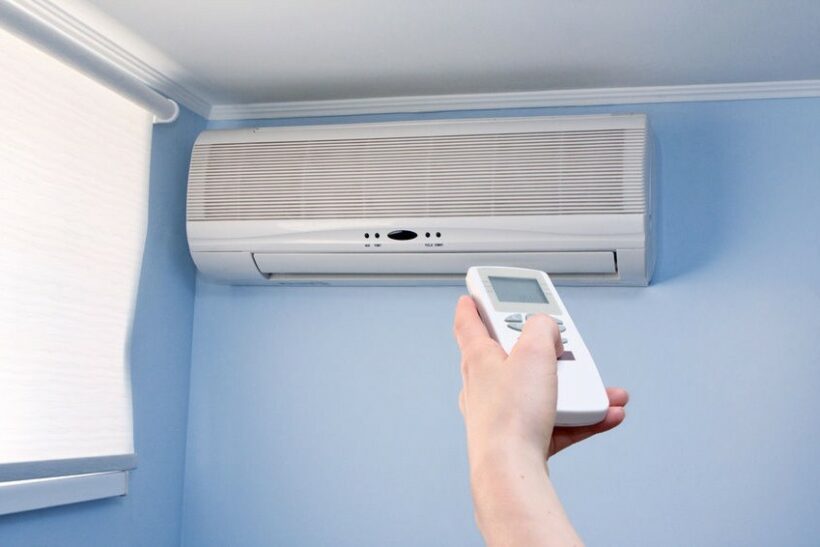 8. When in Rome, do as the Romans do
When it Thailand, watch the locals. They're not running around the streets in the middle of the day and enjoy many showers during the day as well. Turn down the hot water when you head to the shower. Many Thais don't even have hot water connected to their shower. Why bother? Especially if you live in the southern areas where the running water is quite warm, like the tropicals seas. A cold-water shower a few times a day will help keep you cool and refreshed. After showering it's a good precaution to use some talcum powder in the 'nether regions' as sweat build-up and bacteria will thrive in a humid climate, sometime leading to rashes and itching. Nasty!

9. Mop up the sweat
You will sweat. Your body needs to sweat to help maintain your body temperature. A damp towel carried around in a plastic bag will be a perfect way to wipe your face, neck or hands from time to time. Some of us perspire more than others but there's no problem in mopping up the perspiration from time to time – you're not the only one sweating you know.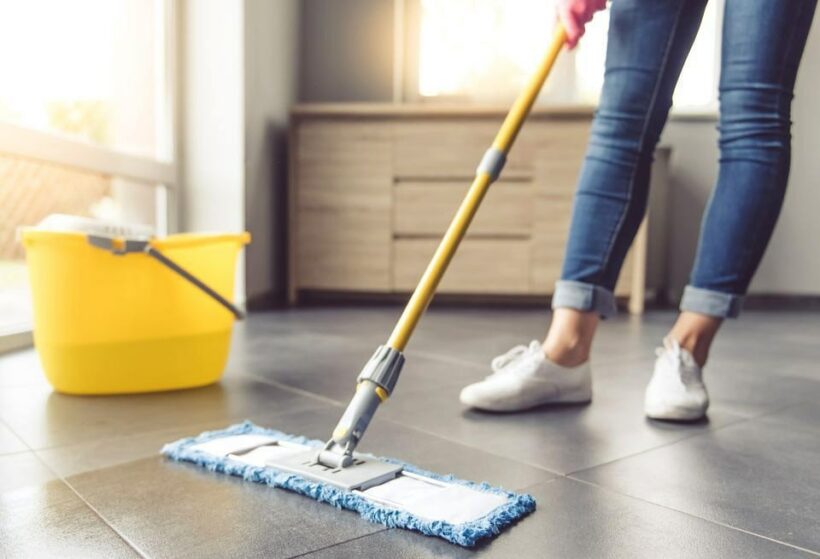 10. Eat healthy, light food
Lighter, less stodgy food is going to make your body work less to digest and keep you feeling a lot cooler and refreshed. Local fresh fruit and salads should be included in a humid-climate diet. Some of the Thai spicy dishes can be quite light as well but maybe keep off the heavier curries until the evening. Coconut water is available everywhere, cheap and very refreshing. You also have the prefect excuse for an ice-cream too!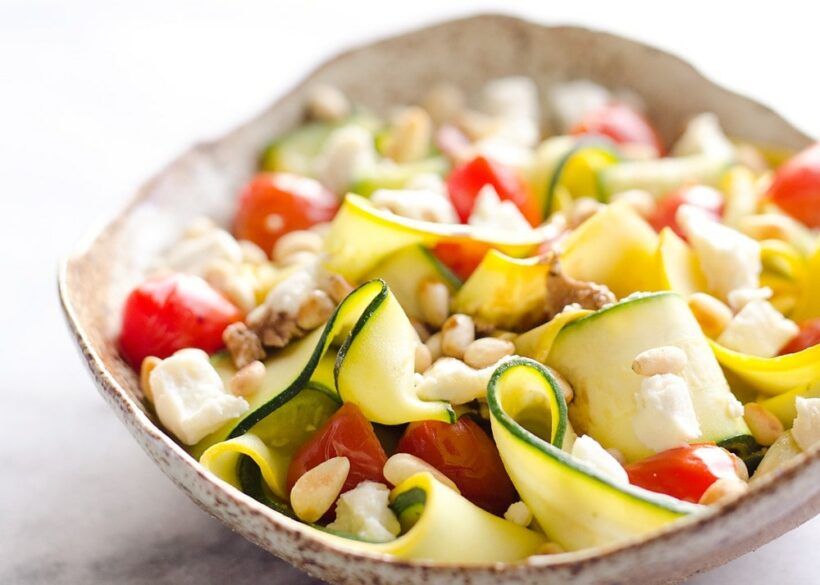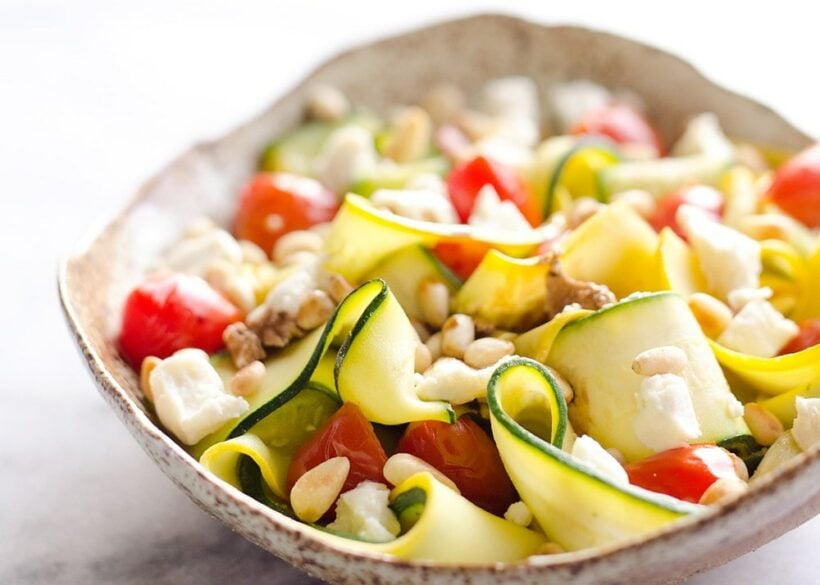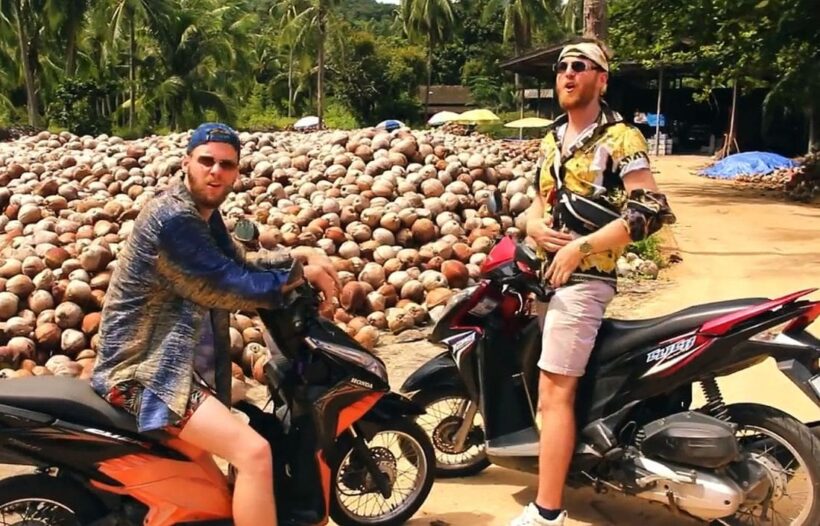 No helmets, but a lot of effort, some cameos by local dogs and a drone, brings together a heart-felt ode to the ubiquitous Hand Click, the favourite scooter rental for Thai tourists for a decade. This unlikely, hastily organised boyband duo deserves 10 out of 10 for effort but a lower score for their singing and fashion sense. Filmed on Koh Phangan. Enjoy!
(The Thaiger reminds everyone riding motorbikes in Thailand to always wear a helmet – because it's the law and it could save your life.)
Ich fühl mich so geil auf meiner Honda…

Posted by Jimbotronic on Sunday, October 14, 2018
Soi Dog Foundation responds to rabies and dog registration stories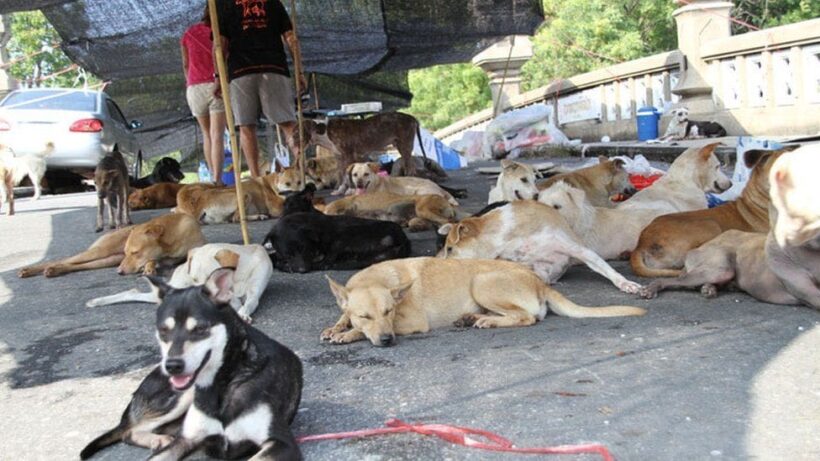 PHOTO: Bangkok Thailand Soi Dog
Phuket's Soi Dog Foundation has sent The Thaiger a response to an article published on October 16. The story was sourced from our Bangkok partners 'The Nation' and, according to Soi Dog, contains some glaring inaccuracies. You can read the original article HERE.
We reprint the response from the Soi Dog Foundation below…
"The Department of Livestock Development (DLD) carries out a survey, twice a year, in an attempt to count the number of dogs and cats in the country, both owned and stray. In 2016, it counted 7.3 million dogs and 3 million cats in Thailand, excluding Bangkok. This year the number of dogs was recorded by the DLD as 7,770,969, excluding Bangkok.
We at the Soi Dog Foundation carried out a census of free roaming dogs in Greater Bangkok two years ago and came up with a figure of 640,000, so a realistic number for dogs nationwide is somewhere around 8.4 million, not – as your story states – 820,000.
Another figure given in your story is that 40 per cent of stray dogs in Thailand could carry the rabies virus. If this were true, there would be hundreds of human deaths a year, if not thousands, and the carcasses of dead dogs would be scattered all over the place.
A story published by The Nation on September 28 ("Expert says rabies still not under control and official statistics may be misleading") gave a DLD figure of 15.3 per cent for the first nine months of this year.
But even that is highly suspect. It was based on a very small sample – just 8,472 dogs. And those were 8,472 dogs that had been caught by the DLD, and their brains examined post mortem for the virus because they were believed to be rabid.
Plainly, to base a percentage infection rate on a sample made up entirely of dogs that are already suspected to have rabies is utterly misleading. It would be like saying, "We checked a bunch of people thought to have diabetes and found that 15 per cent of them did indeed have diabetes."
The real figure must be much lower. We believe it is between 1 and 4 per cent.
At the root of all the problems being discussed is, in fact, Thailand's ineffective garbage disposal problem system, which allows a high number of dogs to survive and even get fat by scavenging from trash bins.
Trying to remove 8 million-plus dogs to "shelters" is futile, and carrying out culls (which would probably be illegal under the Cruelty Prevention and Welfare of Animals Act of 2014) would be equally ineffective. Here's why:
The cost of building shelters to hold 8.4 million dogs would be astronomical and the annual budgets for running them would equally expensive. It would be a huge drain on the national treasury.
Dumping dogs in government pounds would probably lead to large scale suffering and death, as was seen earlier this year when, as a result of the rabies panic, 3,000 dogs were crammed into the government animal quarantine facility in Nakhon Phanom. In just weeks, around 2,300 died from disease, starvation and wounds from fighting.
Dogs that were not caught in this proposed nationwide roundup, or which avoided being killed in a nationwide cull, would swiftly move into the territories of the dogs that had been removed, breeding rapidly and replacing them.
A female dog can have up to three litters of pups a year, each litter averaging seven pups. This means that one female and her offspring – and their offspring and so on – can become 67,000 dogs in six years. This is why an extended campaign of "catch, neuter, vaccinate and release" is so effective.
Even if all the dogs could be removed, the garbage problem remains, Other species would take over, notably cats, who breed even more rapidly than dogs, and monkeys. If they, too, were impounded – and cats and monkeys are far harder to catch than dogs – then the country would see an explosion in rat and mice populations. Outbreaks of bubonic plague transmitted by rats and their fleas would be far more frightening than rabies.
As we have seen in Phuket, large scale sterilisation, coupled with vaccination, works, not only in reducing numbers but also in eliminating rabies. It does require large scale investment, though far less than sheltering would, and spread over several years.
As to the issue of compulsory licensing of pets, whether there is a fee or not, we believe this is not a viable solution. It has been tried by other countries and then abandoned because the majority of dog owners – numbering in millions – simply decided not to comply.
Does Thailand have the resources to find, arrest and bring to court millions of dog owners, in order to extract small fines from them, always assuming that the authorities can prove in the first place that the dogs actually have "owners"?
We doubt very much that the government will find this is an effective measure for controlling Thailand's population of strays, reducing abandonments or reducing the spread of disease. Indeed, it is likely to have the opposite effect.
SDF Founder John Dalley, Soi Dog Foundation, Phuket
Ninth measles victim in Yala, 3 remain critically ill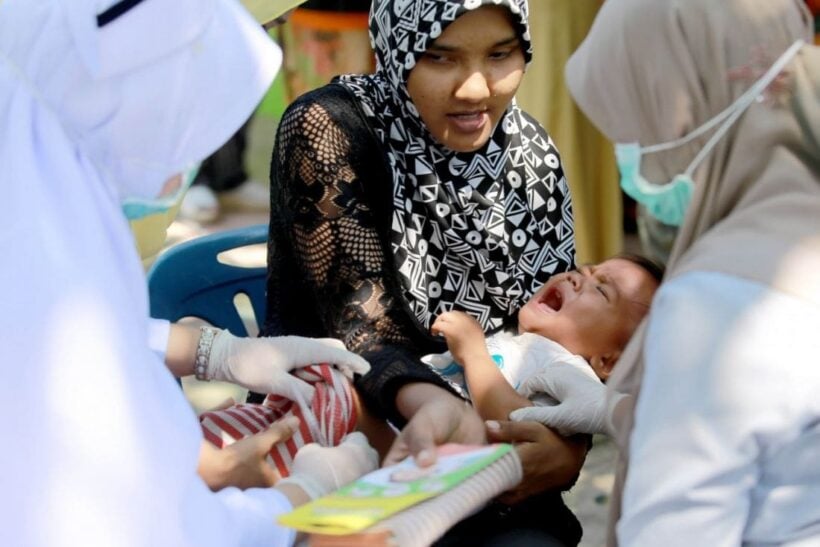 PHOTO: A mother holds her child as nurses at the Tambon Yala Health Promotion Hospital in Yala's Muang district vaccinate him against measles yesterday. – Nakharin Chinnawornkomol
Another child has died as a result of complications from measles in Yala province yesterday morning.
This latest preventable fatality brings the number of deaths from the disease in the southernmost province to nine since June. The Yala Provincial Public Health Office head Dr Songkran Maichum announced the sad news to the media yesterday.
The Nation reports that three other children remain critically ill with measles at Yala Hospital. Admitting the disease outbreak in the province was "worrying", he said his office aimed to have 7,000 at-risk children – especially those aged between five months and five years old – in Yala vaccinated by November 4.
He said the main reasons for the fatalities were that the patients had not been brought to hospital early enough, dying from subsequent health complications, and not been vaccinated at an early age. He also said the 8,000 doses of vaccines available were sufficient, though the office has requested for another batch of 3,000 doses.
Songkran noted that the most-affected districts were Yaha, Bannang Sata and Kabang in Yala province.
Health officials continued vaccinating young children against measles yesterday. Acting director of Tambon Yala Health Promotion Hospital, Nurse Thelma Doyor, led a team to vaccinate 15 children in Ban Pajo (Moo 3) in Muang district.
Aiming to cover the area's 108 toddlers, the hospital will ask for additional doses to cover the rest by November 4, she said.
The hospital had previously vaccinated 35 children. Abdul-Roning Abdulloh, the imam of Ban Pajo Mosque, said he was inviting residents to have their children vaccinated, as he was able to confirm that it is acceptable for Muslims to receive the vaccine. He cited his previous consultation with many Muslim doctors about the vaccine, as some people were afraid that the vaccinations were not in accordance with halal principles.
The Imam added that he will tell people during the Friday prayer assembly that vaccines were necessary to protect young children. Songkran said officials giving the vaccines have been told to download a video clip featuring statements from the Sheikhul Islam Office and Provincial Islamic Committees saying this treatment is acceptable.
STORY: The Nation
Read The Thaiger's editorial about the issue HERE.