Top 10 tips for riding a motorbike in Thailand (2020)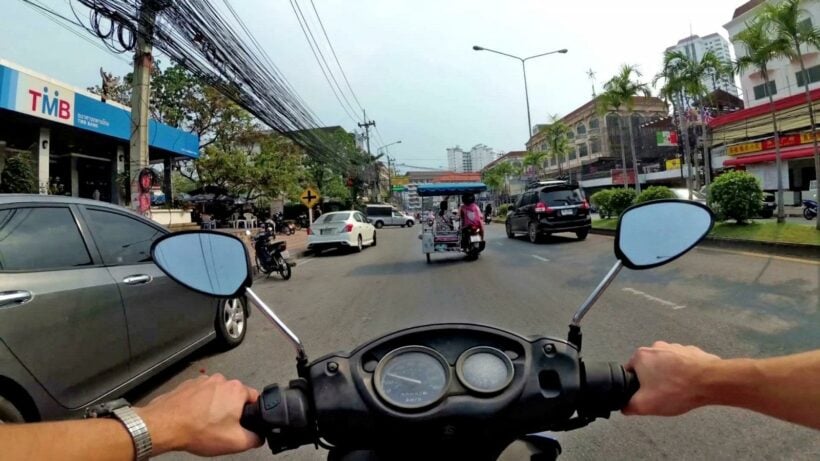 Motorbikes and scooters are the most popular mode of transport in Thailand, and most of south east Asia. Indeed, in many cases, they're the 'engine' for the local economies. The 110cc step-thru is ubiquitous. Most of them just go and go and go – they're astonishingly reliable. Whilst you're meant to change the oil once a month we suspect most don't get their oil changed once a year, if ever.
Getting around on a motorbike is easy enough and, especially in busy traffic, will get you to your destination faster whilst the cars and trucks are plodding along in the traffic.
But riding a motorbike in Thailand can also be very dangerous. But if you stick to the common sense basics – ride within the speed limits, wear a bike helmet, obey the traffic rules and don't drink and drive – it remains a perfectly reliable way to get around.
Make sure you have the correct insurance before you go anywhere near a motorbike or motorcycle!!
Here's our Top Ten tips to make your journey on the motorbike safer and more comfortable.
PLEASE NOTE: We're not recommending that you should ride a motorbike but, if you do, these tips will help…
1. Wear appropriate clothes
Whilst you'll see idiot tourists riding around on their rented motorbikes in their swimming shorts, and that's all, you're going to be much safer with a few clothes on. Falling off a motorbike without anything covering your knees or elbows is going to be painful enough – having at least some fabric between you and the road is going to reduce the painful grazes a bit. Long pants and a long shirt are a good start.
Always wear shoes for the same reason. And a motorbike helmet as well – it's the law and it could save your life. The flimsy plastic 'lid' type helmets cost around 200 baht and will get you through the checkpoints but spending a bit more on a better helmet will provide additional protection in the unlikely situation your head comes in contact with the road. You'll see the locals riding around with their jackets on the wrong way – they say it keep their clothes clean from the road muck and fumes.

2. Keep your bike in good condition
It goes without saying. But as hardy and reliable as the modern motorbikes are, they will run better and for longer if you keep up the service schedule and change the oil around once a month. You will wonder how they can produce these 110-125cc step-thrus for little more than USD$1,000 brand new, but they do and the ones floating around the roads of Thailand are almost all made in the land of smiles.
Apart from changing the engine oil keep an eye on the tyres as the road surfaces in much of Thailand, plus the heat and humidity, will wear down your tread quickly. Good tread and keeping your tyres at the prescribed pressure are your best bet for maintaining control at all times. Your brakes will also need checking although, like the rest of the part of these bikes, the brakes seem to last forever.
Whenever you're getting your oil changed get the service man to check the brakes, tyres and make sure nuts and bolts are all tight – they shake loose sometimes. And then there's the lights at the front and back which are your best way to inform other driver's what you're doing in the traffic. Indicators may not be used much by the locals but you should.

3. Make sure you have a proper license
Your car license in your home country isn't legal in Thailand to ride a motorbike. Your International Drivers License for cars issued in your home country isn't going to cut it either. Legally, the only document that will satisfy the Thai legal system, officially, is a Thai motorcycle license. It doesn't matter much until a situation arises where you're in an accident and the law comes crashing down on you.
If you live in Thailand you simply must get a proper motorbike drivers license of you want to ride a motorbike here. For tourists, the local bike hire shops will gladly rent you a bike, usually by simply showing your passport and giving them a deposit. Some will even tell you that their 'insurance' will cover you in the event of an accident – that's just not going to happen. YOU are responsible for your own health if you get onto a motorbike in Thailand. Check YOUR situation and YOUR health and travel insurance.
And whilst we're talking about a Thai Motorbike License, we're talking about the ones you get from the Land Transport Office, not Khao San road for 500 baht!
(Here's some info about getting a motorbike license in Bangkok, the same applies at the Land Transport Offices in most Thai cities).
We think you're insane getting on a motorbike in a foreign country without the correct documentation, which leads us to #4…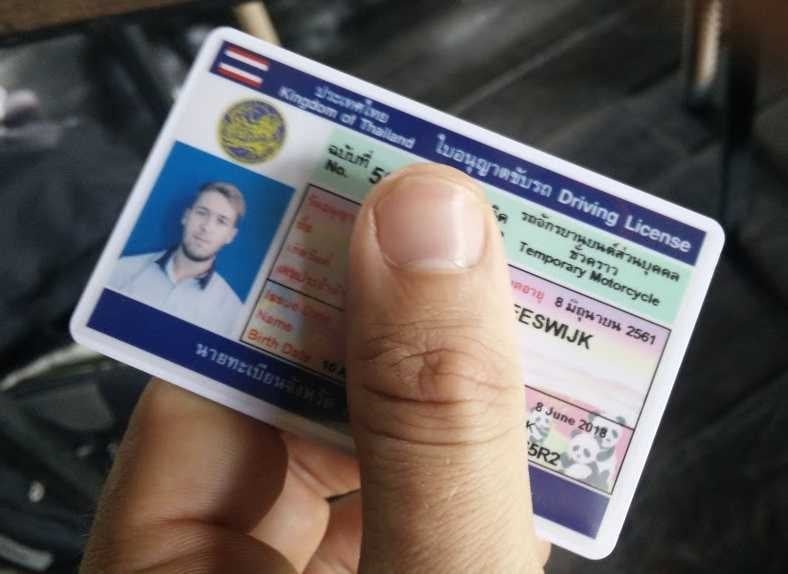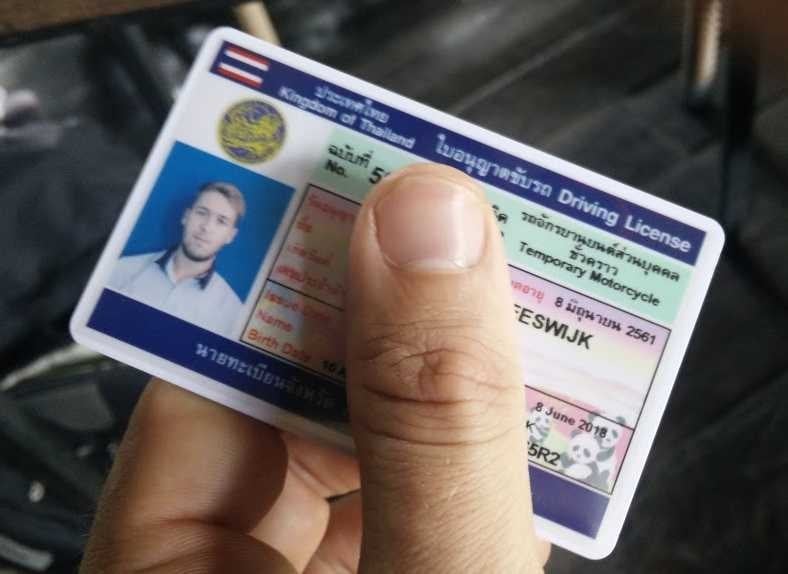 4. Check your travel and health insurance
Every week The Thaiger hears from tourists stuck in a Thai hospital with mounting hospital bills and an insurance company that won't pay out because they didn't have a proper drivers license. Or no insurance at all. And even if you have travel or health insurance, check the fine print because some insurance contracts preclude driving on motorbikes in Thailand.
In six years driving on Thai roads I've had one fall. It winded me badly and I got abrasions on my ankle and knee. But people ran to my assistance and helped me up. I didn't need to go to hospital but I was grateful, lying in the middle of the road gasping for breath, that I knew I had good health insurance and a proper license.
(The fine print on your insurance, different country's licences and the policeman that shows up at your accident will all play a part on how your accident will play out. The ONLY sure way you can prove your legal ability to drive on a Thai road is with a Thai motorbike license)

5. Driving is different in Thailand
Many of the rules are the same as countries that also drive on the left-hand side of the road. But you need to add 'Thainess' into the traffic mix. It is different. Apart from the lunatics that drive too fast, drink-drive or ghost ride (driving against the flow of traffic on the side of the road), there's just the different attitude to driving. We say it's a bit like swimming with a school of fish – if you just go-with-the-flow and keep in the stream of traffic you'll do well.
The western attitude of driving defensively will go against the grain of Thai traffic movement where 'personal driving space' isn't really honoured and people will cut in front of you as just a part of daily driving habits. It's not wrong, it's different and you're best to learn the subtleties of Thai traffic flow before you immerse yourself in the middle.

6. Green lights mean GO. Red lights also mean GO sometimes.
You'll see what we mean. Don't even think about trying it. It will either get you fined or dead.

7. Have a practice
If you're either new to driving a motorbike or new to driving a motorbike in Thailand don't thrust yourself into a busy stretch of road immediately. Try something a little calmer and slower to get a feel of the subtle differences in Thai traffic movement. You're sharing the road with trucks, cars, buses and passenger vans.
You're meant to stay on the left hand side and you'd be well advised to do so, despite the behaviour of some Thai motorbike drivers that want to mix it with the 'big boys'. Get some confidence with your motorbike and way it handles, and moving in and around traffic on a quiet road before you tackle the main roads.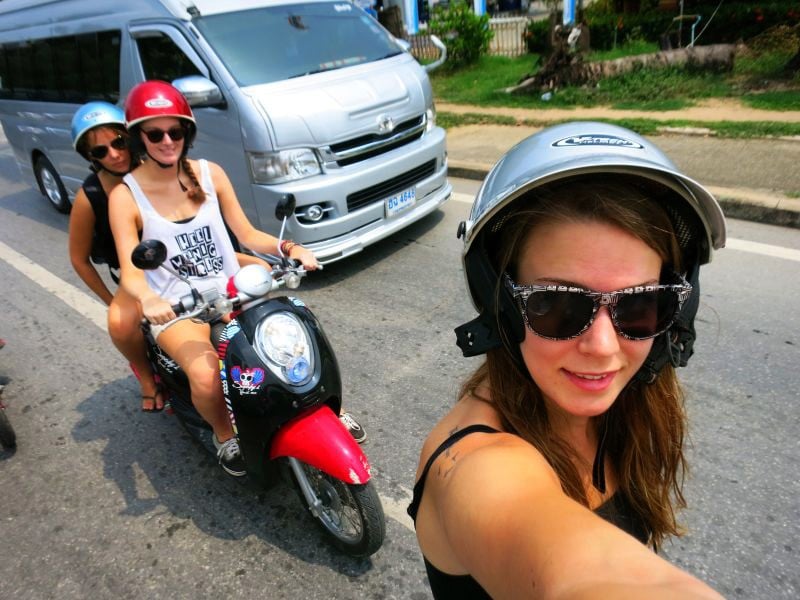 8. There's pot holes, then there's POT HOLES
The roads around Thailand have really improved in the past decade but you'll still find pot holes in places there wasn't one the day before. If you want a really good reason for giving plenty of distance between you and the car in front, it's to see the pot hole before you end up IN it. Whilst car tyres might glide over these holes in the road, your motorbike is likely to come to an abrupt halt, with you continuing over the front of the handlebars – something to do with Newton's first law of motion.

9. If you're not sure, don't
Never ridden a motorbike? Didn't ride a motorbike in your own country? There's two good reasons not to try it for your first time in Thailand.
It can be a bit of a challenge for even experienced motorbike drivers, well different anyway. There's plenty of other ways to get around and if you want THAT selfie for your Facebook page there's thousands of bikes parked by the side of the road where you can get a photo. Just because your friends did it when they travelled to Thailand doesn't mean you have to.

10. Police will often arbitrate on the spot at an accident
If you are in the wrong and damaged someone or someone else's bike you're probably going to have to pay up. Now, there's the 'official' way to sort things out in these case and the 'unofficial'.
The policemen will get to the scene soon enough and, often, decide there and then who was at fault. They'll often negotiate how much should be paid as well. The urban myth is that Thai police always side with the the locals – that's not the case although, if you are indeed in the wrong then you're IN THE WRONG!
If you are concerned that you're being rolled by the locals in sorting out a simple motorbike accident then call the Tourist Police or your consulate immediately. DON'T agree to pay any money to anyone until you've spoken to at least the Tourist Police.
Getting into an argument with the local police will almost certainly guarantee you'll come off second best. Demanding that you speak to the police chief, etc, will also usually end up in the situation not going well in your favour. Be patient and don't lose your cool. You are in a foreign country, you're a guest and they do things differently – end of sentence.

PHOTO: John Everingham
10a. If you have any doubts, just don't
Bottomline about riding a motorbike in Thailand is that, if you 1) wear a motorbike helmet 2) never drink and drive 3) wear appropriate clothing 4) have a Thai motorbike license and 5) be aware of the traffic around you and concentrate at all times… you'll probably have very few problems and be able to enjoy Thailand the way the locals do, au natural, with the wind through your hair and the insects up your nose.
Keep in contact with The Thaiger by following our Facebook page.
Never miss out on future posts by following The Thaiger.


Find more Travel top 10s and top 10s in Thailand on The Thaiger.

Deceased Phuket expat's body stuck in hospital due to passport mix-up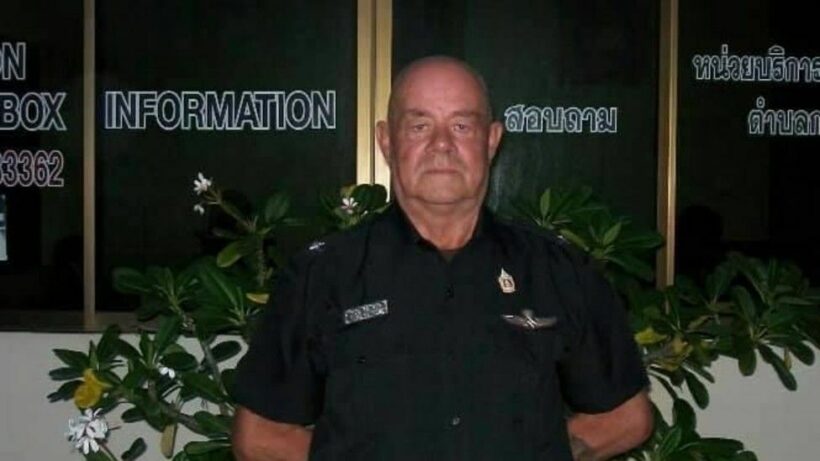 In a nightmarish scenario, a deceased Phuket expat's body is stuck in a Thai hospital as his step‐daughter claims hospital administrators won't release the body due to a passport mix‐up.
Gemma Swift, the step‐daughter of 75 year old David Donoghue, who died 2 weeks ago, says she is pleading with embassy staff in Thailand to resolve, what she says, is purely an administrative issue after Donoghue's passport number at the hospital was from that of an expired one.
Donoghue's current passport was on file with the British Embassy, but because it did not match what the hospital had, his body has remained at the hospital. Swift says it was something that could easily be corrected and the situation was "horrendous" for the family.
"The British Embassy over in Bangkok, they said that because [the number] was from his current passport, they were unable to change the letter. They have said that they won't reissue a letter with the passport number that he's got in the hospital with him."
She said her family planned to arrange a funeral for him in Thailand, then bring his ashes back to the UK. As he retired to Phuket 15 years ago, her family would then take his ashes back to Thailand, as per his wishes, to scatter them.
However, none of his family members were able to travel to Thailand to be with Donoghue in his final days, as the mandatory 14 day quarantine period upon entering Thailand, would not have allowed them to see him.
"I thought this was a basic human right to be able to give somebody a funeral and I accept that there is always going to be red tape…but please just issue a letter and let us bring him home."
She said before Covid-19, family members travelled often to Phuket to visit Donoghue, who once worked for the Thai tourist police. She says the entire ordeal has been heartbreaking as her family was unable to say goodbye.
"That on its own was heart breaking, and now to get this two weeks later, to find out we can't give him a funeral, or get his ashes back, it's just horrendous."
"It's like being on autopilot… once we know we have done everything we can, we can start the grieving process, but at the minute we can't."
A Foreign, Commonwealth and Development Office spokesperson said they are assisting Donoghue's family during the difficult time.
"Our staff are in contact with the local hospital and funeral director to help his family obtain the necessary paperwork to ensure his body is treated in line with their wishes."
If the situation isn't fixed, Donoghue's body will join a mass cremation at the hospital.
SOURCE: BBC News
Keep in contact with The Thaiger by following our Facebook page.
Never miss out on future posts by following The Thaiger.
Government crackdown on foreigners teaching without work permits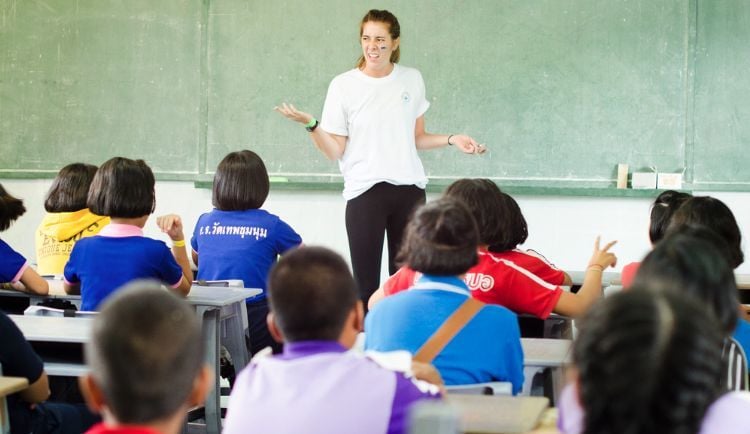 Thailand's Ministry of Labour is cracking down on foreign teachers who may be working in the Kingdom without valid work permits. The ministry has instructed the Department of Employment to apply stricter criteria when issuing work permits to foreign teachers. According to department figures, Thailand currently has 6,129 foreigners teaching in 922 private and public schools. Of those, 2,667 are from the Philippines, 558 from the UK, 465 from the US, 237 from China, and 160 from South Africa. The remainder are from other countries.
The Bangkok Post reports that authorities discovered 8 foreign teachers not in possession of work permits or working in reserved professions. Of those, 3 failed to notify government employment officials of their employer, place of work, and duties within 15 days of taking up employment. Officials also discovered a school that was hiring foreign teachers without work permits, as well as hiring foreigners to carry out work they were not permitted to do. A further 20 schools are accused of not providing the names, nationalities, and duties performed by foreign teachers within 15 days of them beginning work.
Officials say foreign teachers must be in possession of a non-immigrant visa, not a tourist or transit visa and should apply for a work permit at their local employment office. Foreigners teaching without work permits may face fines of 5,000 – 50,000 baht and deportation. Schools or other academic institutions that hire foreign teachers illegally face fines of between 10,000 and 100,000 baht for each illegal worker, with those responsible also facing potential jail terms.
SOURCE: Bangkok Post
Keep in contact with The Thaiger by following our Facebook page.
Never miss out on future posts by following The Thaiger.
British man arrested on Koh Samui for alleged meth-fuelled shooting spree on speedboat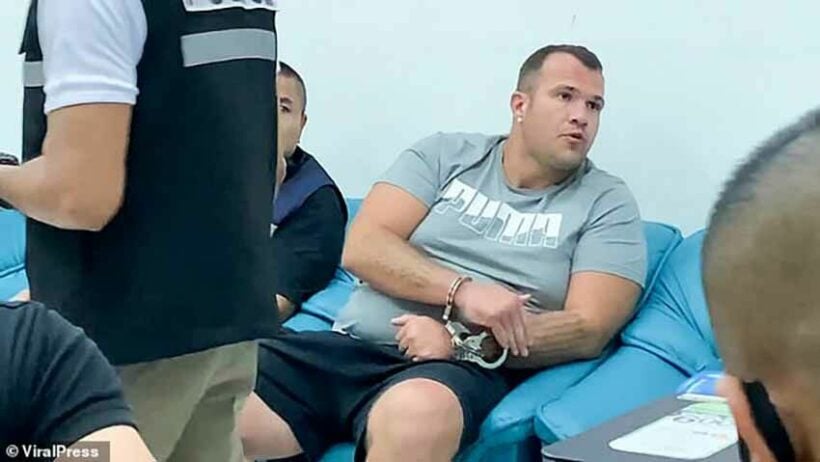 A 33 year old British man has been arrested on the holiday island of Samui for allegedly firing gunshots from a speedboat while high on drugs. According to a report in the UK's Daily Mail, Benjamin Robert Simpson, a cryptocurrency trader, allegedly fired a handgun several times, in the direction of the Four Seasons Hotel, where he was a guest. He allegedly fired the gun while on a speedboat with the boat's driver, Geerati Glinubol, after both men had taken meth.
It's understood the boat belongs to Simpson, who had hired Geerati as his driver. Simpon originally arrived in the Kingdom as a tourist, but then began trading cryptocurrency. According to Chatchewin Nakmoosik from the local police force, both men took meth before embarking on a speedboat cruise around the island. It's understood that Simpson then fired several gunshots towards the Four Seasons Hotel, where terrified staff called the police. Police were waiting at the hotel when Simpson returned from his speedboat trip and he was immediately arrested, along with Geerati.
Police say Geerati has confessed to taking drugs with Simpson, telling police that the Briton then bragged about how many guns he had and fired several rounds into the sea, frightening people on nearby beaches. Officer Chatchewin says that in a subsequent search of Simpson's room, police found a 9mm Beretta pistol and 31 bullets, as well as a revolver with 49 bullets. Officers also seized a plastic bag containing nearly 7 grams of methamphetamine, as well as several meth pipes.
"Hotel staff heard guns being fired so they called the police. They said the gunshots were near the hotel and they were scared. We arrested Benjamin Robert Simpson in the hotel room and found 2 guns and methamphetamine. We put him in handcuffs and kept him at the police station while we investigate and check CCTV."
SOURCE: Daily Mail
Keep in contact with The Thaiger by following our Facebook page.
Never miss out on future posts by following The Thaiger.