Thai Life
Thinking Green: Striking a beach balance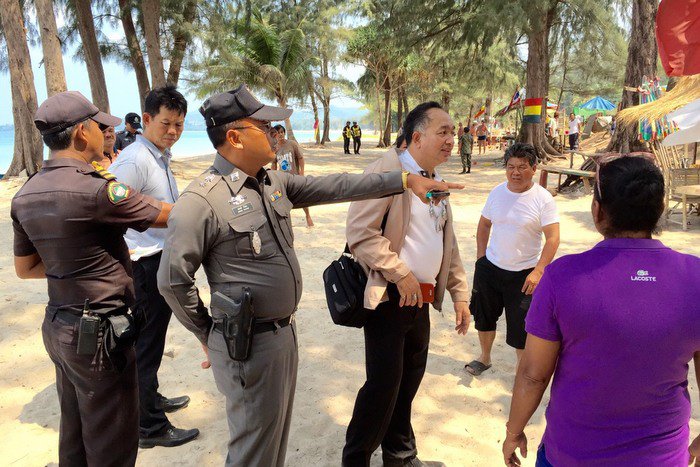 PHUKET: "We need chairs," are the plaintive cries in the press, demanding a return to the old model of endless rows of deck chairs and umbrellas. Meanwhile, the vendors are crying, "Our businesses have been hit badly."
And at the same time, environmentalists are claiming, "Our natural treasures are being directly influenced by coastal law enforcement, pollution, construction, density of vendors and litter management."
These are all interests in the current discussions about the policy and management of our beaches.
Phuket's beauty and mystique has, for many years, beckoned those seeking paradise. Until the 1970s, Phuket had been largely undeveloped. Starting in the 1980s, the sandy beaches and the western coast of the island quickly started to become a tourist haven.
The tourism industry continued to grow until the tsunami hit the island on December 24, 2004. But the damaged buildings were quickly restored and Phuket continued on its path of intense development. As of the 2010 census, there were some 520,000 people residing on the island, including 119,000 foreigners and 68,000 migrant workers from Myanmar, Laos and Cambodia.
Expected tourist arrivals in 2015 are 24.71 million, a decrease from the year earlier by 6.93 per cent, but this year's overall arrivals could reach 28.36 million, generating about 1.29 trillion baht from foreign travellers and 800 billion baht locally. These figures can be impacted by fluctuations in overseas economies and, in particular, the launch of the Asean Economic Community.
With so much human pressure, Phuket's environment has undergone some dramatic changes. The new government has taken action to establish a more integrated approach to Phuket's development and environment management, resulting in the rehabilitation of coastal eco-systems for sustainable livelihoods and disaster-risk reduction.
It is a good time to take stock. Tourism is one of the two mainstays of Phuket's economy, and many tourists come to Phuket for its famous white sand and clean marine waters.
The halt on beach encroachment by restaurants and vendors offering sunloungers and umbrellas, as well as jet-skis, will allow some breathing space for wider consultation, before the cumulative effects of pollution that threaten to overwhelm nature's resilience mechanisms take hold.
The current consultations must take into account all the long-term sustainable interests for Phuket,
as laid down in the Phuket Sustainability Indicator Report also known as SEEK (Society, Environment, Economy & Knowledge).
Following the model of SEEK would steer the current community discussions into a sustainable course for the beaches, the seas and watercourses, and the business hinterland. Economic interests would be balanced against the need to protect the environment long into the future, and would ensure that our society is strong and the interests of every person protected, whether they be local, migrant workers or long-term or short-term visitors.
Local and community ownership would empower and enable community volunteer groups working with other stakeholders to manage the beach conditions, water quality monitoring and the management of waste.
The government has given us the chance to contribute to the future management of our beaches. We should embrace this chance while we have it.

— Dr Peter W Harris