Thailand regional Number Two in 'new fatties'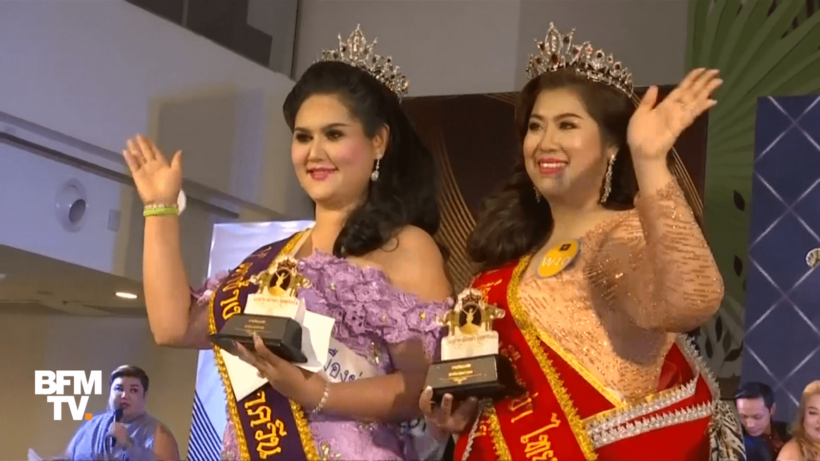 PHOTO: BFM TV
Thailand is become a country of fatties, certainly when compared to the average Thai 20 years ago and in relation to the other countries around us.
A study called 'Obesity in Thailand and its Economic Cost Estimation' by the ADB Institute shows that Thailand now ranks Number Two in ASEAN countries when it comes to people suffering obesity. Second only to Malaysia, ahead of more prosperous countries like South Korea, Japan and Singapore.
"Obesity is becoming a global concern because many non-communicable diseases are attributable to obesity. Though it is highly prevalent in developed countries, obesity is quickly growing to be of concern in low- and middle-income countries such as Thailand, primarily due to the potential strain on its limited resources. Given the potential effect of obesity on the Thai health system, this paper discusses the trends, causes, and impact of obesity in Thailand."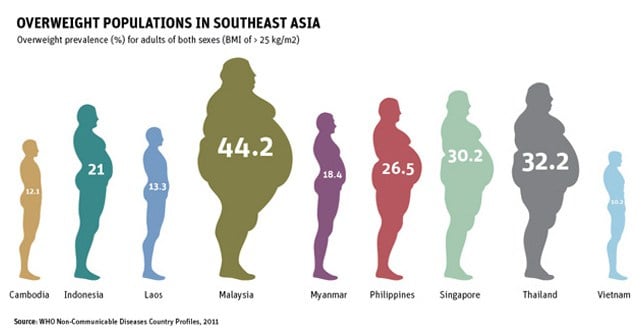 The study suggests that more Thais are becoming obese due to their evolving eating habits which include a great deal more surgery and carbohydrate-fuelled 'western style' foods.
The data showed that Bangkokians were most at risk of becoming obese, whilst residents in the northeast showed the least risk of becoming overweight.
It comes as no surprise that the data reflects the contention that obesity is greater among city people who are earning high wages than those who live 'up country'.
"Thailand, one of the global health leaders*, is facing huge challenges in controlling the obesity epidemic and mitigate its impact in the country. This test is as onerous as controlling the HIV epidemic or establishment of the UHC program, if not more so. Obesity contributes to significant health problems as well as economic impact to the country."
(*A direct quote from the report)
Bangkok has the highest prevalence of obesity for both males (38.8%) and females (49.4%), followed by the central region (33.3% for males and 44.5% for females), the southern region (27.4% and 44.7%), the northern region (27.5% and 36.3%) and the north-eastern region (22.5% and 39.1%).
SOURCE: Obesity in Thailand and its Economic Cost Estimation.


Are you considering a medical procedure abroad? With Thaiger Medical you can research hospitals and doctors, choose a destination in Thailand or abroad, and book an appointment today.

Top 10 things to do in Phuket during the wet season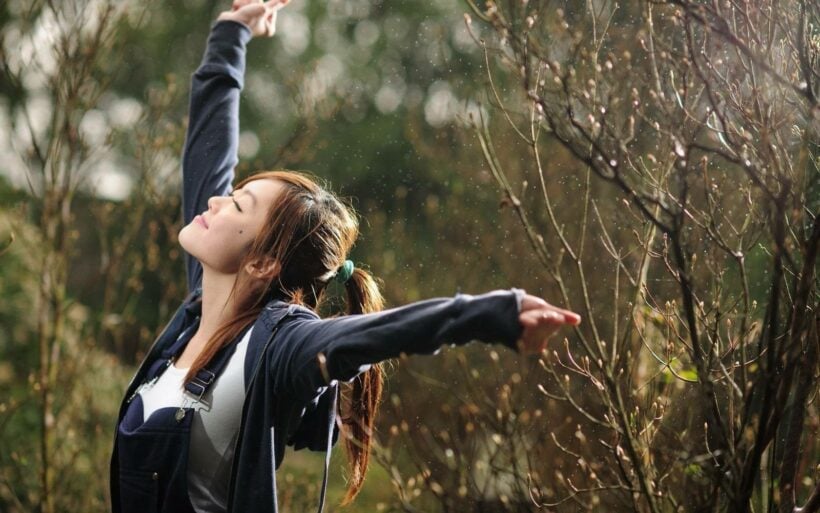 There's a bit of rain around. No worries. It's rainy season and the island looks a lot better when it's all green and the dams are filling. Try something on our instant list of the ten things you can do when it's wet and raining in Phuket. 
So here is our completely random Top 10 things to do whilst it's wet and raining in Phuket.
One of the best shows on the island. There's pre-show 'walk around' displays where you can see Muay Thai matches, traditional Thai villages and elephant shows (you can choose not to attend these if you're ethically sensitive about animal shows). Then it's into the theatre for an astonishing show about Thai culture and history which will blow your mind. For everyone in the family.
I've been 20 or more times – always take tourist friends there for a lesson in Thailand 1.0. Almost impossible to explain what you'll see but, believe me, it's worth the price. There's also a mega-international buffet available before the show. Take your appetite. Even when it's wet or raining, the show is always on – they cleverly adapt the schedule to fit around the rain.

There's the famous Simon Cabaret in Patong – there is also the companion show in Samkong – better parking and a newer theatre but much the same show. "The prettiest girls in Asia" they say. Completely family friendly but be prepared for a few questions after the show if you take the kids. Also, if you want to get a picture with one of the performers after the show you'll need to hand over 100 Baht or so for the pleasure. The shows are bright, spectacular, fun and a lot of fun. You'll forget about the rain and wet outside. In the middle of the island adjacent to the Samkong intersection is the Aphrodite Show, in the same vein as the Simon Star shows.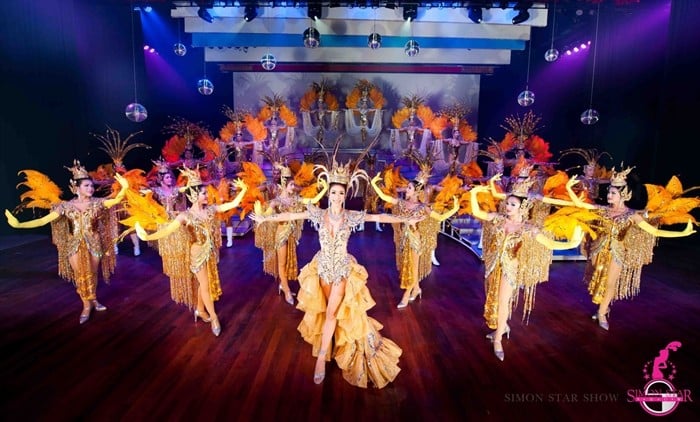 Head to one of the island's big international shopping centres for some retail therapy if there's a bit of rain outside.
There's Central Festival and the adjoining Central Floresta in the middle of the island, Jungceylon and Central (over the road) in Patong.
Both have plenty of label brands and excellent food options. There are also excellent cinemas at both locations (Jungceylon and Central Festival) where tickets will probably cost you a fraction of what you pay in your home country (unless you come from Nigeria where it's quite cheap I hear). Cost around 230 baht+ unless you go on cheap-Wednesday when the tickets are half-price.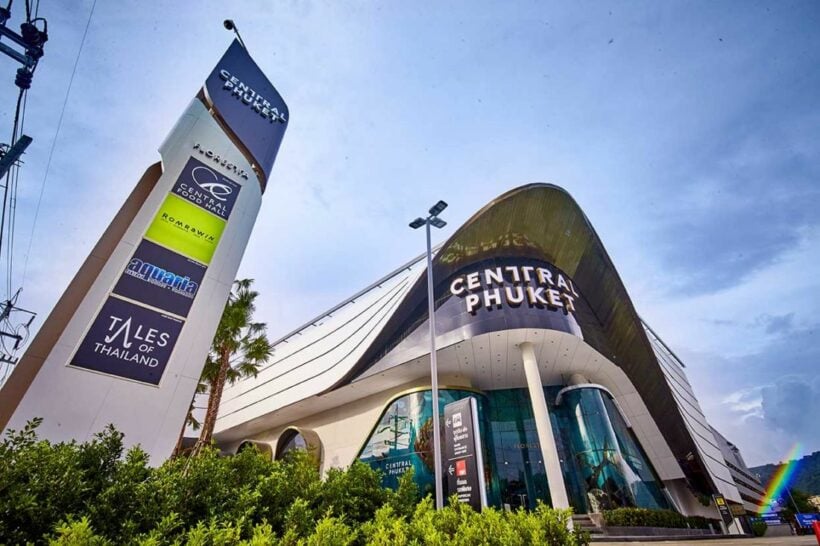 It has been much publicised that riding the incredibly intelligent elephants is cruel. Be part of the change and visit one of the best elephant sanctuarys in Thailand. Education is power, help spread the word that it is no longer acceptable to jump on the saddle. Yes it is an outdoor activity, but you are going to get wet anyway when you wash the elephants so get out there and play with the elephants.
The Elephant Jungle Sanctuary is a home for retired working elephants, set amongst three camps in remote sections of Phuket. It doesn't matter if it's wet and raining in Phuket – elephants love the wet!
There are a number of better, more elephant-friendly, alternatives around Phuket these days, all with the elephant's welfare as paramount. Also the Elephant Retirement Park, Phuket HERE.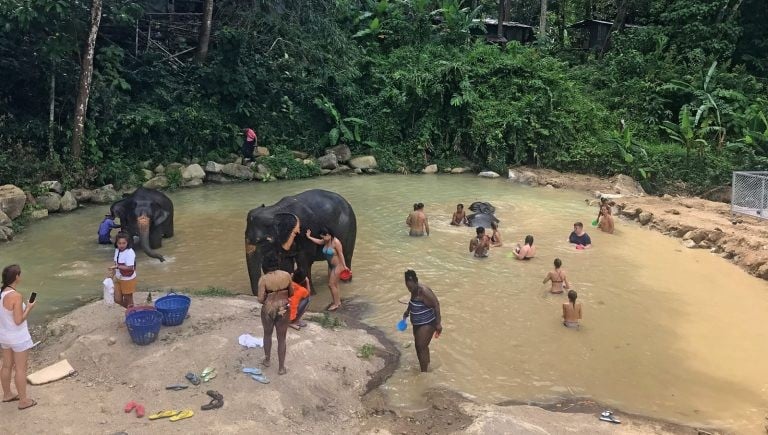 You deserve it. There's plenty of alternatives and style of massage all over the island, well, all over Thailand. A traditional Thai massage – firm, medium or light – will be an experience you'll always remember. Don't ask for firm unless you're prepared for some PAIN! Despite the publicity, most massages don't include a happy ending. Unless you're in Patong, you're probably not going to get that 'optional extra'.
There are also plenty of spas for all sorts of additional indulgences. Many of the bigger international hotels have excellent spas for 'walk-in' customers. Leave the rain and wet outside and enjoy.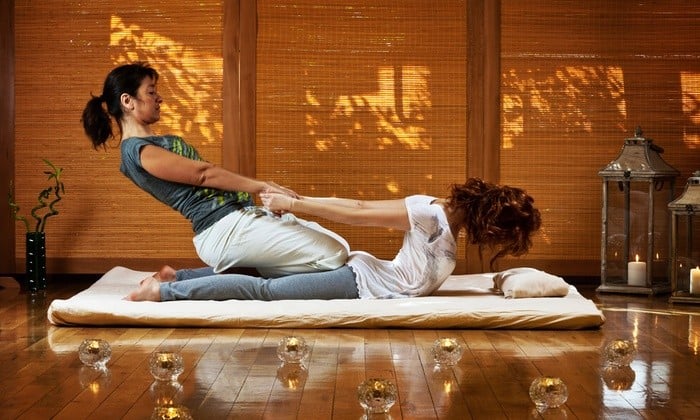 6. Go for a walk on the beach
It's still warm, the beaches are still amazing, the monsoonal air is fresh off the Andaman Sea and you can enjoy the drama of nature doing what it does. Also, be amazed at the people who have paid their hard-earned money to visit Phuket and, whether it's raining or not, are determined to go to the beach. And they do, sometimes with tragic consequences. Always obey the flags on the beach.
Red means DON'T GO SWIMMING. Rain, sunshine, wet… the beaches are always amazing.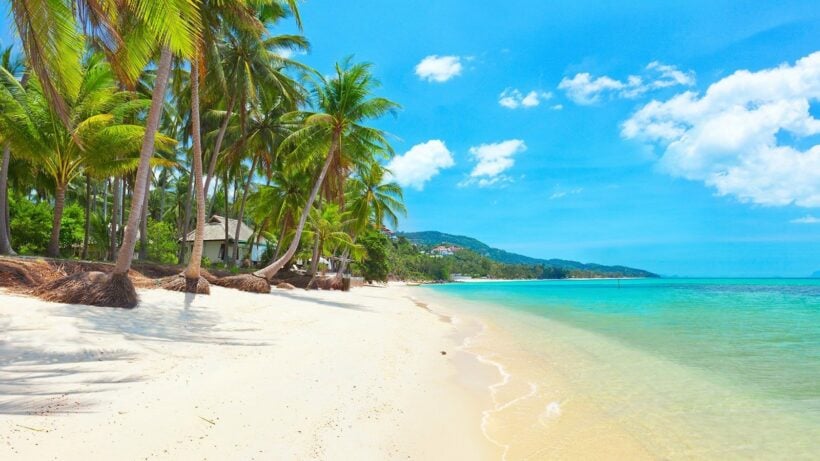 There's bowling alleys at Big C in Kathu and Jungceylon in Patong. They're really inexpensive and a great escape for a few hours. Strike or no strike you'll always look like a star in those rental bowling shoes (who have been worn by thousands of people before you… hmmmm). BYO socks. Mums and dads, there's usually alcohol served  at the premises so you can cope with the sheer boredom of watching all those others having fun.

Located in the very south of the island at Panwa Beach the Phuket Aquarium is an excellent spot to escape the weather and learn about the underwater world around Phuket. It is also safe for the children to roam inside and let them discover the seahorses, turtles and deep sea creatures. Good for a couple of hours, try and plan your trip outside of school pick up and drop off times as the journey South can be a long one.
There's also a new international-standard aquarium, 'Aquaria', about to open at Central Floresta in the middle of the island.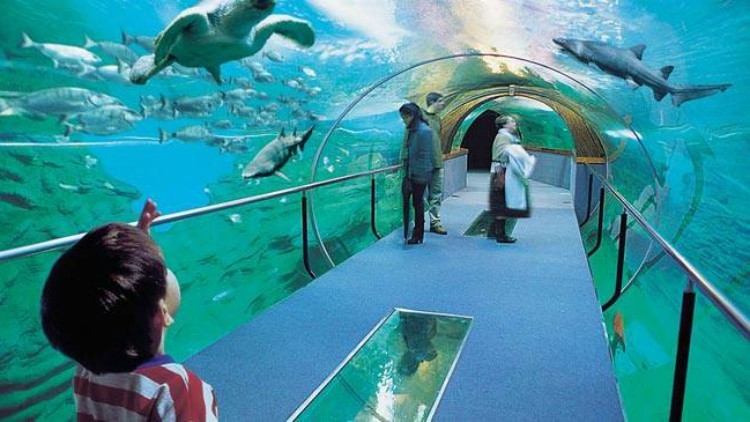 We love this place. A few hours of optical illusions and laughs. Great for the kids and the big kids as well. Located in the middle of Phuket Town. Take your camera or your mobile phone. An interesting back-story to the franchise of Trick Eye museums about a South Korean artist… you'll learn more about it when you go there. Perfect for a Phuket rainy day.

Admit it, we all talk about taking Thai cooking class but few of us do. Hey, why bother with all that pesky preparation, cooking and doing the dishes when we can get magnificent street food for 50 baht, almost anywhere (except Patong where you'll pay a bit more). Most of the larger hotels all have their own Thai cooking lessons. But for the best of the best head to the Blue Elephant Restaurant right on the border of Old Phuket Town for a memorable experience. The Sino-Portuguese building used to be the old Governor's residence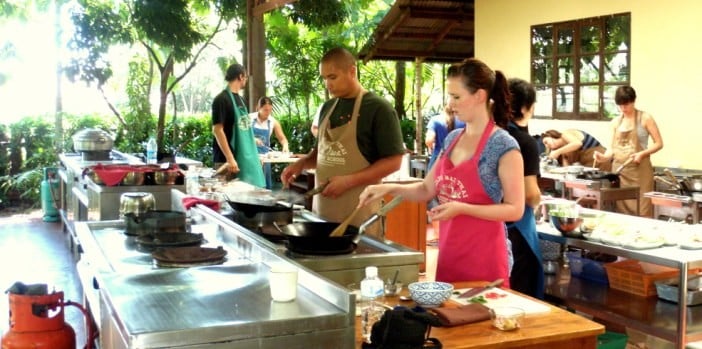 So get out and enjoy Phuket, whether it's sunny, wet or raining. Even if it is raining, remember the rain is warm!
Thailand's marijuana and massage-led tourism recovery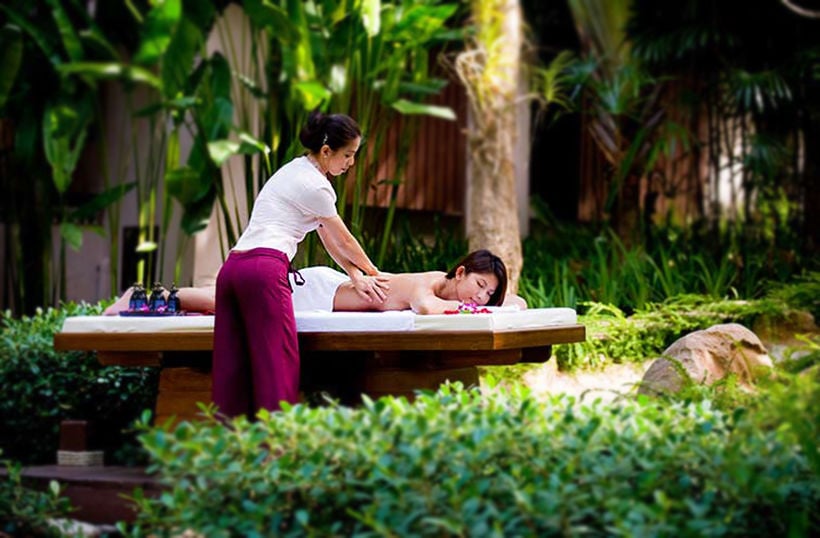 The new Thai minister for tourism and sports says he can lure Europeans and Americans back to Thailand with the promise of massage and marijuana – medical marijuana!
The newly sworn-in political "newbie" told the media on Wednesday that he is well aware of the drop in visitors from the US and Europe. He says he hopes plans to promote the two will become a reality between six months and a year. He claimed that there are many tourists with pro-marijuana views who would come as a result.
Confidence in Thailand's 'teflon" tourism industry has been shaken by claims from business groups, hoteliers and local vendors in tourism hot spots that tourism in May and June was down 30%, compared to the same months last year. Pipat said he recognised the strength of the baht at around 30 baht to the US dollar was dampening tourism from some western countries.
Residential projects launched in June up, but sale 15% lower than May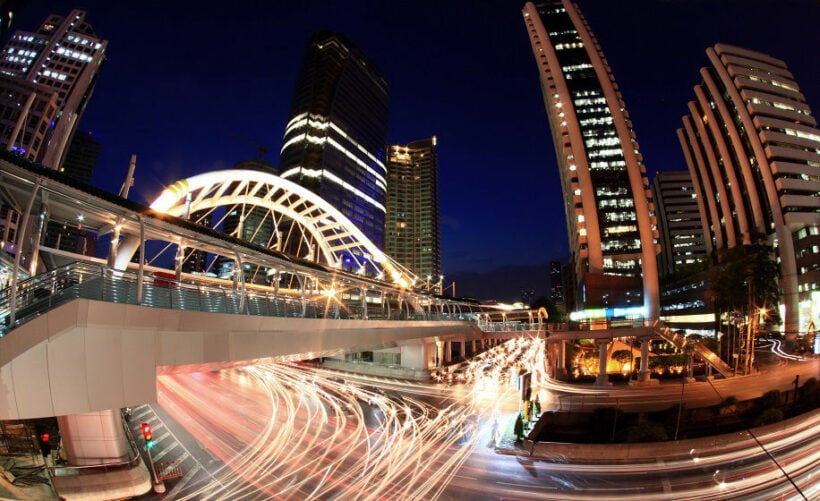 As many as 47 new residential projects were launched in Bangkok and its suburbs last month (June), 16 more than in May. This from the Agency for Real-Estate Affairs.
The projects combine 13,943 units worth a total of 57.25 billion baht, with per-unit prices averaging at 4.1 million baht, the survey added.
The sale of new projects launched in June was 15% less than in May, when 20% of the newly launched projects were sold, on average.
The firms that launched projects in June include Pruksa Real Estate, Chewathai, Lalin Property, Property Perfect, Supalai, AP (Thailand), Areeya Property, Sansiri, and Eastern Star Real Estate.
SOURCE: The Nation