Driver says fire started in luggage compartment – Tak bus tragedy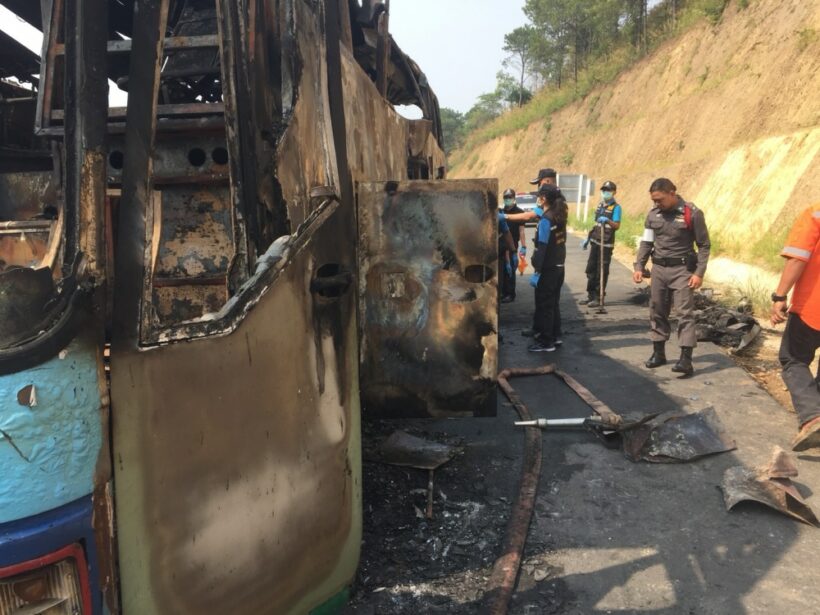 A news story from Thai Residents is saying that the driver of a tour bus in Tak which was completely destroyed by fire and killed 20 Burmese workers and injured 3 others, claims a cigarette butt which got into the luggage compartment sparked the blaze. His claim has not been confirmed by forensic police at this stage.
47 passengers, all registered Burmese migrants, were traveling from Mae Sot to Bangkok.
The 48 year old driver says that he picked up the 47 workers, 45 women and 2 men, at Mae Sot on the Thai-Myanmar border on Thursday night around 11pm. He says he was driving in a convoy of 4 buses, with his fan-cooled bus being the one at the back of the group.
On a road that connects Tak city to Mae Sot, he parked the bus as he could smell smoke and asked the passengers if anyone was smoking. He say that no one could understand him. He says he was sitting back down in his seat when he realised that the luggage underneath had caught fire.
"He smashed the glass windows and opened the emergency door, with vehicles passing by also stopping to help out, but the blaze spread very quickly as the bus was heavily laden with luggage."
The driver says that he has been driving for 30 years and never had a single problem in all his travels around Thailand. Nation Multimedia is reporting that the bus, carrying 50 people (including the charter bus staff) was only registered to carry 40.
When police and emergency responders arrived at the scene there was little they could do. The blaze was extinguished quickly but 20 passengers had perished whilst trying to get to one of the exit doors. The injured workers, who escaped, are still in a nearby hospital.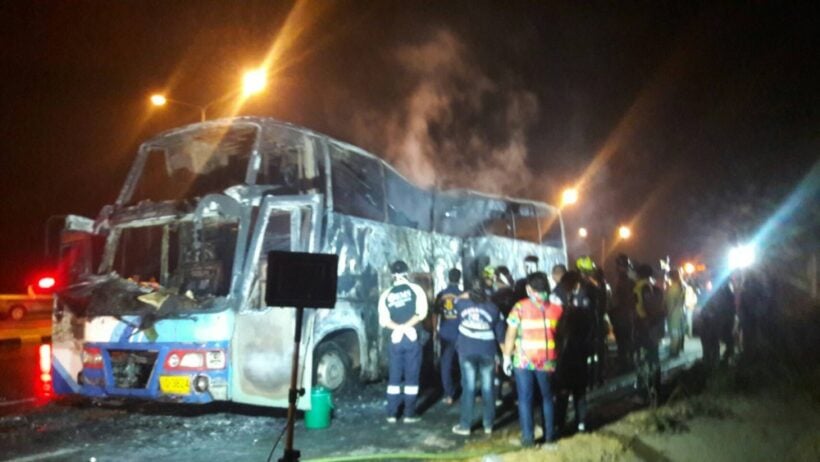 SOURCES: Thai Residents, The Nation
Keep in contact with The Thaiger by following our
Facebook page
.
Six top officials sacked on King's orders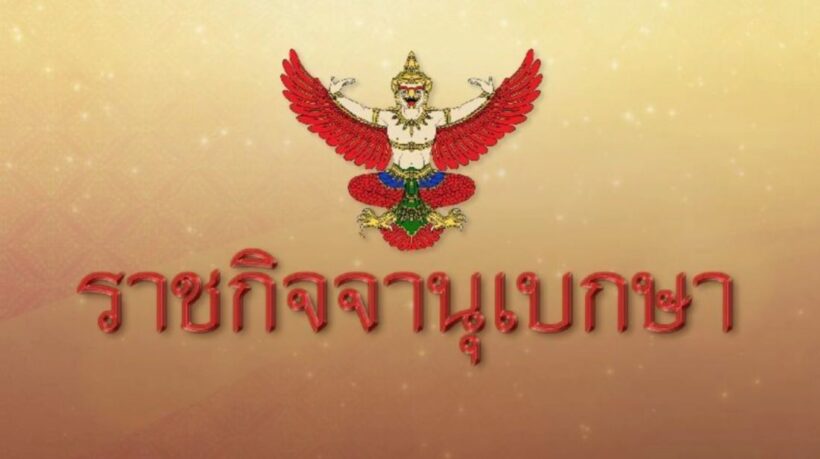 His Majesty the King has sacked six senior palace officials attached to Royal Guard units and the Royal Household Bureau, stripping them of their rank and recalling their royal insignias, citing severe disciplinary misconduct and accusing them of exploiting their positions for personal gain. The dismissals were announced in two royal commands, reported Wednesday October 23 by the Royal Gazette.
The first command ordered that Lieutenant General Sakolket Chantra of the Royal Household Bureau be dismissed and stripped of his rank and royal decorations, saying he had acted deplorably by misusing his state position for his own and others' gain and failed to perform his duty in line with regulations, causing serious damage to the state. The order took effect retroactive to September 1.
The second command, also dated October 23, ordered the dismissal of five state officials, who were also stripped of military rank and any royal decorations.
They are Major General Khun Tharinee Rodson, Khunying Thidarat Thamraksa, Major General Warinporn Kanisornsophon, Lieutenant Peera Mongkolchairerk, and Lieutenant Chayanan Pangsang, all attached to units of the Royal Guard.
The command cited their deploable conduct which breached disciplinary rules. Like Lieutenant General Sakolket, they abused their official positions for their own and others' gain and failed to comply with regulations, causing serious damage to the state.
The command took effect retroactive to Tuesday.
Earlier in the week His Majesty stripped Sineenat Wongvajirapakdi of her "Chao Khun Phra" or noble consort title as well as her military rank, due to her "undesirable behaviour" as a Royal servant and being disloyal to the Royal Family.
The statement said Sineenat was against the appointment of Queen Suthida and gave orders under the name of Their Majesties for personal benefit. She also reportedly engaged in activities without His Majesty's approval, causing confusion among the public.
SOURCES: bangkokpost.com
Keep in contact with The Thaiger by following our
Facebook page
.
Phuket police arrest meth dealer, discover drugs valued at 15 million baht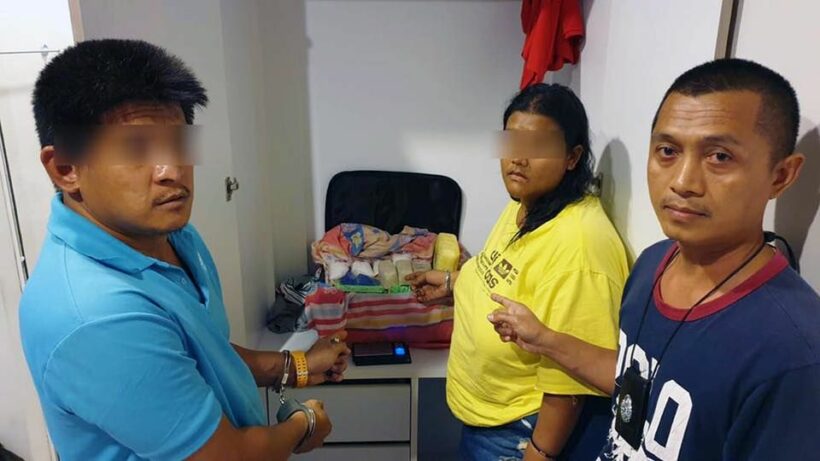 PHOTO: Newshawk Phuket
Drugs valued at 15 million baht have been seized in a drug crackdown in Phuket. On October 22, Phuket police, along with Phuket Governor Pakkapong Tawipat, reported to the media about a drug crackdown that ended up with a total seizure valued around 15 million baht.
Earlier, the police received a report from an undercover agent that a woman named 'Ying' or 'Suthicha Thirawut' was a local drug dealer trading drugs in Phuket area, so police planned to purchase drugs from the woman. They contacted Ying through another woman named 'Noina', Ying's close friend. Around 10pm on October 20, police bought 1 gram of crystal methamphetamine from Noina before arresting Ying and another man, Thanet Thongtan, at the Naka Condominium.
The two confessed that they receive the drug from a man who they weren't able to name, in order to sell in Phuket. They were paid 40,000 – 50,000 baht per time and admitted to police that they have done this for the man three times already. This time, the drugs hadn't been sold to customers as they were arrested before being able to make a sale.
Apart from 2.4 kilograms of crystal methamphetamine, valued around 4.8 million baht, the police also discovered 76,800 methamphetamine pills, worth around 11 million baht.
The three are now assisting Phuket police with their enquires related to the case.
SOURCE: Newshawk Phuket
Keep in contact with The Thaiger by following our
Facebook page
.
Out of 37 countries, Thailand has the worst pension system, says Bloomberg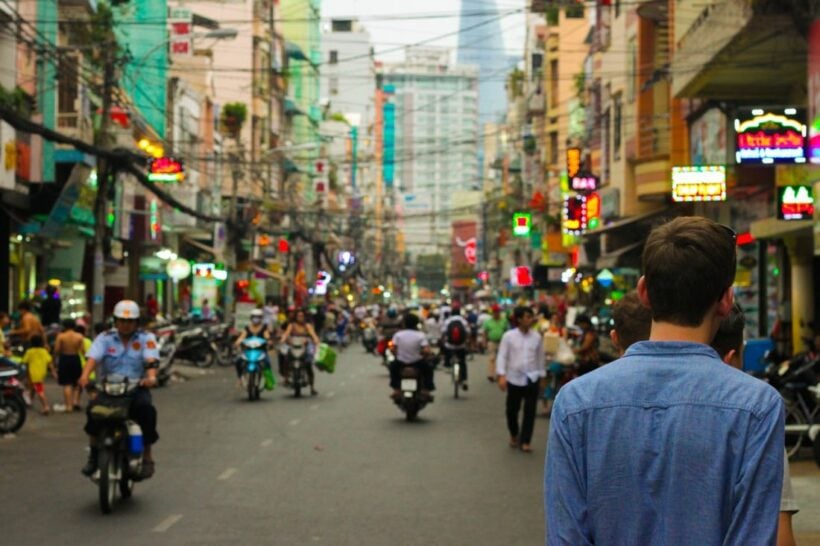 Thai Residents reports that on Sunday, Bloomberg published an article on the world's best pension systems, using information gathered from the 2019 Melbourne Mercer Global Pensions Index.
The survey looked at the pension systems of 37 countries with metrics including employee rights, savings, the number of homeowners, growth of assets, and growth of the economy. The purpose of the analysis was to determine what was needed to improve state pension systems and to gauge the level of confidence citizens had in their state pension system.
The Netherlands and Denmark were found to have the world's best state pensions, with Australia, Finland, Sweden, Norway, Singapore, New Zealand, Canada, and Chile next. Out of all 37 countries, Thailand finished last, with what the report described as an extremely ineffective and ambiguous system.
"Thailand was in the bottom slot and should introduce a minimum level of mandatory retirement savings and increase support for the poorest."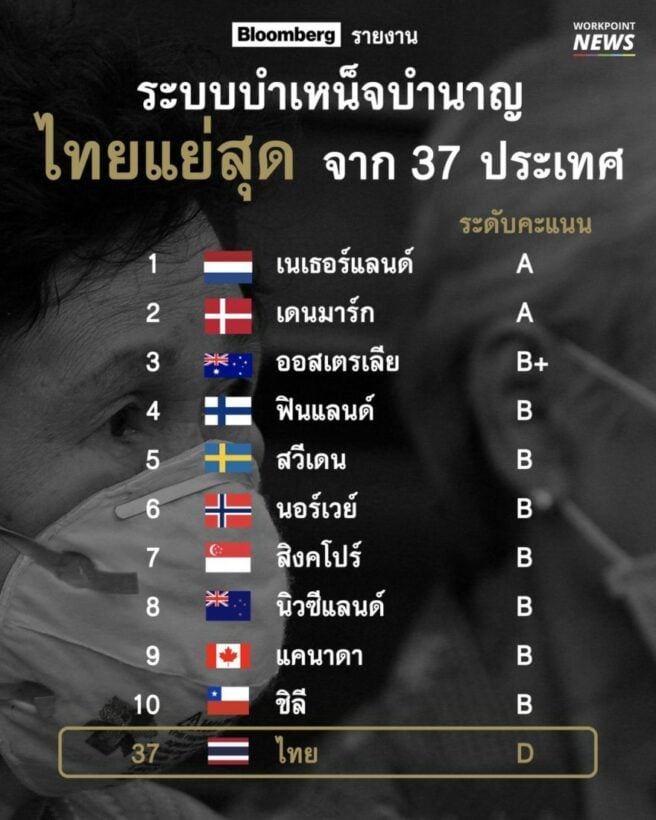 Photo: WorkpointNews
Thai Residents states that only those employed within the government system in Thailand are eligible for a pension based on salary. For most Thai citizens, pension amounts vary from 600 baht to 1,000 baht a month, depending on the recipient's age.
A report carried out by The Securities and Exchange Commission (SEC) advises Thai citizens to have at least 4 million baht saved by the time they retire, but Thai Residents reports that 60% of Thai retirees have less than 1 million baht in savings, with one in three citizens who have reached retirement age are forced to continue working in order to survive.
SOURCE: thairesidents.com
Keep in contact with The Thaiger by following our
Facebook page
.