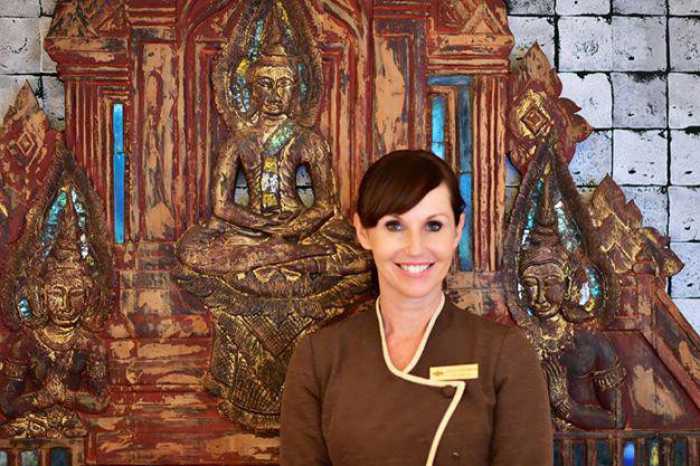 PHUKET: Mai Khao is not just home to the longest stretch of breathtaking beach on the island, where majestic sea turtles come to nest and beach morning glory creeps out to touch the sand, but it is also home to Mandara Spa, a tranquil world-class spa tucked away inside the JW Marriott Phuket.
The atmosphere of the resort without a doubt lends itself to relaxation. Between the serene natural surroundings and design – with lotus and reflection ponds, immaculately manicured, lush gardens and multiple swimming pools – you can't help but be drawn in, tempted to tune out of your busy life and plug in to a state of wellness and pleasure.
With their first, wildly successful wellness retreat behind them – this judgment being made from personal experience – the minds behind Mandara Spa are ready to launch tailor-made spa treatments and wellness workshops for JW Marriott guests in the new year.
Spa Director Linda Overman is on hand and more than prepared to customize a spa day or holiday for everyone who walks through her doors, whether they are after a weekend of relaxation and unwinding through spa treatments and meditation, or a holiday honing in on personal health with yoga and clean-eating classes.
A number of practitioners, some of the industry's finest, will be also on call to beef up the already unique and rejuvenating spa experience, from nutritionists to yoga gurus to meditation masters, and will visit the resort to hold lectures and be available for guests who wish to book private consultations.
The most powerful tool at Mandara's disposal, however, is Linda. With more than 10 years of experience in the spa industry and a passion for helping people live healthier lives, she is dedicated to hand crafting a revitalizing – and educational – treatment or workshop for anyone who is keen.
"At Mandara Spa, our guests can relax, re-charge and re-center themselves, but we also aim to educate them about the concept of 'wellness' and how that can positively impact their lives once they leave us," she says.
"We want to open up a new world of holistic and natural wellness practices that our guests can taste here, then take with them into their daily lives beyond the doors."
While JW Marriott does not market itself as a holiday destination geared specifically toward wellness, Linda believes that the resort's guests have the unique opportunity to experience the best of both worlds.
"While your husband relaxes with a round of golf or while your family lies poolside, why not join in a class on calming the mind, children's health tips or yoga, or visit our spa practitioners to discuss our menu of all-natural treatments?" Linda offers.
Linda herself is specialized in many different facets of spa therapy and has been at the forefront of emerging industry trends over the years. She has seen the shifts and changes the industry has gone through, and having stayed up-to-date on it all, will be able to cater to clients of all backgrounds and needs.
"Wellness was such a small part of the hotel experience when I first started out," says Linda. "But over the years, it has become an essential part of any major resort.
"As a result, we offer everything from a 60-minute head massage right through to intensive and personally-tailored three-day cleanse programs."
So, no matter what you fancy during your holiday or – in my case – a weekend escape from life on Phuket, Mandara has it. And it will be delivered with style, class and a warm cup of tea.
For more information about available treatments at Mandara Spa at JW Marriott Phuket, upcoming wellness retreats and practitioners on the spa's menu, contact Linda at loverman@minornet.com or call Mandara Spa at 076 338 000 ext. 3750.
— Mauri Grant