Somtam scores number 5 in the world's top 500 Lonely Planet Eatlist

PHOTO: Somtam, Bangkok's spicy contribution to the world's Top 500 foodie finds
A list of the world's top 500 gastronomic experiences seems an impossible task to put together. Lonely Planet have sent out their culinary aficionados and they've come back with rankings, 1 to 500. Bangkok's somtam, the spicy papaya salad, made it into the top ten, number 5! Asian dishes fill five of the top 10 positions.
Pintxos in San Sebastián – the tapas of Spanish Basque country – have scored the number one position in the world's top food experience by the tastemakers at Lonely Planet.
In the brand's latest travel guide Ultimate Eatlist, editors, food and travel writers have created a master list of 500 of the most authentic world culinary experiences for your bucket-list.
They paid attention to taste, cultural importance and the "atmosphere of the location."
The culinary culture that outranked Britain's fish and chips, steak tartare in Paris and Buffalo wings in Buffalo? San Sebastián's culinary tradition of pintos – bite-sized open-faced sandwiches to more gastronomic creations like battered white asparagus, tuna and anchovy tarts and garlic-braised mushrooms, bar-hopping in San Sebastián is described as a unique experience for its epicurean offerings.
Rounding out Lonely Planet's top three foodie experiences are curry laksa in KL, Malaysia, and sushi in Tokyo.
Here are the top 10 food experiences:
1. Pintxos in San Sebastián, Spain
2. Curry laksa in Kuala Lumpur, Malaysia
3. Sushi in Tokyo, Japan
4. Beef brisket in Texas, USA
5. Som tam in Bangkok, Thailand
6. Smørrebrød in Copenhagen, Denmark
7. Crayfish in Kaikoura, New Zealand
8. Bibimbap in Seoul, South Korea
9. Pizza margherita in Naples, Italy
10. Dim sum in Hong Kong
You can indulge your foodie travel fantasies HERE at the "Ultimate Eatlist".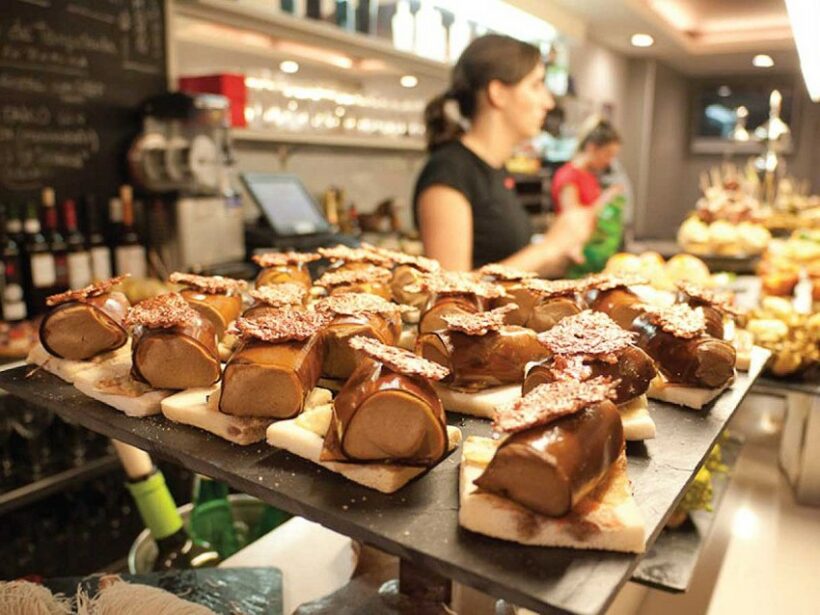 Number 1 in the Lonely Planet Top 500 Ultimate Eatlist – Pintxos in San Sebastián – the tapas of Spanish Basque country


Find restaurant and food listings around Phuket at Thaiger Bites.

Looking to jettison some items before jetsetting away or chartering a yacht? Look no further than Thaiger Classifieds where you can find and post items, work, property and more for free.

Find more Travel top 10s and top 10s in Thailand on The Thaiger.

Pru gets Phuket's only Michelin gong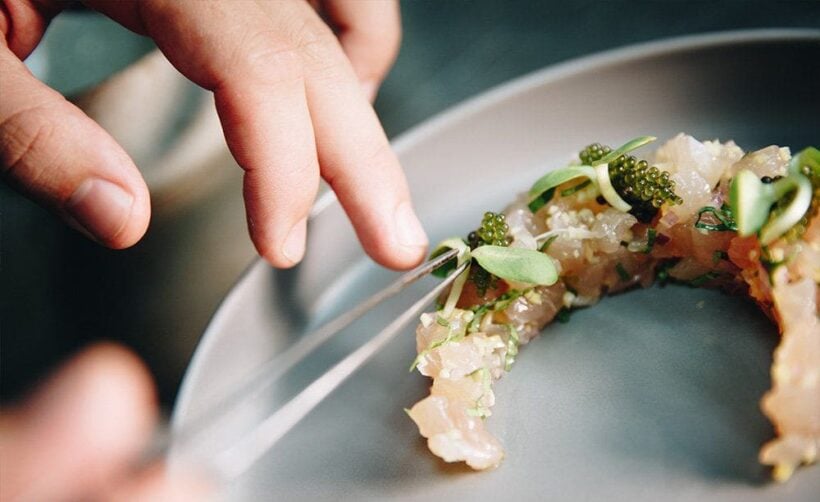 PHOTO: Trisara
Phuket now has a Michelin star restaurant in its midst. The only restaurant in the Phuket or Phang Nga region to score a gong in the second Thai Michelin foodie guide.
Montara Hospitality's farm-to-table restaurant Pru at Trisara has earned a Michelin star.
The guide whas expanded this year to cover the best dining venues in southern Phuket and Phang Nga provinces and in the greater Bangkok region -the cities of Nonthaburi, Pathum Thani, Nakhon Pathom, Samut Sakhon and Samut Prakan.
Pru chef de cuisine Jim Ophorst is touted as an inspiring voice of change for elevating the farm-to-table movement in Thailand.
29 year old Ophorst is originally from the Netherlands and renowned for his imaginative cooking style and innovative techniques. In 2016 he joined Montara's Trisara, where his raw talent and conviction inspired the conception of Pru. He was also twice a semi-finalist for S Pellegrino's annual Young Chefs Award, in 2016 and 2017.
Pru's culinary concept, "Plant, Raise, Understand", stems from Ophorst and his team's close relationship with local suppliers and farmers, as well as the opportunities to forage and discover new ingredients from the restaurant's own farm, Pru Jampa.
The farm sits among beautiful lakes on whose banks herbs, organic vegetable gardens, free-range chickens and ducks are raised.
"I'm excited to discover new ingredients all the time because it pushes my creative boundaries," says the chef.
"We also want to strengthen the local farm community. This will yield better ingredients for better dishes at Pru. At the end, it's all about the happiness in every angle – from the farmers to the restaurant team to the guests at our tables."
In addition to Pru, Seafood at Trisara, which serves authentic southern Thai dishes based on treasured family heirloom recipes, was awarded a Michelin plate, the little red guide's guarantee to a good meal.
Executive chef Kla Prakobkit presents a menu featuring local favourites made from scratch and showcasing produce that's sustainably sourced.
Pru is open for dinner from 6.30pm Monday through Saturday.
Seafood is open daily from 6pm.

Hua Hin seafood sellers told not to overcharge customers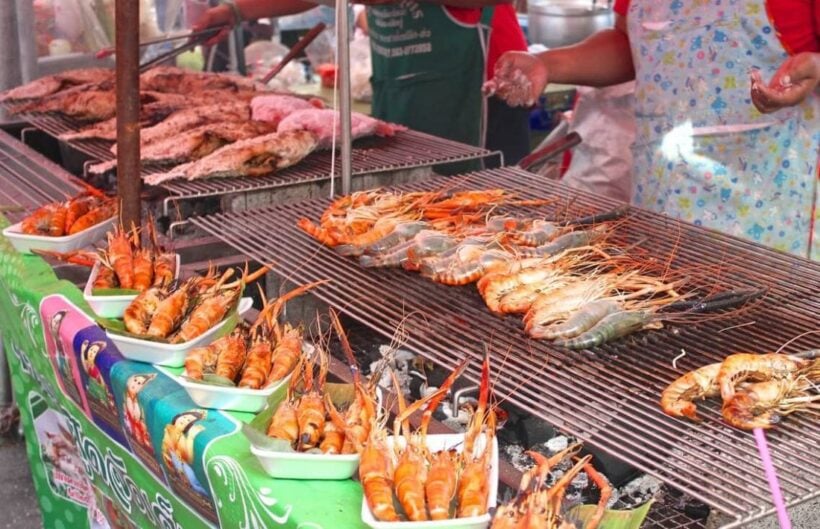 "Sea Write author Somchai Liewwarin complained that he was charged several thousand baht for just a few plates of seafoods."
PHOTO: Downshiftology
Food-shop owners and street food sellers in Hua Hin say they will sign an MoU with the Hua Hin municipal office which will require them to strictly abide by trading rules and not to overcharge their customers, especially for seafoods.
Story about the over-charging food vendors HERE.
The measure to rein in the food sellers follows a recent social media post by a Sea Write author Somchai Liewwarin, aka Win Liewwarin, who complained that he was charged several thousand baht for just a few plates of seafoods when he dined with a few friends at a seafood shop about two months ago.
The post has drawn many online responses criticising the overcharging by seafoods restaurants and food-shops on the famous walking street. It has also prompted the district chief officer, Thanon Panphipat, to try and reign in the extortionate pricing.
Thanon held a meeting with food-shop owners and street food sellers at the district office to discuss the alleged overcharging problem and it was agreed at the meeting all the food sellers would be made to sign an MoU promising to not overcharge customers and to follow other trading regulations.
Regarding the author's complaint, the district chief officer said the case was unclear as the author did not provide evidence to prove he was overcharged.  The author, meanwhile, said he didn't want to press any charge against the food seller but merely wanted to warn the other tourists to be careful.
Thanon said the municipal administration have warned food sellers to show price lists and service fees to inform customers.
ORIGINAL STORY: Thai PBS
Time for a street food makeover – Tourism Ministry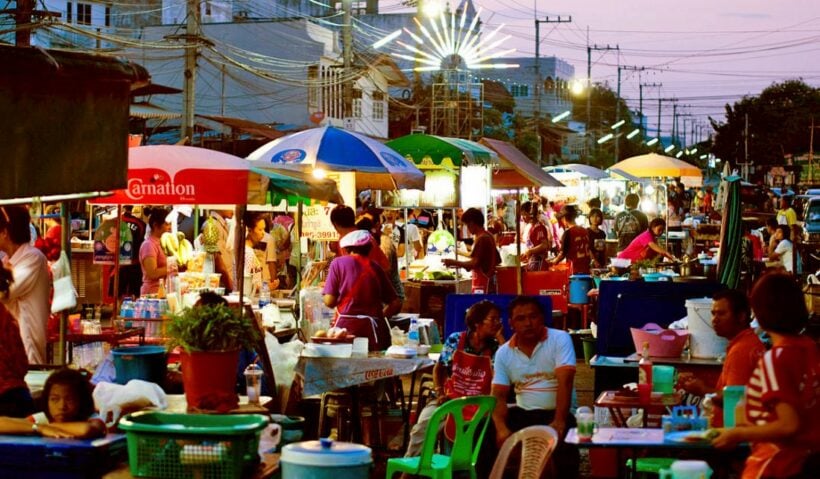 The Thai Tourism Minister says it's time for an upgrade of Thai street food.
The Nation reports that Weerasak Kowsurat says he would hold talks with the Public Health Ministry and the BMA on how to upgrade the quality of dishes sold by street vendors in the capital.
He has revealed plans to bring together stakeholders to discuss how to ensure street foods are hygienic by offering advice on how to store ingredients and how to properly clean utensils.
Weerasak says his ministry will also work with local municipalities to boost the quality of street food in other provinces around the country.
He says the Tourism Ministry will launch an awareness campaign for tourists, explaining the characteristics of each dish to help them get the most out of eating on the street.
Weerasak says that, as of 2016, there were 103,000 street food outlets around Thailand, making up 69 per cent of all food outlets in the country.
ORIGINAL STORY: The Nation