Renting out rooms daily or weekly? You better read this.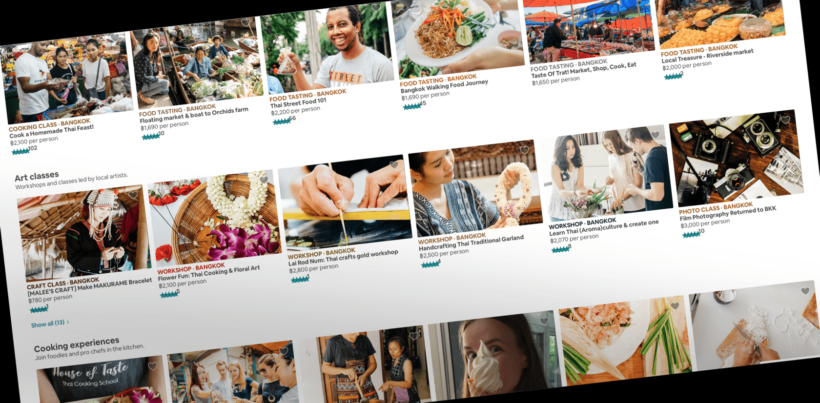 SCREENGRAB: AirBnB website
Illegal short-term holiday rentals, advertised and promoted by online portals like AirBnB, are coming under increasing scrutiny from authorities. Although there has been laws preventing short-term property rentals acting as 'hotels', the law has been loosely enforced with some condo developments around the country acting as defacto hotels and listing in many online booking websites.
In May 2018, a court in Hua Hin ruled it was illegal for people to rent out their condos or rooms on a daily or weekly basis.
While AirBnB was not specifically mentioned in the Hua Hin court case, the home-share system has grown to the point where Thailand's legally registered hotels are calling foul.
There has been some lumpy enforcement and crackdowns around the country since specific laws came into place in 2016. Some AirBnB community members have been seeking clarification from the home-sharing site on the legal status – listing and renting rooms to paying customers in Thailand.
Earlier this month, authorities in Pattaya arrested seven individuals for operating what were described as illegal hotels (lacking permits or failure to abide reporting laws). Just one of the properties was an apartment building.
The latest court ruling was citied in a letter from the local district office to the owner of Wan Vayla Condo complex in Hua Hin identifying the ruling in three cases where condominiums were rented out for less than a month.
In 2017, owners at a condo in the centre of Chiang Rai complained to the city authorities that one of the owners was renting units on a daily basis. A British citizen, he owned the ground floor restaurant, a travel agency and units on the second floor. The city posted a notice ordering him to end all daily rentals, or face prosecution. He closed the entire floor and shuttered the ground floor shops and restaurant.
Alarm bells are now ringing if you rent out a room on a daily or weekly basis and don't have a hotel license. The law is designed to protect registered hotels and has been on the books for a considerable time and there examples of it being more rigorously enforced since 2016, across-the-board.
In the past, hotel and tourism legislation was largely ignored but not any more. That has changed possibly due to the rising popularity of AirBnB and other systems that have threatened the domination of hotels in the accommodation-rental industry. There has also been a pushback from apartment owners in building where units are rented out on a daily basis saying their condos are being used as a front for overseas companies to run virtual hotels without receptions, safety standards or staff.
Thailand's hotel industry, through the Thai Hotel Association, has been lobbying to tighten the hotel law and enforce it more aggressively. Hotels are legally entitled to rent out rooms for daily, weekly and monthly rates.
The long-stay rental market is open to apartments and private residences that are not registered as hotels. Homestays come under a different ruling.
The law has been on the books for years, but that has not stopped AirBnB from amassing an inventory of 61,400 establishments across the country and earnings estimated at 4 billion baht from 1.2 million users in 2017.
AirBnB in Thailand claims its service is legal but have been less than helpful when one a property owner posted on its website's community page a request for clarification. A year passed and no response.
"Our apartment building has recently put up threatening signs about short-term stays. The sign says 'that day/week rental are illegal. It also states that travellers who do not report to the juristic person will be treated as a trespasser and reported to the nearest police station to be prosecuted by maximum law. It also asks other residents to notify the juristic office if they believe people are staying in the building on day/week rentals. As owners, I am not really worried about the sign. However I am worried about the effect on our guests.
Since the sign has been put up, the security guards are asking many more questions. The last guests who stayed with us said that they did not feel comfortable staying in the building.
Can you please advise what we should do as we want to keep a good relationship with Airbnb? We have stopped accepting bookings until we receive s advice. We could cancel all the bookings, but we would be penalized financially by your website and lose our super host status. Even if we are not breaking Thai law, the building could make the experience uncomfortable for our guests."
AirBnB did not respond to community member questions and comments on this subject.
The Immigration Department also have specific requirements of hotels to report any foreign guest's arrival. The unregistered properties fall through this reporting system making them a target of Thailand's strict Immigration requirements.


Find more property for sale and rent across Thailand at Thaiger Property, powered by FazWaz. You can even list your property for free.

Read more headlines, reports & breaking news in Thailand. Or catch up on your Thailand news.
Petition aims to impeach Election Commissioners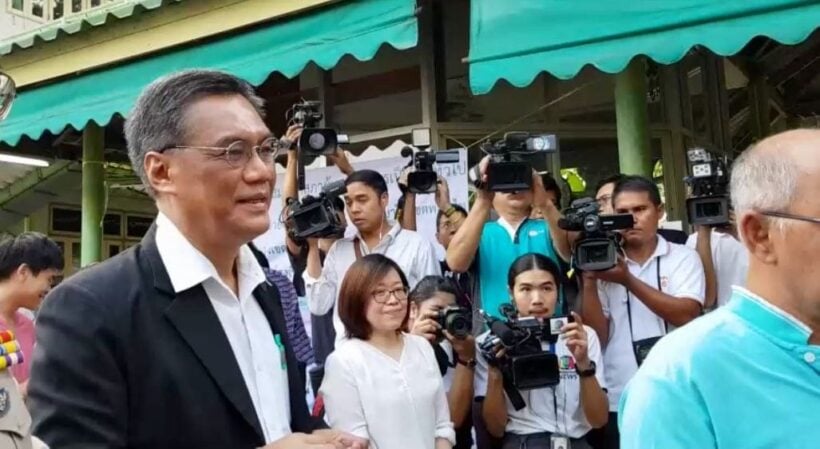 PHOTO: Election Commission chief Ittiporn Boonpracong – The Nation
More than 670,000 people have signed a petition at the change.org website calling for the Election Commission's five commissioners to be 'stood aside' pending an investigation in the aftermath of the March 24 Thai election.
Petitioners contend that the election was marred by mistakes, blunders and tampering.
The campaign could actually become a legitimate threat to the five commissioners due to the large number of signatories.
The petition may be submitted to the NLA speaker in the hope he would submit it to the National Anti-Corruption Commission. The NLA Senators would require 60% support to recommend impeachment of the EC commissioners, according to the Thai Constitution (Charter).
In the meantime the five commissioners would be suspended from duties throwing the election outcome into confusion.
Yesterday, former PM Thaksin Shinawatra, mostly silent during the campaign leading up to March 24, wrote an opinion piece in The New York Times alleging the number of ballots seemed to exceed the number of voters in some booths while in other areas voter turn-out was reported to be twice as many people registered.
His claims were made without evidence.
For their part, the EC claims they were cyber-hacked on Sunday evening.
Deputy EC secretary-general Nat Laosisawakul says, "There were three attacks that caused the system to crash twice."
"Some poll station staff also made errors in compiling the votes."
Parties race to cobble together a working coalition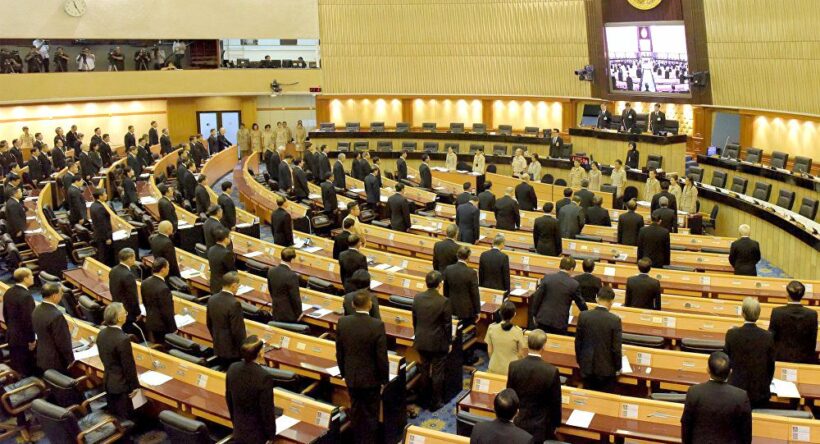 Day Two following the election and the only thing that is clear is that nothing is clear at this stage.
Pheu Thai and Phalang Pracharat are both claiming the right to form a government with support of like-minded parties.
The two rival parties, the pro-democracy Pheu Thai and the pro-Junta Phalang Pracharat, are locked in a close battle to form the next government with little difference between the two in terms of strength in Parliament.
The Phalang Pracharat Party claims it has secured the "popular vote" from people nationwide. But Pheu Thai argues it has won the most number of MP seats and therefore should be invited first to form the government.
With 95 per cent of votes counted as of last night, the pro-junta party grossed 7,939,937 votes nationwide while the Shinawatra-backed Pheu Thai was second with 7,423,361 votes.
In this election, under the new Constitution, the total number of votes for each party, irrespective of whether its constituency candidates win or not, are combined to determine how many MPs each party gets in total.
The Election Commission yesterday announced unofficial results of constituency winners. Pheu Thai Party became the single-largest party with 138 seats from all 350 constituencies. Phalang Pracharat, meanwhile, came second, winning 96 seats.
According to current media calculations, the total number of seats from constituency and party-list, Pheu Thai will get the most number at 138 while Phalang Pracharat will have 119. The EC has not calculated the number of party-list seats at this stage and may take the rest of the week to come up with a published result.
Though both parties can make equally strong claims to form the government, analysts believe it will not be easy for either to form the next Parliament.
According to the latest figures, the pro-junta camp can gain around 242 seats with support from parties who are clearly opposed to Pheu Thai.
The Pheu Thai camp can also muster 242 seats with support from anti-junta parties like Future Forward, Seri Ruam Thai and Prachachart.
"Only the winning party should lead the coalition," say the Pheu Thai' de facto leader Khunying Sudarat Keyuraphan.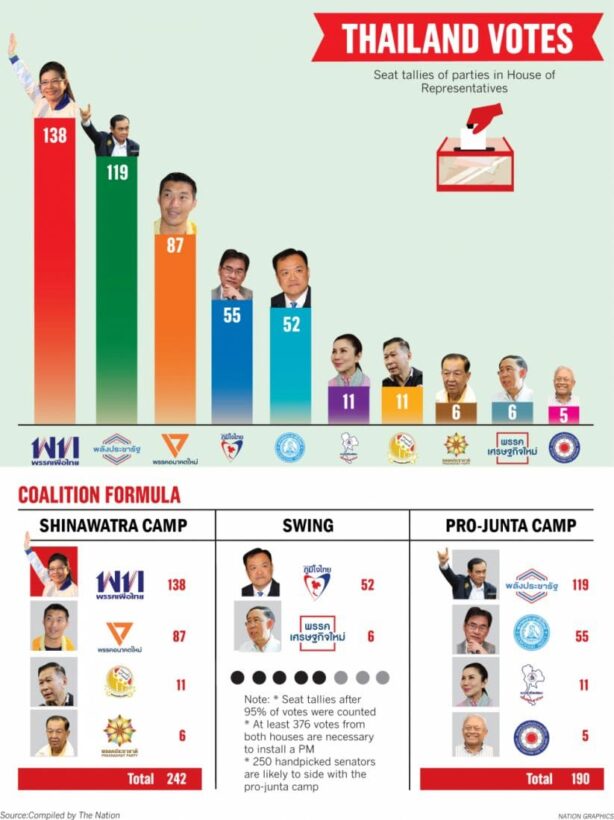 INFOGRAPHIC: The Nation
Pheu Thai secretary-general Phumtham Wechayachai said that the party was seeking collaboration with other pro-democracy parties and would discuss the PM candidate to find the best option for the country.
Pheu Thai leaders have also started putting pressure on the junta-appointed Senate, stressing that senators must be free of any influence and respect the people's voices as reflected in the election.
Later yesterday, Phalang Pracharat Party leader Uttama Savanayana claimed his party had won the right to form the next government as more than 7.9 million people nationwide had voted for them. He also said he was confident his party could successfully form the next government.
"Every vote is counted and has meaning. We have legitimacy, as we have gained the most trusted votes. Our winning results (with the most votes nationwide) show that voters have given us the mandate to govern the country," he said at a press conference after the EC announced the unofficial results.
"We will ensure that we will do everything according to the mandate of the voters who want us to move the country forward peacefully," he said.
A Phalang Pracharat source said negotiations were on with Bhumjaithai leader Anutin Charnvirakul, Chartthai Pattana leader Kanchana Silpa-archa, Suthep Thaugsuban of Action Coalition for Thailand and Suwat Liptapanlop of Chartpattana. The Democrat Party is also negotiating.
Anutin yesterday did not commit to joining any side, saying he would do whatever was in the people's interests.
Meanwhile, the Future Forward Party celebrated victories in 30 constituencies in its electoral debut. But its leader, Thanathorn Juangroongruangkit, said he had no intentions of bidding for the top job.
"The prime minister must be nominated from the party with the most MPs," Thanathorn said firmly at a press conference yesterday.
"I'm ready to be the PM. But we want to uphold democratic traditions and we won't bring in any conditions that would lead the country to another deadlock."
SOURCE: The Nation
Sea turtle dies after getting tangled in a fishing net – Prachuap Khiri Khan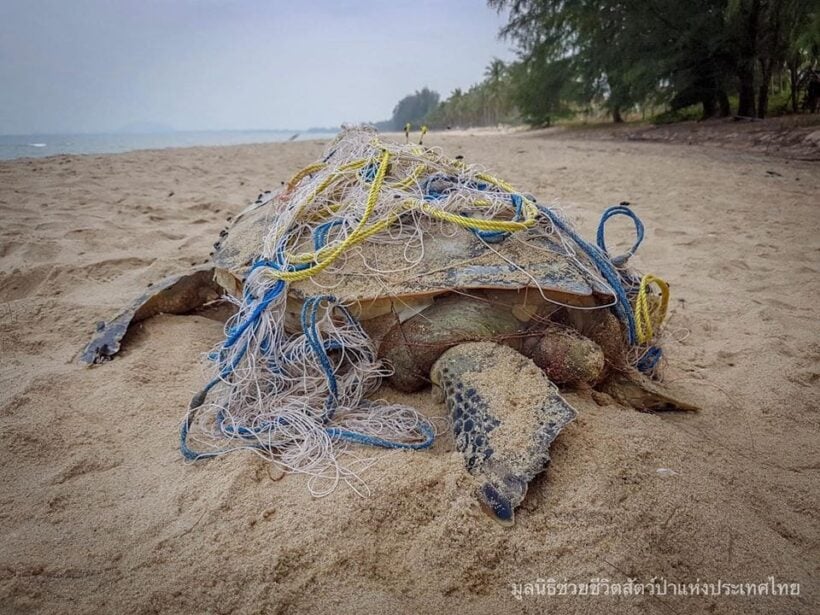 PHOTOS: The Wild Animal Rescue Foundation of Thailand
A series of photos that convey everything we should be concerned about in Thailand's marine ecology.
A Green Sea Turtle, tangled in a fishing net, has been washed up on a beach in Prachuap Khiri Khan.
The Department of Marine and Coastal Resources reports that they were notified that a dead sea turtle had been washed up on a beach in Bang Saphan, Prachuap Kiri Khan.
The Green Sea turtle was 60 centimetres wide, 64 centimetres long and weighed 18 kilograms.
The turtle was already rotting when it was found tangled in the fishing net.