Renting out rooms daily or weekly? You better read this.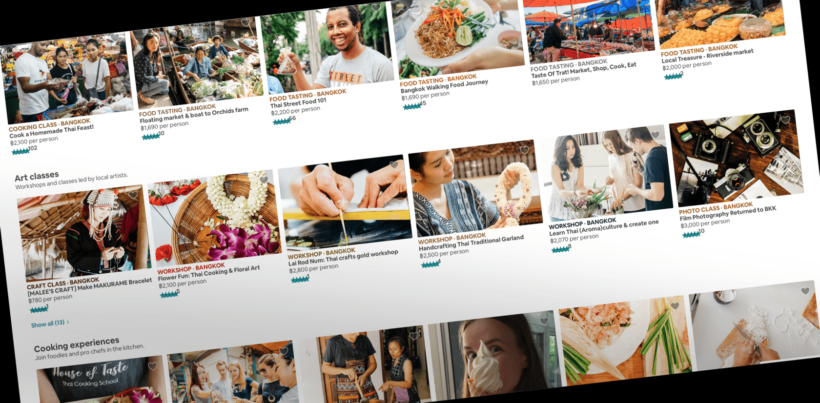 SCREENGRAB: AirBnB website
Illegal short-term holiday rentals, advertised and promoted by online portals like AirBnB, are coming under increasing scrutiny from authorities. Although there has been laws preventing short-term property rentals acting as 'hotels', the law has been loosely enforced with some condo developments around the country acting as defacto hotels and listing in many online booking websites.
In May 2018, a court in Hua Hin ruled it was illegal for people to rent out their condos or rooms on a daily or weekly basis.
While AirBnB was not specifically mentioned in the Hua Hin court case, the home-share system has grown to the point where Thailand's legally registered hotels are calling foul.
There has been some lumpy enforcement and crackdowns around the country since specific laws came into place in 2016. Some AirBnB community members have been seeking clarification from the home-sharing site on the legal status – listing and renting rooms to paying customers in Thailand.
Earlier this month, authorities in Pattaya arrested seven individuals for operating what were described as illegal hotels (lacking permits or failure to abide reporting laws). Just one of the properties was an apartment building.
The latest court ruling was citied in a letter from the local district office to the owner of Wan Vayla Condo complex in Hua Hin identifying the ruling in three cases where condominiums were rented out for less than a month.
In 2017, owners at a condo in the centre of Chiang Rai complained to the city authorities that one of the owners was renting units on a daily basis. A British citizen, he owned the ground floor restaurant, a travel agency and units on the second floor. The city posted a notice ordering him to end all daily rentals, or face prosecution. He closed the entire floor and shuttered the ground floor shops and restaurant.
Alarm bells are now ringing if you rent out a room on a daily or weekly basis and don't have a hotel license. The law is designed to protect registered hotels and has been on the books for a considerable time and there examples of it being more rigorously enforced since 2016, across-the-board.
In the past, hotel and tourism legislation was largely ignored but not any more. That has changed possibly due to the rising popularity of AirBnB and other systems that have threatened the domination of hotels in the accommodation-rental industry. There has also been a pushback from apartment owners in building where units are rented out on a daily basis saying their condos are being used as a front for overseas companies to run virtual hotels without receptions, safety standards or staff.
Thailand's hotel industry, through the Thai Hotel Association, has been lobbying to tighten the hotel law and enforce it more aggressively. Hotels are legally entitled to rent out rooms for daily, weekly and monthly rates.
The long-stay rental market is open to apartments and private residences that are not registered as hotels. Homestays come under a different ruling.
The law has been on the books for years, but that has not stopped AirBnB from amassing an inventory of 61,400 establishments across the country and earnings estimated at 4 billion baht from 1.2 million users in 2017.
AirBnB in Thailand claims its service is legal but have been less than helpful when one a property owner posted on its website's community page a request for clarification. A year passed and no response.
"Our apartment building has recently put up threatening signs about short-term stays. The sign says 'that day/week rental are illegal. It also states that travellers who do not report to the juristic person will be treated as a trespasser and reported to the nearest police station to be prosecuted by maximum law. It also asks other residents to notify the juristic office if they believe people are staying in the building on day/week rentals. As owners, I am not really worried about the sign. However I am worried about the effect on our guests.
Since the sign has been put up, the security guards are asking many more questions. The last guests who stayed with us said that they did not feel comfortable staying in the building.
Can you please advise what we should do as we want to keep a good relationship with Airbnb? We have stopped accepting bookings until we receive s advice. We could cancel all the bookings, but we would be penalized financially by your website and lose our super host status. Even if we are not breaking Thai law, the building could make the experience uncomfortable for our guests."
AirBnB did not respond to community member questions and comments on this subject.
The Immigration Department also have specific requirements of hotels to report any foreign guest's arrival. The unregistered properties fall through this reporting system making them a target of Thailand's strict Immigration requirements.
Keep in contact with The Thaiger by following our
Facebook page
.
Never miss out on future posts by
following The Thaiger
.


Read more headlines, reports & breaking news in Thailand. Or catch up on your Thailand news.

Interested in more property news or buying property in Thailand - check out FazWaz today!

Thailand News Today | Army deny Twitter spin, "Don't Reopen", English proficiency low | Nov 27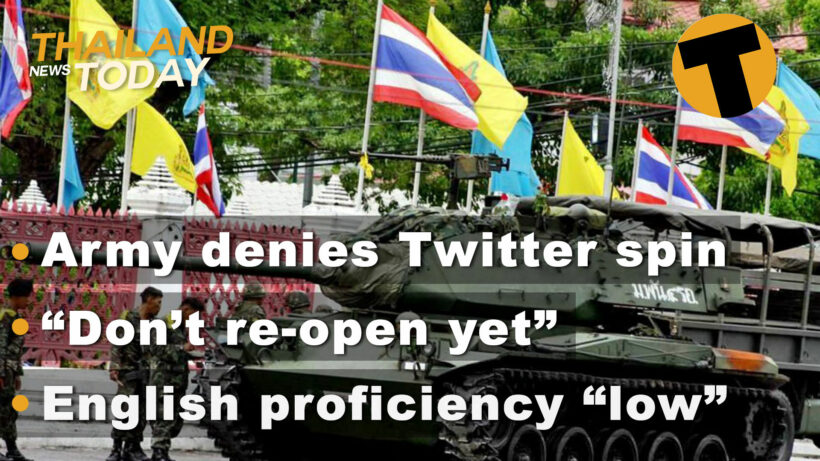 Last day of the week. Thought we'd go outside. Bad idea! Welcome to Friday's Thailand News Today.
Royal Thai Army denies claims about Twitter campaign to spread pro-government propaganda
Following a shutdown of 926 Twitter accounts linked to the Royal Thai Army, documents were leaked of what appears to be a contract between the Army and a private company supposedly hired to spread pro-government propaganda.
But Thailand's Army chief is denying the claims and says the Army never hired a company to spread pro-government propaganda through the over 900 Twitter accounts.
Last month, Twitter announced that it had suspended 926 accounts linked to the Royal Thai Army for violating the social media company's "platform manipulation" policies.
A report by an independent Cyber Policy Centre says the Army used Twitter to "cheerlead" with pro-government propaganda. The report says the Army used Twitter to criticise the now disbanded Future Forward Party and neutralise criticism after February's mass shooting where an Army soldier killed 30 people and injured 57 others.
Former WTO director cautions against re-opening Thailand too quickly
The former director general of the World Trade Organisation has issued a caution against Thailand throwing open its borders too early.
Supachai Panitchpakdi says Covid-19 is still very much a threat, pointing to other countries that appear trapped in a cycle of restrictions and lockdowns. He said that the cycle in many Western countries is not just damaging their economies, it's also leading to more infections and deaths and prolonging the time until the affected countries can restart their economies. He warns that re-opening Thailand's borders too quickly could have long-term negative impacts for the Kingdom.
Within Thailand there is a polarised view as to whether Thailand should be broadly re-opening its borders or not. Successive polls show that the Thai population is, generally, suspicious about re-opening too soon, especially whilst parts of the rest of the world are still trying to contain their infection rates. On the other hand Thailand's tourism and hospitality industry has been decimated with millions unemployed.
Bangkok's canal boat services go electric
A new electric passenger boat service started operating on Bangkok's Khlong Phadung Krung Kasem today. The klong traverses the eastern side of Rattanakosin Island.
The Thai PM launched the service at the Hua Lamphong Railway Station Pier, and was a passenger on the first boat ride this morning.
There's seven electric fibreglass boats in the initial service, each carrying 30 passengers.
The boats can run for four hours per charge at a speed of 10-15 kilometres per hour. There's solar roof panels to help power the electric outboard motors.
The new e-boats operate from 6am-7pm, with a boat departing every 15 minutes. Good news, passengers can travel for free for the first six months of the service.
Thailand's English level drops for the third year – English Proficiency Index
English skills in Thailand have dropped for the third year in a row with an English language proficiency score considered to be "very low."
In the past year, Thailand's ranking dropped from 74 out of 100 countries to 89, according to the 2020 English Proficiency Index by EF Education First. The index is based on test results from 2.2 million adults from 100 countries and regions.
Thailand scored 419 out of 800, which is considered "very low." Thailand ranks 20 out of 24 countries surveyed in Asia and 7 out of 8 countries in Southeast Asia, just ahead of Myanmar in last place.
According to the report, the lack of English proficiency in Thailand, Cambodia and Sri Lanka hampers access to jobs in the tourism industry which makes up more than10% of their economies.
Keep in contact with The Thaiger by following our
Facebook page
.
Never miss out on future posts by
following The Thaiger
.
Local singer dies after crashing his car while on a video call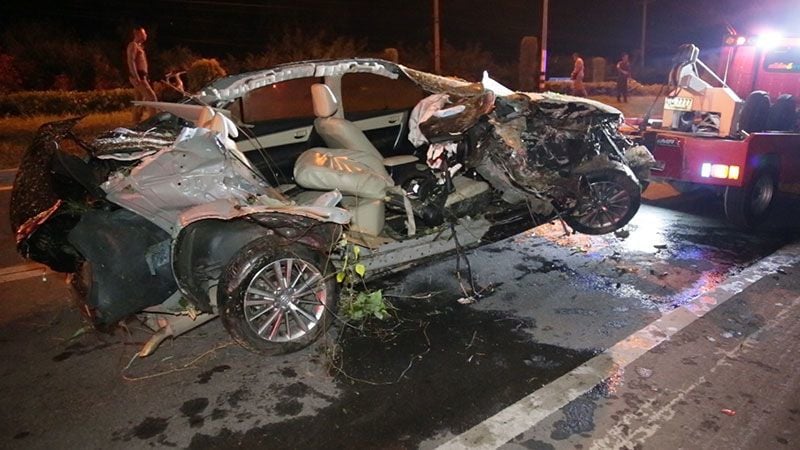 A Thai singer died after crashing his car into a lamppost while on a video call with his girlfriend. Thai media did not report on the estimated speed, but photos of the wreckage show severe damage. The roof ripped off the Toyota Altis and the car is almost unrecognisable.
23 year old Akkarachai, known as Ice, was found dead at the scene on Pahonyothin Road, or Route 1. He performed at many night venues and events around the Central Thailand province Chai Nat. Ice's friend told police that he was on his way home to his girlfriend's house in Nakhon Sawan about 25 kilometres away. While on the phone with his girlfriend, there was suddenly a loud noise and the phone went dead.
Chai Nat police warn people not to use their phones while driving.
SOURCE: Thai Visa
Keep in contact with The Thaiger by following our
Facebook page
.
Never miss out on future posts by
following The Thaiger
.
9 arrested for allegedly embezzling more than 2.8 billion baht from Railway Club Cooperative funds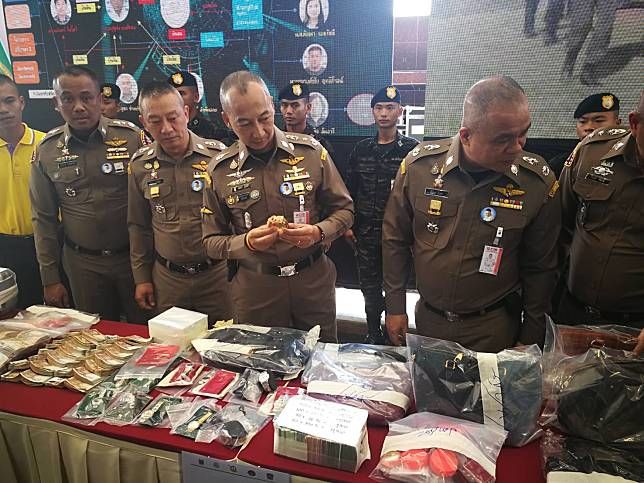 Police arrested 9 people involved in the Railway Club Cooperative, including the former chief, on collusion charges for allegedly approving loans behind closed doors to embezzle a total of 2.8 billion baht from members' funds.
Officers from the Central Investigation Bureau have been investigating since June 30 of last year. Investigators say the suspects approved loans without calling meetings for the roughly 2,300 cooperative members and used falsified documents to take out loans of about 15 million baht each.
When reviewing loan approvals made between January 2012 and November 2016, investigators say they found loans given to a hotel, housing estate, resort and property project. They say loans were also used to buy luxury cars and other valuables.
Officers from the bureau along with the Department of Special Investigation and the Anti-Money Laundering Office recently raided 26 locations in Bangkok, Phetchaburi, Samut Prakan and Nonthaburi. Officers seized a total of more than 10 million baht as well as luxury cars.
The 9 suspects face charges of colluding in theft, falsifying documents, using fake documents and money laundering. Along with arresting the cooperative's former chief executive, 70 year old Boonsong Hongthong, police arrested committee members 49 year old Pimpa Rodrassamee, 31 year old Orchanok Sa-ngadsap, 59 year old Weerachai Srisawat, 69 year old Surat Srisawat, 37 year old Prapat Srisawat, 44 year old Supakit On-aree, 63 year old Preecha Thanapairin and 40 year old Natyanit Mahachot.
SOURCE: Bangkok Post
Keep in contact with The Thaiger by following our
Facebook page
.
Never miss out on future posts by
following The Thaiger
.