Renting out rooms daily or weekly? You better read this.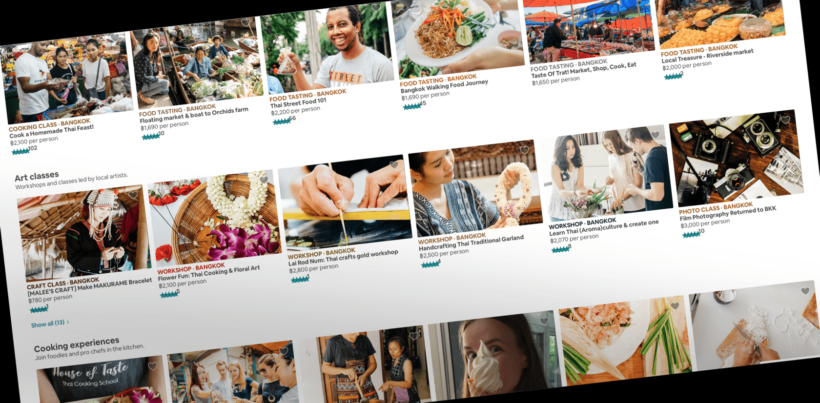 SCREENGRAB: AirBnB website
Illegal short-term holiday rentals, advertised and promoted by online portals like AirBnB, are coming under increasing scrutiny from authorities. Although there has been laws preventing short-term property rentals acting as 'hotels', the law has been loosely enforced with some condo developments around the country acting as defacto hotels and listing in many online booking websites.
In May 2018, a court in Hua Hin ruled it was illegal for people to rent out their condos or rooms on a daily or weekly basis.
While AirBnB was not specifically mentioned in the Hua Hin court case, the home-share system has grown to the point where Thailand's legally registered hotels are calling foul.
There has been some lumpy enforcement and crackdowns around the country since specific laws came into place in 2016. Some AirBnB community members have been seeking clarification from the home-sharing site on the legal status – listing and renting rooms to paying customers in Thailand.
Earlier this month, authorities in Pattaya arrested seven individuals for operating what were described as illegal hotels (lacking permits or failure to abide reporting laws). Just one of the properties was an apartment building.
The latest court ruling was citied in a letter from the local district office to the owner of Wan Vayla Condo complex in Hua Hin identifying the ruling in three cases where condominiums were rented out for less than a month.
In 2017, owners at a condo in the centre of Chiang Rai complained to the city authorities that one of the owners was renting units on a daily basis. A British citizen, he owned the ground floor restaurant, a travel agency and units on the second floor. The city posted a notice ordering him to end all daily rentals, or face prosecution. He closed the entire floor and shuttered the ground floor shops and restaurant.
Alarm bells are now ringing if you rent out a room on a daily or weekly basis and don't have a hotel license. The law is designed to protect registered hotels and has been on the books for a considerable time and there examples of it being more rigorously enforced since 2016, across-the-board.
In the past, hotel and tourism legislation was largely ignored but not any more. That has changed possibly due to the rising popularity of AirBnB and other systems that have threatened the domination of hotels in the accommodation-rental industry. There has also been a pushback from apartment owners in building where units are rented out on a daily basis saying their condos are being used as a front for overseas companies to run virtual hotels without receptions, safety standards or staff.
Thailand's hotel industry, through the Thai Hotel Association, has been lobbying to tighten the hotel law and enforce it more aggressively. Hotels are legally entitled to rent out rooms for daily, weekly and monthly rates.
The long-stay rental market is open to apartments and private residences that are not registered as hotels. Homestays come under a different ruling.
The law has been on the books for years, but that has not stopped AirBnB from amassing an inventory of 61,400 establishments across the country and earnings estimated at 4 billion baht from 1.2 million users in 2017.
AirBnB in Thailand claims its service is legal but have been less than helpful when one a property owner posted on its website's community page a request for clarification. A year passed and no response.
"Our apartment building has recently put up threatening signs about short-term stays. The sign says 'that day/week rental are illegal. It also states that travellers who do not report to the juristic person will be treated as a trespasser and reported to the nearest police station to be prosecuted by maximum law. It also asks other residents to notify the juristic office if they believe people are staying in the building on day/week rentals. As owners, I am not really worried about the sign. However I am worried about the effect on our guests.
Since the sign has been put up, the security guards are asking many more questions. The last guests who stayed with us said that they did not feel comfortable staying in the building.
Can you please advise what we should do as we want to keep a good relationship with Airbnb? We have stopped accepting bookings until we receive s advice. We could cancel all the bookings, but we would be penalized financially by your website and lose our super host status. Even if we are not breaking Thai law, the building could make the experience uncomfortable for our guests."
AirBnB did not respond to community member questions and comments on this subject.
The Immigration Department also have specific requirements of hotels to report any foreign guest's arrival. The unregistered properties fall through this reporting system making them a target of Thailand's strict Immigration requirements.


Find more property for sale and rent across Thailand at Thaiger Property, powered by FazWaz. You can even list your property for free.

Read more headlines, reports & breaking news in Thailand. Or catch up on your Thailand news.
Belarusian 'Anastasia' will be in Moscow detention another 3 days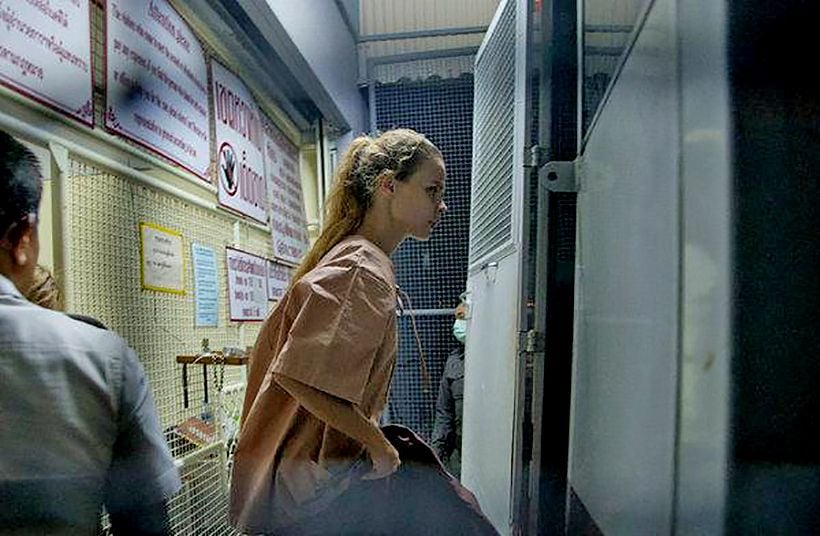 Anastasia Vashukevich, aka. Nastya Rybka, the Belarusian model/sex-educator/Instagramer who spent a year in a Thai jail awaiting last week's Court case, and was then deported, remains in a Moscow jail as of last night after the presiding judge decided to extend her detention by 72 hours.
She was arrested at Moscow airport on Thursday after being deported from Thailand on Tuesday night. She, and seven others, pleaded guilty last Tuesday for participating in a "sex training course" in Pattaya nearly 12 months ago.
During a hearing yesterday in Moscow, she said she did not want to "in any way compromise aluminum mining magnate, Oleg Deripaska".
According to Interfax she said in the hearing, "I have had enough."
Her lawyer Dmitry Zatsarinsky, told reporters that his young client "has committed no crime" and had "nothing to do with" Deripaska and "still less with US President Donald Trump".
On Friday her lawyer denounced Anastasia's arrest, which was made while she was in transit in Moscow after a flight from Thailand on her way to Belarus.
The Belarusian gained notoriety last year when she claimed she had proof of Russian collusion with the Trump Presidential election campaign. She has now had her detention in Moscow extended by three days by a Russian court.
According to Interfax reports, she told the court she denied the accusation of prostitution, telling the court that "I am not guilty of what I am accused."
She unexpectedly pleaded guilty in a Bangkok court to charges of prostitution relating to last February's sex training course in Pattaya. The Thai judge suspended the group's sentences but deported them, effective immediately.
Anastasia had been in custody in Thailand since a police raid in what AFP described as the "sleazy seaside resort of Pattaya" last February.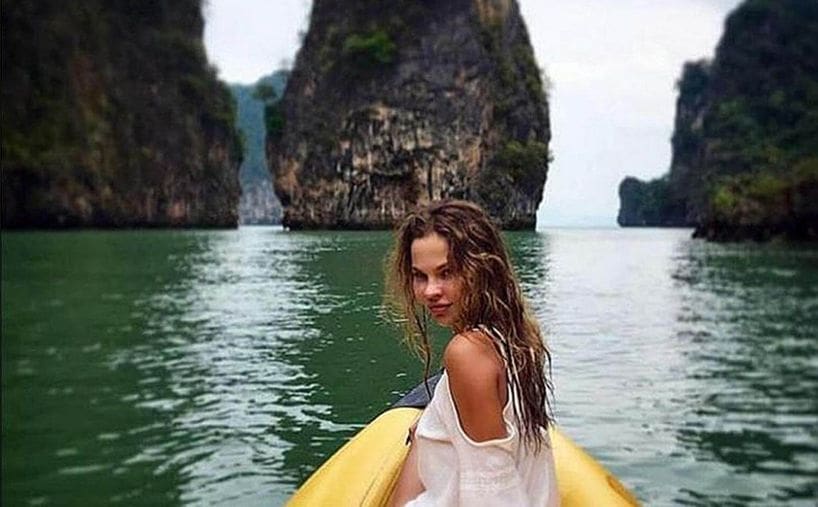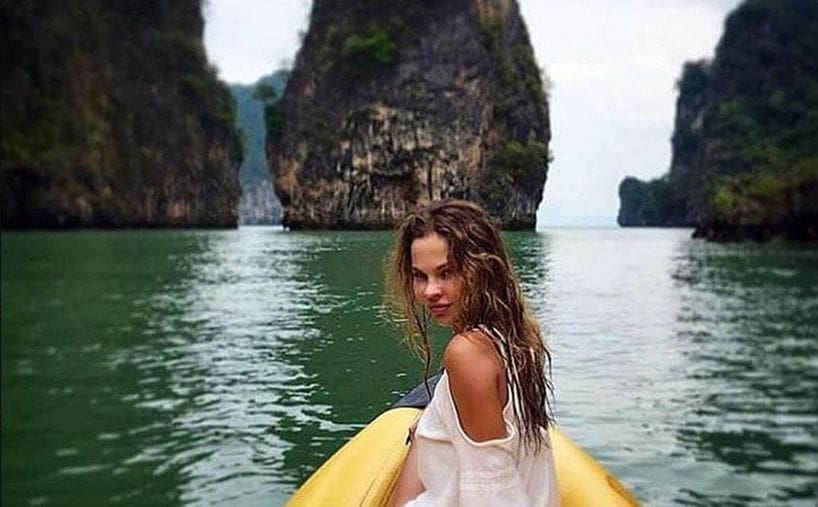 Anastasia cruising around Phang Nga in 2017 – Instagram
New 500 baht fine for drunk cycling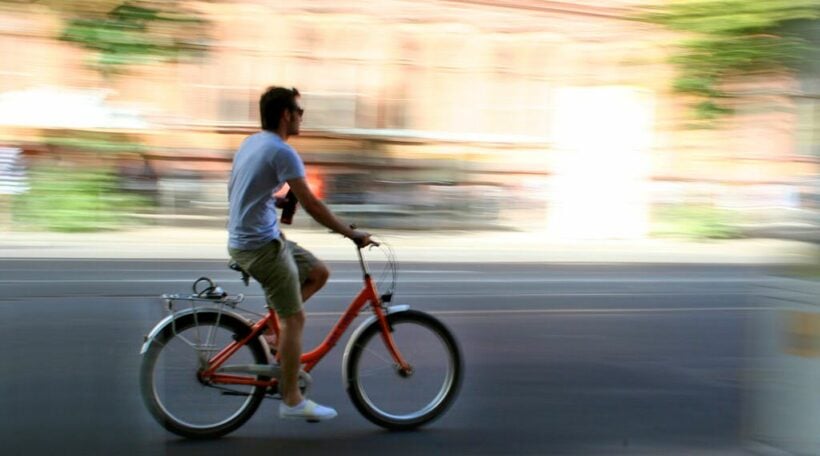 Up to now drink-driving cyclists have not been included in the laws governing drunk drivers of other vehicles in Thailand. But with the rising popularity of cycling as a fitness trend, that's about to change with a new 500 baht fine if bought drunk in control of a bike.
Drunk bicyclists who are currently immune to litigation because there is no law to make drunk cycling an offence. The new laws are covered in the upgraded traffic bill which passed the first reading of the National Legislative Assembly last week.
But, according to the Bill drafters, riding bicycles in public while being drunk is still regarded as a petty offence and the penalty would be just a 500 baht fine.
The same new traffic bill also seeks to empower traffic police to seize driving licenses of drivers found to be drunk behind the wheels and judged incapable of driving.
The bill will also merge the Land Transport Department and police databases to coordinate and share information on backgrounds and traffic violations records of drivers and motorcyclists.
A score system is being introduced under which law-breaking drivers will have their scores cut for every traffic violation.  Everyone will start a 12 month period with 12 points. If the scores are down to zero, the drivers will have their driving licenses suspended for up to 90 days.
Bangkok smog: Police get out their hoses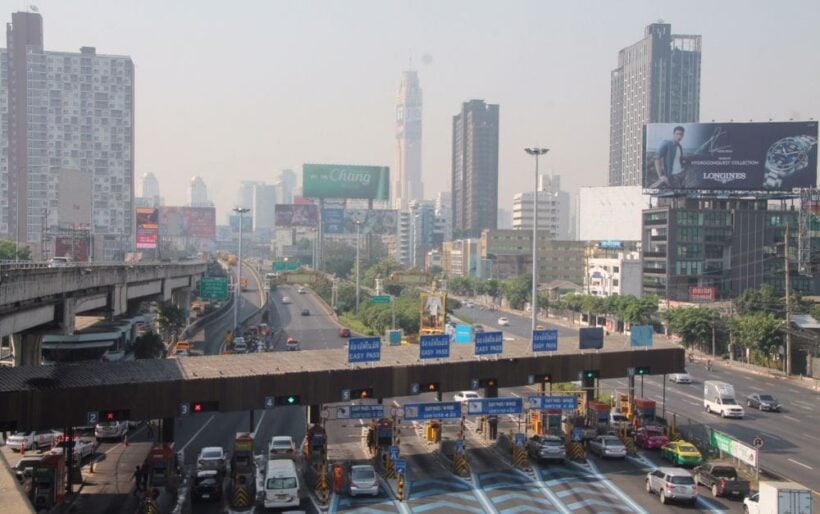 by Kornkamon Aksorndech 
Traffic police and volunteers sprayed water at four locations in Bangkok this morning in a bid to curb the dust and smog pollution.
Pol Maj General Nithithorn Jintakanon, commander of the Traffic Police Division of the Metropolitan Police Bureau, presided at the dispatch of 150 police officers and volunteers from his headquarters on Vibhavadi-Rangsit Road.
They chose four high-traffic locations and sprayed water in front of the Government Complex on Chaeng Wattana Road, the Din Daeng expressway toll gates and at the Ratchadapisek-Lat Phrao intersection on Lat Phrao Road and a Ramkhamhaeng Road intersection.
#pissinginthewind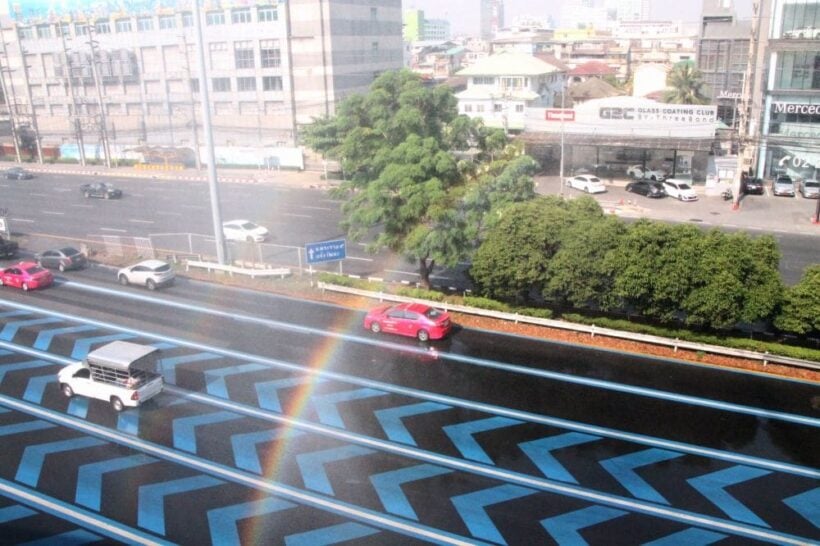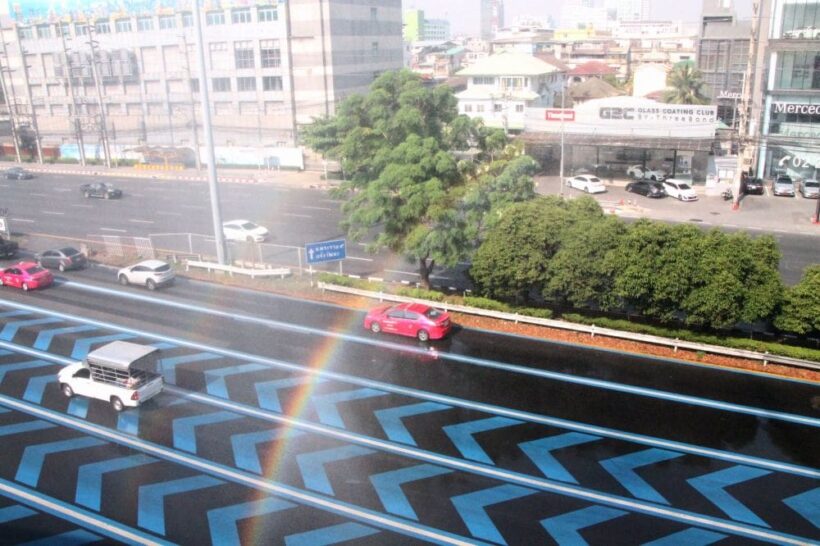 SOURCE: The Nation