Phuket Property Watch: The secret lives of wallflowers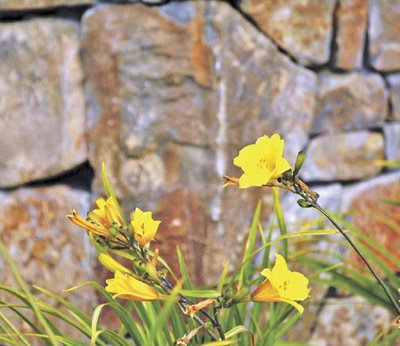 PHUKET: A few days ago I fell off a cliff. Never mind the ominous sounding fiscal cliff that is now the global buzzword as we move into Obama Part 2.
Hopefully the Pres can keep on walking the tightrope as he has deftly done for the past three years. Apparently Teflon doesn't tarnish.
My perilous downfall was much more surprising, like a shot in the dark. Maybe I ventured too close to a cliff, missed that invisible tripwire, and fell down into an emotional bottomless pit.
Someone, who once was a friend, decided to not be a friend anymore. Ad hoc decision making at it's finest. But the tribe has spoken, and the jury stepped out for a smoke.
Which brings me back to the topic of wallpaper. Remember that? Strangely, in tropical climates those colorful patterns and whimsical imagery just ended up aged and crumpled. Like my old Uncle Fred.
Peeling back the shredded paper can often be an arduous task. Forget politeness, go to it with a hammer and chisel.
As I sit here and contemplate the lack of wallpaper in my current existence this brings me close to home and life in Phuket. We live on a paradise island, yet, so many among us live the life of lost wallflowers.
Seekers, rudderless boats drifting along with no direction or perhaps flotsam lost in the seas of uncertainty.
This blank statement could of course raise the ire of many a reader, whose ears are burning at the first stop sign of negativity. Yes, my life is indeed one lived in the 'isms' – cynicism, pessimism, narcissism.
Dark humor is my constant companion. Frankly speaking, I don't understand what all the fuss is about. Making fun of life is rather entertaining. So, for us living in the magical kingdom of 'Ism', all of you bright shiny people don't know what you are missing. This is Indie, an after hour's show with the Stones in a smoky nightclub down a dark alley, or a vodka Martini late at night in a velvet piano lounge.
Certainly there are merits to being laid-back; no worries and free of angst. Let us view one of my favorite characters of all time, Jeff Bridge's, The Dude from The Big Lebowski. He makes slacking seem so cool, and at the end of the day The Dude does abide together, this, his signature cocktail – the White Russian.
Again many readers may not recall this classic drink and believe this to be a tag line shouted out by overworked immigration officers at Phuket airport. But again if you don't know who The Dude is or can't tell a Manhattan from a Whiskey Sour, stop reading immediately. You won't understand any of this, and perhaps are better suited for more mundane activities such as Salsa Night, detox or getting into Gangnam style. YouTube, MeTube or whatever, but leave the stupid pet tricks at home.
Yet I digress and it should indeed be pointed out that our hero The Dude even has his own religion – Dudeism – which you can sign up for online. But, I, unfortunately, have chosen another path.
Yes there will be angst, and certainly misunderstandings along the way. Self help, inner discovery and that trip to total awareness have about as good a chance of appearing on my itinerary, as a culinary journey to North Korea. Or else a visit to Iowa. But that's another story.
Certainly there is every reason to wish my fellow humans a daily greeting, exchange pleasantries about sports, the weather or even the latest movies. I can end all my SMSs with smiley faces and post photos of my awesome social moments on Facebook. Note to self – never speak to strangers who use the word awesome in any way manner or form.
At the end of day that's not me, and to be honest, all too often when you dig into below the skin of those woefully pleasant folks, the end results are hidden secrets, dark lives and absolute dark souls.
So why bother? Let's get straight to the point. The ism's are not for everyone and mature individuals at my age don't have a love affair with a mirror. Celebrating diversity, occasional trash talking and even a little trip off the beaten path make life's adventure more meaningful.
Journeys of self-discovery often end up on a trip to nowhere. Much like a vacation to Iowa. My advice is to get out of that introspection, stop thinking and just go out and do things till you drop. Our friend the big sleep is always lurking just around the corner. Right, or wrong, perfect or failed, at least you woke up during game time.
At the end of the day there is only one Dude and that's not me.
Bill Barnett is Managing Director of C9 Hotelworks and can be contacted through C9hotelworks.com.
— Bill Barnett
Property

Join the conversation and have your say on Thailand news published on The Thaiger.
Thaiger Talk is our new Thaiger Community where you can join the discussion on everything happening in Thailand right now.
Please note that articles are not posted to the forum instantly and can take up to 20 min before being visible. Click for more information and the Thaiger Talk Guidelines.