Property
Phuket Property: The future expansion of Central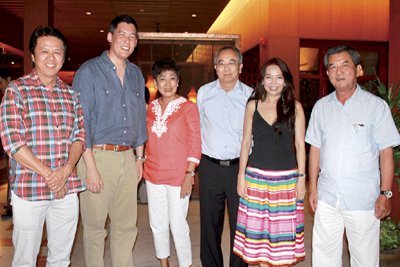 PHUKET: THE Central Group have engaged in dialogue about the prospects of expanding Central Festival Phuket to include the land situated on its south side across Wichit Songkram Road.

The leasing rights to develop the 30-rai (48,000 square meters) plot, currently occupied by the iconic Thai Naan restaurant, were recently acquired by Central, the Phuket Gazette has learned.

The dialogue commenced at a recent meeting of stakeholders and community leaders which was held at Centara Grand Resort.

The Central management team, consisting of Chart Chirathivat, managing director of Central Embassy of Central's retail corporation and Wilaiporn Pitimanaaree, general manager of Phuket's Central Festival, invited former and current presidents of the Thai Hotels Association Southern Chapter, along with Dr Prasit Koysiripong, MD of the Phuket Butterfly Garden and other local entrepreneurs, to voice their opinions as to what Phuket needs from a major shopping center.

Opinions were mixed, with some on the panel supporting a convention center and hotel despite controversy surrounding the government's indecision to develop such a project, which has been in the pipeline for years.

An art and cultural center was also proposed, as well as extensive recreation facilities for the benefit of families.

The Central development team provided an impressive display of options they have considered, including an iconic high-rise tower which they hoped would become a symbol for the island.

Discussions also included the value of high-end shopping labels such as Chanel or Louis Vuitton versus shopping that focused on Thai and local products.

The Central team plan to invite a number of local leaders to future focus group meetings in order to ensure that they get complete input from the Phuket hospitality industry.

Issues such as transportation links, parking and access to the expanded site are also under consideration.

The Thai Naan restaurant is the largest teak restaurant in Southern Thailand and has been a popular venue for weddings, concerts and large tour groups who enjoy buffet lunches while shopping in Phuket Town.

Local tour operators are hopeful that the Central Festival expansion will provide similar facilities for the community if and when the expansion plan becomes a reality.
— Bruce Stanley