Property
Phuket property: Creating a Scene on Rawai's coast; UK's leading travel agent inspects Kata Group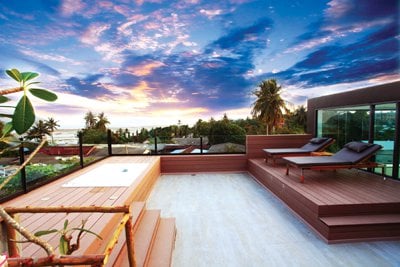 PHUKET: The Scene recently launched its new show house in Rawai with a concept based on functionality and modern design that compliment the attractive surroundings.
The development is constructed and managed by The Fortress Real Estate group, who specialize in creating resorts and contemporary villas around Phuket island.
The group, which has its own team of construction engineers and after sale service, focuses on the quality of each unit rather than the quantities and only five units are available.
Natural sunlight, transparency and ocean breezes help reduce energy consumption during the hot season and is a design priority.
Each of The Scene's units are approximately 470 Square meters in size with large functional areas consisting of a Master Suite (5.5 x 6m) with all bedrooms with en-suite bathrooms, a living room, a kitchen, a dining room, Jacuzzi with cocktail bar and sun bathing area on the roof with spectacular ocean view.
For more information visit thescene-phuket.com.
UK's leading travel agent inspects Kata Group
Kata Group Resorts Thailand recently welcomed Mr Glenn McCool, Regional Purchasing Manager of TUI Travel PLC Specialist Holidays Group to come on an inspection visit of the group's latest resorts.
TUI Travel is the foremost travel agency in the UK and is an internationally successful travel retailer and London Stock Exchange-listed company.
Mr McCool completed his inspection tour of Kata Group Resorts with Thailand's two newest and upscale resort options under the new Beyond brand; Beyond Resort Khao Lak and Beyond Resort Krabi.
After a successful inspection, Mr McCool enjoyed some relaxed hospitality at the Kata Beach Resort and Spa, the original and first property to be launched under the Kata banner over 32 years ago.
For more information, please visit katagroup.com.