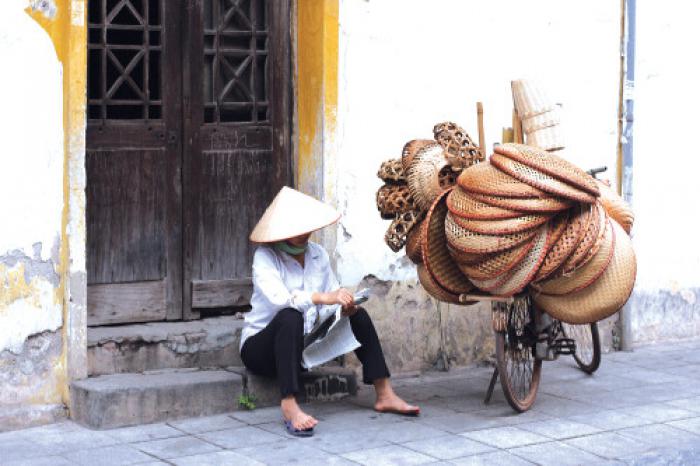 PHUKET: Humans blink 10 to 15 times a minute. Start rolling out the time-line and you start edging up over 20,000 blinks a day or more harrowing yet, perhaps 40 million blinks in a lifetime. Ferris Bueller said, "Life moves pretty fast. If you don't stop to look around once in a while, you could miss it." Proverbially, the things you miss might be in the blink of an eye.
On a recent sunny day in Hoi An, on the central coast of Vietnam, I took a few minutes out of a business road trip and took a look around. Unlike many of Americans, Vietnam holds some special memories for me. I first worked there in Ho Chi Minh City, and then in Hue in the early 1990s, as the country was just opening up for a free market push. Sure, things were chaotic with the US embargo still in force – when you had to move around the country in aging Russian commercial jets, and forget about credit cards, they were useless.
Life at that time was decidedly slower, given that government censors had to check every incoming fax, and any word or phrase that was suspect was blacked out like a cold winter's night. Still, recalling evenings in the city, the Vietnamese would take to the streets on their bicycles and pretty girls would flow by wearing their traditional ao dai. Who needed television? The human theater was on show for all to see, and if the ancient, faded TV set beckoned, there wasn't anything to watch anyway.
With the magnetic draw of the East impossible to resist, I came to Asia to live in 1985. Books by Theroux, Maugham, Conrad and Greene bore testament to a time and place which has somehow slowly vanished right before our very eyes. How many blinks did it take? Well, I've long lost count by now.
Despite the angst of the "been there, done that crowd," who are now on a North Korean road show hosted by Dennis Rodman, I can't help but be nostalgic when I spend a warm day on Danang's China Beach. Gone are the bicycles, so too the long white ao dais, and in came motorbikes, cars, jeans and heels as high as the nearby Marble Mountains. In the year 2014, everyone around the globe somehow has a universal vision of what the world should look like or what we can aspire to.
For those of us in the travel industry, the power of progress is a double-edged sword, and as is often the case in life's biggest dilemmas, there is no right answer. Change, development and tourism impact culture and tradition wherever they go. Imagine international tourism as bigfoot on a mad drinking spree – crashing through the delicate webs of Asian culture and heritage, leaving giant footsteps permanantly etched into the landscape and changing it forever.
It's inevitable that things, people and places change. Is exotic still in vogue? To what degree will the West go in pursuing its vision of what the world should look like? And still, as I take to the night, sitting on a street corner in Danang on one of those familiar little blue plastic chairs eating a Banh Mi, I can believe that the past is still around, though the vision is fading faster and faster with each and every arriving jet plane.
The moment of truth does arrive as I head home, and instead of hopping onto a pedal-powered cyclo, it's into a metered taxi, with the driver gripping a smartphone like there is no tomorrow. I still miss those cyclo rides home, a little wobbly from the beer ba ba ba or 333. Staring up into the dark sky and seeing a few shining stars in the Vietnamese night – did I see this moment coming, where the world changed in an incalculable blink of the eye? Disappearing Asia is still there for those willing to look, but don't blink too often – you might just miss it.
Bill Barnett is Managing Director of C9 Hotelworks, he can be contacted through: c9hotelworks.com
— Bill Barnett