Phuket chief wages war to bring common sense to employment laws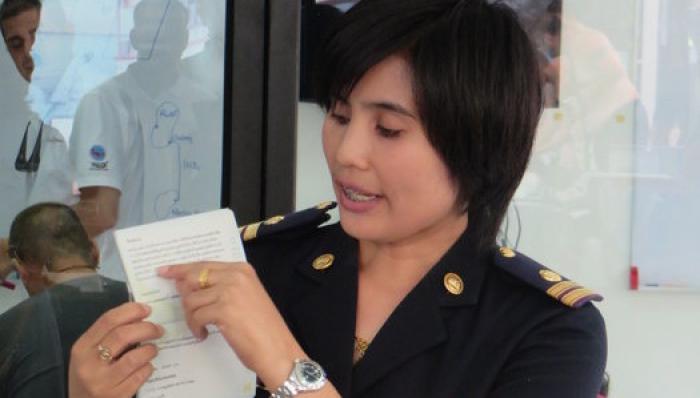 Special Report

Poor definitions in work permits have left loopholes that allow criminal foreigners to skirt the law and corrupt officials to take advantage of law-abiding foreigners. To this, Phuket Provincial Employment Office (PPEO) chief Yaowapa Pibulpol is waging a war to bring common sense to the enforcement of employment regulations.
The Phuket Gazette's Saran Mitrarat reports.
PHUKET: The events of March 10, during which Chalong Police rounded up 20 dive instructors and allegedly threatened them with legal action if they did not pay cash fines (story here), has shone a spotlight on what Governor Maitri Inthusut calls "holes" through which corruption can occur – ambiguous job descriptions in work permits.
Noting that the holes could be filled only with crystal clear job definitions, Governor Maitri set up a task force (story here) that is spearheaded by Yaowapa Pibulpol, chief of the Phuket Provincial Employment Office (PPEO).
"The best we can do at this stage is visit the dive shops one by one to verify the workers are legal and to advise foreign dive staff what they can or can not do to stay within the remit of their work permit," Ms Yaowapa said.
The critical factor for foreign workers to stay legal is to not perform duties beyond the scope of the job description entered in the work permit.
"We see this as the most important aspect as we cannot include all the actual duties a foreign staffer may perform in the work permit itself," Ms Yaowapa explained.
Ms Yaowapa highlighted the example of how job descriptions in work permits did not differentiate between the work done by a dive master and a dive instructor.
"The job description, written in Thai, is the same for both: 'a person who oversees and advises customers on diving techniques and the use of diving equipment to international standards'," she said.
"Please note that the definition does not include suggesting, offering or advising on any kinds of tour packages, which would be the work of a tour guide or a shop attendant.
"It also does not use the word 'teach', which would mean the foreigner would need to be registered as a teacher and recognized by the Ministry of Education."
That said, Ms Yaowapa admitted that in reality the very function of a dive master and instructor was to "educate", as she explained that her goal was to bring common sense to the enforcement of employment law.
"We understand this is what they really do, but they cannot perform duties beyond that. If they need to teach a class at a building, then the address of the dive school should be marked in the work permit.
"But if they need to take students to practice or be tested in a swimming pool or in the sea, they are allowed to do that – and of course travel in between."
The catch was when foreigners "helped" by performing other duties, such as carrying equipment or luggage for tourists.
"If they are genuinely helping, that is fine, but it cannot be a regular part of their duties, part of them doing their job, as that is a vocation reserved for Thais under the Alien Occupation Law," Ms Yaowapa explained.
"Officers appraise such incidents case by case, and there have been many cases where we have found foreigners exploiting this as a loophole in order to not hire more people, namely Thais."
Among the 39 jobs specifically reserved for Thais under the Alien Occupation Law, introduced while the Vietnam War was still raging in 1973, are the following:
• Driving motor vehicles or non-motorized carriers, except for piloting international aircraft;
• Shop attendant;
• Supervising, auditing or giving services in accounting, except occasional international auditing;
• Brokerage or agency work, except in international business;
• Clerical or secretarial work;
• Hawking goods;
• Working as a tour guide or tour-organizing agent.
However, Ms Yaowapa acknowledged that the above list was "onerous".
"Of course it doesn't apply in all cases," she said, adding that her office recently received a query from an expat in Karon asking if he could paint the balcony ceiling at his own condo.
"If you own the condo, you may do the painting yourself," she said.
"Any foreigner who would like information on whether they are permitted to do an activity or not is welcome to contact us at the PPEO. We are ready to give advice and answer questions."
The PPEO will not issue any special "documents of permission" affirming foreigners may perform specific activities.
"If one of our officers tells you that you are allowed to do an activity, and the police later stops you and question your right to do it, then bring it to our attention," she said (story here – page 1 story).
LIMITED ENGLISH
In response to calls to have job descriptions written in the work permit in English, Ms Yaowapa
explained that doing so was a complex task fraught with its own perils.
"Work permits issued for companies operating under the Board of Investment (BoI) often have job positions in English and Thai, but even for these work permits the job description is still in Thai.
"Having job descriptions in English is too complicated to carry out effectively. The translation has to be accurate and has to be approved by the Department of Employment legal division."
Other problems were the possible difference in meanings between the Thai and English descriptions.
"And not all foreigners read English," Ms Yaowapa said.
BOUNDARIES
Although the PPEO is willing to extend the definition of the workplace in the work permit to include all places necessary for the foreigner to perform his or her job, Ms Yaowapa said her office could not issue work permits that were valid in other provinces.
"To work in another province, foreigners must have a work permit issued by the Employment Office in that province," she said.
"A person can have more than one place of work in a permit, and the company the foreigner works for must have an office in the province where it conducts business.
While embracing a "sensible" approach to allowing foreigners to work in Phuket, Ms Yaowapa warned foreigners from flouting the law.
"I suggest adhering to the job description in the work permit. If you are caught doing work that is plainly beyond the permit, there is nothing we can do to protect you."
WORK PERMIT PENALTIES
As stated on the final pages of the work permit:
1. A work permit holder shall carry the permit with himself/herself, or keep it at the place of work while working, ready at all times, for presenting to the competent official or the registrar. Any permit holder who violates or fails to comply with the foregoing shall be liable to a fine of not exceeding 10,000 baht.
2. A work permit holder shall engage and perform works only in the particular type of work or job description, and with an employer in certain locality or place of work under stipulated conditions as permitted. Any permit holder who violates or fails to comply with the foregoing shall be liable to a fine of not exceeding 20,000 baht.
3. Prior to the expiration of the permit, the permit holder shall submit an application for the permit renewal to the registrar. Any work permit holder who violates or fails to comply with the foregoing and still continue engaging in the work performance as specified in the permit without permission shall be liable to imprisonmen
— Saran Mitrarat
📱 Download our app on Android or iOS for instant updates on your mobile
📧 Subscribe to our daily email newsletter
👍 Like/Follow us on Facebook
🔔 Subscribe to or Join our YouTube channel for daily video updates
Phuket begs Kolour attendees to come for Covid-19 testing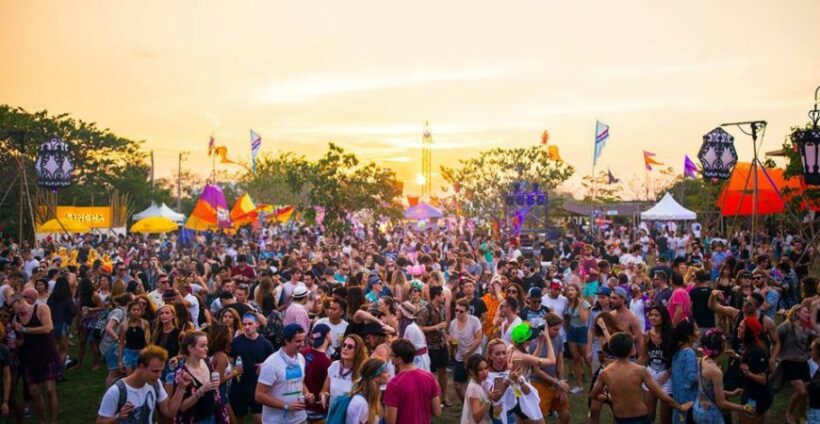 Health officials in Phuket put out a public statement this week compelling all foreigners who attended clubs and Kolour events to report for Covid-19 testing. As many might expect, the response has been lacklustre at best. Spreading the message around the foreigner and expat community in Phuket, the message is aimed at the multitudes of people, mostly foreign who attended Kolour and related events that turned into a Covid-19 superspreader event. Many foreigners have not come forward, much to health officials chagrin.
Online and on social media, foreigners and Thais shed light on why this urgent public health request is going largely unheeded. Foreigners fear the repercussions of coming forward, especially since Thailand is not allowing staying home or elsewhere in isolation if someone tests positive for Covid-19. Quarantine is mandatory, and with infection numbers exploding across the country, many fear the less-than-posh comforts of being quarantined in an emergency field hospital.
Cost is the other factor that likely is preventing foreigners from turning themselves in to be tested for Covid-19. While Phuket health officials may test people for free, anyone found infected with Covid-19 will be financially responsible for all the costs of their treatment and quarantine. Foreigners with limited financial resources, especially after a year of holing up in Thailand to ride out the Coronavirus, may resist reporting to authorities when they cannot afford the mandatory quarantine and medical treatment.
Perhaps recognizing this hesitation, the message includes a plea for all attendees to self-quarantine and self-monitor for any symptoms over the next week, even if they fail to report or test negative. The note also reminds everyone to wear masks in public at all times. The statement to the public also instructed anyone who attended any of the Covid-19 spreading nightlife events to report to the Acute Respiratory Infection Clinic area of Vachira General Hospital to receive a Covid-19 swab test.
SOURCE: The Pattaya News
📱 Download our app on Android or iOS for instant updates on your mobile
📧 Subscribe to our daily email newsletter
👍 Like/Follow us on Facebook
🔔 Subscribe to or Join our YouTube channel for daily video updates
Pattaya, Phuket and Hua Hin brace for increased restrictions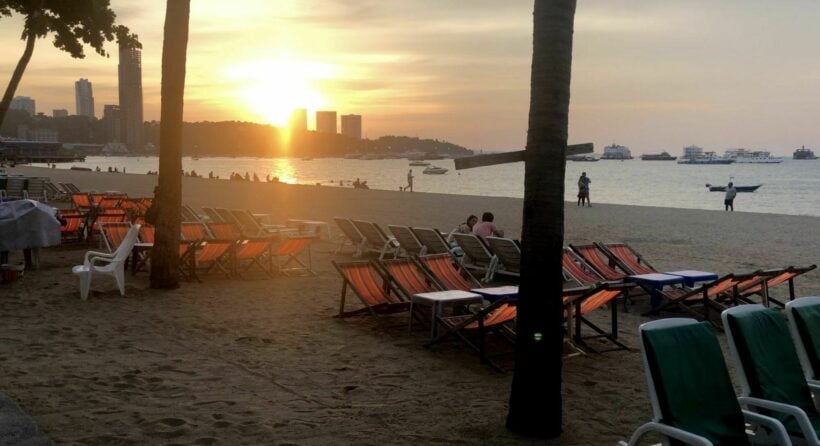 Three of Thailand's biggest expat areas are seeing sharp rises in new infections, partly from pre-Songkran traffic. The Songkran holidays, now officially over (but will see many people taking today off and making a weekend Songkran extension), and the government says they are expecting to see a rise in the cases numbers reported in the popular holiday locations.
Chon Buri Public Health office says they now have a total of 910 infections since April 1. They have 103 new cases in the past 24 hours. Most new cases are in Bang Lamung district which includes Pattaya City with 47, Siracha with 12) & Chon buri City with 8.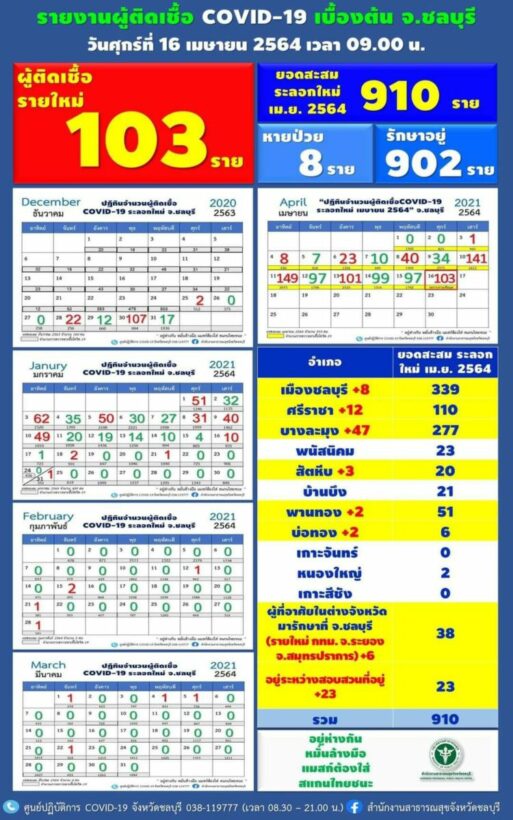 Meanwhile Phuket has a total of 142 infections recorded on the island with the Governor still insisting there will be no need for a lockdown. Here's a breakdown of the areas and the numbers of recorded infections so far (below).
Governor Narong announced that the Phuket Infectious Disease Control Committee won't be implementing an official lockdown, but will "strictly raise the intensity of public health measures to counter the spread of Covid-19″.
"Everyone should wear a face mask, maintain social distancing, wash their hands frequently and install the Mor Chana app (available for free from App Store and Google Play Store)."
A meeting of the CCSA, chaired by PM Prayut Chan-o-cha is expected to upgrade restrictions in red zone areas around the country, which includes Phuket and Pattaya. Read more about the latest red and orange zones HERE.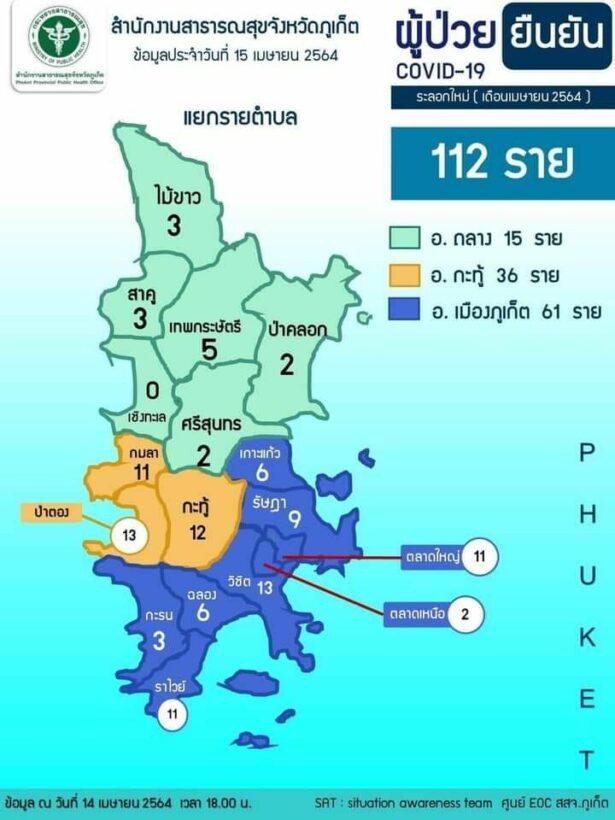 For Hua Hin expats, there's been 100 new Covid-19 infections announced in Prachuap Khiri Khan in the past 24 hours, 75 cases from Hua Hin. This takes the total in the province since April 1 to 625. Hua Hin accounts for nearly 90% of the district's total cases.
📱 Download our app on Android or iOS for instant updates on your mobile
📧 Subscribe to our daily email newsletter
👍 Like/Follow us on Facebook
🔔 Subscribe to or Join our YouTube channel for daily video updates
Footbridges stop luxury yacht travelling from Phuket to Samui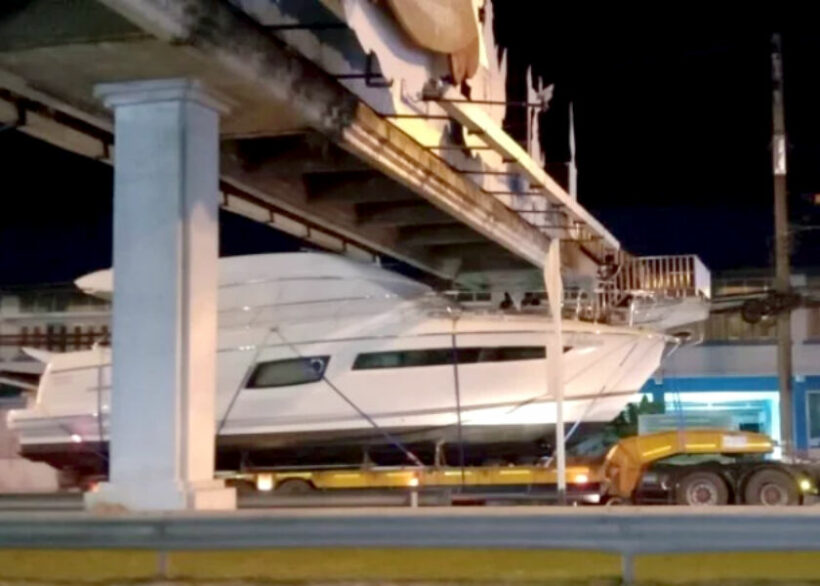 Footbridges in Phuket stood in the way of a luxury yacht travelling from its home in Phuket to Koh Samui when the boat was too tall to pass. Police received a call around 8 pm last night from the truck driver after his trailer carrying the yacht had trouble getting under one of several bridges for walkers to pass over the highway. The boat was travelling down Thepkrasattri Road, where it was stopped by the bridge near Baan Tha Reua School. The boat also had trouble at the pedestrian bridge at the Provincial Electricity Authority Thalang Branch and the bridge at Baan Lipon School in Srisoonthorn.
All the bridges were supposed to have a 5-metre clearance, though one observer speculated that all the repaving of the road over the years may have raised the road and lowered the clearance. Traffic police responded to the first bridge incident by sending officers to direct traffic and make sure bikes and cars didn't pass and impeded progress on freeing the boat. The second incident about 30 minutes later was resolved by letting air out of the truck's tires to lower it just enough to pass under the bridge. The third snag prompted the driver to go in person to the Thalang Police station to request help yet again.
This time police were less amused and suggested the truck driver try to resolve the issue himself and call back to the police only if he was unable to free the luxury yacht. A traffic police officer went to follow up with the stranded boat at the end of his shift and found the driver had given up and decided to return the yacht to its Phuket origin at Boat Lagoon Marina in Koh Kaew. The boat, now damaged from the bridge bumps, wasn't going to make it to Surat Thani to be sailed to Koh Samui on this journey. The boat radar had broken off on one of the bridges. No word on any major damage to the pedestrian bridges.
SOURCE: The Phuket News
📱 Download our app on Android or iOS for instant updates on your mobile
📧 Subscribe to our daily email newsletter
👍 Like/Follow us on Facebook
🔔 Subscribe to or Join our YouTube channel for daily video updates