A new lease on island life – Phuket Property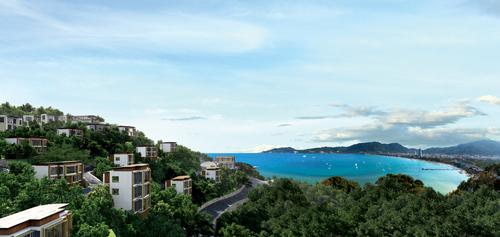 PHUKET: When is leasehold more valuable than freehold?:
"In over 35 years in the property industry in the United Kingdom, Hong Kong, Thailand, and having worked in many Asian countries, I would have said until very recently, never.
"However, I have to acknowledge that with the arrival of some excellent leasehold properties, the Thai property industry has recognized that a well-appointed and managed leasehold property can out-price, out-perform, and be preferred by buyers to freehold condominiums. Leasehold can also be a better investment, if it offers better management and/or income returns," stated David Simister, Chairman of property consultancy, CBRE Thailand.
"Just to confirm my terminology, a condominium is a strata title property within a juristic development where the owner, foreign or Thai has a perpetual freehold title. The communal property of the condominium is run through the Juristic management committee and subject in Thailand to the Thai Condominium Act.
"A leasehold property does not offer perpetual ownership; the longest initial term (registered in Thailand) is 30 years and a developer may offer a series of extensions. The ultimate ownership of the property and its control is in the hands of the lessor, an independent individual or corporation, who grants the lessee(s) a lease. Leasehold is considered a depreciating asset, because as time passes the value of the remaining term of years decreases.
"It is fair to say a condominium of equal quality with an equal certainty of a continuation of good quality management is a better and more valuable investment than any leasehold property; however, in Thailand, leasehold property has evolved and similarly located, freehold condominiums are not always more valuable than leasehold."
The evolution of the quality leasehold has arisen due to the leaseholder's decision making ability and the superior attitude to maintenance standards. The leaseholder has the ability as the sole freehold owner to make decisions. He can appoint and enter into a long-term contract with top quality managers including branded hotel groups, such as St Regis or Amari. A top level hotel operator, particularly where a property is a resort, can maximize income returns, compared to a typical juristic condominium.
Only the single condominium leaseholder can give a quality hotel operator sufficient confidence to enter into a long-term contract for the professional and high-quality operation of the property. Only with a long-term contractual commitment will hotel operators invest the necessary time and resources to create an investment vehicle capable of regularly securing the maximum achievable returns.
In 1990, CBRE Thailand marketed off-plan Laguna Phuket, a wonderful concept of an integrated resort in a private well-maintained and managed beachfront area along Bang Tao and Layan beaches. The residential properties were to be operated by several hotel groups: the Sheraton, Allamanda, and Banyan Tree. The management resources devoted to those properties would provide five-star hotel quality (Sheraton) and five-star plus (Banyan Tree).
The hotel-branded residences provided quality services and in the case of the Sheraton, double digit income returns to buyers. Twenty years ago, hoteliers were prepared to operate both freehold and leasehold projects.
Sadly today, most if not all major international hotel brands will not contemplate offering hotel management services to a multi-owner condominium. Largely, this is because of legal disputes in the USA. and the worry that a single disruptive or litigious owner can pull down the house to the detriment of his co-owners and the manager. Condominium management relies on a concept of majority votes and democracy. This is fair in principle but in practice can create disputes over services, budgets, and result in a lack of clear leadership and consistent management.
Most importantly, a juristic body where the governing committee can change annually cannot effectively enter into long-term service contracts.
By comparison, the single lessor who does not require any vote or approval can enter into a long-term contract with a hotel group and can more directly and effectively ensure continuity in the operation and management of the property.
In comparing leasehold versus freehold, CBRE Thailand never has an exactly like-for-like situation, but it is clear that the well-appointed quality luxury leasehold has a clear market demand.
In Phuket, leasehold is also out-performing freehold sales where the total package of property and services is more attractive than ownership of freehold title.
One of the most successful leasehold projects this year has been Amari Residences Phuket on a site overlooking Patong Bay. Amari Residence Phuket has been achieving prices in excess several West Coast condominiums with freehold title. Much more interestingly, this has been one of the first projects in Phuket to show a strong level of demand from Thai Bangkok investors.
Why specifically is Amari Residences Phuket better than many of the West Coast freehold condominiums?
The answer is simple: the quality, unbeatable views, the continuity of management, and sustainable regular income that comes only from good hotel management. Many other projects that promise high returns have failed to secure the right operators. Many small and medium Phuket developers have not been able to deliver in terms of capital to complete to the original specifications or to provide rental management programs.
The quality of management and the ability to make single-minded management decisions, is proving leasehold is now capable of out-performing freehold condominium. This does not mean that every condominium is now an inferior product to every leasehold property, but it does throw in to the highlight the need for condominiums to develop good and consistent management levels.
In Phuket where a variety of ownership structures have been employed, CBRE Thailand has found a broad commitment among owners to manage up to a quality standard, not down to a budget. Sadly, in Bangkok many condominiums are not able to manage up to luxury standards commensurate to the built quality of the condominium.
Ultimately, for long-term value preservation of any property asset, good management is essential. Condominium owners need to pay more attention and collectively be more constructively demanding of their building and Juristic managers to ensure that they enjoy the price appreciation that freehold property in a prime location should merit.
For the time being, there will be more instances where well-managed and professionally run leaseholds will outperform condominiums in terms of operational standards and ability to generate income.
Keep checking our online Phuket Property pages, join our Facebook fan page or follow us on Twitter @PhuketGazette for the latest local and national property updates.
— Phuket Gazette / CBRE
Property

Join the conversation and have your say on Thailand news published on The Thaiger.
Thaiger Talk is our new Thaiger Community where you can join the discussion on everything happening in Thailand right now.
Please note that articles are not posted to the forum instantly and can take up to 20 min before being visible. Click for more information and the Thaiger Talk Guidelines.