Phuket Lifestyle: Watching the birds disappear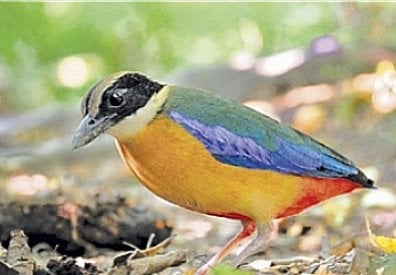 PHUKET: As we left Chao Fah Road and turned onto a dirt path, a truck carrying sand drove past, bobbing under its own heavy weight as it negotiated muddy potholes, made as a result of the recent heavy rainfall.

"This sand is 'pillaged' from the lagoons around here," says my nature photographer friend Rat, emphasizing the word 'pillage'.

We are here to see what used to be a temporary habitat of blue-tailed bee-eaters (merops philippinus), a species known among bird watchers as 'breeding visitors'.

Around October, the bee-eaters migrate from southern China to the more clement climes of Southeast Asia. In Phuket they've found their perfect roosting spot in a small hill that once stood here. The hill, composed of sandy soil from a mine dugout, has one straight side, almost like a cliff face.

By burrowing small tunnels into the cliff side, thousands of bee-eaters made their nests and nursed their young. The whole flock then flew home in spring.

"At one time, the hillside would be punctuated with numerous small holes and the whole hill was not unlike the artificial bird condominiums people create for commercial purposes today," says Rat.

Alas, the hill is no more – the land has been leveled to make way for a new housing development. Still, it must have been a sight, whether you are a bird enthusiast or not – a colony of these gregarious birds busying about, their vivid green and blue plumage decorating the skyline of Chalong.

"They are graceful birds, quick and agile enough to catch insects mid-flight. They offer a check and balance mechanism for the insect population and thus are useful to farmers," adds Rat, who has been witnessing the dwindling number of bee-eaters over the years. He believes that their presence, or lack thereof, is an accurate indicator as to the degree of biodiversity in any area.

We drove further down the dirt path and passed a few water buffalo bathing in the mud. This was clearly an old mining site indicated by a few deep blue lagoons. Rat pointed out a lone kingfisher on a bare branch, contemplating the water – the bird flew away as we drew near:

"Lagoons and ponds are a great habitat for all kinds of wild ducks and wading birds. Around any water I seek out purple swamphens (porphyrio porphyrio), which are medium-sized ducks with an amazing deep blue color. But they too are almost extinct now, as they are being hunted for food. I dare say that there are only twenty or so left in Phuket," says Rat.

Further on down the road, a few people were fishing by the lakeside. There, we witnessed a swirling Eagle make a bravado dash into the lake, disappearing quickly out of sight, fish in claw.

Then Rat spotted a mangrove pitta (pitta megarhyncha), another 'threatened' species, in the lakeside tree.

"This is extraordinary," says Rat excitedly, "Pittas are rare. Many birdwatchers will go out of their way to see them. They can be found at Khao Phra Taeo National Park but traversing the park is not easy."

Rat is a native of Phuket. An enthusiastic bird-watcher, last year, Rat bagged two awards from Thai PBS Television for video clips he made of rare and decorative birds.

Growing up in Chalong, Rat has witnessed many developments in the area with dismay.

"It's incredible the way in which we abuse our natural resources," he says, "The way forward is for the authorities to seriously manage, and at the same time increase, the so-called 'green areas'," he suggests.

Towards the end of the road, a large area is being dug out to make way for the planned Klong Kata dam, a 20,000-cubic-meter reservoir expected to be finished in 2013. The apparent purpose was to conserve usable water during the drought, but Rat is not convinced:

"I just hope that the dam will do the work it is intended to do plus provide a habitat of sorts for the animals. But I fear that cutting down trees and construction will deter the birds from coming back. And their lack of presence is a telling sign that our biodiversity is in danger."

We circumnavigated the yet-to- be-finished dam and came out on another dirt road, passing a swanky new temple and a small golf course, emerging into the real world of West Chao Fah Road.

For bird-watching and photographic expeditions in and around Phuket, contact Rat on 081 537 4086.
— Nanthapa Pengkasem
Thai Life

Join the conversation and have your say on Thailand news published on The Thaiger.
Thaiger Talk is our new Thaiger Community where you can join the discussion on everything happening in Thailand right now.
Please note that articles are not posted to the forum instantly and can take up to 20 min before being visible. Click for more information and the Thaiger Talk Guidelines.