Phuket Lifestyle: Vladi good fish at Palau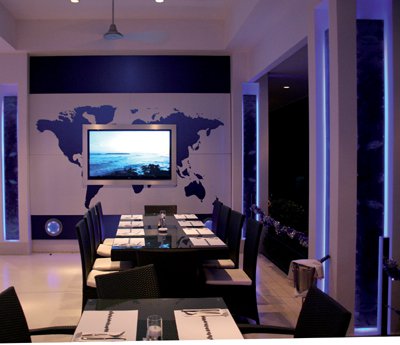 PHUKET: There's a brand-new, gorgeous-looking, blue-and-white seafood outlet down in Nai Harn Village called Palau Fish. It turns out that the restaurant is named after a Pacific island some 800km east of the Philippines, one of the world's youngest states. Pub quiz aficionados take note…
Palau is way over the top, design wise, with billowing white curtains complementing its peripheral dining arrangements and faux-water hyacinth throughout its 70-seat set up. If you're into dining next to a 62-inch flat-screen TV depicting undersea life, and like subaquatic-themed restrooms then this place is made in heaven for you. Still, I wish Palau the best of luck in its semi al-fresco seating standing up to Phuket's southwest monsoon buffetings.
After a bracing vodka-Martini I leave my wife to decipher winning lottery numbers from the in-house breadbasket for a brief conversation with Palau's Executive Chef, Sergey Klimento. He, like most of the young and very personable Russian management here, is from Vladivostok almost 10,000km from Moscow and exotically named the "City of the Sea Cucumber" – during which he explains that there's another branch of this restaurant in the eastern-Russian port. Sergey helpfully adds that purchasing fish in fresh-food markets has stringent health rules, i.e. spanking-fresh fish should have bright eyes (rather a hard act for a dead animal, but nevertheless…) reddish gills and a marked bouncy touch to its body.
We launch into a suitably olive-oil-soaked Greek salad (250 baht) and tasty, but not piquant enough tom yam seafood (200 baht). It's all agreeable with great service but the Euro-pop music in this undeniably attractive place grates and is sort of incongruous yet at least it covers up the constant swishing by of vehicles on this busy Nai Harn corner. A wok-fried assorted shellfish platter arrives with Russian sea snail, unique to Phuket, and is filling, but for some strange reason the menu doesn't feature French fries, so we opt for rice in small portions.
For sure, Palau bills itself as a seafood joint, but in actual fact here you can order a juicy leg of lamb with garlic, marinated with honey (560 baht) or pork chops with demi-glace mushrooms and cranberry sauce (509 baht) and a host of other red-meat dishes, too. But hey, it's Friday so we stick with the fish – a steamed whole sea bass in ginger. It's fresh, it's yielding, it's toothsome, it's got a firm bouncy body and it screams out for French fries!
The wine list at Palau is not the longest in the world, but the Chilean rosé we indulge in is full bodied and satisfying and a perfect tipple to go with the seafood dishes we had ordered.
Palau is certainly one heck of a good-looking restaurant and lounge bar; the waiting staff and management are admirably enthusiastic and with a little fine tuning this could be a very popular place too.
Palau Fish restaurant, 98/18, Moo 1, Viset Road, Nai Harn Village. Tel: 0850201602, Open from 5pm to Midnight. Last orders at 11pm. Closed on Tuesdays.
— Sam Wilko
Bangkok named most popular city for Japanese tourists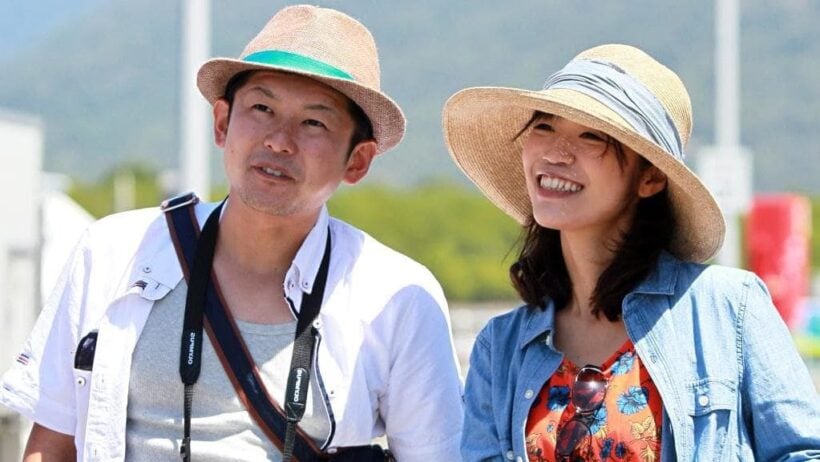 Thai PM Gen Prayut Chan-o-cha says he was happy after hearing that Bangkok was named the most popular destination for Japanese tourists during their Golden Week, a five-day long holiday which begins in late April.
The survey was conducted by Agoda, the online booking platform. Pattaya and Phuket were also ranked among the most popular destinations at #4 and #10 respectively.
"Japanese tourists are among the top 5 nationalities of foreign tourists visiting Thailand, particularly Bangkok where there are many beautiful attractions, delicious food, not-too-high cost of living, and friendly Thai people. The two countries's cultures are also quite similar. They can go along quite well," said a spokesperson for the PM.
Lt Gen Werachon Sukondhapatipak, the deputy spokesman of the Thai government, added that the PM loves to follow the updates on the tourism industry. Thai tourists love to escape the summer heat in Thailand, and visit Japan to experience the Japanese spring, visit popular tourist locations, sample authentic Japanese food and the Japanese people. The PM also invited the Thai people to be a good hosts, making all tourists feel welcome and helping keep them safe.
SOURCE: National News Bureau of Thailand
Bangkok luxury poised to push through the US$300 ceiling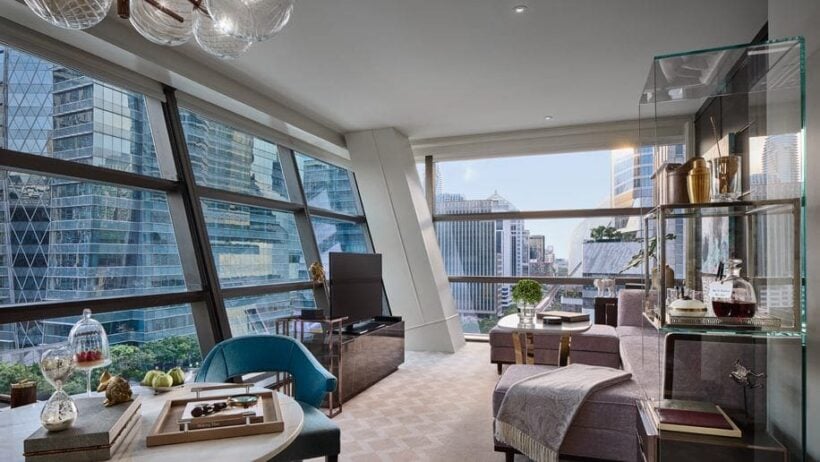 by Bill Barnett of c9hotelworks.com
PHOTOS: Rosewood Bangkok
For hotel owners and managers in South East Asia, one of the great mysteries of the past ten years has been the low rate profile of Bangkok's luxury hotel set. Despite soaring and sustained tourism growth, rising airlift and a strong economy, rates at Bangkok's top tier properties have remained fairly stagnant.
Have we reached the tipping point?
I had had the opportunity to visit the latest entry to the Bangkok luxury class a few days ago, the Rosewood. With 159 keys which includes a limited number of posh houses with private pools and terraces the property is seeing an exceptional response and already achieving high rates.
What's impressive about the entry is a take on the design approach that sees hotel developers apply a non-uniform approach with AvroKO coming in to focus on the restaurants and bars, while the rooms and public areas were led by Celia Chu Design and Associates.
While the speakeasy Lennon's has not be opened yet, the 6,000 record vinyl collection is impressive and the bar will clearly have a strong pull. Taking the approach to designing restaurants and not typical hotel outlets, the Chinese eatery Nan Bei is a breath of fresh air and limited seating provides a bespoke appeal.
Taking a step back, and looking at recent entries like the Waldorf Astoria, and upcoming 101 key Capella, what is clear is luxury properties are shifting in terms of key drivers of the segment of art, fashion, residential vibe, bar and restaurant offerings, wellness and events.
So, what about rates?
On a broad basis Bangkok's top tier hotels have averaged rates of US$200-240 for the past few years. This set has seen longer serving properties such as the St. Regis, Kempinski, and Okura effectively flatline on rates, though newer entries have come up including the Park Hyatt. On the broader horizon is the return of the Four Seasons and Capella by the river and the Orient Express at the MahaNakhon skyscraper.
With the entry of Rosewood driving rates, my expectation is that a few of the set will follow and at the end of 2019 we will set limited number of hotels crash through the US$300 average room rate barrier and effectively smash the legacy glass ceiling of Bangkok's luxury hotels.
As in any business there will be winners and losers. Smaller hotels with some rate leading premium key types will be able to push up average daily rates. Segmentation is another key and hotels on the river that lack substantial corporate numbers will remain challenged until transport links to the area improve.
Where in the world are Bangkok luxury hotels heading?
To sum up 2019, size and location matter, the shift on food and beverage and social events along with niches like wellness and  smaller meetings/weddings are the key to the future. As for the quantum leap in rates, it's about time Bangkok hoteliers be confident and push rates towards a more global norm.
Third runway for BKK Suvarnabhumi Airport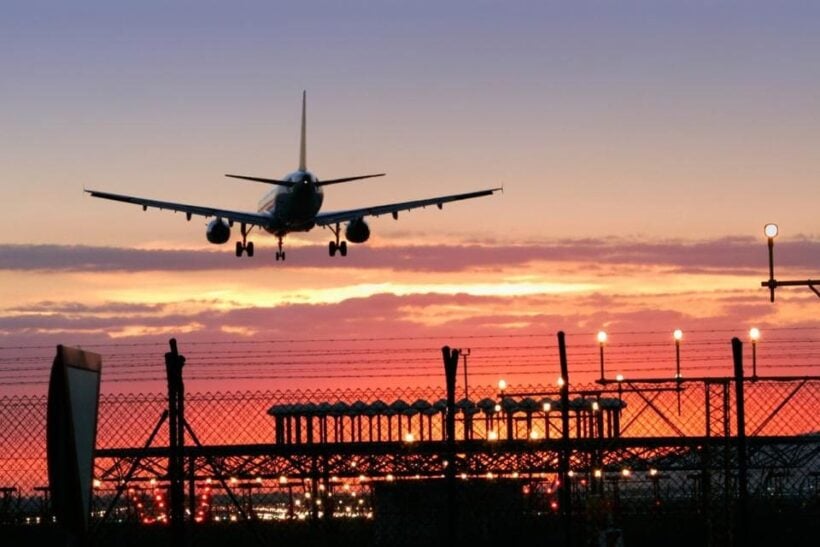 The Thai cabinet yesterday approved the construction of a third runway at Suvarnabhumi International Airport as part of the country's ambition to become the aviation hub of ASEAN.
The 21.7 billion baht project will increase the combined capacity of Suvarnabhumi international airport's runways to 94 arrivals and departures per hour from the current 64, said Lt-Gen Weerachon Sukonthapatipak, deputy government spokesman.
Suvarnabhumi Airport (aka. BKK) was opened in 2006 as Bangkok's second airport. Initially it replaced the tired Don Mueang Airport but Don Mueang was later revamped as a low-coast airport to service the growing traffic demands.
Meanwhile Suvarnabhumi Airport was, and still is, operating above its designed capacity. An earlier bid to build a third terminal has been mired in controversy and is currently shelved pending a new brief from Airports of Thailand with a new round of design bids called for in the future.