Phuket Gardening: Mellow yellow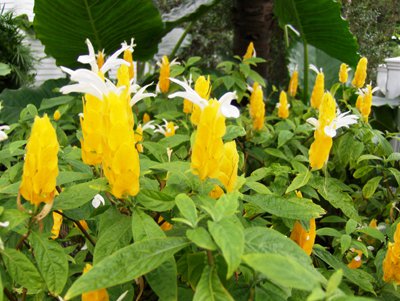 PHUKET: Few other yellow flowers can compete with the golden opulence of a sunflower, chalice vine or allamanda in full bloom. But that does not lessen the value of less spectacular garden inhabitants.
Take the galphimia or "shower of gold", which is sometimes referred to as thryallis in books on gardening.
To give it a human epithet, this small, compact shrub is what horticulturalists like to describe as "busy": it grows quickly and, given the right conditions, flowers abundantly. The yellow star-shaped blooms, which have small, spaced petals, are produced in dense panicles which open at the same time, giving the shrub an almost luminous appearance.
The small glossy evergreen leaves are borne on masses of slender stems, which are reddish when young. There is another form – glauca – which has foliage that is bronzy above and grayish-green below.
This import from Mexico is a tolerant plant, able to withstand short periods of drought. It can, moreover, be pruned with impunity. Given plenty of sun and adequate water, it should flower profusely. For those readers with terraces or patios, the shrub will do quite well in a large container.
More often, and in conventional garden settings, the shower of gold is found at the back of a perennial bed, or used, after the manner of ixoras, to make a vibrant and compact low hedge. It is, moreover, especially serviceable as a foundation shrub, since it can be planted immediately below a ground-floor window, and trimmed as soon as it reaches the sill. Not only a colorful bush, but a dense deterrent to anyone trying to break in to your house.
Also it can be valuable when planted on newly created slopes, where it will help to prevent soil erosion. Property developers please take note.
The golden shrimp plant (pachystachys lutea) is so called because it displays bright yellow, overlapping bracts that resemble the scales on a fish or crustacean. From these upright spikes which give rise to its two more colloquial names of "lollipop plant" and "golden candle", which look a bit like the cones of a costus, emerge short-lived, white, and fairly insignificant tubular flowers. The golden spires are the thing; they are the reason why the plant is cultivated.
Unlike the galphimia, which is woody and may reach two meters in height, pachystachys is a soft-stemmed perennial, and rarely grows more than four feet tall. But it is a consistent bloomer, and viable as a potted plant, which will certainly turn heads on any patio. If you do decide to grow one in a container, note that it prefers slightly acidic soil – in common with most members of the acanthus family.
In the garden, it is mostly grown in clumps, to derive maximum benefit from the unusual bracts, which sit atop lots of large ovate evergreen leaves with prominent veining.
Although the golden shrimp plant hails from tropical America, it does not like full sun; so put it where it can enjoy some shade during the day. There is also a red variety – appropriately called coccinea – but I have not seen it in Thailand. Naturalized in parts of the West Indies, it would surely thrive here, as most imports, floral or human, usually manage to do.
I am frequently asked where plants can be purchased. Sadly, neither the galphimia nor the golden shrimp plant is easily located in plant nurseries on the island. A pity, because both are worth a place in your place.
If you are hell-bent on tracking them down, the Thai names are, respectively, phuang-thawng-ton and luang khiri-puun. Not easy to remember, but they can both be propagated from cuttings.
Tip of the week – Small-scale self sufficiency
Judging by the number of shop-houses and condos sprouting up around Phuket, an increasing number of residents are surrounded by jungles made of concrete instead of trees.
That trend is certainly borne out by the number of emails I get from apartment dwellers. In any case, the garden trend is towards flowers rather than vegetables. The presence of "farangs" doesn't help. Most of us never had our own kitchen gardens back home. One solution is to grow veggies – literally – in your own back (or front) yard. That means making the most of whatever space and light you have. If your terrace/patio gets less than four or five hours of sun a day, you can shelve any notions of small-scale self-sufficiency If space is limited, opt for container plants that require relatively little room in which to grow.
Phuket Gardening is Patrick Campbell's regular column on all things flora.
If you have a question or a garden that you would like featured, you can email the author here.
Keep checking our online Phuket Lifestyle pages or join ourFacebook fan page for regular gardening features and tips.
— Patrick Campbell
Keep in contact with The Thaiger by following our
Facebook page
.
Never miss out on future posts by
following The Thaiger
.
K-Pop fans show their support for the young Thai protesters, donate 3 million+ baht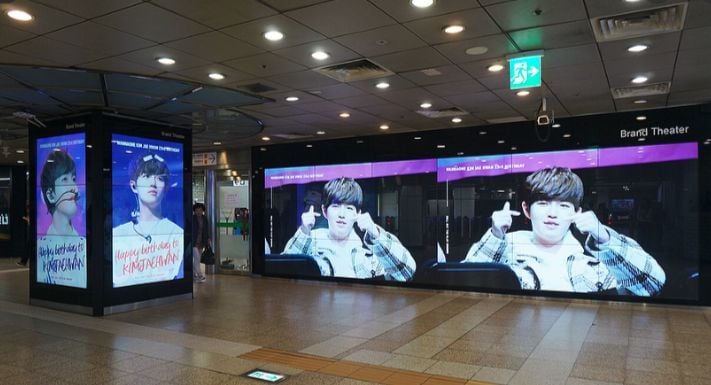 Art meets politics again, this time with hundreds of thousands of K-Pop fans raising funds in support of the growing student protest movement in Thailand. So far they've raised more than 3 million baht (as of 10am this morning) but the amount is rising quickly as Thai and overseas K-Pop fans respond. The most popular band in Thailand at the moment is BTS, the South Korean septet which is currently the most popular band in the world (as of today BTS commands the Number 1 and Number 2 positions on the US Billboard singles chart).
BTS fans have so far been the largest contributors donating funds to the protest cause.
The BTS Thailand page, not to be confused with the BTS Skytrain, is urging K-pop fans to stop the practice of paying for billboards in support of their favourite idols and to celebrate the birthdays of the 7 members. RM, Jin, Suga, J-Hope, Jimin, V and Jungkook issued a statement on their fanpage asking fans to stop funding the BTS and MRT "inconvenienced protesters and normal citizens from getting home and putting them in danger".
Bangkok's two main rail systems were closed down over the weekend as police and protesters played a cat and mouse game. The protesters were withholding the announcement of protest locations to the last minute whilst police second-guessed their moves, ending up in mass inconvenience for the wider public in shutting down the entire network, including the Airport link.
"We're calling Armys and other fans to stop buying ad projects with the BTS and MRT." ("Army" is the name of BTS fans.
Fans of K-pop groups as well as other "idol" groups often pool their resources to purchase display ads in the MRT and BTS stations wishing their stars happy birthday or on other significant anniversaries.
It's thought that many more millions of baht will be raised by the K-Pop fans in the next few days.
The young Thai protesters are tapping into a strong social media network, and have "weaponised" the social media and messaging platforms. The main App they are now using, to communicate their intentions, is "Telegram", developed by a young Russian couple but now operating out of Germany. The App features encypted messages, impossible to track, and has 400 million monthly active users.
Telegram is a cloud-based instant messaging, video telephony and voice over IP service with end-to-end encryption for secret chat only, whereas Cloud chat uses client-server/server-client encryption and its messages are stored encrypted in the Telegram Cloud – Wikipedia
Meanwhile, other K-Pop acts that have mobilised their fans win support include Girls' Generation, GOT7, NCT, WannaOne, Nu'est, X1, Day 6, Red Velvet, MonstaC, Woodz, Shinee, Super Junior and R1se. We're sure the fans of Black Pink are also contributing but didn't have their figures available at the time of publishing. Fans of popular Thai actors and celebrities are also donating to the pool.
Keep in contact with The Thaiger by following our
Facebook page
.
Never miss out on future posts by
following The Thaiger
.
Thailand's property market waits for an end to Covid-19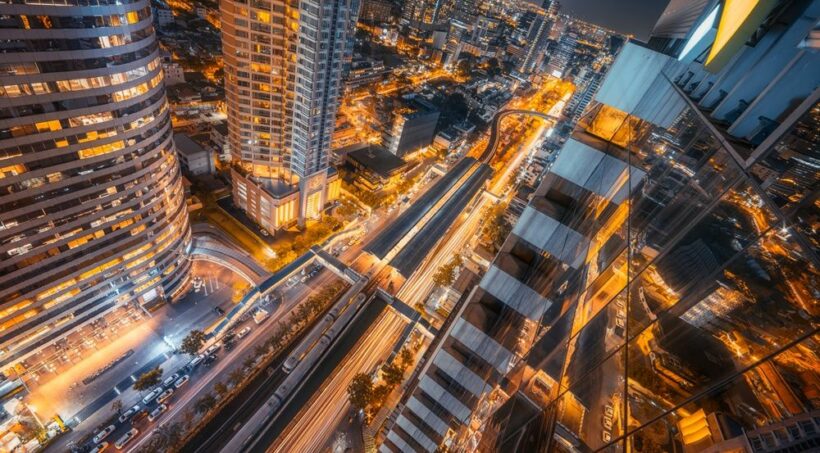 The Coronavirus outbreak poses challenges for Thailand's property market as potential Chinese condominium buyers remain stranded in China. Meanwhile, some believe that the outbreak may bring opportunities for non-Chinese buyers and in the long-run, the Chinese may be looking for an overseas refuge in the event of these types of emergencies popping up again
Through all this, there will be a certain level of pent up demand for Thai real estate.
Of course, it's not just the Chinese unable to come and inspect potential buys, the rest of the world is also mostly shut out of Thailand.
Market remains weak
The pandemic is hurting the condominium market as Chinese nationals were accounting for half of the international buyers in Thailand, or 57.6% of the total foreign condo owners in 2018.
Vichai Viratkapan, acting director-general of the Real Estate Information Centre says that 50% of Chinese condo transfers are expected to disappear in the first 2 quarters of this year and the total transfer value by the Chinese will miss the mark of the usual 29 billion baht by about 25% (around 7 billion).
However, since Chinese property buyers only make up 6% of the total international and domestic housing transfers in Thailand, the proportion of total housing transfers in the country is likely to be similar to last year.
Developers looking to sell current stock whilst shelving new projects
CBRE reports that most Thai developers are postponing the launch of new condo projects to focus on clearing existing stock.
"Discounting completed projects to generate quick revenue as a financial lifeboat is the best solution for many of the country's larger developers whilst the market is in limbo."
Rathawat Kuvijitrsuwan, head of CBRE Research and Consulting in Thailand believes that, now business is gradually recovering, a few developers have started to launch new condominium projects.
"In the first half of 2020, the Bangkok condominium landscape was gloomy with fewer than 10,000 condominium units launched, which was much lower than the total number of new launches in the past three years of more than 60,000 condominium units per year."
The Chinese are reluctant to complete transfers
The virus has continued to affect hospitality operators, including hotels and condominiums that service tourists, nationwide. Since China has suspended tours, put restrictions on movement, and locked down cities, home to over millions of people, it also poses a threat to real estate developers as their clients are unable or unwilling to fly.
"Currently multiple off-plan condominium developments are approaching completion, and Chinese clients are unable or unwilling to transfer. Chinese clients who made a reservation in Q4 2019 are requesting a refund and withholding their investment," said Marciano Bijmohun, Business Development Director at FazWaz Property Group.
He believes every condominium that is in transfer status will see the percentage of non-transfer units rise in the coming months.
"These non-transfer units will cause a big financial hit to developers."
If a client refuses to transfer, does not comply with the terms and conditions stipulated in the sales and purchase agreement, and decides to release the property, their deposits will be forfeited.
"However, there is some good news, these non-transferred units can be offered with a discount to new clients."
Also, as China has been susceptible to a few disease outbreaks – from bird flu to the current coronavirus – it may prompt Chinese buyers to look for second homes outside of China.
Keep in contact with The Thaiger by following our
Facebook page
.
Never miss out on future posts by
following The Thaiger
.
Top 10 tips to avoid food poisoning in Thailand, and how to recover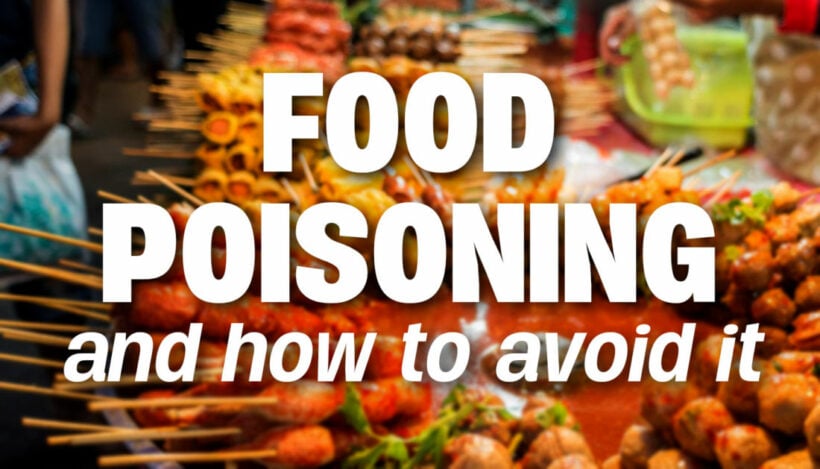 NOTICE: The Thaiger are experienced travellers but we're not doctors. This information is provided as a general guideline if you are confronted with food poisoning. In all cases consider seeking medical attention.
Travelling in foreign locations and trying out the local dishes will always risk a bout of the dreaded food poisoning – Bali belly, Thailand tummy. Thailand has some of the world's tastiest food but also the potential to put you flat on your back for a few days.
Travelling around Thailand you face a double whammy of exotic new spices along with an equally exotic list of new microbes and bacteria working hard to make your day a bad one. One bit of bad luck and you'll disrupt the delicate balance found within your digestive system.
Contaminated water? Spoiled meat? Food left out in the open for too long? Whilst the vast majority of Thai food, even the street food, is unlikely to upset your digestive system, the more adventurous your eating, the more likely you are to confront a bout of food poisoning along your journey.
It will start with stomach cramps, nausea and sweating. It will usually kick in in the first four hours after your meal, probably earlier. You'll know it!
Projectile vomiting and diarrhea are usually the result and the next 10-12 hours of your life will be spent in close proximity to a toilet. You will feel like death-warmed-up… chills, cramps, maybe a fever and lots of sweating. But you WILL get over it.
Here is The Thaiger's Top Ten ways to avoid, and recover from, a bout of food poisoning.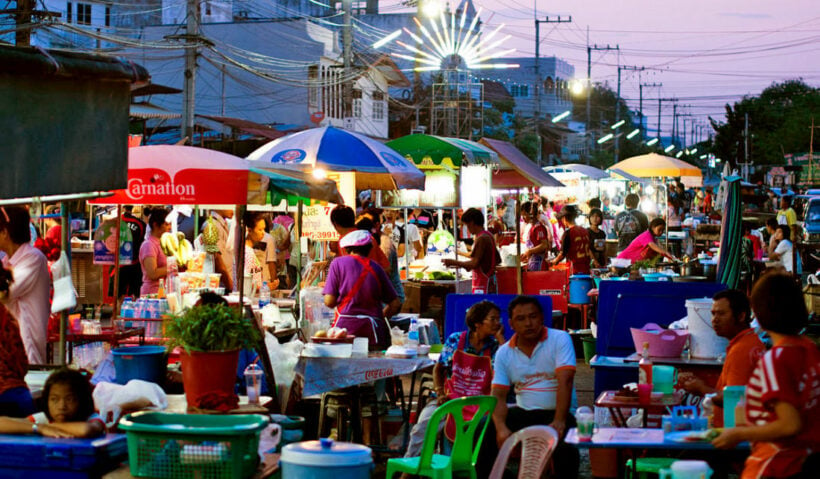 Don't get food poisoning!
The best way to avoid food poisoning, or its lesser partner traveller's diarrhea, is to not get it in the first place. But even the most cautious tourist can consume something they think is safe… but isn't.
Avoiding food poisoning is everyone's obvious aim, but if it does happens it's not the end of the world. But it is going to put a dent in your plans for a few days. Be cautious, read up about potential problems and turn you brain on before you go 'full commando' on food you've never experienced.
No fresh leafy greens
Unless you are absolutely sure they have been copiously washed with filtered water it is best to avoid eating anything in this category. Cooked greens are usually ok, especially in boiled soups. Try to also avoid raw unpeeled fruit or vegetables as well.
Salads in a street restaurant, somewhere off the beaten track? Probably not.
Street food
Street food, literally food you can buy on the kerbside or footpaths anywhere in Thailand, often looks and smells amazing, and is usually safe to eat. But avoid anything that looks like it's been sitting around in the sun and humidity. Stick with bubbling boiling soups, freshly fried Pad Thai, and meat that has been grilled right in front of you.
Ice ice baby
The vast majority of restaurants and bars in tourist areas use ice that comes from frozen purified water and have it delivered daily. Off the beaten track it's best to ask first if the ice (nam kang) is made from tap water or is fresh that day. When in doubt, leave it out – better a warm beer than half a day leaning over the toilet 🙂
Drinking water
It's best to observe the golden rule about drinking water in Thailand – never drink the tap water. The down-side is that most of the potable water is going to come to you in a single-use plastic water bottle which we're all trying to avoid these days. Most hotels, and some restaurants, will have drinking stations where you can top up your water safely.
Drinking water is very cheap in Thailand and is available everywhere, like EVERYWHERE!
All that said, we suspect that in places like Phuket, Chiang Mai, most of inner Bangkok, Pattaya and Hua Hin, the water out of the tap IS safe to drink these days. But don't take our word for it! As a traveller, you need to err on the side of caution.
The Thaiger has lived in Thailand for a decade and brushes teeth and uses the local supply (in Phuket and Bangkok) and has never had any 'tummy-rumbles' from interacting with the local potable water supply. But that's not a scientific study, just our own experience.
Leftovers
"Mmmm, that pizza was great last night. I'll have the rest tomorrow."
Maybe, but you need to refrigerate it before it gets cold and then eat it quickly the next day before it has time to 'warm up'. If it's more than a day old, throw it out or feed it to the dog or cat who have cast-iron stomachs compared to humans.
Ditto for any other leftover you think you'd like to save for the next day.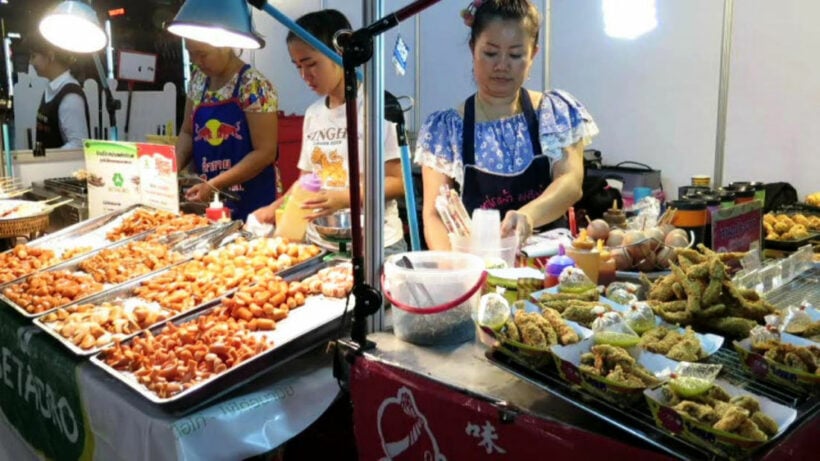 Rehydration
If you are experiencing diarrhea or vomiting you need to make sure you rehydrate properly. If you are not doing a great job holding water in, go to the nearest pharmacy and pick up Oral Rehydration packets.
If you are suffering from food poisoning in Thailand you will do well to grab some of these packets. They should cost you no more than 5 baht. Use up to 5 a day.
Seek Medical Treatment
If it's a mild case you are probably going to be able to self-medicate your way back to perfect health. If it's serious and you're just flat on your back (between rushing to the toilet) for more than a day, then you'd be advised to seek medical attention. If you have blood in your vomit or stools, or high fever lasting more than an hour or so, seek medical attention quickly.
Thai doctors usually go down the medication route whereas some western doctors would now specify a more natural approach to recovery. If you have medical and travel insurance (you're insane travelling without both!), and are in places like Bangkok, Chiang Mai, Phuket, Pattaya, Samui, Hua Hin or Khon Kaen, then head to a private international hospital, rather than a local hospital.
There's nothing really wrong with the local hospitals – you will be charged less but you will be charged – but you're going to have to battle language barriers and waits at a time when you're not really focussed on anything except how sick you feel.
A better choice would be a local clinic – Google is your best friend here or ask you hotel or someone with some local knowledge.
CAUTION: A lot of people use to take Loperamide aka. 'Imodium' when they had diarrhea in the past. Generally medical advice these days is NOT to take these drugs unless you consult a doctor first. Read more HERE.
Rest and time
Your body will use a lot of energy trying to evacuate whatever is making you sick. Sometimes you will wonder where everything coming out of you, is coming from! It's just a never-ending source of hell. At some stage though it will calm down and your poor body will be exhausted. So rest.
Don't be afraid to miss out on a couple of days of activities as a result – put your body and recovery ahead of anything. For now you need lots of sleep and rest.
Be a BRAT
For a few days stay off the exotic foods that put you here in the first place. Go bland, go BRAT. The BRAT diet is tried and tested and, whilst not very exciting, will hep the flora of your stomach recover quickly while getting enough nutrients to keep you going.
BRAT stands for bananas, rice, applesauce and toast. Yeah, bland indeed.
You can add to this fairly palette with other gentle foods… plain biscuits, oatmeal, weak tea, apple juice or flat carbonated drinks (just open them and let them sit for a few hours to lose their 'fizz'), bland 'broth' soups, boiled potatoes.
Here are foods to avoid during your recovery… milk and dairy, anything fried, greasy, fatty, or spicy, steak, pork, salmon, and sardines, raw veggies, including salad greens, carrot sticks, broccoli, and cauliflower, fruits, such as pineapple, orange, grapefruit, apple, and tomato, very hot or cold drinks, alcohol, coffee, or other drinks containing caffeine. Or Thai food generally!
After a few days on BRAT you can start trying things like soft-cooked eggs, cooked fruits and vegetables, and white meat, like chicken or turkey.
Importantly, until your body has finished getting rid of 'whatever is ailing you', don't eat anything. It will just end up, along with everything else, making a quick journey from one end of your body to the other.
Start drinking flat soda (lemonade) or carbonated drinks, or 'Gatorade'-style electrolyte drinks (you can powders from any Pharmacy) as soon as you can to keep the body hydrated, even fresh coconut water, (although make sure it is fresh, otherwise you're going to end up in the toilet).
Dehydration is a big problem following a bout of vomiting and diarrhea so focus on getting some fluids back into your system as soon as you can tolerate it.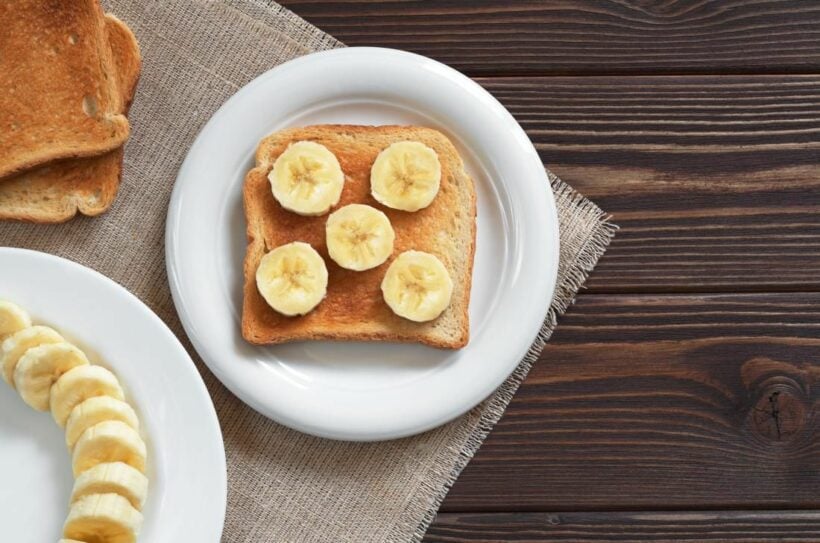 Keep in contact with The Thaiger by following our
Facebook page
.
Never miss out on future posts by
following The Thaiger
.