Phuket Gardening: A lazy gardener's delight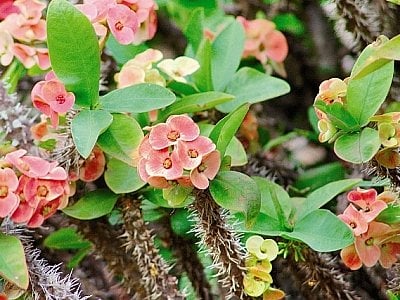 PHUKET: The crown of thorns, or euphorbia millii, is a succulent plant that doesn't require much attention.
When the word "succulent" is used, it is usually applied to juicy, delicious fruit such as ripe mangoes, oranges, or pineapples.
But for horticulturists, the word has very different connotations: it refers to so-called "fat plants" that store water in their leaves, stems, roots or bulbs.
These plants have an unrivaled capacity for retaining moisture, and, like the proverbial camel, can thereby survive in arid, desert-like conditions. Naturally, most of them grow in hot climates, where water shortages and dry soil conditions are the norm.
Many of them exhibit their "succulence" by possessing swollen stems, or thick, leathery leaves and outer skin.
If precipitation falls on these waxy leaves, it often stays there as drops – rather like water on a newly polished car – slowing the process of evaporation.
Half an hour after watering there can still be droplets of rainwater on the leaves
of a crown of thorns (euphorbia millii), for example.
Euphorbias are one of the largest genera of succulents, rivaled only by the cacti. So let's initially concentrate on them.
Euphorbias are often confused with cacti, especially the tropical and usually prickly varieties. All contain a poisonous and milky sap which is typically white and sticky – very much like the latex that oozes from rubber trees.
This sap is particularly resistant to evaporation. If you cut off a section of stem, sap will exude from the wound like blood, but will as quickly coagulate and prevent further dehydration of the parent plant.
Most are armed with sharp spines, hence the occasional confusion with cacti.
These not only provide a formidable line of defense, but help retain a degree of humidity in the plant's immediate surface environment.
Most Euphorbia are grown for their arresting and highly unusual foliage, but the crown of thorns has the added advantage of attractive red, cream, or yellow flowers.
Its praises have been sung before in these columns. Suffice to say, it is perhaps the best of all pot plants for a terrace or patio, and can be relied on to flower more or less all year round. Two specimens in containers by my pool have never been out of bloom.
And let's not forget the flowering variety, which produce masses of tiny, scarlet blooms, or the cultivar that has a crown of large leaves surmounted by a head of vivid scarlet flowers on top of a single, thick, thorny stem. This one is not easy to find, but it is worth the search.
Other euphorbias may be totally different in appearance. Trigona, for example, is a succulent shrub from Africa that occasionally puts in an appearance in nurseries here.
It has an upright habit with dark green, triangular-sectioned branches that carry reddish spines all the way up from the base. An attractive cultivar with more pronounced red spines is called the "red devil". It makes a fine house plant – if you can find it. And although it looks just like one, it ain't cactus.
A much larger member of the euphorbia family of succulents is lactea, sometimes referred to as the candelabrum cactus on account of its size and shape.
As a specimen growing on a side road near Nai Harn attests, it can grow up to 15 feet high.
With its mottled green and white branches and brownish spines, it can look truly spectacular. Moreover, it is not averse to being planted in a large pot.
The prime virtue of all these succulents – apart from their unusual appearance – is their resistance to drought. These are easy-going plants that are well worth considering if you want a minimum-upkeep garden.
Phuket Gardening is Phuket Gazette columnist Patrick Campbell's feature of all things flora and fauna.
If you have a garden that you would like to be featured in this page, please email: pcampbell45@gmail.com
Keep checking our online Phuket Lifestyle pages for regular gardening features and tips.
— Patrick Campbell
Keep in contact with The Thaiger by following our
Facebook page
.
Out of 37 countries, Thailand has the worst pension system, says Bloomberg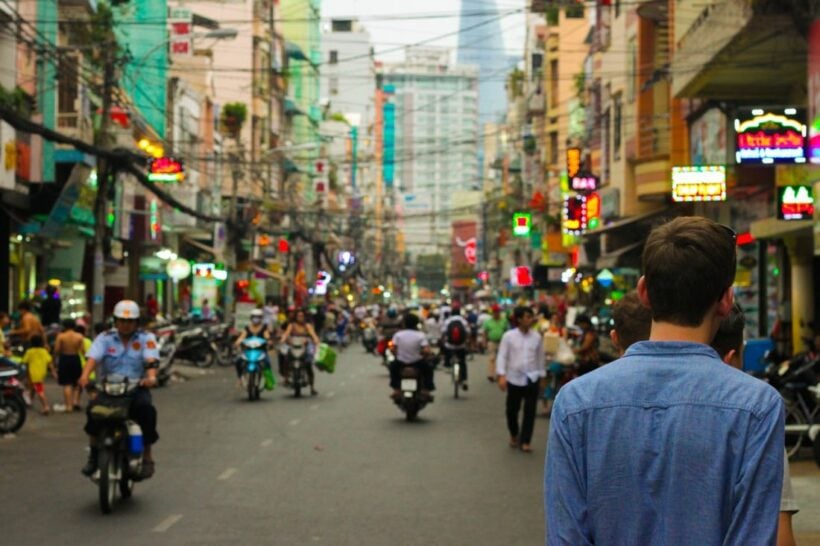 Thai Residents reports that on Sunday, Bloomberg published an article on the world's best pension systems, using information gathered from the 2019 Melbourne Mercer Global Pensions Index.
The survey looked at the pension systems of 37 countries with metrics including employee rights, savings, the number of homeowners, growth of assets, and growth of the economy. The purpose of the analysis was to determine what was needed to improve state pension systems and to gauge the level of confidence citizens had in their state pension system.
The Netherlands and Denmark were found to have the world's best state pensions, with Australia, Finland, Sweden, Norway, Singapore, New Zealand, Canada, and Chile next. Out of all 37 countries, Thailand finished last, with what the report described as an extremely ineffective and ambiguous system.
"Thailand was in the bottom slot and should introduce a minimum level of mandatory retirement savings and increase support for the poorest."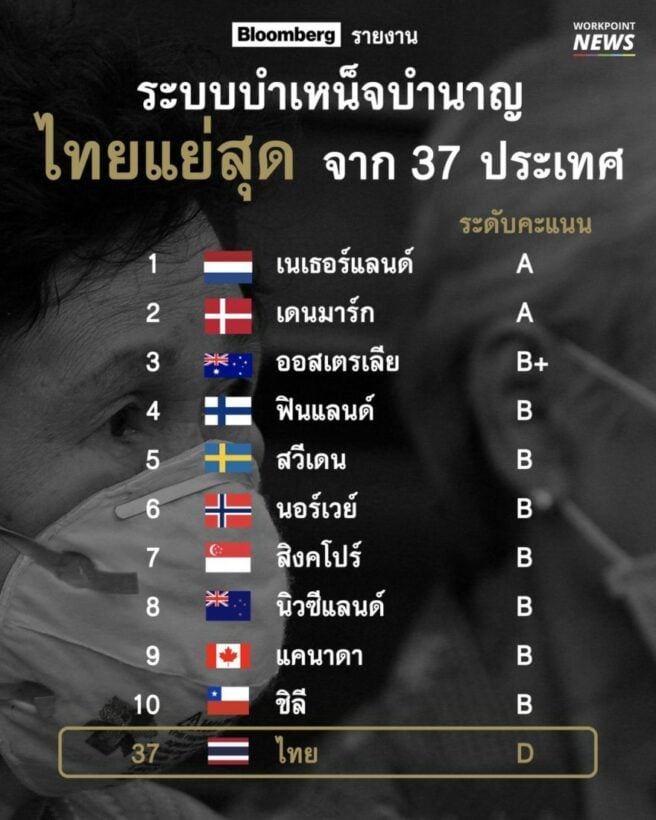 Photo: WorkpointNews
Thai Residents states that only those employed within the government system in Thailand are eligible for a pension based on salary. For most Thai citizens, pension amounts vary from 600 baht to 1,000 baht a month, depending on the recipient's age.
A report carried out by The Securities and Exchange Commission (SEC) advises Thai citizens to have at least 4 million baht saved by the time they retire, but Thai Residents reports that 60% of Thai retirees have less than 1 million baht in savings, with one in three citizens who have reached retirement age are forced to continue working in order to survive.
SOURCE: thairesidents.com
Keep in contact with The Thaiger by following our
Facebook page
.
Tax on salt content being considered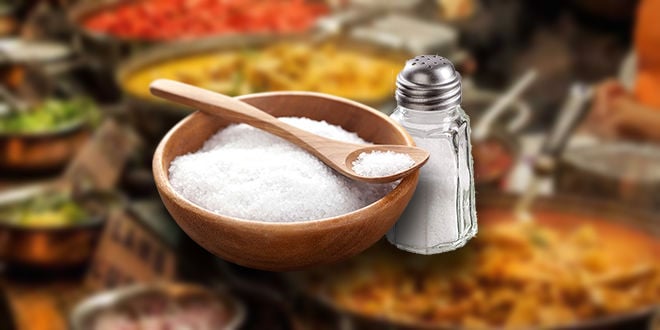 The Excise Department is considering imposing a tax on the salt content of food to encourage food producers to reduce the sodium content of snacks, instant noodles and seasoning cubes.
The director of the Office of Tax Planning said that the department is discussing a limit on the amount of sodium food can contain, in line with the standard set by the World Health Organization (WHO), which is 2,000 milligrams of salt per day.
In reality, Thai people consume an average of 1,000 milligrams per meal, making their daily intake well above WHO guidelines, according to the director.
He said any tax imposed would be at a level which would encourage food producers to reduce the sodium in their processed food without being punitive, adding that the proposal isn't intended to generate more tax revenue, but to help protect the health of consumers. Excessive sodium in the diet can lead to high blood pressure and kidney disease.
Fish sauce, soy sauce and salt would not be taxed.
SOURCE: thaipbsworld.com
Keep in contact with The Thaiger by following our
Facebook page
.
Water shortage warnings in 22 provinces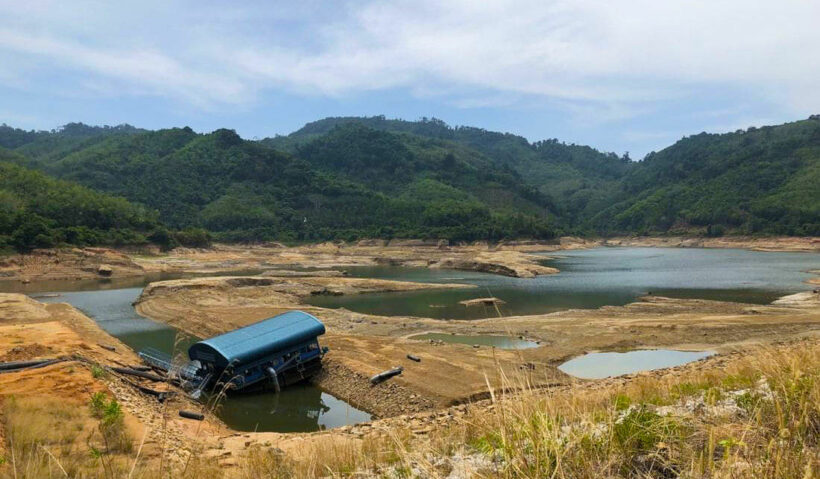 People living in 22 Thai provinces are being warned to prepare for shortages of drinking water during the upcoming dry season, due to start on November 1st.
The warning was issued by the National Water Resources Office, citing low levels in reservoirs, which are the main sources for tap water production waterworks in 22 provinces.
Areas at risk identified by the office are in northern, north-eastern, eastern and southern provinces.
Measures have been adopted by agencies charged with dealing with water shortages. including dredging water channels to allow greater volumes of water to flow into reservoirs, drilling underground wells, enlarging storage ponds and the purchase of water to supply to those in urgent need.
The Royal Irrigation Department has announced that people should use water sparingly.
There are currently about 6 billion cubic metres of usable water in reservoirs in the affected provinces, with 5 billion cubic metres reserved for consumption and ecological preservation, leaving only 1 billion cubic metres for use in agriculture.
This means farmers in the Chao Phraya river basin may not be able to grow a second crop of rice this year.
SOURCE: thaipbsworld.com
Keep in contact with The Thaiger by following our
Facebook page
.