Phuket In focus – Dreams do come true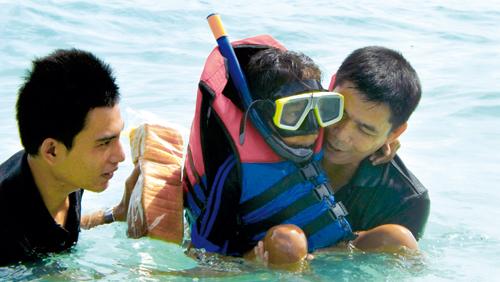 PHUKET: Terminally sick nine-year-old, Pakjira "Aom" Jamlongpan had never seen Thailand's Andaman coast before. Now her wish to swim in the sea was finally about to come true.
"Life is precious, so do your best today as you don't know what is going to happen tomorrow," was the sentence echoing in my head as I waited for her at Chalong Bay pier.
Pakjira was born in Ayuttaya where she's been undergoing medical treatment at a local hospital since she was one. Her mother, Mrs Somjai Kleedech, disturbed by symptoms – abdominal distention, yellow skin (jaundice), pale eyelids, lips and nails – took her for a check up.
The doctors diagnosed thalassemia – a serious blood disorder. From that day, Aom had to go to the hospital every six months. As she got older, the visits became even more frequent – every three months, every two months, every month. Recently her anemia became so severe that she has to see a doctor every 2-3 weeks. Over time, the symptoms became more visible – growth failure and deformed face bones to name just a few.
Aom and her parents arrived at the pier with the Make-A-Wish Foundation Thailand team. Once everybody was ready for the journey, the speedboat departed the pier and headed for Coral Island, located just three kilometers southeast of Phuket.
Aom was clearly stunned by the beautiful landscape. Her parents told me, she swam in the sea once before, in Bang Saen. But this was the first time she had seen the beautiful Thai Andaman coast.
After a 15 minute boat trip we arrived at the picturesque shore of Coral Island. The most high-tech cameras can't do this place justice. The water was perfectly clear, the sand powdery-soft under our bare feet, the lush, green mountains and all shades of blue in the sea – all made for a stunning view.
Some of the staff members head for another part of the island to set up a surprise for Aom – a lovely pink sala, a color that she loves like any other little girl. Meanwhile, we played with her on the beach. As I cradled her in my arms, I was shocked to discover how light she was – much lighter than an average 9-year-old girl.
Soon after, a crew member covered her eyes with a blindfold and Aom's stepfather, Mr Somkuan, carried her to the sala. It was exceptionally charming just like a wedding decoration – the pink cloth billowing in the sea breeze, perfectly matched bouquets of red roses and white orchids lining the entrance, white sand, clear blue sea – it was magical.
The blindfold was finally removed and an adorable flower chaplet was placed on the girl's head.
"It's all yours," someone announced.
Aom was speechless
Aom was speechless. Amazed by the beauty of the scenery, she bowed to show her appreciation and gratitude.
Somebody called for a group photo; everyone beamed at the camera and the flash went off. After a short photo shoot, the team took Aom to the sea where she swam, snorkeled and enjoyed kayaking. The staff also brought her a large bowl with a beautiful clown fish (Nemo) and starfish for her to enjoy. Upon seeing the fish, Aom smiled and then started playing with a hula hoop.
While watching her swim with her parents, I had a chance to talk to Miss Panyada Wongsombat, a nurse from Pranakhon Si Ayuthaya Hospital, who was in charge of Aom's care during the trip.
"Her blood intensity is just 19-22 per cent, lower than the standard 25 per cent of children with thalassemia. That's why Aom needs to have a blood transfusion every 2-3 weeks. But the procedure affects the iron levels in her body and has a negative impact on her bones. She cannot grow properly. Normally, children with this type of thalassemia (beta thalassemia Hb/E) live no longer than 10 years and Aom is now 9 years and 10 months old," Miss Wongsombat said.
Her parents are forced to travel up to 100 kilometers on a motorbike to get their daughter to the hospital.
Before returning to Phuket, I also had a chance to talk to them.
"Today we are happy. We are grateful to all the organizations that made this happen. I am thankful and overwhelmed," said Mrs. Somjai Kleedech smiling.
"Thank you very much for everybody's warm welcome and making our daughter's wish come true," Mr. Somkuan added.
Aom could enjoy the beauty of the Thai Andaman coast thanks to the support of Make-A-Wish Foundation Thailand – a non-profit organization that grants wishes to children with life threatening medical conditions. Hope, courage and strength are often the only weapons such children have against their sickness.
"What we all expect from this activity is to give Aom more strength. Today, not only Aom is happy, but also everybody who helped make her wish come true," Natacha Kerdyod, Wish Coordinator from Make-A-Wish Foundation Thailand said.
"I made that wish because I love the sea. I had so much fun and when I go back to school, I will tell all my friends and teachers about this day," Aom said happily.
Pakjira "Aom Jamlongpan's wish was granted thanks to the support of Make-A-Wish Foundation Thailand , Blue Energy, Hilton Phuket Acadia, Nikorn Marine Tour and Hello Phuket.
Make-A-Wish Foundation International was founded in 1980. It started in Phoenix, Arizona with a little boy who suffered from leukemia. He had a wish to become a policeman. With the support of the local police department, his wish came true. The boy spent one day as a police officer, flew in a police helicopter, received a custom-tailored police uniform, and was sworn in as the first honorary DPS patrolman (Arizona Department of Public Safety) in the state's history. Sadly the boy has since passed away, but his wish became the inspiration for the world's largest wish-granting organization.
Keep checking the Phuket Gazette's Lifestyle pages for the latest happenings across Phuket. Alternatively, join our Facebook fan page or follow us on Twitter at @phuketgazette.
— Anthika Muangrod
Thai Life

Join the conversation and have your say on Thailand news published on The Thaiger.
Thaiger Talk is our new Thaiger Community where you can join the discussion on everything happening in Thailand right now.
Please note that articles are not posted to the forum instantly and can take up to 20 min before being visible. Click for more information and the Thaiger Talk Guidelines.