Phuket In Focus: The bug buffet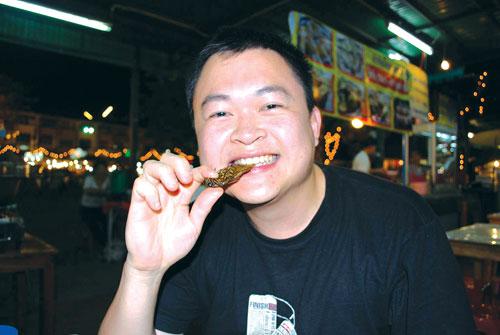 PHUKET: Thailand's Department of Health has concurred with a recent United Nations study, confirming that edible insects are indeed a high-protein food source, and thus may be an ideal solution in tackling world hunger and malnutrition if not turning a considerable profit for the keen investor.
Through its Asia and Pacific regional office in Bangkok, the UN's Food and Agriculture Organization (FAO) in March published a 55- page report, entitled: Six-legged livestock: Edible insect farming, collection and marketing in Thailand.
The comprehensive study, which can be downloaded via fao.org, provides a wealth of free insight into the collection and farming, processing, marketing and trade of edible insects in Thailand one of the few countries in the world to have developed a viable and thriving insect farming sector.
If anything, the publication seems to have reopened a can of worms for potentially lucrative business opportunities, even right here in Phuket, where there are currently no insect farms, despite an untapped, yet budding demand.
"In fact, Thai people have eaten insects for a long time, says Nuntaya Chongchaithet, a medical scientist from the Ministry of Public Health.
"There are many kinds of insects that can be found in the market, including Dukdae Norn Mai [Silkworm Pupa], Tuk Ka Tan Patungga [Bombay Locust], Mang Pong [Scorpion], Duang Dum [Scarab Beetle], Jing Reed [Cricket] and Mod daeng [Red Ant]," she said.
Although the popularity and demand for edible insects had dwindled in the last few decades, when compared to generations past, Ms Nuntaya said: "The popularity of consuming insects in Thailand has increased in the recent 5-6 years, but at the same time, the use of chemicals for pest control has also increased.
"Thus, there has been a shortage of naturally occurring insects, which has resulted in an increased demand for breeding insects for consumption. The increased overheads of breeding insects, compared to catching them wildly, has in turn caused the market value for edible critters to rise steeply," she noted.
"Insects that we eat nowadays are mostly imported from Cambodia to Sa Kaew province and from there, distributed to other provinces in Thailand. Meanwhile, most of the insects that are bred domestically, largely in the East [of Thailand], are exported to neighboring countries."
Citing a recent Thai research report, 'The Protein and Fat in Edible Insects' conducted by the Bureau of Nutrition, Ms Nuntaya said that Dukdae Norn Mai or silkworm pupa are considered the "best quality in terms of both nutritional value and market preference."
"It [Silkworm pupa] has a high amount of amino acids, which is a component of protein. Saturated fatty acids [content] was found to be as much as 70.36% [of recommended intake value per serving] as well," she stated.
However, she pointed out that since the price of edible insects is quite high when compared to other meats that are nutritionally similar, it might not yet be viable to invest in cultivating insects for consumption.
Nonetheless, she stressed that insects, especially silkworm pupa, are high in good quality proteins, and thus encourages groups and individuals who have malnutrition, and especially those who can catch or find insects by themselves, to consume more.
Ms Nuntaya expressed other reservations too, however: "Based on research, we can conclude that insects are high in protein, but high in fat as well. Edible insects are prepared by various methods, especially frying, which results in increased fat. People with high cholesterol should consider the appropriateness of consumption," she concluded.
To find out more about the local market for insects, the Gazette spoke to Mr Sak, an edible insect seller based at the Phuket Variety (Weekend) Market on Wirat Hongsyok Road.
"Initially, we were losing money as insects were not very popular in Phuket, but we continued on because I believe that there are many people here who love to eat insects, but it [an insect source] was just hard to find and they didn't know we are selling, he said.
Indeed, there are only a handful of people in Phuket who are directly involved in the edible insect trade, and Mr Sak said that this is mostly due to the high investment funds needed.
"This business requires quite a lot of money to invest and operate. So, we are the only one who are running this business at the Phuket Weekend Market.
"Others don't want to take a risk as they are not sure whether the edible insects will be popular in Phuket or not," he said.
Despite this risk, Mr Sak soon found out that he can earn a reasonable monthly income and that it was indeed worth taking the risk."
"I think this kind of business should be encouraged because even if you have to spend a lot of money up front, you can earn a satisfactory profit, finally."
Explaining his expenses, he said: "We bought these insects from a broker who sourced them from Northeast Thailand and Cambodia."
"If we had our own insect farm in Phuket, that would be great because we would no longer need to import insects from Cambodia which have a very high base cost. Considering this, an insect farm in Phuket may be a lucrative investment indeed."
To find out how easy or difficult such a venture would be to get going, the Gazette spoke to a local official.
Mr Anucha Theerapittayanon, Phuket Provincial Livestock Officer (PPLO) said: Anyone who is thinking about starting an insect farm should first seek advice from the PPLO to ensure that the operation will not disturb the neighborhood's residents.
"In the case that the farm will utilize 'temporary housing', the owner can establish it immediately without obtaining a permit from the Sub district Administrative Organization (OrBorTor), since it will not require an address number, water supply or electricity [from the grid]," he stated
"However, If the investor wants to utilize permanent housing, they will need to get drawing plans from the local government before they start building," he concluded.
Keep checking our Lifestyle pages for the latest happenings across Phuket. Alternatively, join our Facebook fan page or follow us on Twitter.
— Auntika Sivasen
Thai Life

Join the conversation and have your say on Thailand news published on The Thaiger.
Thaiger Talk is our new Thaiger Community where you can join the discussion on everything happening in Thailand right now.
Please note that articles are not posted to the forum instantly and can take up to 20 min before being visible. Click for more information and the Thaiger Talk Guidelines.