Phuket Books: The big picture of global horror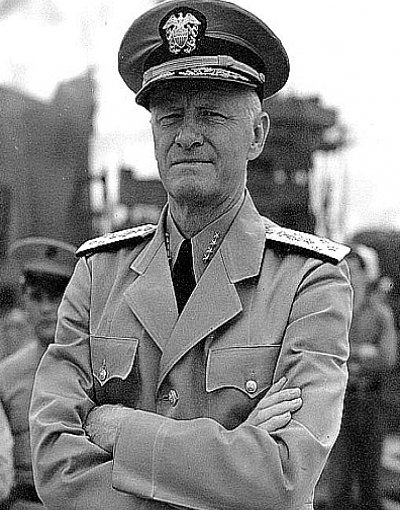 PHUKET: In libraries and book stores, not shelves but entire bookcases are devoted to World War II and the American Civil War. Therefore, a one volume history of each fills a crying need.
The American Civil War has Battle Cry of Freedom by James M. McPherson. Now World War II has Inferno (Alfred A Knopf, New York, 2011, 729pp) by Max Hastings, subtitled "The World at War 1939-1945".
Hastings brings a magisterial authority to the subject, having written eight previous military histories of the war.
He is blunt on the subject of generals. A nutshell explanation of the Confederate's initial success in the Civil War is that they had good generals and the Union had bad. Similarly, he is unafraid to assert that the Germans had good generals – Manstein, Guderian, Rommel, Kesselring – and the British and Americans bad: the entire brass of the early days of the war and much of the later.
He calls General Douglas MacArthur a "vain glorious blowhard". His campaign to retake the Philippines was strategically unnecessary, but his PR machine rolled over the powers in Washington. "MacArthur was distinguished by the splendor of his self-image as a warlord, which it suited his nation to indulge, rather than by gifts as a battlefield commander.
General Mark Clark in Italy squandered his best troops – the Gurkhas and the New Zealanders – on frontal attacks on Monte Cassino out of sheer personal lust for glory for the conquest of Rome. Lust for glory was also the main reason behind British general Bernard Montgomery's failure of the Arnhem campaign, "The British commanders charged with executing it, notably Lt. General Frederick "Boy" Browning, displayed shameful incompetence and merited dismissal with ignominy, rather than the honors they received in a classic British propaganda operation intended to dignify disaster."
The American generals Bradley and Hodges were mediocrities at best. Patton alone merits qualified praise: "In pursuit, he displayed an inspiration and energy rare among Allied generals, but in hard fighting his army fared no better than those of his peers."
In contrast, he esteems highly the naval and air force commanders. "The outstanding personality of the Japanese war was Nimitz, who directed the U.S. Navy's Pacific campaign with cool confidence and judgment, often displaying brilliance, especially in the exploitation of intelligence. Spruance showed himself the ablest fleet commander at sea." In contrast, after many initial successes, the Japanese admirals showed nothing but dullness and timidity.
But the high command of the war forms only a very tiny portion of Hastings' sweeping vision. The bulk of the book is made up of the personal stories of the people on the ground, from infantrymen and civilians. His point is that the war was a force that swept away normal lives and tested everyone in varying degrees of horror. It is this vast human mosaic that forms the beating heart of the book.
The most important corrective is that the war was really fought on the Russian front. A mere half dozen divisions were fielded by each side in the North African campaign. By contrast, the Russians fielded 200 divisions on their front. Three quarters of their tankers were killed. Of seven million taken prisoner by the Germans, only three million survived. Total deaths topped 27 million with 16 million civilians. The Russian generals were successful simply by throwing millions into bloody frontal attacks.
"The advancing Soviet legions resembled no other army the world had ever seen: a mingling of old and new, Europe and Asia, high intelligence and brutish ignorance, ideology and patriotism, technological sophistication and the most primitive transport and equipment. T-34s artillery and Katyusha rocket launchers were followed by jeeps and Studebaker and Dodge trucks supplied under lend-lease, then by shaggy ponies and columns of horsemen, farm carts and trudging peasants from the remote republics of Central Asia, clad in foot cloths and rags of uniforms. Drunkenness was endemic."
So was mass rape and looting. Europe was plunged back into medieval horrors. Japanese civilians suffered mass murder from the sky. Hastings concludes:
"Among citizens of modern democracies to whom serious hardship and collective peril are unknown, the tribulations that hundreds of millions endured between 1939 and 1945 are almost beyond comprehension.
Allied victory did not bring universal peace, prosperity, justice or freedom; it brought merely a portion of those things to some fraction of those who had taken part.
All that seems certain is that Allied victory saved the world from a much worse fate that would have followed the triumph of Germany and Japan. With this knowledge, seekers of virtue and truth must be content."
The book is available as an e-book for the Kindle at amazon.com or by ordering through all good bookshops in Phuket.
— James Eckardt
Keep in contact with The Thaiger by following our
Facebook page
.
500 people own 36% of equity in Thai companies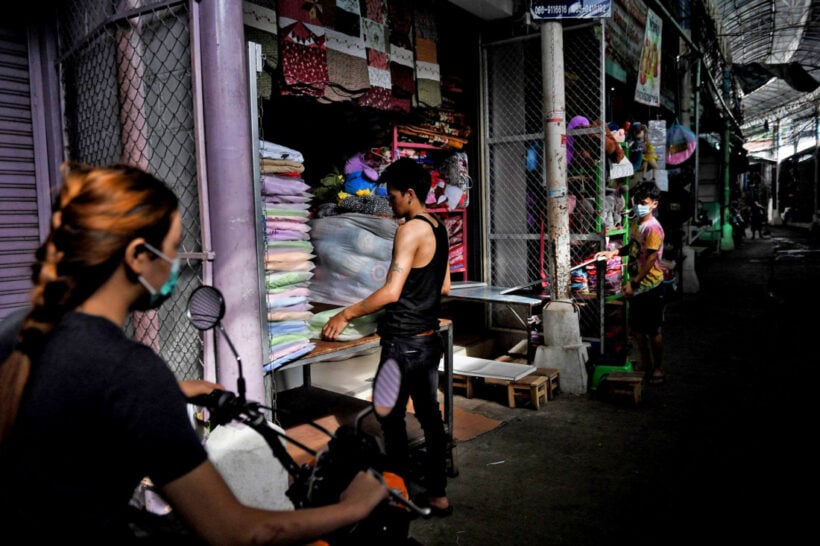 Roughly 36% of Thailand's corporate equity is held by just 500 people, highlighting wealth inequality in the Kingdom, according to a study released by the Bank of Thailand's research institute.
Each of these 500 amass some 3.1 billion baht (102 million USD) per year in company profits, according to the report from the Puey Ungphakorn Institute for Economic Research. In contrast, average yearly household income in Thailand is around 10,000 USD.
A report out this week from the Economic and Business Research Centre for Reform at Thailand's Rangsit University also pointed to divisive and polarised politics being another root cause of the economic divide.
Thailand's private sector is dominated by tycoons running sprawling conglomerates. According to the World Bank, the gap between the mega-wealthy and the rest of the Thai population of 69 million is among the many economic challenges for Thailand. According to Bloomberg, the perception of a divide, exacerbated by an economic slowdown, is a major political fault line.
"Magnates arise in Thailand from institutional factors that privilege certain businesses," said the executive director of PIER, author of the study.
The institute said Thailand needs to promote competitiveness to reduce profits from monopoly power and bolster entrepreneurship to create a more equitable distribution of corporate wealth.
The research is based on analysis of 2017 Commerce Ministry data on the 2.1 million shareholders in Thai firms, and was funded by the University of California San Diego.
SOURCE: Bangkok Post
Keep in contact with The Thaiger by following our
Facebook page
.
Thais go bananas over freak plants in pursuit of lottery numbers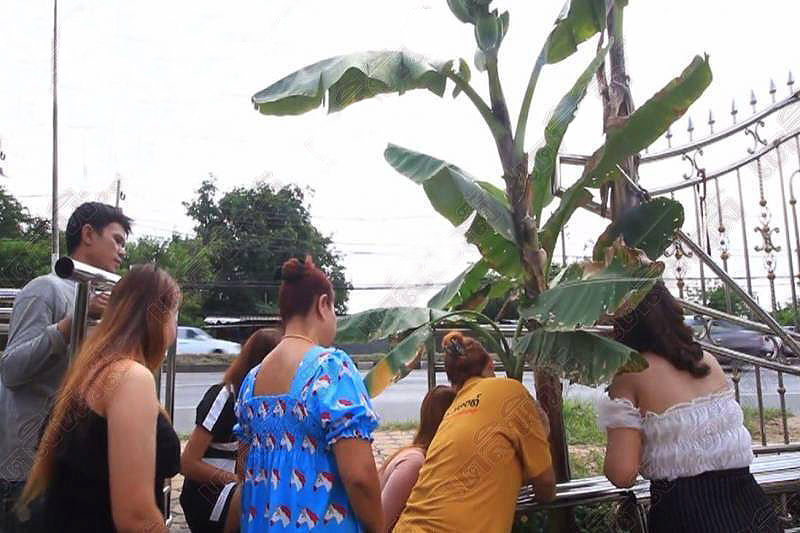 PHOTOS: Daily News
The answers are in the banana leaves.
Thai people LOVE playing the lottery (and gambling generally). In fact they're BANANAS about the twice-monthly lottery (it was drawn again today). Daily News has reported about two unusual banana trees growing in front of a shop in Klong 4 Pathum Thani, just north of Bangkok. The trees did not have blossom and on one plant two bananas were pointing skywards. On another there was a whole bunch pointing up into the sky.
There was a steady stream of the faithful lighting incense, praying and rubbing powder on the trees to get lottery numbers. One group thought '542' was the magic numbers and a path to riches (we're not sure how they came to this conclusion). 53 year old Surachai says the trees had been growing for a few months and that he'd never seen anything like it before.
An unnamed agricultural expert suggested that there was probably something wrong with the banana plants. Trees and malformed animals are a favourite source of inspiration to select numbers for the lottery, as are numbers of houses and vehicles involved in events where people experience "miracle" escapes from danger, or even bizarre accidents.
SOURCE: Daily News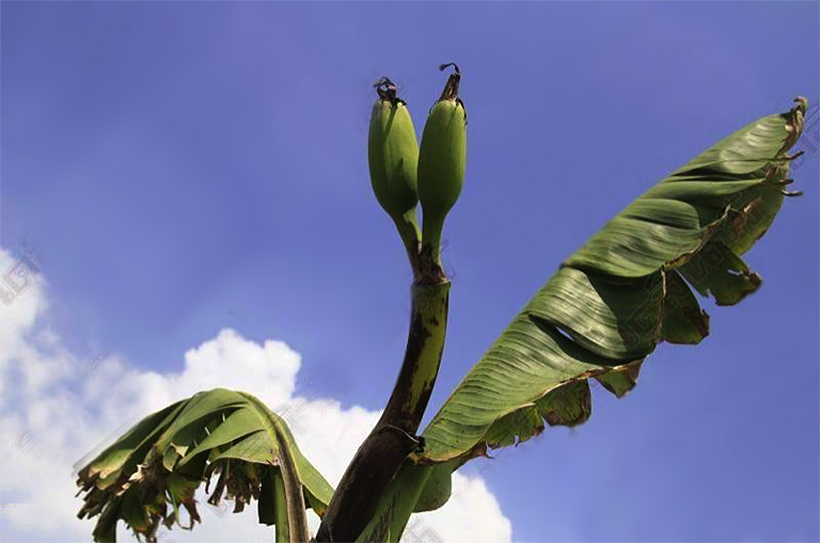 Keep in contact with The Thaiger by following our
Facebook page
.
The K-pop Olympics: performers battle in the K-pop festival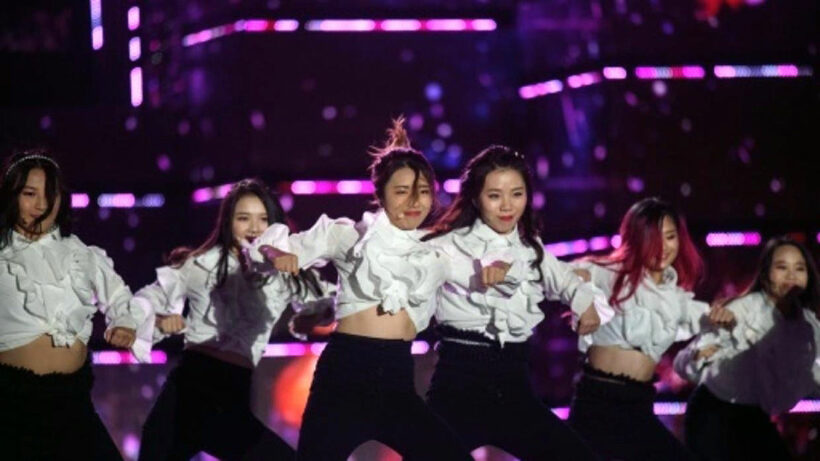 On the streets, in parks and garages, seven Cuban youngsters spent seven months practising K-pop moves to secure a spot on their dream stage: an appearance in South Korea to imitate their idols. 13 final teams from 80 countries are competing in the 2019 event.
At the grandly titled and government-funded Changwon K-pop World Festival contestants from around the globe perform imitation dances or sing cover versions of the genre's biggest hits, with thousands of fans cheering them on.
In terms of global heft, South Korea is overshadowed by its much larger neighbours China and Japan, but the event is a way for Seoul to derive soft power from one of the country's biggest cultural exports. In terms of pop-power, South Korea's K-Pop is now a recognised world-wide music phenomenon with bands like BTS and Blackpink figuring amongst the other big-hitters on the Billboard charts and outselling their western counterparts with millions of albums and downloads.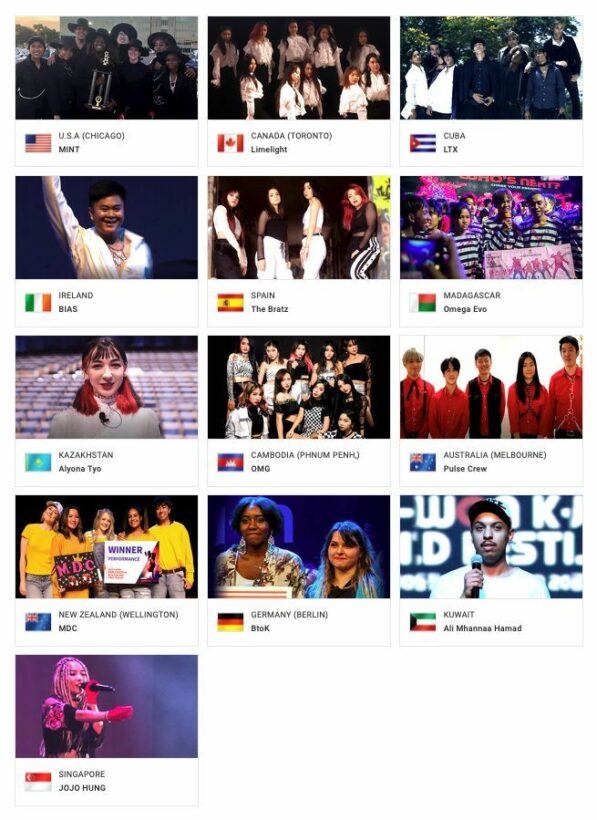 Finalists for this year
Cuba's Communist government is one of North Korea's few remaining allies: when President Miguel Diaz-Canel, successor to the Castro brothers Fidel and Raul, visited Pyongyang last November he was only the third foreign head of state to do so since leader Kim Jong Un inherited power in 2011.
But rather than geopolitics, Havana performer Karel Rodriguez Diaz – whose mannerisms and sleek hairstyle could easily be mistaken for those of a K-pop star – is more motivated by high-tempo beats and superslick dance moves.
"We never had a place with a mirror or a choreographer who could teach us the steps" but they kept on practising, he said.
His team-mate Elio Gonzalez added: "We are so excited to represent not just Cuba but also the whole of Latin America."
Some 6,400 teams from more than 80 countries entered the competition, according to organisers, with 13 groups from places as diverse as Kuwait and Madagascar winning through to the final in Changwon, where they appeared on stage waving their national flags.
"This is like watching the Olympics, a K-pop Olympics," said the event's host Lia, a member of K-pop group ITZY.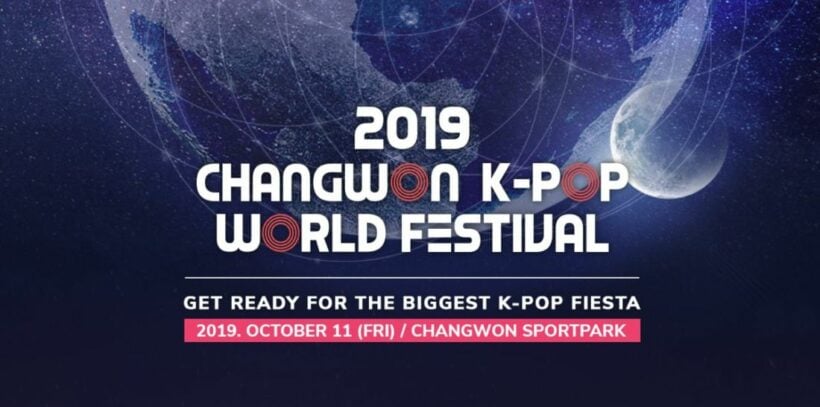 The Korean Wave
K-pop – along with K-drama soap operas – has been one of South Korea's most successful cultural exports to date. A key part of the "Korean Wave" which has swept Asia and beyond in the last 20 years, the K-pop industry is now estimated to be worth $5 billion, with boyband BTS its latest high-profile exponent, becoming the world's most successful band in the past 12 months, selling out stadium concerts within minutes, around the world.
The South Korean government has financed a variety of K-pop themed events in what CedarBough Saeji, a visiting professor at Indiana University Bloomington in the US, said was a form of long-term "soft power diplomacy".
"When you are covering you get to 'become' those idols for the three and a half minutes of the song," she said, adding that performers will go so far as matching their clothing, accessories and hairstyle to their heroes and heroines.
"The cover dancers of today will be diplomats, news reporters, and business leaders in forty years," she went on.
"And hopefully they'll still have a soft spot in their heart for Korea. Korea can't win the world through hard power – armies, economic bullying – but with soft power even a small country like Korea has a chance."
The music also provides an artistic alternative for overseas fans, especially those in developing countries, Saeji added.
"The West, especially the United States, has been so dominant culturally for so long, and having a different cultural pole to look to provides hope that one's own country can experience similar success in the future."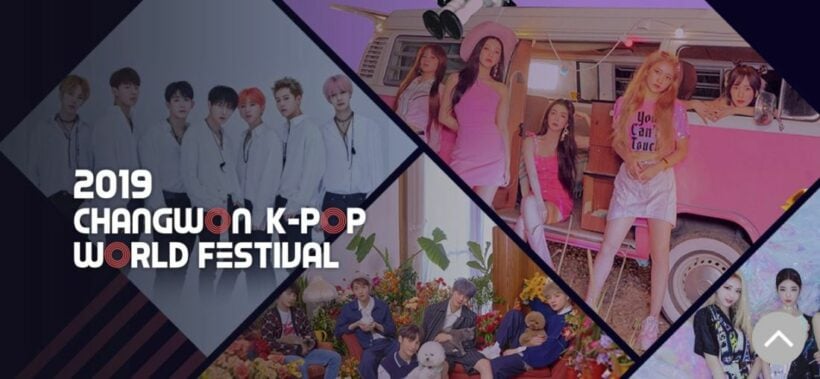 Be who you want
Beneath its glitz and glamour, the K-pop industry is also known for its cutthroat competition, a lack of privacy, online bullying and relentless public pressure to maintain a wholesome image at all times and at any cost.
Sulli, a popular K-pop star and former child actress who had long been the target of abusive online comments was found dead on Monday, with her death sending shockwaves through fans around the world.
"I think a day where (people) would be ashamed of the K-show business will surely come," a South Korean online user wrote in the wake of the star's death.
"I think an industry that makes money by (making people) sing, dance, undergo plastic surgeries and go on a diet to please the gaze of others since they are teenagers should really go bankcrupt."
But for Kenny Pham, a finalist from the US at last week's contest, K-pop's diversity – with some tunes having dark themes, while others were "cute" or sensual – is what gives him a sense of liberation.
"I like how expressive you could be," the 19 year old told AFP last week.
"I feel like it's a place where you could show the passion you have for music, dance or fashion. No one is bashing you for what your likes are."
SOURCE: Agence France-Presse
Keep in contact with The Thaiger by following our
Facebook page
.