Phuket Boating: Ready to launch a well-earned Siesta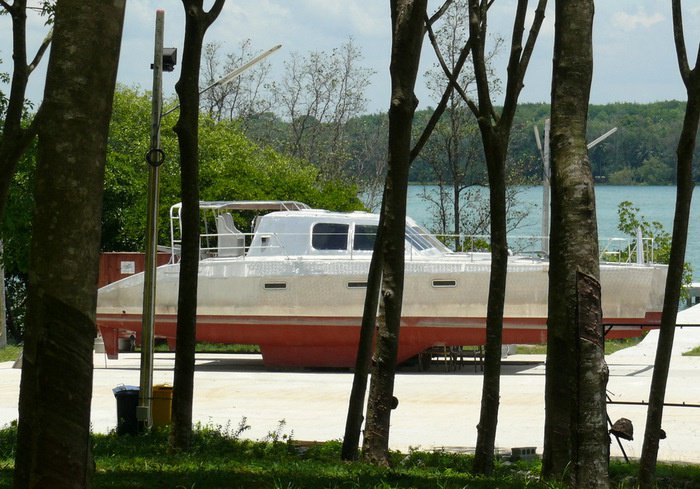 PHUKET: WHEN well-known Phuket yachtie Bob Mott settled on the design for his new 55-foot alloy Catamaran Siesta, little did he know that the project would be more than two years in the making.
Now, with the launch slated to be held in Phuket in September this year, Bob relates how his experience offers a great deal of good advice for yachties looking to build their own boat, or just pull in to Phuket for repairs.
"Completing a new catamaran of my own design has been quite a challenge," says Bob. "The shell was welded up in Cebu, Philippines, from a pre-cut kit sent from Australia.
"Once finished to 'motor away' stage, Siesta was delivered to Phuket on her bottom over 2,000 nautical miles without incident in nine days."
Siesta was brought to Phuket for completion, including interior and electrical fit-out.

Team building
Critical to the project's success was assembling a good team in Phuket, Bob notes.
"It was a challenge, but it is important to have your own team and not rely on outside contractors who can let you down," he says.
"It is best to control as much as you can in-house. This I have learnt through hard experience over the years by being involved in boat-building projects."
But sometimes you need to go to the experts. The CAD drawings for Siesta were done under contract by Simon Jupe, a British Naval architect located in Phuket.
"His team also did the center of effort and gravity calculations plus sea state handling ability, all of which are very important in a design," explains Bob.
"Scantling [the structure] was originally drawn to a Lloyds SSV3 level to have a standard to work to. It was later modified by Albert Nazarov, a Russian Naval Architect in Chon Buri, to meet CE requirements [legally viable for sale within the European Union].
"Albert also changed the design concept to my needs and added a mini-keels option to the design."
"He also created artist impressions of the design, as well as produced a CAD pre-cut kit. The interior layout, other modifications and upgrades on this current build I designed."
Laying in wait
Yet, after the long haul to Phuket, Siesta lay in wait at the Premier Boatyard Phuket (click here), near Yacht Haven, at the north end of the island.
Bob's reason for storing Siesta's shell there was simple: "The quality of management, services and facilities, plus the prices are reasonable – sometimes hard to find in Phuket."
Premier Boatyard Phuket's reputation is growing. In a testimonial posted on the international boating web portal Noonsite (click here), where Bob has been South East Asia Regional Editor for some 15 years, Jason Trautz of SV Solo reported:
"We asked for a price quote from about a dozen Phuket boatyards for a haulout, powerwash, splash, etc. We stayed on the hard for 10 days at Phuket Premier Boatyard… Total cost was less than US$650 [about 21,000 baht]. Some boat yards quoted over US$2,000 [about 65,000 baht] for the same services, so buyer beware."
Bob also rated the professionalism of Ditapong Boonsong, manager at Premier Boatyard, as a key attraction.
"Mr Ditapong is a trained architect, who graduated in Newcastle, New South Wales, Australia, and he is very professional," Bob says.
But there Siesta lay for months before serious work began on transforming the shell into a resplendent catamaran.
Asked why so long before any action, Bob simply replies: "I was very busy with other projects."
Finally, Siesta was motored down to Chalong Boatyard & Storage (CBS), also called "Chalong Coconuts", on Soi Koktanode beside Chalong Bay (location here), where she has undergone her true metamorphosis.
Familiarity and trust in Chalong Coconuts owner Manop Seeriratthikan were key factors in the decision to transform Siesta there, but most important of all was the location.
"Chalong Coconuts is near where I live, I could pop down there within 10 minutes," notes Bob. "Also, boatyard workers are readily available in the area and I have had many years of dealing with the yard with my other catamarans – Oasis, a 48-foot alloy cat designed and built by friend Tim Mumby in Australia, and Nina, a 38-foot composite build, built by my previous company Composite Catamarans Co Ltd with partner Grenville Fordham."
Fittingly
Now Siesta stands proud on the hard with five double cabins and one double stack twin, as well as two single berths for crew. There are two separate toilet-shower units for the crew, while guests have four toilet-showers to share, two of them up upstairs.
Despite the impressive facilities on board, Siesta will not want for power: she will boast eight 135-watt solar panels on the cockpit awning, four 175W panels over the dinghy davit area and a 175W panel over the upper helm station.
"She will also have a 150-amp DC [direct current] generator, two high-output wind generators, smart regulators on the two main 54HP Yanmar diesel drive engines with 120-amp alternators fitted to keep the to power up 800 amp hours of AGM batteries and run the on-board system," says Bob
"Lighting is mostly LED or low-draw fluorescent, fridges are all 12V DC and low-draw with high-efficiency insulation, a seawater to fresh water maker capable of producing 200 liters of drinking water per hour. Electric sheet and halyard winches have been added for ease of sail control."
Bob's choice for electrical services was Octopus Electrical Services (click here) at Boat Lagoon.
"I have used them on three Composite Catamaran Company projects building the Andaman Cabriolet catamaran designs. For Siesta, apart from the supplier of the rig and sails, Octopus are the next in line as an outside supplier of services. Everything else is in-house."
In progress, as this article went to print, was the interior fit-out.
"The interior is void of any wood products and is a combination of alloy frames, epoxy glass core mat laminated panels, PVC honeycomb products, carbon fiber, basalt fiber and compressed plastic panel products – all for easy maintenance," Bob explains.
His specialist supplier is Tim van Hurck of Applied Materials Group: "Tim provides top quality fiber materials and other products. I met him at the composites show in Bangkok back in about 2005.
"All the doors inside, as well as the door between the cockpit and the saloon will be alloy roller security shutters and the big one between the cockpit will be a electric remote control roller shutter in alloy. Hopefully, the welding of the interior alloy framework will be finished by next week."
Finishing touches
Although Siesta as an alloy boat does not require painting other than underwater coating and deck coatings for non-slip, Bob has punted for an easily recognizable color scheme with which to coat the hulls.
"She will be a very unusual charter catamaran in as much as she has been painted dark red on the port side and dark green on the starboard side," he explains.
"The reason for that is purely cosmetic, as well as for marketing purposes, as a charter catamaran for my company Faraway Yachting Charters Co Ltd [click here]. It's good for branding and she will be noticed.
"I also thought 'Why not?' The two colors could also lend themselves to corporate team building with the red team against the green team."
"The colors do not stop there, as the towels and decor on the port side will use red colors and the starboard side green colors. So the color isn't just 'skin deep' – it is right throughout the whole catamaran."
Common sense came into play in the paint selections, with Chugoku etch primers and epoxy base coats, but more expensive Dupont polyuhrethane paint for top coats.
"If you want to make your boat look good, spend the extra money on the top coats. It is worthwhile in the long run," Bob advises.
Regarding the vital antifoul, the choice was to avoid the top-rated products. "We used the same Chugoku antifoul used on Thai fishing boats, which costs about 2,300 baht for five-liter can," Bob chuckles.
"Why spend more on something that needs to be done 12 months later?"

Sage advice
But if there is one rule in sourcing local services for work on your boat, Bob maintains that "due diligence" is the mainstay of common sense.
"If you're buying a boat, most people would recommend doing as much homework about the boatbuilder as they would for a builder about to build their house," Bob happily points out.
"The same for goes services – do at least the same research on who is going to work on your boat as you would for someone about to do serious work on your house."
Other good "common sense" rules of thumb offered by Bob include making staged payments for work done and agreeing to buy the materials yourself to save costs, avoid the opportunity to be taken advantage of, and to guarantee the products used.
But most importantly, Bob urges boat owners to be on site at the boatyard to look over the work being done.
"If you can't be there all the time, make sure you have a representative who has your best interests at heart," he says.
"This can save you a lot of time and money – and if the work goes wrong… it can save you much, much more."
— Chris Husted
Thai Life

Join the conversation and have your say on Thailand news published on The Thaiger.
Thaiger Talk is our new Thaiger Community where you can join the discussion on everything happening in Thailand right now.
Please note that articles are not posted to the forum instantly and can take up to 20 min before being visible. Click for more information and the Thaiger Talk Guidelines.