Outrigger beach BBQ puts the sun in Sunday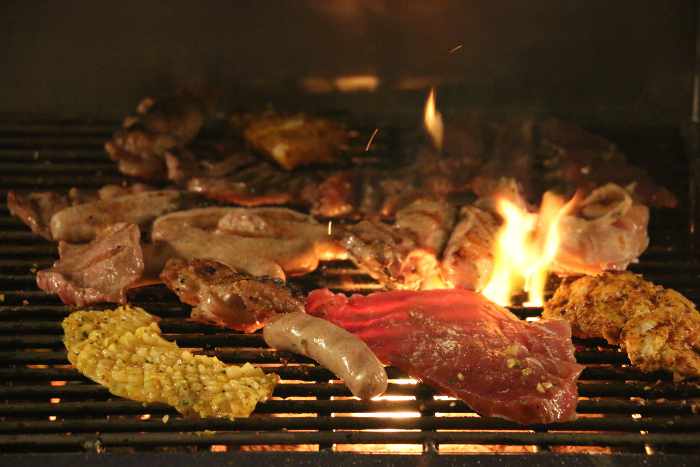 PHUKET: I'm writing this on Monday morning, the universally detested time of the week. But the memory of Sunday evening, the whole of Sunday in fact, allows me to keep my head up and face the challenges of the upcoming days.
This is what Sundays are all about – recharging your batteries ahead of a new work week – and what better way to do it than with a day of pure bliss at one of Phuket's most stylish resorts, rounded off with a BBQ feast on the beach. Opt for Outrigger and the morning after will be much better than bearable.
However, it's not just the where, but also the when that counts. They call it low, or rainy, but it's hard not to love the current season on the island. Not only for the cooler temperatures, cleaner air and empty beaches, but also for the way Phuket's holiday resorts go out of their way to lure us to their premises.
This leaves us spoiled for choice. Outrigger is yet another luxurious hotel which offers special low season discounts. Their "Pool Day Pass", priced only 650 baht net per person and 350 baht net per child aged 4 to 12, almost half of the regular price, is truly a bargain.
The pass gives you an entire day at the resort – which is blessed with a view of one of Phuket's most beautiful stretches of sand – and full access to its swimming pools, water slide, fitness center, kids club and more. Add inclusive rentals of canoes, windsurfing sets and paddle boards, free WiFi and comfy lounge chairs, and easily get what is the highlight of your week.
A day of the chilling in the sun and water sports is bound to get you hungry. But if it's Sunday, don't leave the beach just yet, because thanks to Outrigger's Beach BBQ you don't have to.
Enjoying the succulent meats, seafood and sides with the scenery of one of Phuket's most stunning sunset spots is an experience in itself. At least, I suppose it is. Sadly, I didn't have a chance enjoy it myself in the beach scenery – the sudden arrival of a monsoon evening shower forced Outriggers staff to move the BBQ event indoors.
However, even despite the lack of seaside vistas and soft sand under my feet, I keep recalling the flavors and pleasantly warm atmosphere of my dining experience. This proves that Outrigger's Beach BBQ offers much more than just the amazing settings of the Edgewater restaurant, where it takes place every Sunday.
Firstly, there is the food – an array of meats, prepared on site and then thrown on a charcoal grill that go down smoothly with a vast choice of sauces and dips (make sure to try the mint jelly with your lamb!). You can pair your meats with steaming hot sides served buffet-style that will leave even the hungriest in the crowd feeling full.
And if you manage to save some space, there is a whole table of desserts to choose from. Then there is wine – a conveniently short, well-thought-out wine list with a number of them served by the glass. All of the wines perfectly match the menu, like the Italian Pinot Grigio for your grilled snapper, classic Rioja to wash down the savory meats or a glass of dry prosecco ideal for dessert or as an aperitif.
Last but not least, there is the ambiance created by the very attentive and friendly staff. Even after having to move the event indoors and away from the beach, they managed to keep the atmosphere casual and family friendly. And it was mostly families with young children that I saw at the tables that evening, in a room filled with mouthwatering aromas, conversation and smiles.
It might be Monday morning, but my mind is lost somewhere between the memories of last Sunday and plans for the next one. I hope they aren't much different, except with maybe just a tiny bit more sun.
Edgewater Beach BBQ is available every Sunday from 6:30 to 9:30 pm and costs 1150++ baht per person, 575++ for kids of under 12 years old. Owners of the Ourtigger Lifestyle membership card receive 20% discount. To receive the card mention "Phuket Gazette – Pool Day Pass Special" to the staff and enjoy the benefits of the program free of charge. The Outrigger Day Pool Pass is available at the discounted price until 31 October. For more information go to outrigger.com/hotels-resorts/thailand/phuket/outrigger-laguna-phuket-beach-resort or facebook.com/OutriggerPhuketBeachResort
— Maciek Klimowicz
Keep in contact with The Thaiger by following our
Facebook page
.
Out of 37 countries, Thailand has the worst pension system, says Bloomberg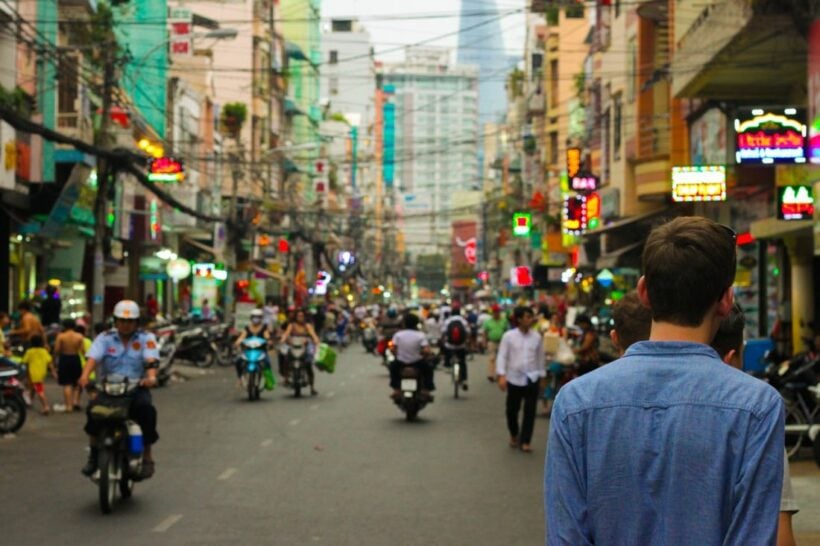 Thai Residents reports that on Sunday, Bloomberg published an article on the world's best pension systems, using information gathered from the 2019 Melbourne Mercer Global Pensions Index.
The survey looked at the pension systems of 37 countries with metrics including employee rights, savings, the number of homeowners, growth of assets, and growth of the economy. The purpose of the analysis was to determine what was needed to improve state pension systems and to gauge the level of confidence citizens had in their state pension system.
The Netherlands and Denmark were found to have the world's best state pensions, with Australia, Finland, Sweden, Norway, Singapore, New Zealand, Canada, and Chile next. Out of all 37 countries, Thailand finished last, with what the report described as an extremely ineffective and ambiguous system.
"Thailand was in the bottom slot and should introduce a minimum level of mandatory retirement savings and increase support for the poorest."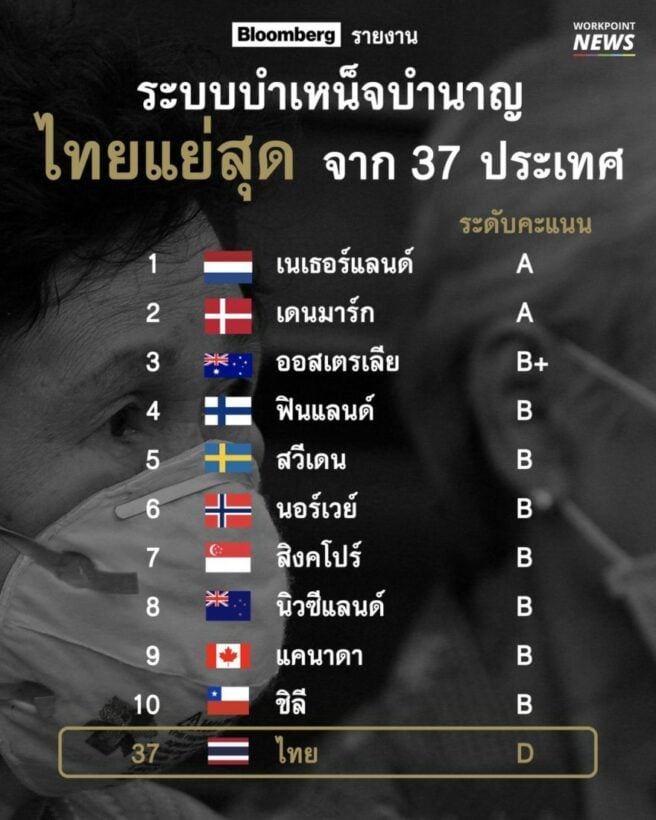 Photo: WorkpointNews
Thai Residents states that only those employed within the government system in Thailand are eligible for a pension based on salary. For most Thai citizens, pension amounts vary from 600 baht to 1,000 baht a month, depending on the recipient's age.
A report carried out by The Securities and Exchange Commission (SEC) advises Thai citizens to have at least 4 million baht saved by the time they retire, but Thai Residents reports that 60% of Thai retirees have less than 1 million baht in savings, with one in three citizens who have reached retirement age are forced to continue working in order to survive.
SOURCE: thairesidents.com
Keep in contact with The Thaiger by following our
Facebook page
.
Tax on salt content being considered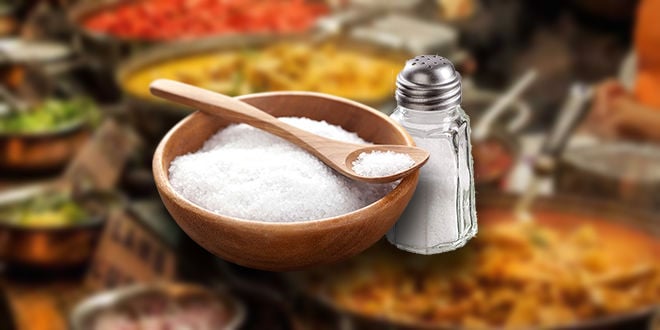 The Excise Department is considering imposing a tax on the salt content of food to encourage food producers to reduce the sodium content of snacks, instant noodles and seasoning cubes.
The director of the Office of Tax Planning said that the department is discussing a limit on the amount of sodium food can contain, in line with the standard set by the World Health Organization (WHO), which is 2,000 milligrams of salt per day.
In reality, Thai people consume an average of 1,000 milligrams per meal, making their daily intake well above WHO guidelines, according to the director.
He said any tax imposed would be at a level which would encourage food producers to reduce the sodium in their processed food without being punitive, adding that the proposal isn't intended to generate more tax revenue, but to help protect the health of consumers. Excessive sodium in the diet can lead to high blood pressure and kidney disease.
Fish sauce, soy sauce and salt would not be taxed.
SOURCE: thaipbsworld.com
Keep in contact with The Thaiger by following our
Facebook page
.
Water shortage warnings in 22 provinces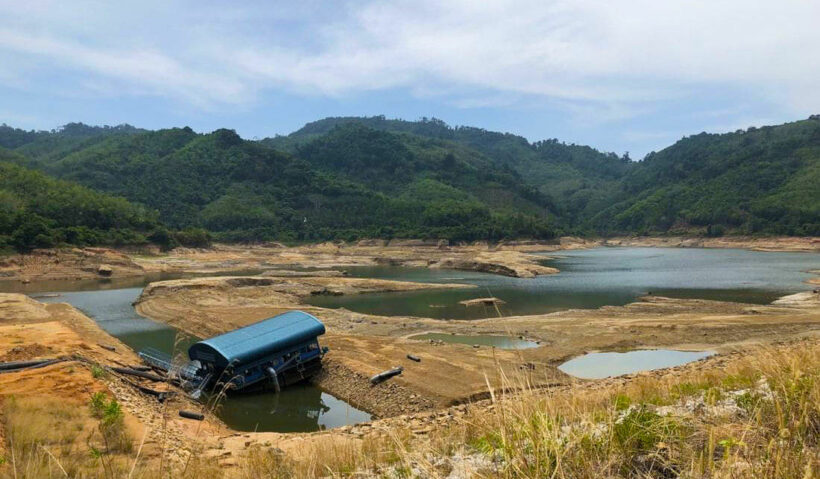 People living in 22 Thai provinces are being warned to prepare for shortages of drinking water during the upcoming dry season, due to start on November 1st.
The warning was issued by the National Water Resources Office, citing low levels in reservoirs, which are the main sources for tap water production waterworks in 22 provinces.
Areas at risk identified by the office are in northern, north-eastern, eastern and southern provinces.
Measures have been adopted by agencies charged with dealing with water shortages. including dredging water channels to allow greater volumes of water to flow into reservoirs, drilling underground wells, enlarging storage ponds and the purchase of water to supply to those in urgent need.
The Royal Irrigation Department has announced that people should use water sparingly.
There are currently about 6 billion cubic metres of usable water in reservoirs in the affected provinces, with 5 billion cubic metres reserved for consumption and ecological preservation, leaving only 1 billion cubic metres for use in agriculture.
This means farmers in the Chao Phraya river basin may not be able to grow a second crop of rice this year.
SOURCE: thaipbsworld.com
Keep in contact with The Thaiger by following our
Facebook page
.