Mango Tree brings its 'Isan' Thai culinary culture to Kawasaki, Japan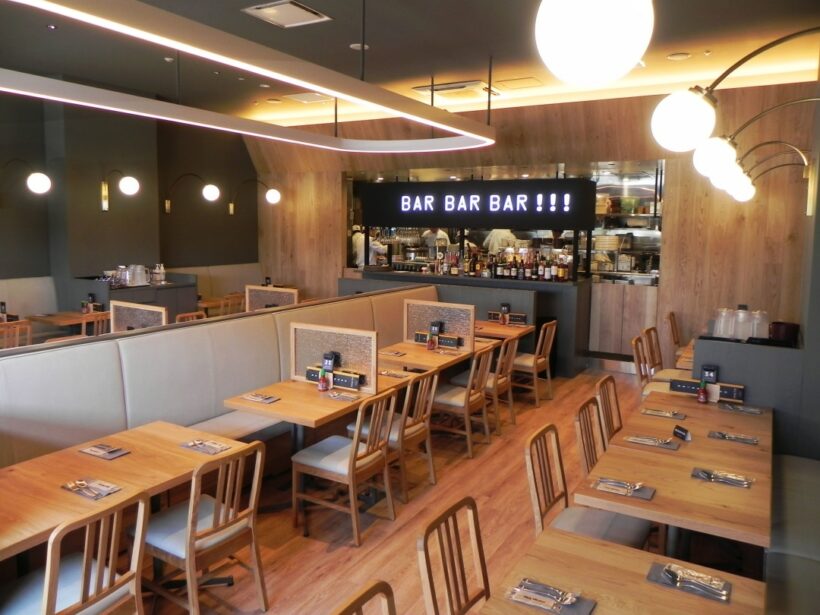 Leading Asian restaurant operator Mango Tree Worldwide has launched a new Mango Tree Café in Japan, bringing authentic street food from Isan, the region of northeast Thailand, to diners in the bustling city of Kawasaki.
The new Mango Tree Café Kawasaki is located on the fourth floor of Lazona Kawasaki Plaza, a major shopping and lifestyle complex in the heart of the city. Kawasaki lies between Tokyo and Yokohama in the world's busiest metropolitan area, with a population of over one million people in its own right.
The new casual restaurant will specialise in traditional dishes from Isan, including "som tam gai yang" – spicy papaya salad with grilled chicken. The classic ingredients of som tam are shredded papaya, green beans, tomatoes, garlic and peanuts, which are combined with red chilies, palm sugar, fish sauce and lime juice to create the perfect balance of spicy, sweet, salty and sour flavours. This light yet fiery salad is then served with grilled chicken (gai yang) for the ultimate combo meal.
Largely rural, the Isan region borders Laos, Cambodia and the Mekong River and is home to thousands of farms and ranches which grow much of Thailand's fresh produce. With such an abundance of fresh produce available, Isan has developed a rich culinary culture and is now considered to be the culinary heart of Thailand. As part of its efforts to showcase Isan cuisine, Mango Tree Japan is now launching a book on Isan cooking in Japanese, supported by the Tourism Authority of Thailand (TAT).

"Som tam is one of the most popular dishes in Thailand, enjoyed by everyone – young and old, rich and poor. We are delighted to bring this wonderfully spicy treat to Japanese diners with the opening of this new Mango Tree Café, as we continued to expand our contemporary culinary concept across the country," said Trevor MacKenzie, Mango Tree's Global Managing Director.
"Located in a retail complex within the Greater Tokyo Area, Mango Tree Café Kawasaki will benefit from significant footfall. We fully expect this restaurant and its authentic Isan menu to strike a chord with local diners, and I look forward to introducing Mango Tree Cafés to even more parts of Japan in future," he added.
In addition to som tam, the menu at Mango Tree Café Kawasaki will feature a range of other traditional Isan dishes, including "larb" (spicy minced pork with Thai herbs), Isan sausage and the Lazona Special Plate – an assortment of Isan favourites including gapao, green curry, vegetable salad, a fried egg, noodle soup and a friend egg.
Diners can also enjoy a selection of light bites and classic Thai dishes, such as "pad Thai" (stir-fried noodles) and "gaeng kiew whan" (Thai green curry), while lunchtime specials include "pad gapao" (spicy stir-fried minced chicken or pork on rice, topped with a fried egg) and "tom yum goong" (spicy and sour prawn soup).

Bright, stylish and modern, with a full bar service, Mango Tree Café Kawasaki can seat up to 60 diners. It is expected to be frequented by a wide range of diners, including young people, families and couples. Its setting within Lazona Kawasaki Plaza will also bring Thai cuisine to many new customers, including office workers seeking a light lunchtime treat.
Thai cuisine is hugely popular in Japan and Mango Tree Worldwide has identified the country as one of its key focus markets. At present there are 20 Mango Tree restaurants in Japan, 11 of which are Mango Tree Cafés.
With Japan's appetite for authentic Thai food showing no signs of abating, more Mango Tree Cafés are expected to open in future, bringing som tam and other delectable delicacies to an increasing number of diners all across the country.
Keep in contact with The Thaiger by following our
Facebook page
.
Never miss out on future posts by
following The Thaiger
.
Miss airplane travel? Here's some flight experiences that don't leave the ground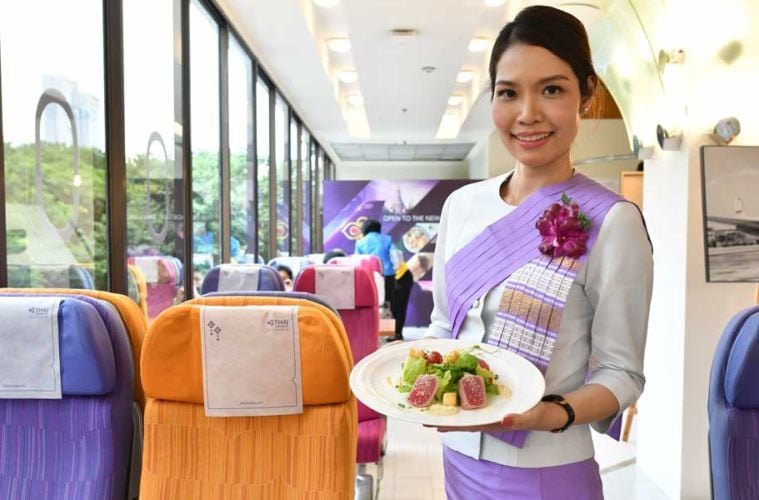 Since international travel is still on pause, some are getting their flight experience on the ground. Airplane cafes and flight experiences are becoming more and more popular. Thai Airways has not only opened a pop-up café to sell airplane food, but they are also offering flight simulations to the public.
The stimulator flying experiences start at 12,000 baht for 30 minutes and go up to 36,000 baht for 90 minutes. It's apparently the most realistic flight simulation in Thailand and is normally only used for training the pilots, according to the airline's executive vice president of operations Soradech Namruangsri. He adds that the deal will also generate some additional income.
The airline's café has also "taken off." The café at the Thai Airways headquarters in Bangkok gives the travel experience without being in the air. Customers pose with luggage at the door and sit in airplane seats. They offer dishes like pasta carbonara, Caesar salad with smoked salmon, and mango cheese cake.
Since the lockdown forced many to stay at home, the café gives the travel experience without the actual travel. A customer says the café "relieves what's missing."
"Normally I'm a person who travels very often, and when we are forced to stay at home… it's kind of depressing."
In Chon Buri, a coffee shop in a decommissioned Airbus 330 became so popular that it had to temporarily close down last June. Thousands of daily customers crowded the airplane café Coffee War, making social distancing difficult.
Many pose for photos in the first class seats. The "passengers" even get boarding passes. A customer says experience is a lot of fun.
"With this café I can sit in first class and also mess around in the cockpit pretending to be the captain of the plane."
Another customer says she also likes to sit in the first class section, adding that it feels like she's "cruising through the air."
SOURCES: Bangkok Post | Nation Thailand
Keep in contact with The Thaiger by following our
Facebook page
.
Never miss out on future posts by
following The Thaiger
.
Missing airline food? Thai Airways has a solution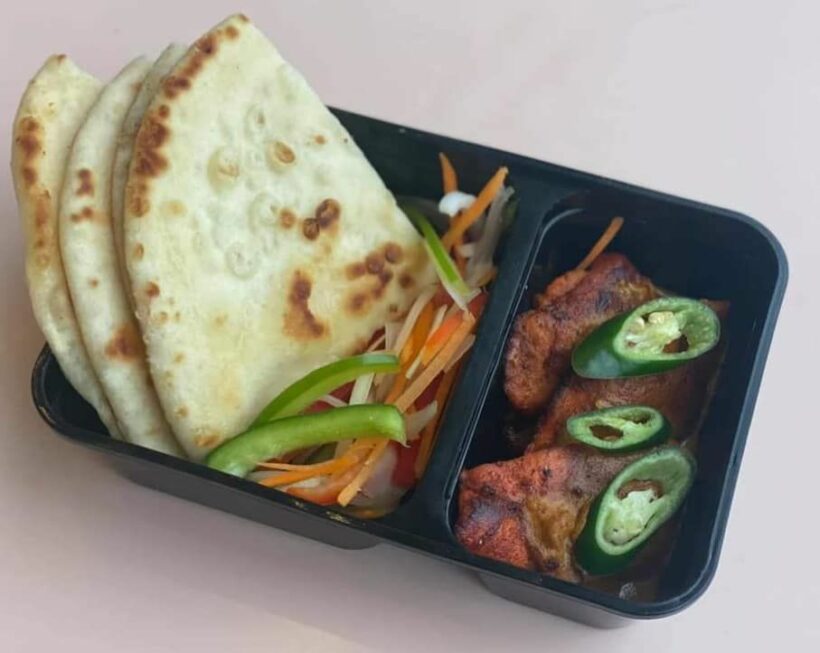 What's the deal with airline food? Some people think it's actually good. Really good. Thai Airways is selling their "high quality" airline meals on land since many flights are grounded due to the coronavirus pandemic travel restrictions. They've had such a great response over the past 2 months that they're extending their weekly lunch special.
From 9am to 2pm today until Friday, the airline will be selling their in-flight meals from their headquarters on Vibhavadi Rangsit Road in Bangkok. Get there fast because the food is known to sell out by the afternoon.
The airline made their in-flight meals available for delivery in April. They sold box-meals like stir fried tiger prawn and beef cheek with cumin sauce. The airline started serving their in-flight meals from the company's office in July.
A Facebook post shared on the airline's page says customers should get to the event before 10am because many people arrive around lunch time and the food is usually sold out by the afternoon. The menu changes every week and has a variety of options like sushi, lobster buns, smoked salmon Caesar salad and chocolate cheesecake.
Other airlines and in-flight catering companies have also sold their meals to people on land. The Hong Kong airline Cathay Pacific sells their meals to airport staff. Aerofood ACS, a catering company for the Indonesia's national airline Garuda, has been offering their meals as takeaway dinners.
An Indonesian resident, Rubi Haliman, says he's ordered 4 meals from Aerofood . He even said the meals taste better from the ground, but says it's not the same as the "sensation of eating in the sky."
"My favorite was nasi daun jeruk: rice with lemon flavour," adding that his meal was served with a side of egg tofu and jongkong, an Indonesian sticky rice pudding, for dessert.
With travel restrictions across the world, fewer flights are taking off and some airlines can't serve food at all due to coronavirus prevention measures. The company that supplies American Airlines with nuts now has so many nuts they're selling them online. GNS Foods just opened a retail store at its factory to help sell their more than 50,000 pounds of "first class" nuts.
Australia's Qantas airline has a problem other than food. They now have so many business class pajamas, tea bags and hand cream that the airline is now selling them as "care packs."
Hungry for airline food? Here's a sample menu from last week's Thai Airways catering event:
Salad
Tuna salad
Caesar salad with smoked salmon
Lobster Bun
Pasta
Carbonara pasta
Ravioli pasta, ketchup
Middle Eastern food
Arabic style baked rice (Prawn Kabsa with Kabsa rice)
Indian food
Chicken Tikka (Chicken Tikka)
Chinese food
Kung Pao chicken rice
Sichuan soup
Japanese food
Chicken rice (Chicken Teriyaki)
Beef rice (Gyu Don)
Thai food
Chicken rice
Daily food specials
Dessert
Macarons black currant
A variety of Thai desserts
Keep in contact with The Thaiger by following our
Facebook page
.
Never miss out on future posts by
following The Thaiger
.
Beware bogus beef – online sales and vendors caught with suspicious steak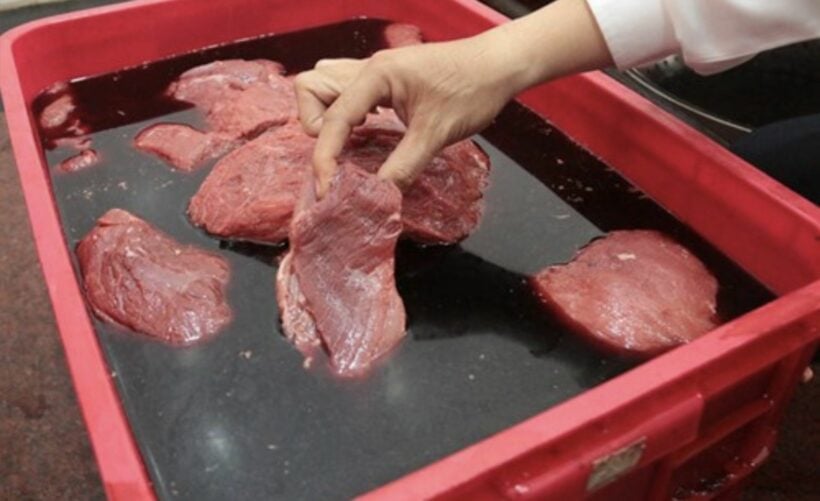 Buying beef online? Is it real beef or faux beef? Almost all of the samples of 'beef" ordered online, or taken as samples from schools in Bangkok and Prachinburi province, were found to be fake. The Halal Science Centre at Chulalongkorn University did the checks and was astonished to find that much of the beef bought online was actually cheaper cuts of pork. The pork can be marinated in ox blood to take on the appearance of beef. Harmful bacteria was also detected in portions of the samples checked by the University team.
The actual percentage of the beef checked that wasn't actually 'beef' was 70%.
Alongkon Phonlabut of the Agriculture and Cooperatives Ministry said Saturday that the
Fake beef is becoming more of a thing over the past 3 months as online vendors and markets around he capital try to increase profits during the recent difficult economic times caused by lockdowns and closures.
Online restaurant suppliers and street stalls have been the worst offenders. Retail outlets were found to have no 'fake' beef when the samples were taken. 10 Thai ministries and food business associations, including livestock officials, have been meeting to discuss the source of the bogus beef.
Apart from the obvious health concerns, the scam is causing a loss of trust in Thailand's 150,000+ Halal restaurants. It's feared the controversy could affect Muslim travellers to Thailand as well as impact beef exports to Muslim-majority nations.
If anyone has information or heard about similar meat scams, you should call the consumer complaint hotline at 1166. If you have a sample of dodgy meet, you can take it for free testing to the Halal Science Centre located near the National Stadium on the campus of Chulalongkorn University. Or you can phone 022-181-054.
SOURCE: Coconuts
Keep in contact with The Thaiger by following our
Facebook page
.
Never miss out on future posts by
following The Thaiger
.