Mango Tree brings its 'Isan' Thai culinary culture to Kawasaki, Japan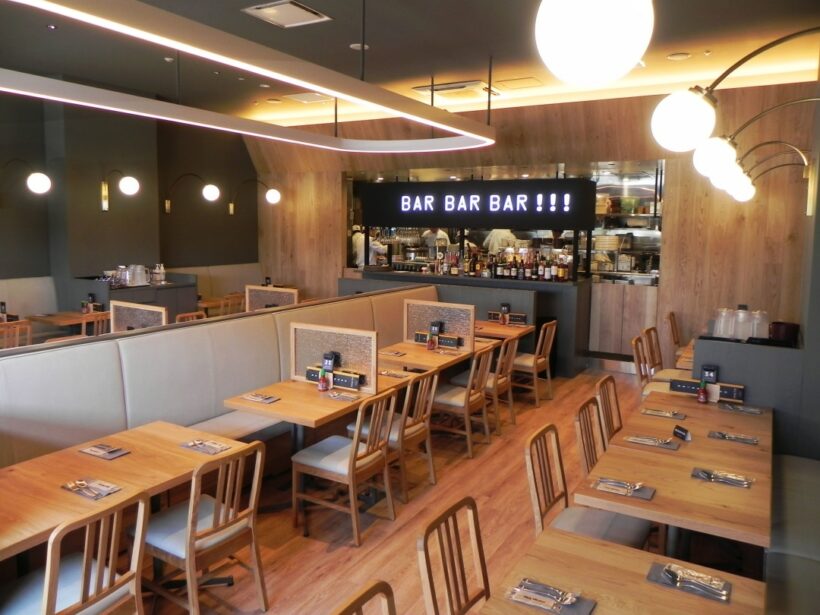 Leading Asian restaurant operator Mango Tree Worldwide has launched a new Mango Tree Café in Japan, bringing authentic street food from Isan, the region of northeast Thailand, to diners in the bustling city of Kawasaki.
The new Mango Tree Café Kawasaki is located on the fourth floor of Lazona Kawasaki Plaza, a major shopping and lifestyle complex in the heart of the city. Kawasaki lies between Tokyo and Yokohama in the world's busiest metropolitan area, with a population of over one million people in its own right.
The new casual restaurant will specialise in traditional dishes from Isan, including "som tam gai yang" – spicy papaya salad with grilled chicken. The classic ingredients of som tam are shredded papaya, green beans, tomatoes, garlic and peanuts, which are combined with red chilies, palm sugar, fish sauce and lime juice to create the perfect balance of spicy, sweet, salty and sour flavours. This light yet fiery salad is then served with grilled chicken (gai yang) for the ultimate combo meal.
Largely rural, the Isan region borders Laos, Cambodia and the Mekong River and is home to thousands of farms and ranches which grow much of Thailand's fresh produce. With such an abundance of fresh produce available, Isan has developed a rich culinary culture and is now considered to be the culinary heart of Thailand. As part of its efforts to showcase Isan cuisine, Mango Tree Japan is now launching a book on Isan cooking in Japanese, supported by the Tourism Authority of Thailand (TAT).

"Som tam is one of the most popular dishes in Thailand, enjoyed by everyone – young and old, rich and poor. We are delighted to bring this wonderfully spicy treat to Japanese diners with the opening of this new Mango Tree Café, as we continued to expand our contemporary culinary concept across the country," said Trevor MacKenzie, Mango Tree's Global Managing Director.
"Located in a retail complex within the Greater Tokyo Area, Mango Tree Café Kawasaki will benefit from significant footfall. We fully expect this restaurant and its authentic Isan menu to strike a chord with local diners, and I look forward to introducing Mango Tree Cafés to even more parts of Japan in future," he added.
In addition to som tam, the menu at Mango Tree Café Kawasaki will feature a range of other traditional Isan dishes, including "larb" (spicy minced pork with Thai herbs), Isan sausage and the Lazona Special Plate – an assortment of Isan favourites including gapao, green curry, vegetable salad, a fried egg, noodle soup and a friend egg.
Diners can also enjoy a selection of light bites and classic Thai dishes, such as "pad Thai" (stir-fried noodles) and "gaeng kiew whan" (Thai green curry), while lunchtime specials include "pad gapao" (spicy stir-fried minced chicken or pork on rice, topped with a fried egg) and "tom yum goong" (spicy and sour prawn soup).

Bright, stylish and modern, with a full bar service, Mango Tree Café Kawasaki can seat up to 60 diners. It is expected to be frequented by a wide range of diners, including young people, families and couples. Its setting within Lazona Kawasaki Plaza will also bring Thai cuisine to many new customers, including office workers seeking a light lunchtime treat.
Thai cuisine is hugely popular in Japan and Mango Tree Worldwide has identified the country as one of its key focus markets. At present there are 20 Mango Tree restaurants in Japan, 11 of which are Mango Tree Cafés.
With Japan's appetite for authentic Thai food showing no signs of abating, more Mango Tree Cafés are expected to open in future, bringing som tam and other delectable delicacies to an increasing number of diners all across the country.
Keep in contact with The Thaiger by following our
Facebook page
.


Find restaurant and food listings around Phuket at Thaiger Bites.

Thailand's food delivery business up 14% in 2019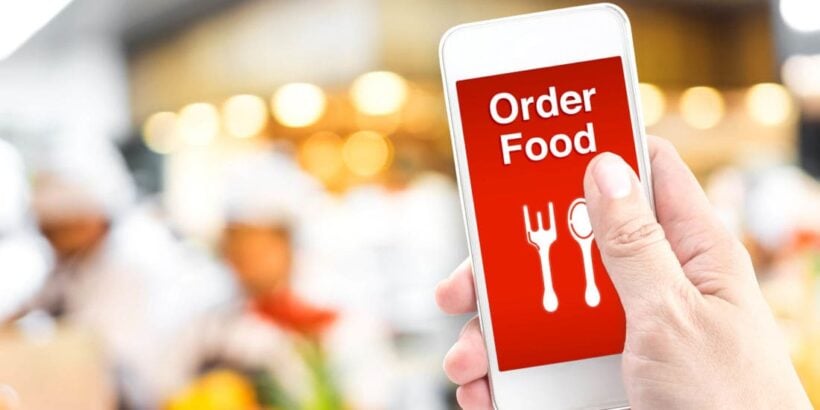 "Diners are increasingly ordering food online platforms, and eating out at restaurants less."
We're eating in more and dining out less. But we can still enjoy our favourite restaurant food. Welcome to the latest 'disrupter' making inroads to our eating habits.
KResearch (a part of Kasikorn Bank) estimates that the food delivery business in 2019 will amount to 33-35 billion baht, up 14% from last year. Food delivery apps are another example of 'digital disruption', and are transforming consumer behaviour as well as the restaurants' food supply chains.
(Thing Food Panda, LineMan and Grab Food among many other franchises and individual restaurants now offering boutique delivery services.)
It's estimated that food delivery apps and businesses will account for 8% of Thailand's total restaurant business in 2019.​
The findings show that 63 percent of the respondents to a survey believe that the advent of food ordering apps has changed their food consumption behaviour. Diners are increasingly ordering food online platforms, and eating out at restaurants less.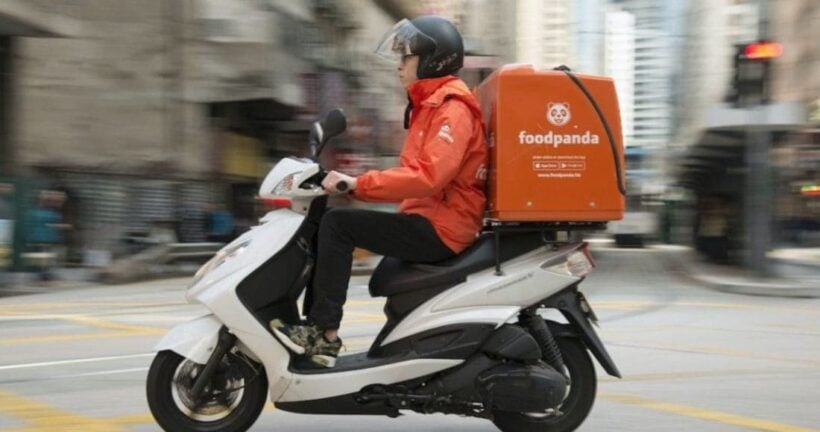 The burgeoning food delivery and related application business has increased opportunities for players in restaurant supply chains, including small and big restaurants, to generate more income as they can reach out to new groups of customers beyond their regular catchment of regular eaters.
Delivery motorbike riders can also earn extra income by receiving business from online food delivery platforms; the market share of the delivery motorcycle services is estimated at 3.9 billion baht this year.
Restaurant chains are being forced to add channels for receiving food orders from outside customers and offer a wider variety of menu options.
One thing is for sure, you will see more motorbikes zipping around your area delivery all sort of foods to homes around Thailand.
Mmmm, I feel like a pizza!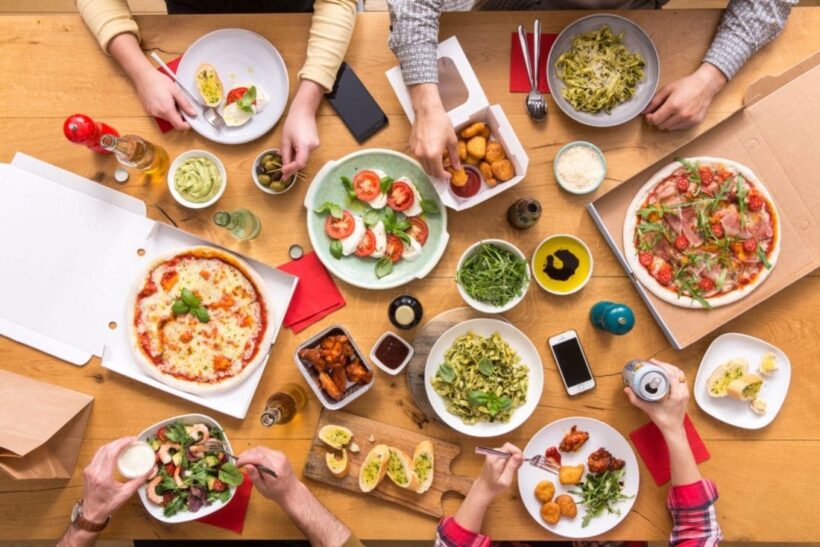 Keep in contact with The Thaiger by following our
Facebook page
.
"Probably the best pork spare ribs in the world" – Naughty Nuri's Patong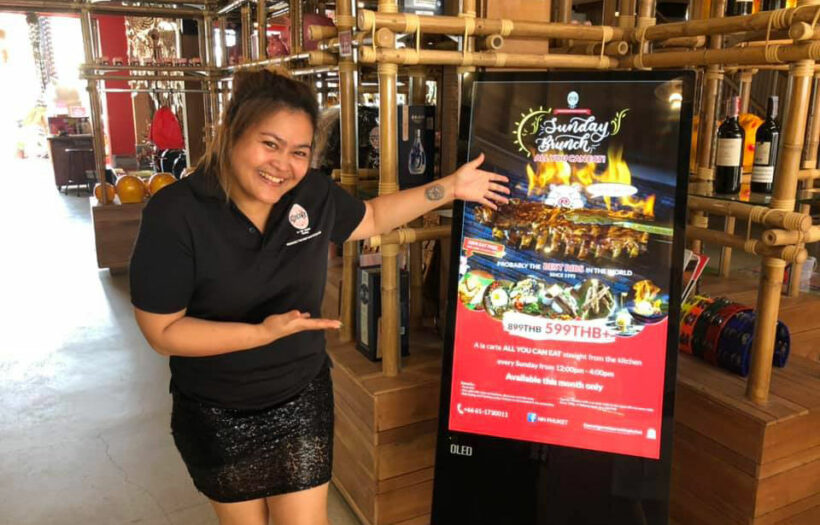 Naughty Nuri's Phuket, also known as Naughty Nuri's In The Forest in Patong, was the first restaurant from the iconic Indonesian chain to open its doors in Thailand. The indoor/outdoor venue can easily accommodate more than 500 diners in an alfresco setting.
Their signature dish is the BBQ Spare Ribs – "probably the best spare ribs in the world" – which was created in 1995 when Brian Aldinger and his wife, nicknamed 'Nuri', opened their first restaurant in Ubud, Bali. The rest is history, and since then more than 10 locations have opened around in South-East Asia.
The meat on the BBQ Spare Ribs simply falls off the bone and the sweet and spicy BBQ sauce provides a nice kick to the palate. Other dishes of interest are the traditional Nasi Goreng and the Satay Lilit, a Balinese-version of the tender satay style of cooking.
Naughty Nuri's Phuket also offers great cocktails, and the team members know for sure how to provide a great atmosphere, with the regular dance off and a cool band to accompany your meal. The venue offers regular happy hours and a fantastic Sunday brunch, with all-you-can-eat options for four hours (with a special price until the end of July).
Parking can be found in front of the restaurant, but is limited, so it is advised to arrive early. A kids-friendly dining area is also available, with small tables perfect for children.
Read the rest of the article at phuketify.com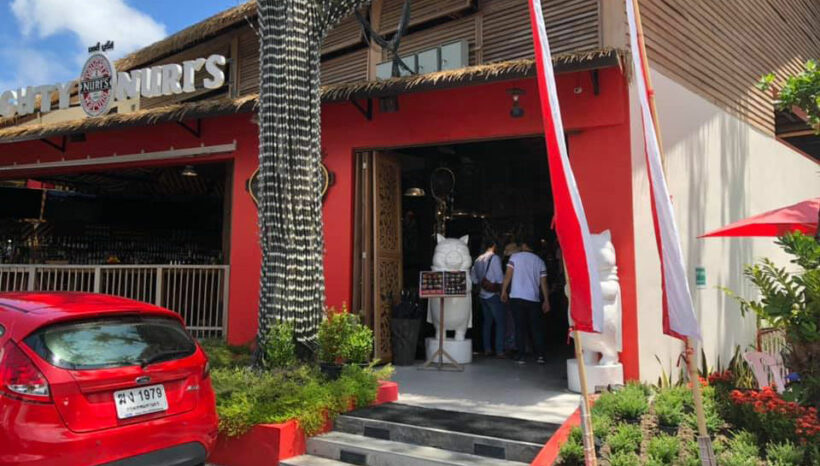 Keep in contact with The Thaiger by following our
Facebook page
.
Thailand's highest restaurant and bar open at the Mahanakhon building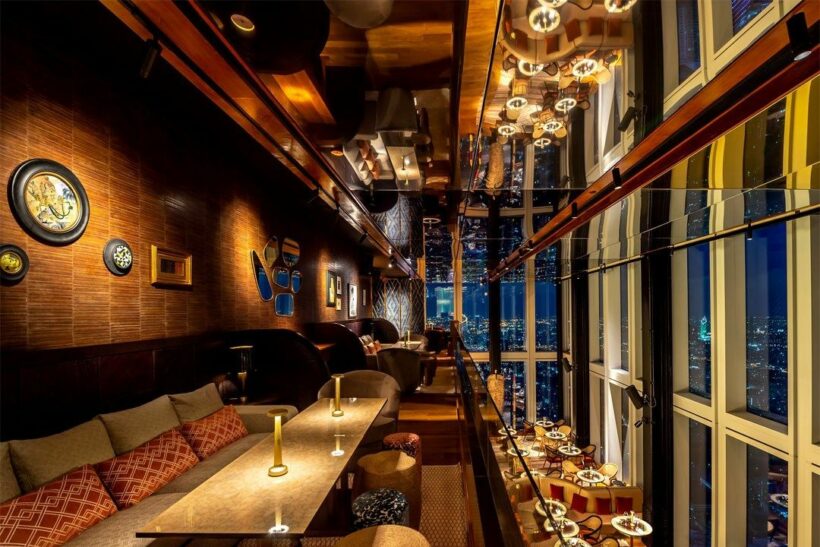 Mahanakhon Bangkok SkyBar, Thailand's highest restaurant and bar is now open at Bangkok's landmark, the King Power Mahanakhon building.
Located in the heart of Sathorn and directly connected to Chong Nonsi BTS station, the new dining venue is situated on the 76th and 77th floor of the famous pixelated building. Inspired by the Chao Praya river and the concept of an eclectic journey, a visit to the upscale modern brasserie allows one to step into an exotic escape from the usual hustle and bustle of Bangkok.
Tastefully designed indoor and outdoor seating areas, along with exclusive VIP lounges offer a comfortable dining venue for guests to enjoy world-class mixology and unique dishes. As Wilson Associates' latest interior masterpiece led by Tristan Auer, Mahanakhon Bangkok SkyBar is Bangkok'snewest iconic dining destination.
Marc Begassat, Managing Director of King Power Mahanakhon said, "Following the successful launch of Thailand's highest observation deck last November, it is a pleasure to announce the opening of Mahanakhon Bangkok SkyBar, Thailand's highest restaurant and bar."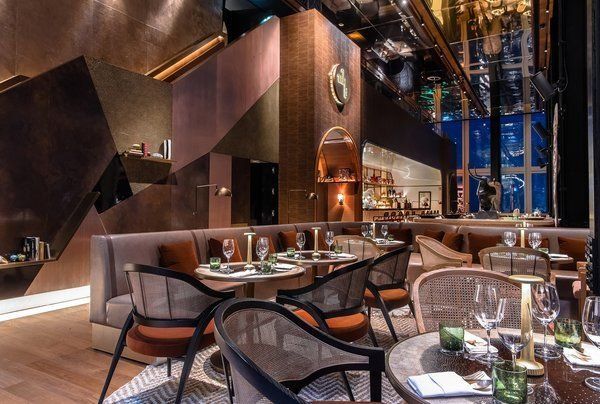 The modern brasserie features a menu of sophisticated Western and Asian dishes along with signature creations by Executive Chef Joshua Cameron. Previously based in New York's world-renowned Eleven Madison Park, the well-travelled US native finds culinary inspiration from his passion for travel and exploring international flavors. The menu is accompanied by an extensive list of classic cocktails and over 100 curated wines with an emphasis on natural wines.
An outdoor terrace is transformed to resemble an urban jungle, surrounding guests in abundant greenery to evoke the feeling of a forest in the sky. Designed by Tristan Auer's world famous team at Wilson Associates, Mahanakhon Bangkok SkyBar is a journey that represents an urban escape for the modern city dweller and worldly traveller.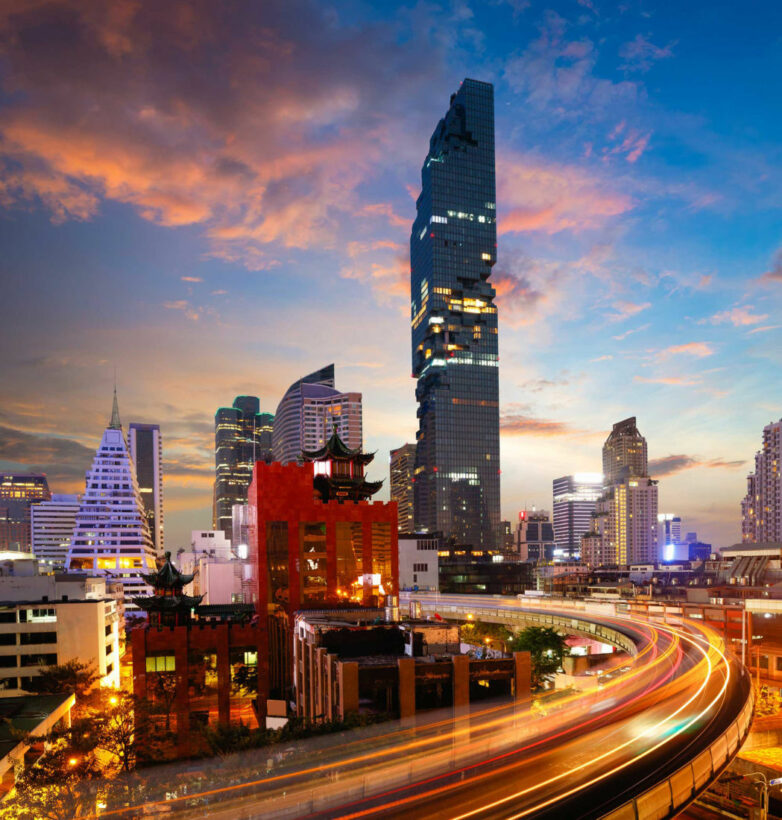 "The eclectic, yet elevated nature of this oasis in the clouds mirrors the style that our team is known around the world for bringing to our work," said Auer, Principal of Wilson Associates' Paris Atelier.
"Mahanakhon Bangkok SkyBar was designed to be equal parts welcoming and energetic, and we are honored to have been selected as the team to bring that vision to life."
Mahanakhon Bangkok SkyBar will be led by Johan Per Simon Davidsson, a legendary force behind the success of multiple unique concept venues in the Bangkok hospitality industry. With over 15 years of high profile management experience and a passion in cocktail innovations, visitors can expect spectacular beverage, entertainment and shows in the near future.
Mahanakhon Bangkok SkyBar is open daily for dinner and drinks from 5pm – 1am . For more information and to make a reservation, visit www.mahanakhonbangkokskybar.com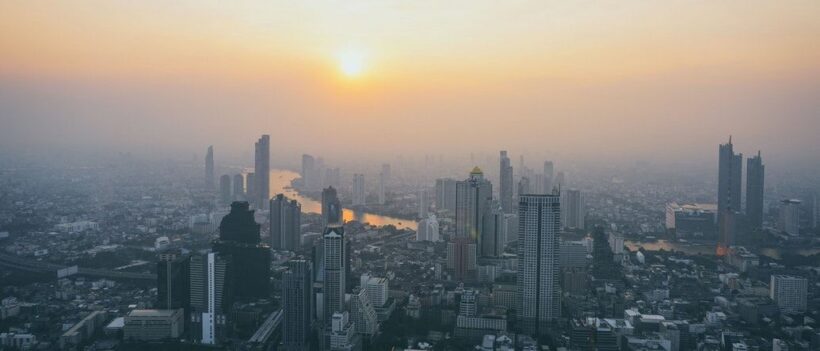 Keep in contact with The Thaiger by following our
Facebook page
.