Local filmmaker to tell the story of life after the tsunami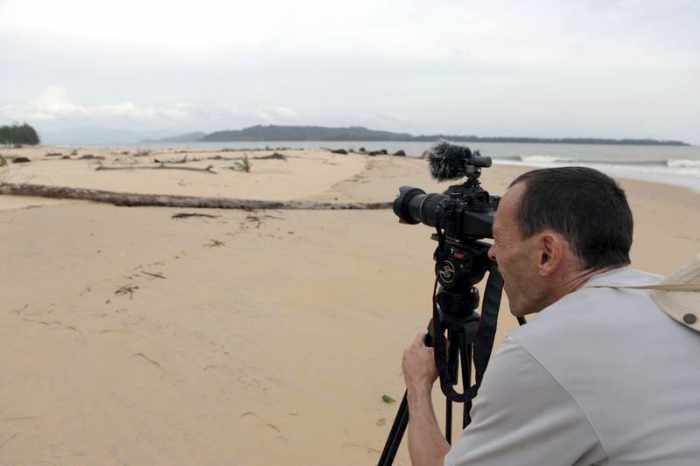 PHUKET: On December 26, 2004 the Boxing Day earthquake and subsequent tsunami in the Indian Ocean wreaked havoc on 14 coastal countries and took the lives of more than 230,000 people.
The global community reached out, donating over US$14 billion to provide humanitarian aid to the affected communities. Over the years, memorials have been dedicated, orphanages sprouted up to help displaced children and ruined coastal villages and towns have been rebuilt.
This year, as we near the 10th anniversary of the disaster, Phuket-Bangkok-based filmmaker Mike Thomas has announced the making of his latest documentary film, which reveals the obstacles people have overcome and examines the lasting changes left in the wake of the tsunami.
The documentary is currently being filmed and produced with a release date set for mid-December.
In this exclusive interview with the Phuket Gazette, Mr Thomas discusses the source of his inspiration for the film and what it takes to produce a documentary.
Why did you come to Thailand and how/why did you get established here?
I arrived 10 years ago after I decided to spend some time in Southeast Asia. I didn't have a plan – only a return ticket back to the UK which I never used.
Did you work in film making before you came to Thailand?
I was previously working as a freelance IT engineer in London. The decision to make a change was quite easy as there was nothing about the job that I found inspiring or satisfying. Photography/videography had mostly been a hobby, but it turned into a full time role when I started making Living with the Tiger.
Give a brief synopsis of your upcoming film.
Silent Waters is about three small communities on Koh Phra Thong – a remote island in Phang Nga province that is sparsely populated and receives few visitors. It tells the story of how they coped after the main village of more than 200 houses was flattened by the waves and subsequently abandoned. Some people returned and decided to rebuild their lives while others stayed on the mainland and vowed never to go near the sea again.
Why do you feel it is important to make this film?
People often ask questions about the tsunami when they visit this region. It was, after all, one of the worst natural disasters in history. The 10th anniversary is a significant milestone and I wanted to make a film to commemorate the occasion. I know there are some people who were caught in the waves who would prefer to forget about it and move on, but we have also found many others whose stories of tragedy, kindness and resilience are important lessons that we can all learn from.
What will come out of the making of the film?
For me, what has made this project so interesting is the perspective of the local people and the conservation programs they run. You just don't see this in many other parts of Thailand. Whether or not they can retain their values and protect the environment remains to be seen. Ultimately, I hope the film not only shares some of the tsunami-related stories, but also how people have found an important balance when living and working with nature.
Explain the crowdfunding campaign which you have launched for the film.
The hardest part of making a film is financing. Broadcasters generally work with a small circle of established production companies which means independent filmmakers usually have to self-fund their projects and are unable to pay crew salaries or for post production work. Crowdfunding has become an important tool for filmmakers to reduce this burden and it's proving to be very popular. The idea being that people pledge a certain amount of money and they receive perks depending on the amount. These are usually copies of the film, name credits, VIP screenings, etc…
We are offering one special perk which we have decided to auction as it's a one-off: the chance to be in the film as part of the homestay program offered by the local families. We wanted to feature this because it shows the way they are carefully managing tourism since the tsunami. It's a very authentic experience organized by Andaman Discoveries, a specialist tour operator that works with and supports many of the communities affected by the tsunami.
We would also like to partner with a few local businesses, especially those that work in tourism, to show their support for this anniversary and the local communities.
It would be a great CSR opportunity which, apart from featuring their name in the film credits and promotional materials, we would also produce a personalized copy of the film with an introductory message from them. They would then be able to distribute the film to their customers and guests.
For individuals, there are several ways to participate and details are on our website.
How much progress have you made on the film at this point?
At this point I would say we have completed about 60 per cent of the filming and have conducted interviews in the three main villages. Ideally, we need at least a couple more trips to film some of the conservation activities and other programs they run. We would also like to use a drone for some aerial footage as this would make the film a lot stronger visually, but this will be dependent on how successful we are at fundraising.
To receive updates on the making of Silent Waters, make a donation to the film's crowdfunding campaign, or subscribe to their newsletter, visit facebook.com/Tsunami10YearsOn or silentwatersthemovie.com
Digital subscribers may download the full newspaper, this week and every week, by clicking here.
Keep checking the Phuket Gazette, join our Facebook fan page or follow us on Twitter @PhuketGazette for the latest news updates.
— Jeremie Schatz

Join the conversation and have your say on Thailand news published on The Thaiger.
Thaiger Talk is our new Thaiger Community where you can join the discussion on everything happening in Thailand right now.
Please note that articles are not posted to the forum instantly and can take up to 20 min before being visible. Click for more information and the Thaiger Talk Guidelines.