Gardening: Turning over a new leaf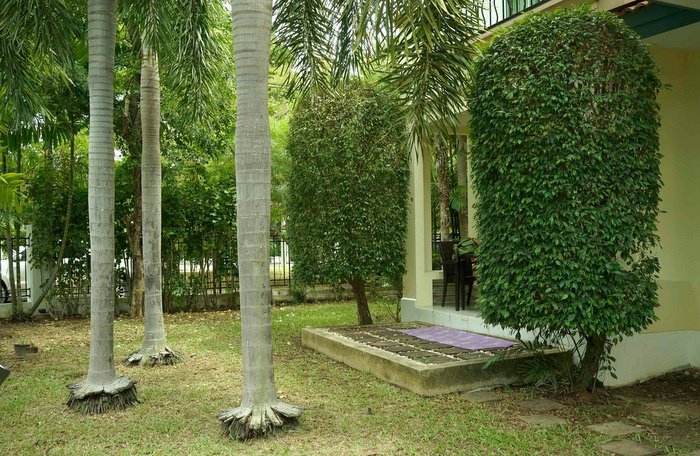 PHUKET: Tropical gardens, for a variety of reasons, need plenty of attention. Take the case of Patima's garden in a local housing estate. Her busy life as a computer expert means that she has little time for horticultural activities, and her partner is more interested in compression ratios than common oleanders. Get the picture?
A low-upkeep garden which, laudably, Patima both wants to improve and to set out as an object lesson for other busy readers who are new to gated community life or whose gardens maybe need attention.
The plot, on three sides of the property is not large, but therein lies one of the problems. One area, originally laid with Malaysia grass, is now mostly bare soil. The culprits are a large Indian cork tree (millingtonia) at one corner and an evergreen mango, with a dense crown nearby. A second cork tree stands guard at another focal point. Nearer the house are two very substantial royal palms.
I have nothing against Indian cork trees: they look beautiful with their distinctive pendant white blooms. But these specimens, apparently planted as mature trees seven years ago, are now so large that they are usurping all the sunlight and, with their large root systems, most of the nutrients in the restricted space. As a general rule, roots and branches spread over similarly broad areas, so the impact made by these subterranean radicals is profound.
Add to that the issue of falling leaves and especially that of soil. I have often written about the poor soil in Phuket, a condition exacerbated by builders who scrape off the scanty organic loam, or bury it beneath sub-soil dredged up from the foundations. Here the existing earth is clearly in need of a transfusion.
Borders, though not clearly defined, exist near the perimeters of the property, and a few shrubs are valiantly struggling with the conditions – for example a couple of yellow Peruvians, some leggy polyscias, which both need pruning, and nearer the house, some gardenias.
In front of the portico, and coincidentally where there's more light, things looks healthier. The steps are flanked by two large, neatly clipped ficus benjaminas. They look in reasonable nick, about two meters tall, though the leaves are not as dense as they should be, and the root systems are precariously close to the house foundations. Between these and the front gate are two sizeable foxtail palms, somewhat past their best.
A mixed picture. So where should we start? Back to basics with the soil. It would be a good idea to make raised borders at the perimeters by adding top soil or mixing the existing stuff with bags of compost, adding some granular fertilizer and then maybe defining the edges with natural stone or small bricks.
The area inside the front and side wall could then be planted with small hardy shrubs such as ixoras, tabernaemontanas, russelias and periwinkles, or larger shrubs such as murrayas, gardenias, or durantas. Bougainvilleas, which are both colorful and tolerant, would be ideal. Maybe variegated foliage plants – dracaenas or crotons, even a climber or two such as allamanda with its yellow trumpets, or a free-blooming Rangoon creeper. .
Container plants are worth considering, especially in the short term, since they are a moveable feast. Ones that do well in pots with minimal attention include euphorbias (crown of thorns) and adeniums. I noticed a solitary adenium near the front gate. It needs some companions.
On the right hand side of the garden is a fine row of wrightias, again neatly trimmed to form a hedge that in part screens the property from the neighboring one. Further back are some bananas which could be supplemented by fan palms from the same family.
The shady area to the left is more problematic. Mature trees are lovely: in any case cutting them down is expensive – as I know to my cost. But the massive, coarse-barked millingtonia either needs to be pruned and shaped, or removed entirely. There will still be pockets of shade so I would suggest that the borders there be planted with understorey plants that should adapt to conditions – once the soil is improved. My suggestions would include diffenbachias, aglaonemas, spathyphyllums, alocasias and anthuriums. They could either go in pots or in the open border.
As for the grass, it is probably best forgotten, at least in the bare areas. I would opt for a covering of pebbles, with maybe some squares of natural stone. Less upkeep for busy people who nonetheless cherish their gardens
Tip of the week: Robust ruellias
I have commented before on the surge in popularity for wild petunias or ruellias. This flower was rarely seen in Phuket a decade ago, but is now a common sight in public plantings. That's because it is very easy to grow and ruellias flower more or less continuously and come in two attractive shades – deep pink and a distinctive violet.
Slender-leaved ruellias cope well with most situations, but prefer moist soil.
Plant nursery owners know this: once their ruellias get leggy and start to bloom less, they cut them back to a few inches and re-pot the cuttings. The success rate is very high, so in no time at all, you can have a bed of these distinctive flowers. Remember though that the ruellia is not dubbed the 'three o'clock flower' for nothing, as the papery blooms fall in mid-afternoon.
If you have gardening or environmental concerns, contact Patrick at drpaccampbell@gmail.com. Many of his creative and academic publications can be found at his website: Green Galoshes WordPress.
— Patrick Campbell
Thai Life

Join the conversation and have your say on Thailand news published on The Thaiger.
Thaiger Talk is our new Thaiger Community where you can join the discussion on everything happening in Thailand right now.
Please note that articles are not posted to the forum instantly and can take up to 20 min before being visible. Click for more information and the Thaiger Talk Guidelines.