A Phuket high from Smokin' Fish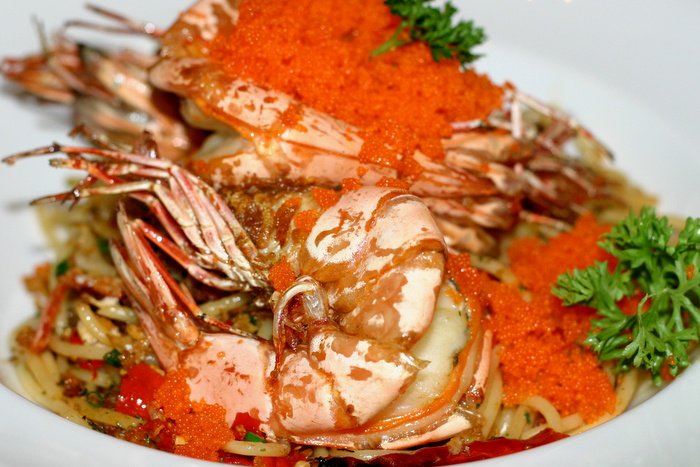 PHUKET: THERE has been a lot of buzz lately about new and upcoming restaurants popping up all over Phuket Town, but there is one restaurant that made its mark long ago and has locals and expats alike lined up at the door.
Smokin' Fish on Phang Nga Road is a sight for sore eyes and a haven for the hungry. The decor is modern and clean and the music selection is excellent.
There are different places to sit to suit your mood, but I recommend sitting right at the counter where you can watch Chef Playim work his magic.
The extensive menu has everything that you could crave and has superb options for vegan and vegetarian diners, while using as much local and market fresh ingredients as possible.
To start with a drink, the most refreshing on the menu between the excellent selection of beer, wine and Italian sodas, is their roselle soda. It is not too sweet, as other places tend to make it, and the crushed ice keeps it at the optimal drinking temperature.
The appetizer options range from fried cheese, chili cheese fries and, my personal favorite, garlic bread. Toasted to perfection on the grill, fresh rolls are stuffed with melted butter, minced garlic, sprinkled with Parmesan cheese and served on a beautiful blue ceramic dish. If you look around, you are guaranteed to see them on at least one or two other tables.
If it's a salad you are looking for, whether for a starter or a meal, you definitely came to the right place. They are so beautiful it is almost a shame to eat them… almost. A mixture of fresh lettuce, carrots, corn, tomatoes and snap peas form the base of most of the selections, which include deep fried, grilled or even raw toppers. Some of the most notable salads are the tofu salad with Japanese dressing, bacon salad, spicy prawn salad with lime dressing and the pick of the night, grilled salmon salad with balsamic dressing.
The salmon was grilled to perfection and was still flaky and tender. It sat upon all of those yummy, crisp vegetables. I also recommend the tofu salad, as the tofu is grilled beautifully and the Japanese dressing is to die for.
Each dressing is homemade and served on the side in a lovely silver serving dish, and the salad itself is served in a huge chilled bowl in which you could probably fit an entire watermelon.
As if choosing from the huge selection of salads isn't hard enough, the mains menu consists of pastas with homemade sauce, including grilled pork chop and rosemary pasta in cream sauce, cheesy chili pasta, vegan cherry tomato and basil and, my go to dish, chicken and bacon ranch pasta.
There is also a steak and grilled section, which includes the vegan oringi steak, sea bass steak and grilled mix sausages; amazing burgers the size of baseballs (I recommend the Smokin' big boy burger with double cheese, smoked bacon, BBQ ketchup and crispy onions, or the burning farm with jalapeno cheese sauce); and last but not least, wraps that are literally the length from my finger tips to elbow, stuffed with your choice of beef, pork or chicken and covered in BBQ sauce.
With this many choices, it's best to go with a group of friends so that you can sample and share as many dishes as possible.
For this visit, we chose three different entrees; the beloved chicken and bacon ranch pasta, the grilled beef steak and the grilled prawn with tobiko served on chili and garlic pasta.
For the most part, expats know and miss the dearly beloved condiment that is ranch dressing. The chicken and bacon ranch pasta gives you that taste of home in the most elegant way. If you are sitting at the counter, you will be able to watch Chef Playim whip up the ranch cream sauce with crisp bacon in front of your eyes on the right, while on the left grill the chicken to perfection, and then suddenly, with one quick chop and flip of the pan, your meal is ready to be devoured. The pasta is always cooked perfectly and the ranch cream sauce is not too strong but just the right balance for the fresh bacon and grilled chicken.
The grilled beef was supremely tender, full of flavor and cooked medium, but you can ask for it however you desire, and was served on freshly cooked broccoli, cauliflower and carrots. On the side was a beautiful, flavorful, savory and thick gravy that, to be quite frank, I wanted to pour on everything I ate thereafter.
The grilled prawn topped with tobiko was something to look at. The prawn themselves were the size of my hand and the tobiko was plentiful. The pasta had just the right amount of heat and the perfect amount of garlic and the flavors melded together wonderfully.
With these very fresh ingredients, homecooked taste, beautiful decor and amazing details down to the serving dishes, you would think that it would all come at a very expensive price. However, the prices here are more than fair, ranging from 50 baht for garlic bread, 120 baht for a giant tofu salad and 260 baht for that amazing, larger-than-life Smokin' big boy burger.
Also, make sure you check out the restaurant's Facebook page for specials, which in the past few weeks have included lobster, pork lasagna and meatloaf wrapped in bacon.
Wherever you are located on the island, please give yourself the pleasure of going into town and having dinner at Smokin' Fish. Open Monday through Saturday, 5pm-10pm. It will fast become a weekly, affordable indulgence.

— Sylvia Joy
Keep in contact with The Thaiger by following our
Facebook page
.
Chon Buri coffee shop in a converted aircraft ordered to close temporarily – VIDEO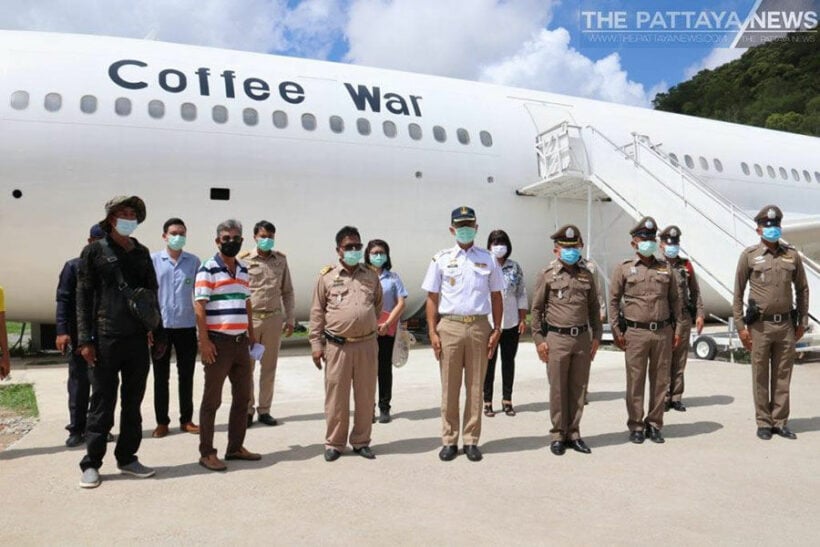 A novel coffee shop set up in a decommissioned Airbus 330 has been ordered to close temporarily after the business simply became too popular after going viral on social media. It's understood thousands of customers a day were arriving for a latte or cappuccino from "Coffee War" in Sattahip, a district in the south of Chon Buri province.
Manager Suttipong Boonloi says the aircraft cost 10 million baht and was converted into a quirky cafe selling coffee for between 60 and 80 baht a cup. He adds that strict Covid-19 hygiene measures are already in place, including temperature checks, the wearing of masks, regular disinfection of surfaces, and hand sanitiser being made available for customers. Furthermore, only 60 customers are permitted "on board" at any one time, with each customer limited to 40 minutes inside.
Public Health officials, accompanied by Sattahip District Chief Anucha Intasorn, have asked the coffee shop to close for a week, in an attempt to alleviate the daily overcrowding and dissipate the enthusiasm. Officials say Covid-19 remains a risk and such large numbers increase the chance of a resurgence in the virus. The province of Chon Buri, including Pattaya, has now gone more than 60 days without any new cases of community transmission.
The unusual coffee shop is similar to a venture in Korat, north-east Thailand, where another entrepreneurial spirit has created a restaurant inside a retired Airbus A330. Both aircraft were formerly part of the Thai Airways fleet. There might be some more unused aircraft available soon…
SOURCE: The Pattaya News
Keep in contact with The Thaiger by following our
Facebook page
.
Thailand disease expert says salmon cannot be infected with Covid-19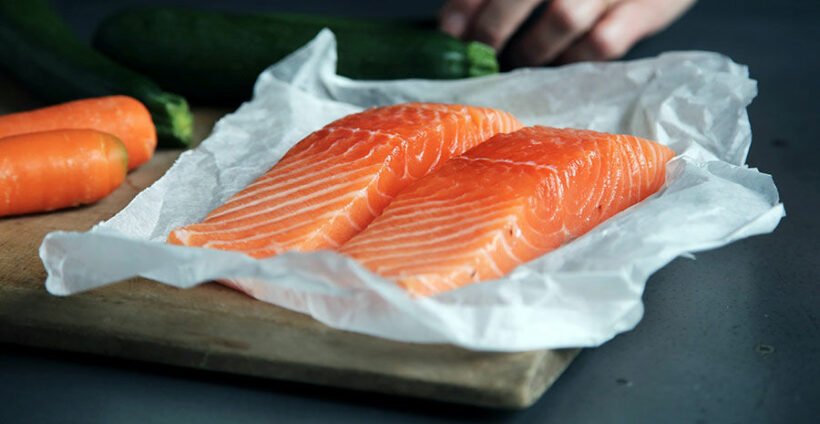 Fish lovers can relax, says the deputy director-general of Thailand's Disease Control Department. "It is not possible for salmon to be contaminated with Covid-19.: Dr. Thanarak Palipat's reassurance comes amid reports that chopping boards used for imported salmon at a market in China could carry the virus.
Beijing's Xinfadi Market is at the centre of a new Covid-19 outbreak, with the Chinese capital recording 106 new cases since last Thursday. However, Dr. Thanarak says he doesn't believe it's possible for the salmon itself to be contaminated with the virus.
"We have not studied the case in detail, but we believe salmon cannot be contaminated with the Covid-19 virus. We believe that the sellers contracted Covid-19 from their cutting boards."
However, a report in Nation Thailand quotes Dr. Thanarak as saying the Disease Control Department has always cautioned against eating raw meat or fish, warning that it could carry other germs.
"We always emphasised that people eat hot, cooked food and use a serving spoon while eating. We also advise that vegetables and fruits be washed before they are eaten."
SOURCE: Nation Thailand
Keep in contact with The Thaiger by following our
Facebook page
.
Pattaya police chief battles Thailand's Iron Chef in cook-off for the needy – VIDEO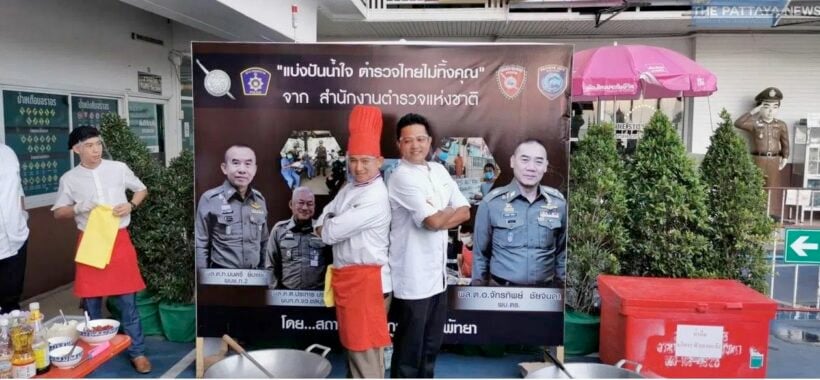 Police in Pattaya are doing more than continue their project to cook food for the needy and unemployed: yesterday they had an upbeat cook-off between the police chief and a famous Thai TV chef. The project is designed for locals who are unemployed or furloughed due to the current Covid-19 crisis. Read more about that HERE.
The Pattaya City police chief took on Thai celebrity chef Kengraratwat Wichianrat, from the show Iron Chef Thailand. The chief is wearing the red hat in the video below:
They cooked around a hundred meals for some of the locals deeply affected by the lockdowns ad closure measures, while officers provided proper physical distancing, hygiene standards and a queue system for diners, all of whom ate for free.
SOURCE: The Pattaya News
Keep in contact with The Thaiger by following our
Facebook page
.