Diving: Mermaids spotted off Phuket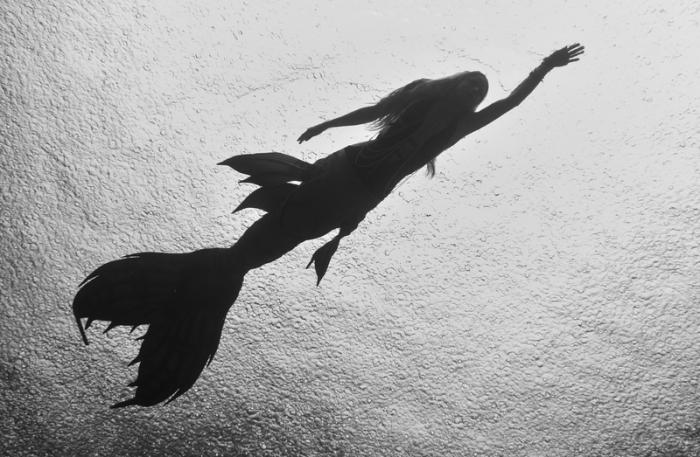 PHUKET: There are real mermaids out there. It's a profession that some freedivers have found themselves slipping into.
Phuket-based PADI scuba diving instructor Kate Gray, who was crowned Miss Germany 2010, made a big splash here a couple of years ago as 'Mermaid Kat' and opened Phuket's Mermaid Kat Academy in 2012.
"I first started 'mermaiding' as a hobby but it quickly became a job. Since opening the mermaid school, I've been teaching mermaid courses in many different countries."
Mermaid Kat is now working in Australia and Germany as an underwater stunt model and entertainer, as well as running her mermaid school, which she touts as the first in the world, as well as a mermaid shop.
"In the past few years, the number of mermaids and mermen around the world has increased drastically. There are different kinds of 'merpeople' out there, such as hobby mers, entertainers, kid's entertainers, mermaid trainers, underwater models, tail makers, environmentalists and many more," Mermaid Kat says.
"For me, the freediving aspect is important. I'm a certified PADI freediving instructor, which helps me hold my breath for a long time while performing at underwater shows or during underwater shoots."
Though Mermaid Kat has gone international, Phuket waters are where she got her 'fluke' (mermaid's tail).
"Phuket has wonderful beaches and clear water. It was a great place to start my life as a real life mermaid," she says.
Melanie Long, or Mermaid Melanie, is a Scottish freediver who has also made a splash as a mermaid in Phuket, but her love of the water has inspired her to pursue a degree in Marine Biology.
"Initially, I developed my freediving skills to enhance the realistic image of a mermaid. From there it developed into a passion for the sport and became a challenge to constantly push my limits to see what my body is capable of," she says. She didn't win, but gave an outstanding performance as a freediver at the Phuket 'We Freedive Suunto' series in 2014.
"Freediving skills help when mermaids are creating underwater images and videos. I have been hired as an underwater stunt double for TV commercials because of my skills. It really depends on which way you want to focus your mermaid career," she says.
Nola Galgoczy, or Mermaid Nola, launched her career as a mermaid in Phuket and is now based in the Caribbean.
"I feel like I belong in the water. I honestly feel like I'm half fish, half human in a sense. People think of mermaids as something impossible, but I want to show others that there is no such thing as 'impossible' and you can really be what you want to be," says Nola.
Freediving has shown me that people are often unaware of their full potential and that it is really important to stop limiting ourselves, just because we don't always have the imagination.
"You have to be comfortable without breathing for a few minutes underwater. Otherwise, you don't look like you belong there. I often dive down to a scuba diver, and at first, they are surprised that I'm there without a tank. They wave, interact and are ready to say 'bye' after a few seconds, thinking I have to go up for air. Then, I don't. You can see on their face that they are really confused when I stick around a little longer. The longer I stay and the more comfortable I look underwater, the closer they get to believing, just for a second, that I am a real mermaid."
Mermaid Nola has spent a couple years training and working with local freediving company We Freedive. Last month she completed both her Association Internationale pour le Developpement de l'Apne (AIDA) and PADI freediving instructor certifications.
"People freedive for different reasons: to self explore, to push limits, to express themselves, to compete, to look cool and so on. I'd call being a merperson an artsy division of recreational freediving in a monofin, with a strong focus on fun and self expression," she says.
"If we talk about freediving, people tend to pay attention to breath holding time or depth and distance covered. As a rule, these numbers would be the result of relaxation, streamlining, proper techniques and so on. In mermaiding, the focus shifts away from such rules to appearance. It is a performance for an audience."
— Isaac Stone Simonelli
Thai Life

Join the conversation and have your say on Thailand news published on The Thaiger.
Thaiger Talk is our new Thaiger Community where you can join the discussion on everything happening in Thailand right now.
Please note that articles are not posted to the forum instantly and can take up to 20 min before being visible. Click for more information and the Thaiger Talk Guidelines.