Thai Life
Disabled Australian cyclists end week-long tour in Phuket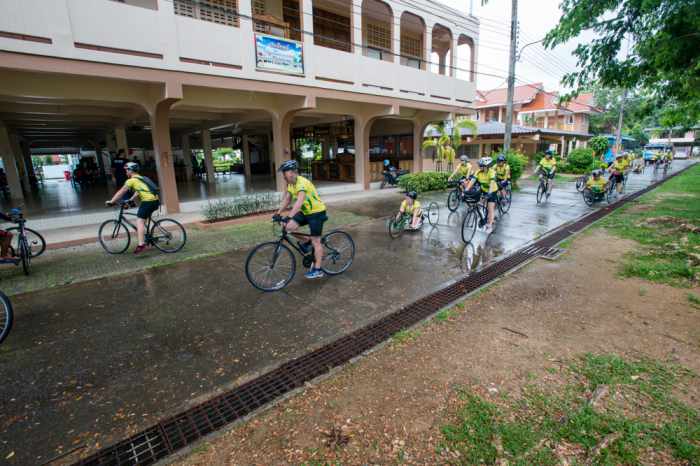 PHUKET: After a week of riding and more than 600 kilometers, a group of 21 cyclists from the Disability Sport and Recreation (DSR) initiative completed their journey from Surat Thani to Phuket Panyanukul School in Pa Khlok on Monday afternoon.
The Victoria, Australia-based group, dubbed CyclePower, chose Thailand as the location for their fourth annual ride after successfully completing rides in Vietnam, Cambodia and Fiji. This year's ride featured the largest group to date, as well as the longest distance covered.
The purpose of the CyclePower rides is to "generate awareness about the sporting abilities of people with disability and encourage social inclusion" and "embrace the unifying nature of sport as a conduit for cultural exchange, community inclusion, disability awareness and better public health outcomes."
"It's a challenge and everyone works together as a team. The things that we have been doing with the
locals have been fantastic," said DSR marketing coordinator Alexandra Dandanis who joined the ride for the first time.
For their first day of riding covering about 90km, the CyclePower group was joined by the Thai Cycling for Health Association. Other local cycling groups showed their support by joining the Australians for small sections throughout the ride.
Although the majority of the 300 students at Phuket Panyanukul School were at home visiting family for the long holiday weekend, a small group of students had prepared a dance and yoga show for the visiting cyclists.
The CyclePower group had also arranged a generous donation of sporting goods equipment as well as everyday necessities for the students of the school.
In a show of good faith from the local cycling community, Thai Cycling for Health's Phuket representative Daeng Jirawattananukul made an additional donation to the school.
Joining the group were Australian Paralympic wheelchair basketballers Shelley Chaplin and Leanne del Toso, as well as Paralympic swimmer turned paratriathlete Sam Bramham.
Although there were a few demanding climbs for the riders – especially for the seven handcyclists – the consensus from CyclePower was that their ride through Thailand was a huge success. Even though they have been riding different countries each year, they are considering another route through Thailand next year.
"It's really just all about the awareness and riding down the street and seeing the look on peoples' faces that have never seen a handcycle in their lives… and just see the amazement on their faces when you zoom past them," said Alexandra.
Digital subscribers may download the full newspaper, this week and every week, by clicking here.
Keep checking the Phuket Gazette, join our Facebook fan page or follow us on Twitter @PhuketGazette for the latest news updates.
— Jeremie Schatz