Confidence in teachers survey – Thai Teacher Day tomorrow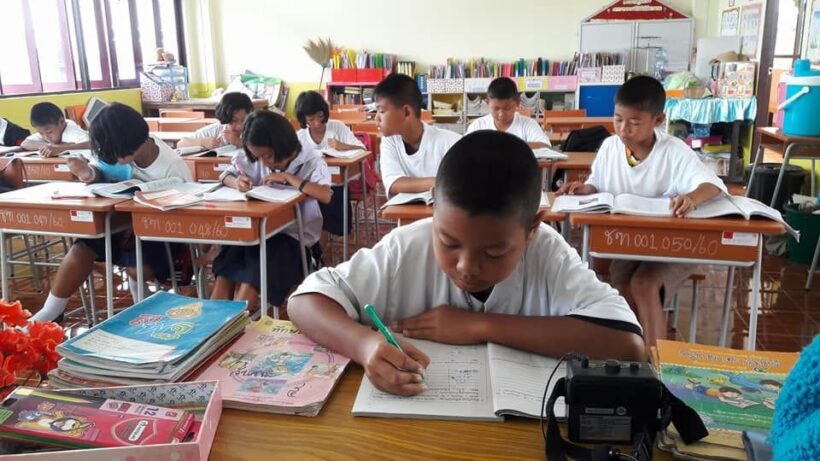 Many of us are involved in education, either directly or indirectly, here on the island. Many expats work with schools, many of us have children attending schools and others work in association with school activities or have partners in the local education system. Tomorrow is Thai Teacher Day and a new survey has come out reflecting what people think about Thai teaching.
Public confidence in teachers has very slightly dropped from 7.71 to 7.69 points in a recent survey, which was conducted to mark the National Teachers' Day. Thailand has designated tomorrow, January 16, as Teachers' Day.
At present, more than half a million Thais teach children at schools across the country. The confidence scores have taken into account teachers' personality, abilities, human-relationships skills, debt-free status, emotional control and saving habits in the eyes of more than 8,000 people.
Conducted by the Suan Dusit University between December 25 last year and January 8, the survey asked 8,212 people from various professions about their attitudes towards teachers. The findings showed that the public appreciated teachers for their attention to their students, patience, diligence and sacrifice.
As Thailand is keen to embrace innovations and new technologies, 20.66 per cent of respondents said they appreciated teachers' efforts to keep pace with IT trends. Respondents also mentioned perceived flaws of teachers.
Of all respondents, 27.81 per cent complained that teacher-student ties were not as solid as in the past. About 25.4 per cent felt teachers could not control their emotions well and did not understand the children under their charge. Up to 19.87 per cent complained that teachers did not seem to have good teaching techniques and often relied on old methods. When compared with a survey two years ago, public confidence in teachers was higher than the earlier 7.43-point score.
Nida Poll yesterday also released findings from its survey on teachers conducted among 1,253 people across the country between January 10 and 12, which found 26.98 per cent of people believed virtues such as compassion, honesty and integrity were the most important characteristics of teachers. About 22.82 per cent of the other respondents also mentioned similar answers, emphasising that teachers should serve as role models and pay attention to their teaching mission.
Some 21.79 per cent others said teachers should have teaching skills and abilities to pass on knowledge. Among other desirable characteristics were willingness to listen to children's problems, kindness and discipline. Asked how teachers should adjust themselves towards the "Thailand 4.0" era, 37.19 per cent said teachers should inculcate in their students social skills, virtues and IT knowledge.
Up to 33.36 per cent of respondents also said teachers should adjust their teaching methods and downplay rote-learning. Pornpimol Boonkote, the winner of the 2017 Khurusapha Award for teachers, said in the Thailand 4.0 era, teachers must change their roles.
"Don't spoon-feed knowledge. You must act as a coach instead," she said.
Teachers should engage their students in projects related to their interests and guide them in exploring solutions together, she said. Teaching at Doi Saket Wittayakom School, Pornpimol said it was possible for teachers in various subjects to evaluate students' knowledge and academic performance via a single project. Another award-winning teacher was Ratchasak Sawangwaeo who teaches at the Banlaem Wittaya School. Ratchasak has been recognised as outstanding because he taught students about dynamics and aviation science using ornithopters built using rubber bands.
Since 2015, his students have competed in at least 35 ornithopter competitions. Ratchasak's method of teaching has even engaged children who tend to sit in the back of classroom and fail to pay attention in class. Education expert Athapol Anunthavorasakul also said recently that the integration of technology into everyday life was central to the lifestyles of young people.
"The old way of having teachers just passing on knowledge no longer works," Athapol said. "Youths now require different skills, such as data verification, data selection for sharing, data production discretion and thinking skills. They will face more risks (in the current era) and must know how to make plans." Athapol is the director of the Research & Development Centre on Education for Sustainable Development at Chulalongkorn University's Faculty of Education.
What should teachers do to prepare themselves for Thailand 4.0 education?
37.19% Inculcate students with social skills, virtues and IT knowledge
33.36% Adjust teaching methods, downplay rote-learning
32.64% Upgrade skills and abilities
28.65% Use IT as teaching materials
27.29% Stimulate students' creativity and innovations
Source: NIDA Poll

Join the conversation and have your say on Thailand news published on The Thaiger.
Thaiger Talk is our new Thaiger Community where you can join the discussion on everything happening in Thailand right now.
Please note that articles are not posted to the forum instantly and can take up to 20 min before being visible. Click for more information and the Thaiger Talk Guidelines.