Chasing Hooters: One man's obsession with the global restaurant chain (video)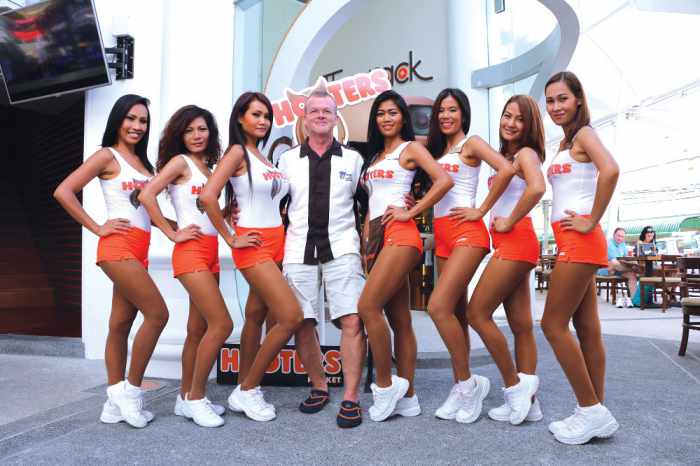 PHUKET: Some people don't need any reason to travel. They just pack their bags and hit the road. Wanderlust, they call it. But for most of us, there has to be a reason behind the journey. Be it business people who travel for the money, holiday makers who travel to have a break, or pilgrims who travel for their souls. No reason is better than the other right? Meet Harry Susemmihl who's reason to travel is… Hooters.
"I have visited 561 Hooters restaurants on five continents, including the one in Phuket," he told me when I met him at, naturally, Hooters in Patong. Sitting straight up, German style, over a glass of non-German beer he looked a bit out of place, maybe a bit stiff. But it took two minutes of our conversation for him to relax and I was flooded with a river of hooters-inspired stories.
"In January I was in Sao Paulo, in February I was in Cyprus, in March I went to Bogota, in April I visited California, Hollywood area, Hooters Casino Hotel in Vegas as well as three new Hooters restaurants in Phoenix, Arizona. Now I'm here; in August I'll be in Tokyo and Osaka and then in September in Manila. That's my year," he told me, and the only question I was left with at that moment was "Why? Why Hooters?"
"The first time I heard about Hooters was from a friend of mine who told me that I have to visit that restaurant that is different than others. 'How different?' I asked. 'You will see,' he replied.
"Later, when I visited Newport Beach in California in 1998, I saw a Hooters restaurant, so I stepped in. I saw the waitresses, I saw other people taking pictures with them and I thought "Hallelujah!"
"In all other restaurants the rules are simple – here is your food, eat, pay, leave. But at Hooters the girls have time to come to your table and talk to you and I think it's great." At this moment, as if to prove his point, a Hooters girl appeared to chat us up and serve us a plate of onion rings.
Harry ensured me that he is not sponsored by Hooters and all he ever got from them was a free beer or two. "It's my hobby!" he exclaimed.
And quite a collection he's got. While showing me photographs from different Hooters restaurants from around the globe, he presented me with one memory after another. Like the time when he flew from Germany to Israel just for one day, four hours in fact, only to eat in Hooters.
" I flew to Tel Aviv and the immigration officer asked me how long I was staying, to which I replied 'four hours."
"You fly from Germany to Israel for four hours?"
"Yes"
"Why?"
"I want to eat something"
"Why?"
"I'm hungry."
The immigration officer didn't find that reply as amusing as I did and 10 of his colleagues interrogated Harry for two and a half hours, asking him a dozen questions, including the World War II history of his family. And once this ordeal was over and Harry finally arrived at Hooters, all he could do was to turn back and go home – the restaurant was closed on the Sabbath.
"Three months later I came back and I made it to Hooters, I took some pictures and all was great," Harry told me. He also got a Hooters Polo shirt; he has 71 of them now.
Yes, people do think he's crazy. Including his colleagues from the post office in Germany where he works. Some of them (I'd guess most) thought he went mad when he spent 6,000 euros (260,000 baht) on a week-long trip to Central and South America during which he visited a different country (and different Hooters, of course) every single day. Six thousand euros is enough to pay for a two-week holiday for a whole family in an exotic destination.
"But I love Hooters, it's my collection and this is what I do," explained Harry.
Now, maybe there are some hungry people out there who visit Hooters just for the food, but I think it's a safe bet to say that most guests come there for the girls. Harry is no different, so the inevitable question had to be asked – where are the most beautiful Hooters girls?
"The most beautiful Hooters girls are in the US; it's like Baywatch. But go outside to the beach and it's not Baywatch at all. On the street, I'd say the girls are the most beautiful in Hungary, in Venezuela and in Russia. It must be easy to open a Hooters there."
Yes, most of us have reasons to travel. But some are indeed better than others.
— Maciek Klimowicz

Join the conversation and have your say on Thailand news published on The Thaiger.
Thaiger Talk is our new Thaiger Community where you can join the discussion on everything happening in Thailand right now.
Please note that articles are not posted to the forum instantly and can take up to 20 min before being visible. Click for more information and the Thaiger Talk Guidelines.