Blooming jellyfish stay for safety-stop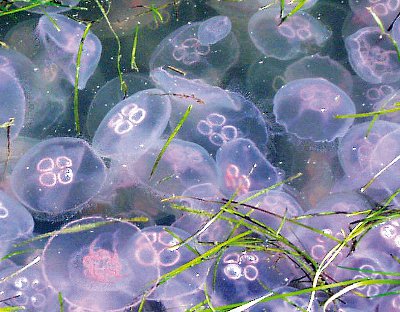 PHUKET: Directly in front of my mask, as we hang on the mooring line for our safety-stop, is a small jellyfish (jellies or sea jellies depending on your concern about the misnomer), not a box jellyfish or an infamous jelly-like Portuguese man-o-war washed up from Australia, just a little ambiguous jellyfish. Then through the bubbling of our regulators comes the dopey-baby voice of the blue tang in Finding Nemo, Dory.
"Hey there little guy. I shall call him Squishy and he shall be mine and he shall be my Squishy. Come on Squishy, come on little Squishy," she says.
The safety-stop is simply a routine, a mandatory five minutes spent at a depth of three meters to minimize decompression illness risks.
Those five minutes hanging onto the mooring line in the open blue water above a dive site like the King Cruiser is a time to reflect on what was seen and what is left to explore. A time to ponder if it's still safe to swim into the car deck, or what swim through is worth trying to squeeze into next time – it is rarely the highlight of a dive.
Thirty seconds after finding "squishy" we are inundated, completely consumed, by an enormous bloom of jellyfish. Millions of the small medusoid carnivores fill the ocean, which moments before was empty blue.
Our visibility is cut by a third from the sheer quantity of their opaque bodies. They're 95 per cent water, but the other five per cent was making a difference.
As the first long stinging tentacle strokes my arm, all the details about the dive on the King Cruiser, its 84-meter hull, the small school of barracuda, the flamboyant lion fish and even the enchanting structure of the wreck itself, flushes from my mind.
Each jellyfish's tentacle is covered with thousands of cells home to nematocysts, which contain stinging threads.
The current presses the small jellyfish against our bare arms and legs, causing the threads to uncoil and the stinging cells to spring out. The venom, a neurotoxin, is designed to paralyze small prey.
A Raya dive master quickly demonstrates how to prevent the small jellyfish from getting caught between our regulator and mask by placing his hand above his mouth.
The sharp stinging continues as everyone keeps glancing down at their dive watches. Even in moderate pain it is impressive to see the divers' discipline, especially because all I want is to be on the surface.
The heartless creatures (jelly fish have only six major body parts – no heart) aren't letting up. Apparently 650 million years of evolution had taught them plenty about survival and nothing about manners.
Back on the boat every diver is all smiles and awkward laughs from the adventure. The Raya dive instructor is quick on the draw with a spray bottle of vinegar and soon the pain from the stings disappears. Laughing with another diver, we show off some of the thick red welts on our arms, battle wounds from a memorable dive.
— Isaac Stone Simonelli
Keep in contact with The Thaiger by following our
Facebook page
.
Out of 37 countries, Thailand has the worst pension system, says Bloomberg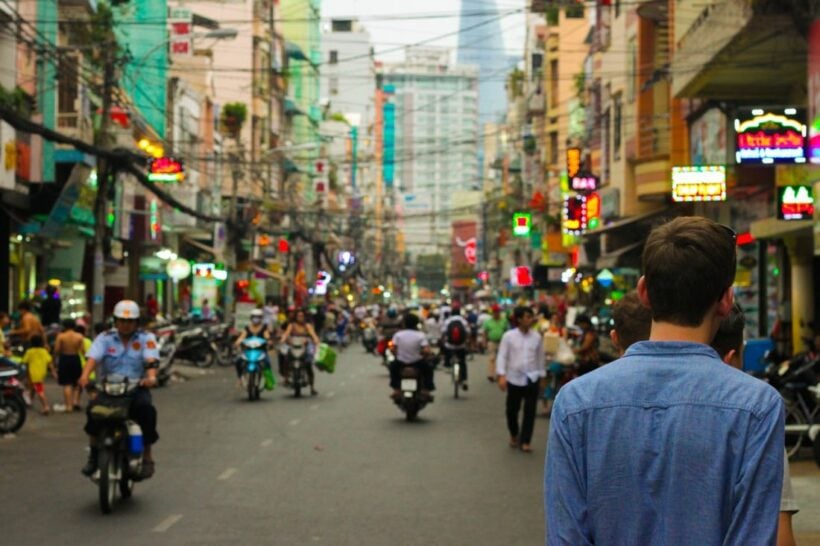 Thai Residents reports that on Sunday, Bloomberg published an article on the world's best pension systems, using information gathered from the 2019 Melbourne Mercer Global Pensions Index.
The survey looked at the pension systems of 37 countries with metrics including employee rights, savings, the number of homeowners, growth of assets, and growth of the economy. The purpose of the analysis was to determine what was needed to improve state pension systems and to gauge the level of confidence citizens had in their state pension system.
The Netherlands and Denmark were found to have the world's best state pensions, with Australia, Finland, Sweden, Norway, Singapore, New Zealand, Canada, and Chile next. Out of all 37 countries, Thailand finished last, with what the report described as an extremely ineffective and ambiguous system.
"Thailand was in the bottom slot and should introduce a minimum level of mandatory retirement savings and increase support for the poorest."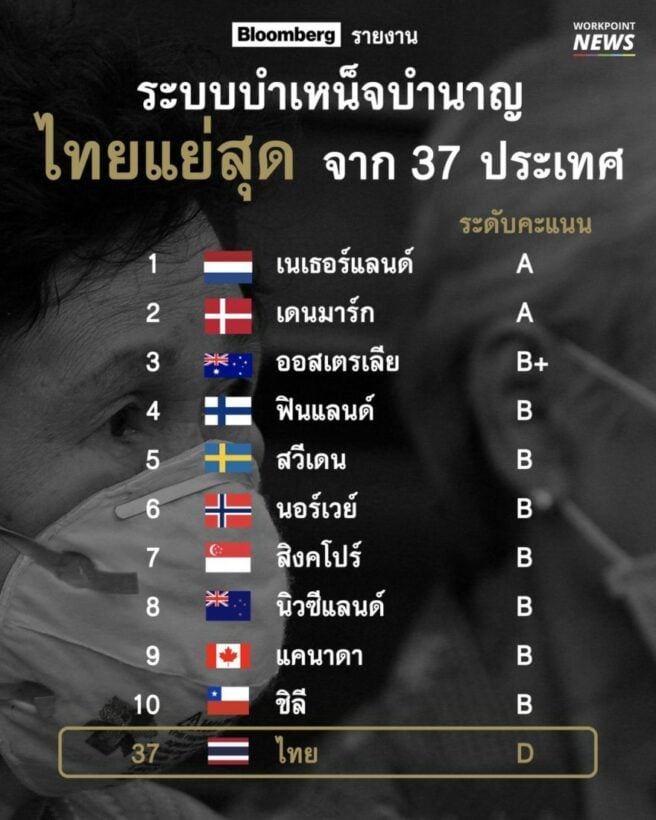 Photo: WorkpointNews
Thai Residents states that only those employed within the government system in Thailand are eligible for a pension based on salary. For most Thai citizens, pension amounts vary from 600 baht to 1,000 baht a month, depending on the recipient's age.
A report carried out by The Securities and Exchange Commission (SEC) advises Thai citizens to have at least 4 million baht saved by the time they retire, but Thai Residents reports that 60% of Thai retirees have less than 1 million baht in savings, with one in three citizens who have reached retirement age are forced to continue working in order to survive.
SOURCE: thairesidents.com
Keep in contact with The Thaiger by following our
Facebook page
.
Tax on salt content being considered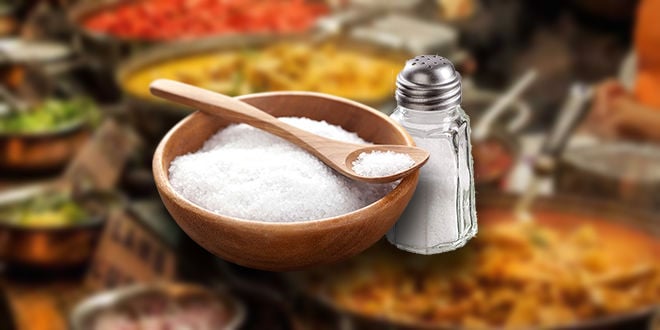 The Excise Department is considering imposing a tax on the salt content of food to encourage food producers to reduce the sodium content of snacks, instant noodles and seasoning cubes.
The director of the Office of Tax Planning said that the department is discussing a limit on the amount of sodium food can contain, in line with the standard set by the World Health Organization (WHO), which is 2,000 milligrams of salt per day.
In reality, Thai people consume an average of 1,000 milligrams per meal, making their daily intake well above WHO guidelines, according to the director.
He said any tax imposed would be at a level which would encourage food producers to reduce the sodium in their processed food without being punitive, adding that the proposal isn't intended to generate more tax revenue, but to help protect the health of consumers. Excessive sodium in the diet can lead to high blood pressure and kidney disease.
Fish sauce, soy sauce and salt would not be taxed.
SOURCE: thaipbsworld.com
Keep in contact with The Thaiger by following our
Facebook page
.
Water shortage warnings in 22 provinces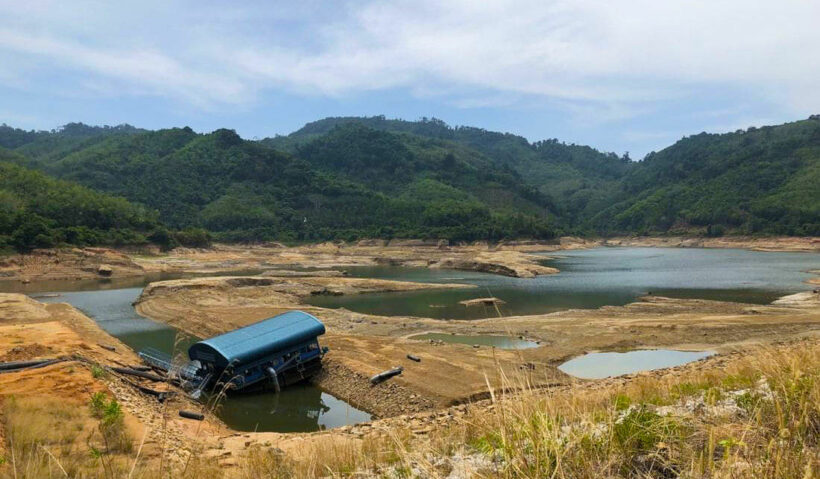 People living in 22 Thai provinces are being warned to prepare for shortages of drinking water during the upcoming dry season, due to start on November 1st.
The warning was issued by the National Water Resources Office, citing low levels in reservoirs, which are the main sources for tap water production waterworks in 22 provinces.
Areas at risk identified by the office are in northern, north-eastern, eastern and southern provinces.
Measures have been adopted by agencies charged with dealing with water shortages. including dredging water channels to allow greater volumes of water to flow into reservoirs, drilling underground wells, enlarging storage ponds and the purchase of water to supply to those in urgent need.
The Royal Irrigation Department has announced that people should use water sparingly.
There are currently about 6 billion cubic metres of usable water in reservoirs in the affected provinces, with 5 billion cubic metres reserved for consumption and ecological preservation, leaving only 1 billion cubic metres for use in agriculture.
This means farmers in the Chao Phraya river basin may not be able to grow a second crop of rice this year.
SOURCE: thaipbsworld.com
Keep in contact with The Thaiger by following our
Facebook page
.