Bangkok's gone to the dogs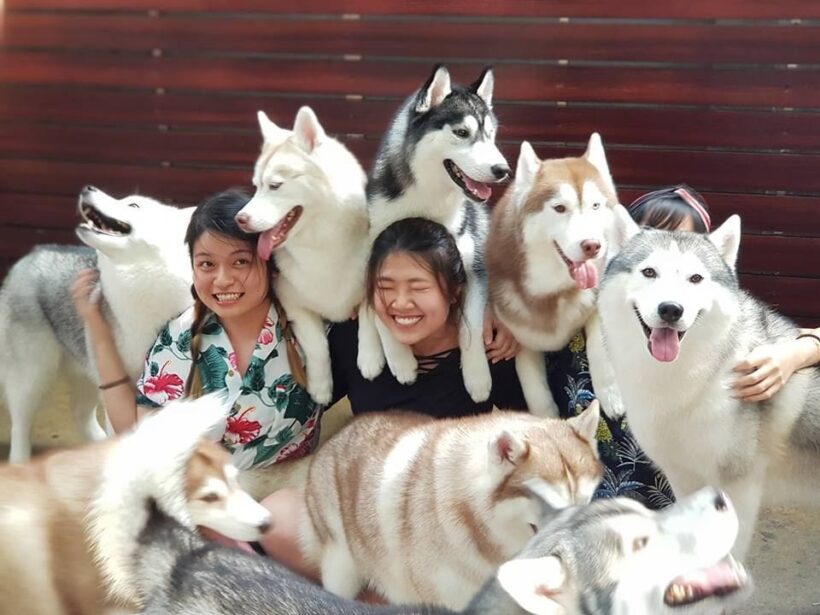 by Wong Chun Wai, The Star, Malaysia
PHOTOS: TrueLove at Neverland
The routine holiday to Bangkok, Thailand, for seasoned Malaysian tourists (like me) will probably include eating, massages and shopping. We have visited most of the tourist spots, and they are no longer appealing.
Yes, we've been there, done that… you know the drill.
It's become obvious to us that there are no tigers in the strangely named "tiger shows" as the performers are more acrobats than animal trainers, and it takes little for most of us to distinguish Lady Boys.
Then, there's only so much spicy tom yam soup and spicy som tam salad one can take before setting their belly on fire.
Not on the list of the most exciting things to do, though, is twiddling with our phones while the wives take forever to shop in Pratunam Market, the largest retail market in the city.
Also on that "list" is how some friends are forever asking the favour of paying respects – which they call vows and blessings – at the famous Erawan Shrine, or more famously known as the Four-Faced Buddha, located at the busy Ratchaprasong intersection.
That's what average Crazy Middle Class Malaysians do when they are in Bangkok – the same thing again and again.
On a recent trip there, though, I decided to try something else. It's already on the tourist map, but not mainstream yet, and it was important that I saw it before China tourists discover it and squeeze me out of the "dog house".
Being the owner of two lovely huskies, I was advised to check out TrueLove at Neverland dog café, located at a leafy, quiet neighbourhood in Bangkok.
It was a challenge getting there because most Thai taxi drivers don't speak English well. It was a struggle telling them I wanted to visit a husky café – because they had no idea what I was describing.
For some weird reason, the taxi driver kept saying "dog no good, sir, tiger better, very cheap. I take you to Soi Cowboy, very near only. No see dog, see tiger."
At this point, I began to get worried that our linguistic problem would lead him to selling me a show of feline persuasion, his interpretation, of course.
Thank God for Google, as we finally reached the location of the address – No. 153, Soi Ari Samphan 2, Phaya Thai, Khet Phaya Thai, Krung Thep Maha Nakhon 10400. And now you know why it isn't the best-known address.
But it was a worthwhile trip despite the initial hiccup and having to fend off the attempts of the taxi driver to take me to see furry animals of a different variety.
What sets TrueLove apart from the pack is its unique skew: The café is specifically a husky café.
There are dogs and then there are dogs, and I love these wolf-like animals for their appearance and beautiful coat of fur.
They are known to be stubborn, even stoic at times, and can be near impossible to command. Despite their intimidating appearance and strength, huskies are gentle, friendly and affable to humans. For whatever reason, they are a misunderstood canine species.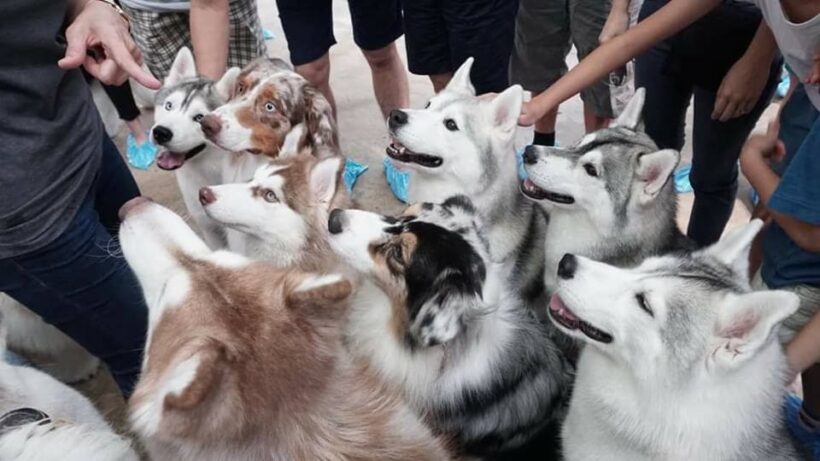 I was curious to find out how many of these dogs would be on parade to justify the entrance fee, and if the owner had provided adequate air-conditioning and fans to keep them cool and comfortable.
With their Siberian and Alaskan lineage, these huskies can't bear the heat – even if they are born in Thailand or most places in Malaysia.
When they are young, some have the trademark piercing, deep blue eyes, but as they grow older, those peepers turn grey or brown. Being a formerly-ignorant owner, I always blamed our lousy hot climate for the loss of those striking blue eyes.
In answering my primary curiosity, yes, there are enough dogs there to make one feel satisfied with the investment, but what was most heartening was the owner's attention to hygiene.
The enclosure was free of dog odour, poo or urine stains because attendants keep the place spick and span. The dogs are in view from the side of the café. For those wishing to enter the play area, they must adhere to some strict rules.
I had to take my shoes off and wear plastic covers for my feet provided by the café. I also had to wash my hands and use bacterial lotion – before and after entering the play area. The strict hygiene practice is commendable.
Eager not to miss a thing, I arrived at the café early for the "parade", which was essentially the grand entrance of the 25 or so dogs that comprised Siberian huskies and Alaskan malamutes. This was them coming out of their air-conditioned "homes".
Visitors are then allowed to join the "play and touch" session with these lovely huskies, as they energetically jump around, or just laze about, waiting to be patted and hugged.
Accustomed to the adoration of visitors, these dogs are at ease and readily interact with people. As much as I've described them as stubborn, they'll happily pose for photographs, too.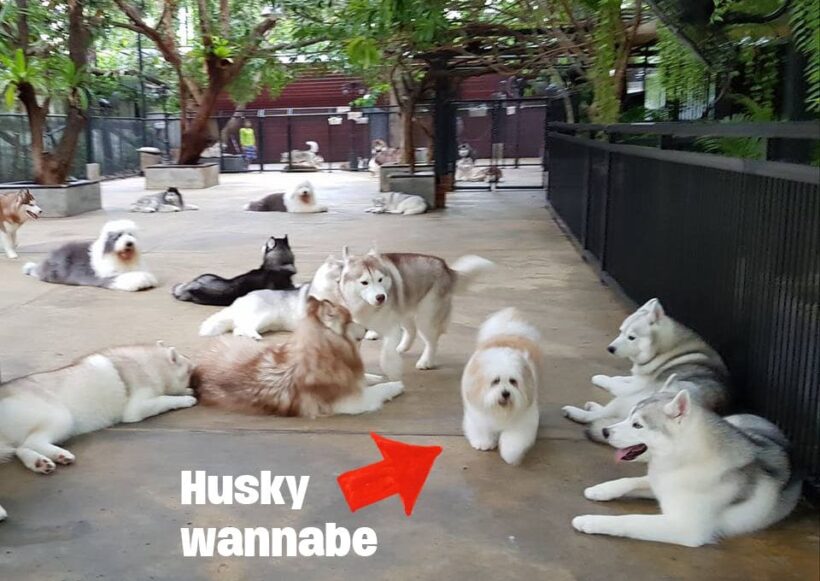 The dogs seem healthy and well looked after, as is apparent from their physique, behaviour and mood, which pleases me tremendously as a visitor and dog lover.
Treats aren't required for the obligatory "bribe", proof that these very endearing dogs are comfortable and sociable. These pooches sure enjoy being touched and hugged.
On the flip side, I had the misfortune of seeing sad-looking bears at a small zoo in Hokkaido, Japan, begging for food from visitors from their smelly enclosures. It was a sight which made my blood boil, and made me want to do something completely reckless, like freeing them into the nearby forest. That's a sinful place and should be shut down.
Closer to home, it's a no-brainer that no one goes to the husky café for the food – entrance tickets come with a complimentary cake and drink each – but rather to experience the joy of playing with these lovely and beautiful dogs.
These hair-shedding dogs are not the easiest pets to take care of and many dog homes are aware of owners abandoning them after realising the difficulties in caring for these big canines. So, the café offers a unique experience for us to be near them without the hassle.
There are enough dogs and time for visitors to have their fill, although in typical kiasu (afraid to lose) fashion, there was the predictable rush to hug the nicer-looking animals for pictures when the play area was opened.
What you really need to do is just chill and laze around, because these huskies will come to you. The best photographs are had when the excitement has died down and the animals are calmer.
This is an experience highly recommended for families, especially for children who have never interacted with dogs or had the opportunity of owning one because they either live in a tiny apartment or in an environment prohibiting dogs.
Be there early to avoid the crowds and check the latest operating times on the café's Facebook page. It is also better to call and place a booking, if one is in a group, to enable the staff to organise visits.
To get to TrueLove at Neverland by public transport, take the BTS (train) to Ari Station. Leave the station via Exit 2, then hop on a tuk-tuk and ask for Soi Ari Samphan 2, a trip which should cost about 40 baht each way. The staff at the café are helpful and ready to assist visitors in calling for a taxi or tuk tuk, so they can find their way out of this dog haven.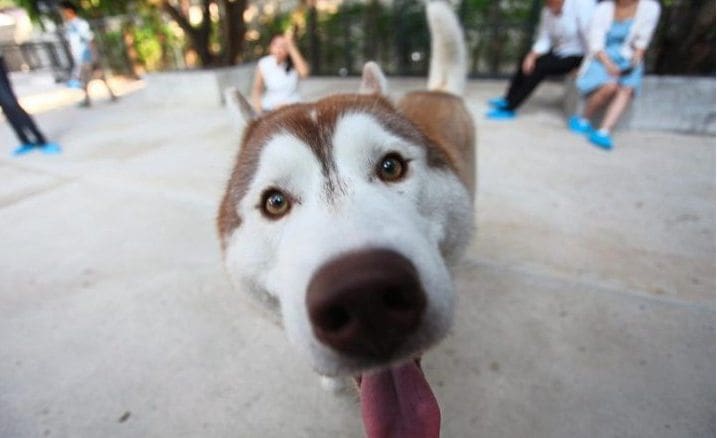 STORY: The Star, Malaysia
Keep in contact with The Thaiger by following our
Facebook page
.


Looking to jettison some items before jetsetting away or chartering a yacht? Look no further than Thaiger Classifieds where you can find and post items, work, property and more for free. Be sure to check out YonderTours for things to do in Thailand and tours across the country.

Read more headlines, reports & breaking news in Bangkok. Or catch up on your Thailand news.

Royal Barge Procession on Bangkok's Chao Phraya postponed to December 12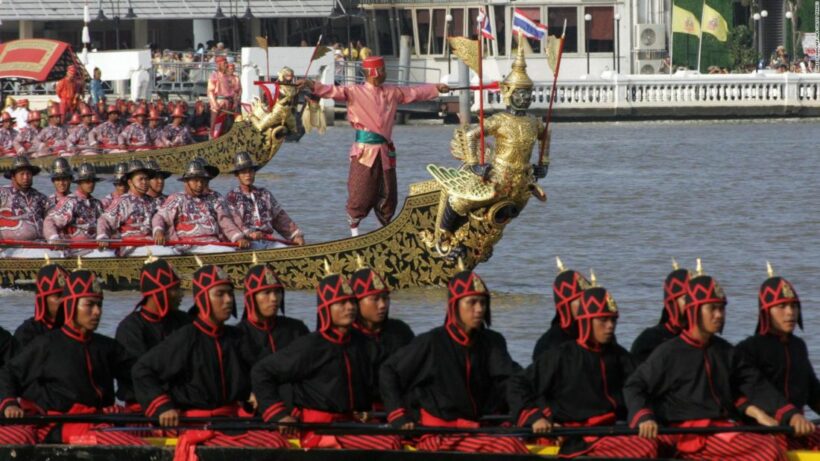 PHOTOS: AFP
His Majesty the King has ordered the Royal Barge Procession to be postponed to December 12, originally scheduled for October 24, as recommended by the organising committee chaired by PM Prayut Chan-o-cha. Deputy PM Wissanu Krea-ngarm told Parliament yesterday about the official postponement.
After ten rehearsals and one dress rehearsal, he said the organising committee agreed that, if the procession were to proceed on October 24, the water conditions in the Chao Phraya River, currents and weather conditions would not be optimal. The committee then reported its concerns to HM the King, who subsequently agreed that the event be postponed until December 12, the beginning of the winter in Bangkok and the most settled weather of the year, according to Thai PBS World.
The committee will meet again on October 21 and a formal announcement will be made about the new schedule, said Wissanu, adding that December would be perfect timing for the event as there will be little chance of rain.
The Royal Barge Procession is the official finale of the King's Coronation ceremony held in May this year. Their Majesties the King and Queen will ride on one of the 52 barges in the procession.
SOURCE: Thai PBS World
Here's an example of what it will look like…
Keep in contact with The Thaiger by following our
Facebook page
.
BTS thief and credit card skimmers arrested in Bangkok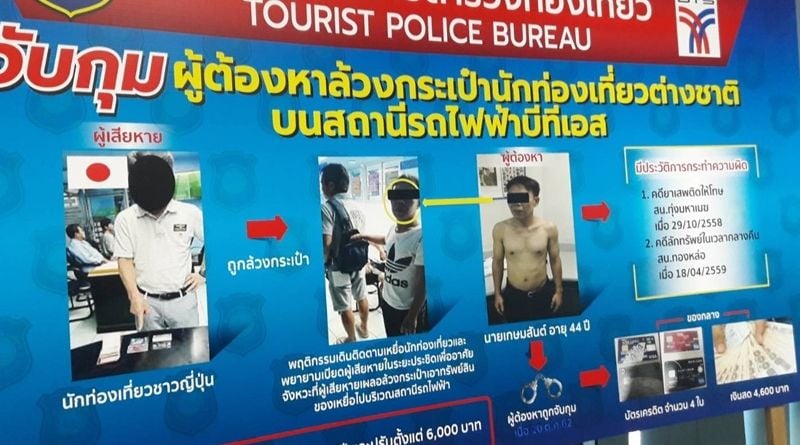 Tourist police in Bangkok have arrested a thief accused of pick-pocketing tourists on the city's BTS Skytrain, along with an Indonesian couple charged with credit card fraud and card skimming.
Kasem Masan Jantaro, a 44 year old food vendor in the Huay Kwang market, says he started pick-pocketing when business became too slow for him to adequately support his family. The Skytrain security team alerted the police after several reports of tourists being pick-pocketed on the trains. Victims described the thief as middle-aged, with pale skin.
Kasem was arrested while trying to flee the scene at the Asok BTS station on Wednesday and was found to have 4,600 baht in cash and four stolen credit cards in his possession. Thai Residents reports that Kasem was previously prosecuted for drugs offences in 2015 and for robbery in 2016.
In a separate arrest, Bangkok police detained 32 year old Alexander Eddilias and 33 year old Estie Rusdiana, an Indonesian couple charged with being in possession of fake credit cards, stolen credit cards, and skimming devices used to steal credit card information.
The arrest comes after several banks notified police of transactions made using fake cards and the couple were tracked to a room in the Pratunam area of Bangkok. Officers also seized a computer, a skimming device, twenty two fake credit cards, two stolen credit cards, and twenty four credit card receipts.
The suspects say they bought the information on the Dark Web. The information was then recorded in the magnetic strip of the fake cards, which were used to make purchases worth approximately 2 million baht.
SOURCE: Thai Residents
Keep in contact with The Thaiger by following our
Facebook page
.
Bangkok and Nonthaburi to get 2 extra holidays during ASEAN summit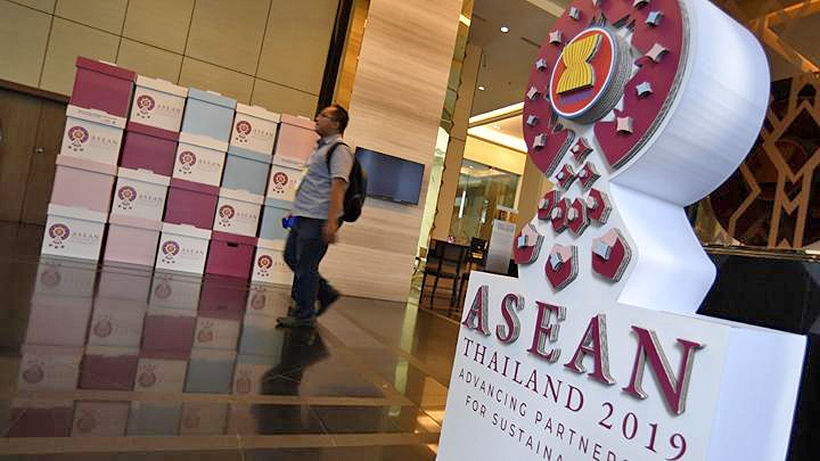 November 4 and 5 have been approved as official holidays for Bangkok and Nonthaburi as a result of the 35th Asean Summit and Related Summits being held at Impact Arena Muang Thong Thani in Bangkok.
Deputy government spokeswoman Traisulee Traisoranakul confirmed yesterday that the measure was being taken in an effort to alleviate traffic problems in both areas during the summit, adding that other state enterprises and the Bank of Thailand could implement the holidays for their subsidiaries at their own discretion and on a case-by-case basis.
"Government agencies in Bangkok and Nonthaburi will stop working on these dates. Meanwhile, state enterprises and the Bank of Thailand will consider announcing November 4 and 5 as holidays for their subsidiaries on case-by-case basis."
"However, government agencies which have a necessity to provide urgent or previously scheduled services to their clients that cannot be postponed may stay open on November 4 and 5, depending on the decision by the heads of these departments."
Some other public or regional holidays coming up…

SOURCE: The Nation
Keep in contact with The Thaiger by following our
Facebook page
.