Bangkok's gone to the dogs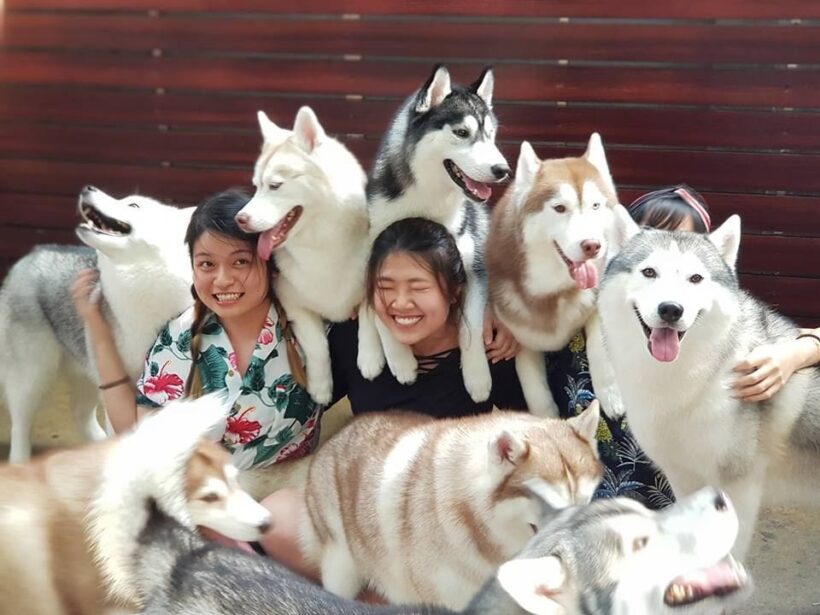 by Wong Chun Wai, The Star, Malaysia
PHOTOS: TrueLove at Neverland
The routine holiday to Bangkok, Thailand, for seasoned Malaysian tourists (like me) will probably include eating, massages and shopping. We have visited most of the tourist spots, and they are no longer appealing.
Yes, we've been there, done that… you know the drill.
It's become obvious to us that there are no tigers in the strangely named "tiger shows" as the performers are more acrobats than animal trainers, and it takes little for most of us to distinguish Lady Boys.
Then, there's only so much spicy tom yam soup and spicy som tam salad one can take before setting their belly on fire.
Not on the list of the most exciting things to do, though, is twiddling with our phones while the wives take forever to shop in Pratunam Market, the largest retail market in the city.
Also on that "list" is how some friends are forever asking the favour of paying respects – which they call vows and blessings – at the famous Erawan Shrine, or more famously known as the Four-Faced Buddha, located at the busy Ratchaprasong intersection.
That's what average Crazy Middle Class Malaysians do when they are in Bangkok – the same thing again and again.
On a recent trip there, though, I decided to try something else. It's already on the tourist map, but not mainstream yet, and it was important that I saw it before China tourists discover it and squeeze me out of the "dog house".
Being the owner of two lovely huskies, I was advised to check out TrueLove at Neverland dog café, located at a leafy, quiet neighbourhood in Bangkok.
It was a challenge getting there because most Thai taxi drivers don't speak English well. It was a struggle telling them I wanted to visit a husky café – because they had no idea what I was describing.
For some weird reason, the taxi driver kept saying "dog no good, sir, tiger better, very cheap. I take you to Soi Cowboy, very near only. No see dog, see tiger."
At this point, I began to get worried that our linguistic problem would lead him to selling me a show of feline persuasion, his interpretation, of course.
Thank God for Google, as we finally reached the location of the address – No. 153, Soi Ari Samphan 2, Phaya Thai, Khet Phaya Thai, Krung Thep Maha Nakhon 10400. And now you know why it isn't the best-known address.
But it was a worthwhile trip despite the initial hiccup and having to fend off the attempts of the taxi driver to take me to see furry animals of a different variety.
What sets TrueLove apart from the pack is its unique skew: The café is specifically a husky café.
There are dogs and then there are dogs, and I love these wolf-like animals for their appearance and beautiful coat of fur.
They are known to be stubborn, even stoic at times, and can be near impossible to command. Despite their intimidating appearance and strength, huskies are gentle, friendly and affable to humans. For whatever reason, they are a misunderstood canine species.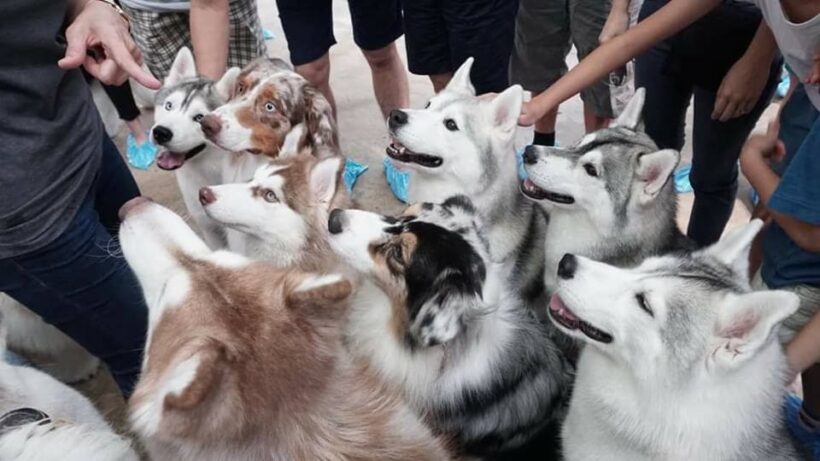 I was curious to find out how many of these dogs would be on parade to justify the entrance fee, and if the owner had provided adequate air-conditioning and fans to keep them cool and comfortable.
With their Siberian and Alaskan lineage, these huskies can't bear the heat – even if they are born in Thailand or most places in Malaysia.
When they are young, some have the trademark piercing, deep blue eyes, but as they grow older, those peepers turn grey or brown. Being a formerly-ignorant owner, I always blamed our lousy hot climate for the loss of those striking blue eyes.
In answering my primary curiosity, yes, there are enough dogs there to make one feel satisfied with the investment, but what was most heartening was the owner's attention to hygiene.
The enclosure was free of dog odour, poo or urine stains because attendants keep the place spick and span. The dogs are in view from the side of the café. For those wishing to enter the play area, they must adhere to some strict rules.
I had to take my shoes off and wear plastic covers for my feet provided by the café. I also had to wash my hands and use bacterial lotion – before and after entering the play area. The strict hygiene practice is commendable.
Eager not to miss a thing, I arrived at the café early for the "parade", which was essentially the grand entrance of the 25 or so dogs that comprised Siberian huskies and Alaskan malamutes. This was them coming out of their air-conditioned "homes".
Visitors are then allowed to join the "play and touch" session with these lovely huskies, as they energetically jump around, or just laze about, waiting to be patted and hugged.
Accustomed to the adoration of visitors, these dogs are at ease and readily interact with people. As much as I've described them as stubborn, they'll happily pose for photographs, too.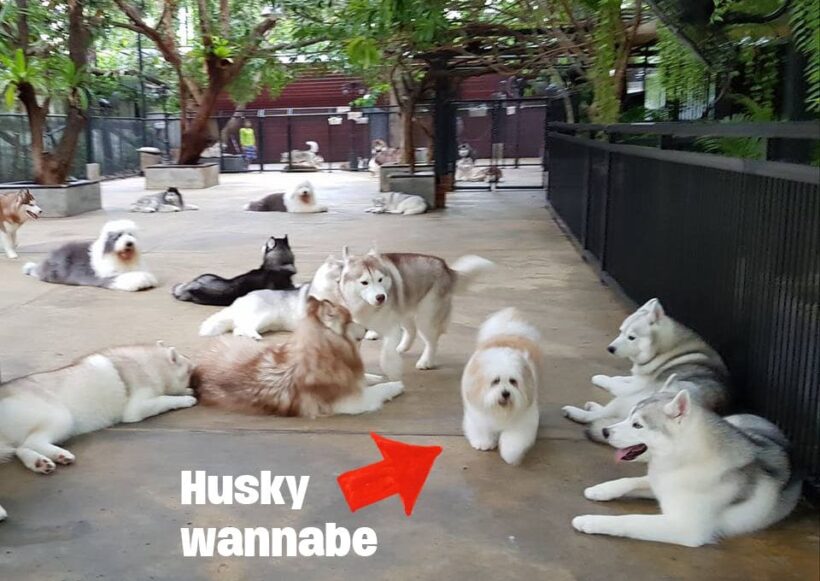 The dogs seem healthy and well looked after, as is apparent from their physique, behaviour and mood, which pleases me tremendously as a visitor and dog lover.
Treats aren't required for the obligatory "bribe", proof that these very endearing dogs are comfortable and sociable. These pooches sure enjoy being touched and hugged.
On the flip side, I had the misfortune of seeing sad-looking bears at a small zoo in Hokkaido, Japan, begging for food from visitors from their smelly enclosures. It was a sight which made my blood boil, and made me want to do something completely reckless, like freeing them into the nearby forest. That's a sinful place and should be shut down.
Closer to home, it's a no-brainer that no one goes to the husky café for the food – entrance tickets come with a complimentary cake and drink each – but rather to experience the joy of playing with these lovely and beautiful dogs.
These hair-shedding dogs are not the easiest pets to take care of and many dog homes are aware of owners abandoning them after realising the difficulties in caring for these big canines. So, the café offers a unique experience for us to be near them without the hassle.
There are enough dogs and time for visitors to have their fill, although in typical kiasu (afraid to lose) fashion, there was the predictable rush to hug the nicer-looking animals for pictures when the play area was opened.
What you really need to do is just chill and laze around, because these huskies will come to you. The best photographs are had when the excitement has died down and the animals are calmer.
This is an experience highly recommended for families, especially for children who have never interacted with dogs or had the opportunity of owning one because they either live in a tiny apartment or in an environment prohibiting dogs.
Be there early to avoid the crowds and check the latest operating times on the café's Facebook page. It is also better to call and place a booking, if one is in a group, to enable the staff to organise visits.
To get to TrueLove at Neverland by public transport, take the BTS (train) to Ari Station. Leave the station via Exit 2, then hop on a tuk-tuk and ask for Soi Ari Samphan 2, a trip which should cost about 40 baht each way. The staff at the café are helpful and ready to assist visitors in calling for a taxi or tuk tuk, so they can find their way out of this dog haven.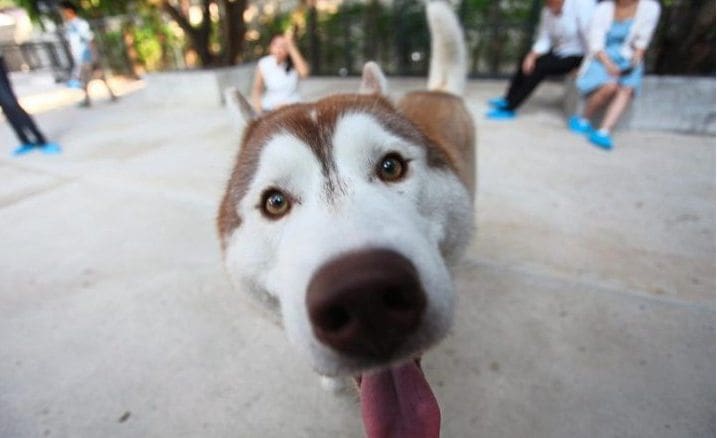 STORY: The Star, Malaysia
Keep in contact with The Thaiger by following our
Facebook page
.
Never miss out on future posts by
following The Thaiger
.
Royalists rally at US Embassy, call on Americans to stop interfering with Thai politics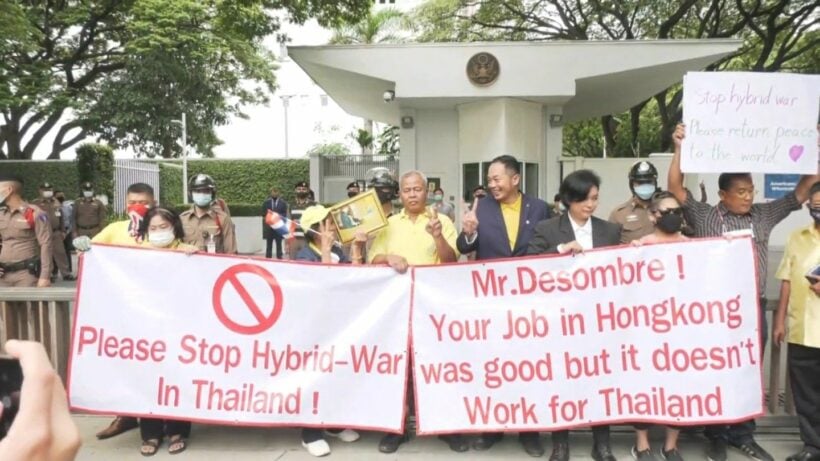 Royalists gathered this morning at the United States Embassy in Bangkok and called on Americans to stop a so-called "hybrid war," implying that the US government is interfering with Thailand politics during a time of ongoing pro-democracy protests.
Dressed in yellow, the colour symbolising the Thai Monarchy, the protesters held signs calling on an end to a hybrid war. Some waved the Thailand national flag and some held up photos of the Royal family. One sign read "Stop hybrid war. Please return peace to the world."
A large sign was directed at Ambassador Michael George DeSombre, who also served on the board Hong Kong forum which, according to the US government, "seeks to promote the exchange of ideas between scholars and policymakers worldwide and to foster communication between the United States and China."
The sign read "Mr. DeSombre! Your job in Hong Kong was good, but it doesn't work for Thailand."
Former singer and member of the Thai Pakdee royalist group, Hurethai Muangboonsri, led the rally and accused the US government of creating divide in Thailand.
"Don't make Thais fight among each other or our nation will collapse. Remember that! Stop the conflict and stop the interference. This is Thailand, not Hong Kong."
It's unclear how many people showed up at the rally, but Nation Thailand says 20 police officers from Lumpini Station were deployed to secure the area around the embassy.
Whether or not the US is meddling with Thai politics, a pro-democracy activist told the Thaiger in a previous interview that political protests in America have influenced and motivated some in Thailand to rally and speak up for change.
SOURCES: Nation Thailand| US Government
Catch up with the latest daily "Thailand News Today" here on The Thaiger.
Keep in contact with The Thaiger by following our
Facebook page
.
Never miss out on future posts by
following The Thaiger
.
145 more on Special Tourist Visa arrive in Bangkok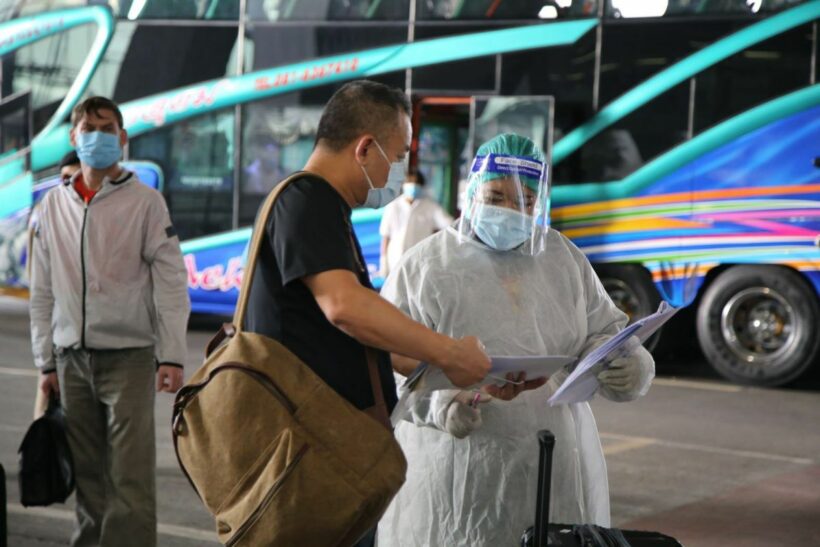 145 people on the new Special Tourist Visa arrived in Bangkok yesterday from Guangzhou, China, the second group after Thailand's 7 month ban on international tourists. 39 people on the new long stay visa arrived last week, a small, yet significant step forward for Thailand as it pries open the borders for tourists, albeit with a lot of paperwork, restrictions AND the 14 day quarantine.
The country went from welcoming millions of tourists each month before the pandemic to zero from late-March until a few weeks ago. In 2019, nearly 40 million tourists visited Thailand.
All the tourists passed the Covid-19 screening upon arrival at the Suvarnabhumi Airport. They are now required to go through a 14 day quarantine at an approved hotel or facility before travelling the country.
The tourists were on the same China Southern Airlines flight as 118 foreigners with Thai work permits who were entering Thailand for business purposes, according to the airport's deputy director Kittipong Kittikachon. 16 Thais were also on the flight, travelling back home from China.
While some have been concerned that opening the borders to foreign tourists could cause another outbreak (even though the tourists are also required to quarantine), Kittipong says there is "no chance" that the coronavirus will spread from the tourists. He says strict health measures are in place and the tourists are coming from areas that are considered a "very low risk" with no recent local transmissions of the virus.
SOURCE: Pattaya News
Catch up with the latest daily "Thailand News Today" here on The Thaiger.
Keep in contact with The Thaiger by following our
Facebook page
.
Never miss out on future posts by
following The Thaiger
.
Both rallies outside German Embassy broke the law – deputy police chief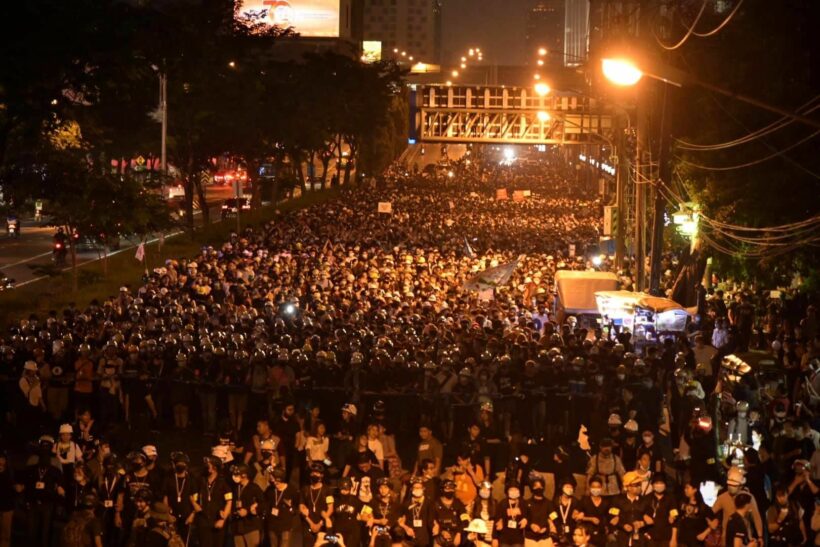 Both of the rallies outside the German Embassy in Bangkok – the royalists and government supporters earlier yesterday afternoon and the pro-democracy protesters in the evening – are illegal, police say.
Deputy Metropolitan Police Chief Piya Tawichai says both rallies held outside the embassy on Sathorn Road did not have the permit required to hold a gathering and demonstrators violated Covid-19 prevention measures under the emergency order. The deputy police chief says police will investigate and remain neutral, enforcing the law equally regardless of political opinion.
Pro-democracy activists, who are calling on government and monarchy reform, had announced they would file what some call a "controversial" and "unprecedented" letter with the German Embassy, calling on the foreign officials to look into whether His Majesty the King conducted Thai political business on German soil where the he habitually resides.
HERE is details of the letter that was delivered.
Around 500 royalists got to the embassy first in the afternoon to show support for the Thai Monarch. Most were dressed in yellow, the colour representing the Thai Monarchy, and many waved the Thai flag and held up photos of the Royal family.
Later that evening, thousands of protesters, estimated to be up to 10,000, called on reform marched to the German Embassy from Sam Yan intersection to submit the letter. The Germany's Foreign Minister responded by saying that they are continuously "keeping an eye out" and if anything is found to be illegal, there will be "immediate consequences."
SOURCE: Pattaya News
Catch up with the latest daily "Thailand News Today" here on The Thaiger.
Keep in contact with The Thaiger by following our
Facebook page
.
Never miss out on future posts by
following The Thaiger
.