Hiroshima's burnt origami cranes transform into peace-promoting pottery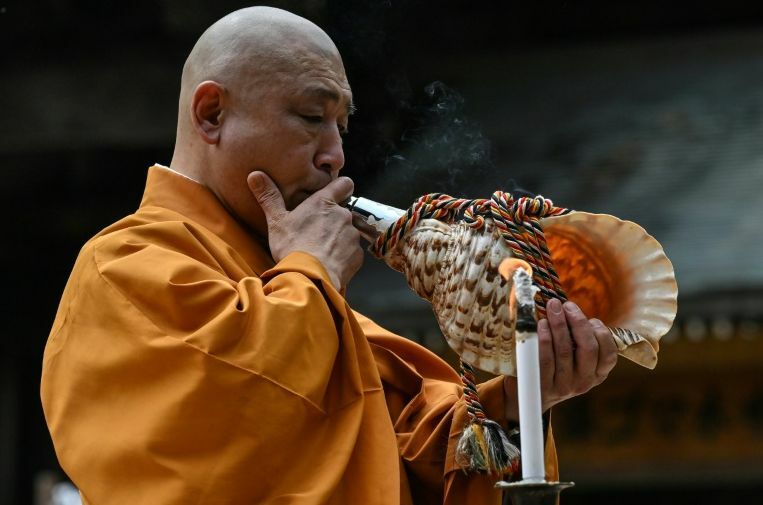 In a hillside temple on Miyajima island, facing Hiroshima, a monk in saffron robes blows a conch and begins chanting prayers as thousands of origami cranes donated to Hiroshima are burned. For the past decade, the Daisho-in Buddhist temple has held ritual burnings of the millions of origami cranes sent to Hiroshima each year, honouring the sentiments folded into each of the miniature paper birds.
Since 2015, the ash from the burned cranes has been used to glaze ceramic incense burners and candle holders, including one given to Ukrainian President Volodymyr Zelensky by Japan's prime minister during a trip to Kyiv. The tradition of sending cranes to Hiroshima was inspired by Sadako Sasaki, who was only two years old when the United States dropped an atomic bomb on the city on August 6, 1945.
Sasaki developed leukaemia and began folding cranes in the hospital, following a tradition that holds folding 1,000 can make a wish come true. She died at the age of 12, becoming a powerful symbol of the bomb's effects and a popular way to educate children about the attack.
For years, the cranes sent to Hiroshima were simply left at memorials, with municipal cleaners occasionally disposing of them. In 2012, as the city searched for a better way to handle the cranes, Kinya Saito of the Nagomi Project, a peace group, proposed ritually burning them. "I thought about the idea of emotions being released with smoke and sent up to the victims of the atomic bomb," said Saito, a Hiroshima native.
Yoyu Mimatsu, a monk at Daisho-in, has led the burning ceremony for the past decade. After blowing the conch, he sits at a table in front of the fire pit and strikes a prayer bowl before beginning chants for the souls of bomb victims. He also prays "for the emotions and prayers of people from all over the world, the prayers for peace folded into each of the paper cranes, to reach the heavens," the 57-year-old said.
While Daisho-in was willing to burn the cranes, they weren't sure what to do with the leftover ash. They found a solution in Taigendo, a pottery studio that for more than 100 years has produced ceramics using sacred sand from under a Miyajima shrine. The third-generation potter running the studio, Kosai Yamane, was already using ash from an eternal flame burning on Miyajima to glaze his ceramics and was open to using the crane ash in a similar way, reported Bangkok Post.
It was an artistic project, but also deeply personal for Yamane, whose mother was 14 at the time of the bomb attack. "She had burn scars on her elbows, and as a child, I never saw her wear anything except long sleeves," Yamane said. "She never talked about it. I felt she was trying everything to avoid being noticed, to avoid talking about it."
Yamane knew immediately the crane ash could not be used to glaze everyday items like cups or bowls. "I wanted to make something that would convey a message of peace from Hiroshima," he said. He settled first on a delicate crane-shaped incense burner and later began producing candle holders. They have a dome-like top modelled on the shape of the Children's Peace Memorial and are etched with cranes. The candle sits under the dome on a plate glazed with ash, the glaze helping reflect the light to produce a warm orange glow.
Yamane was shocked but delighted to learn Japanese Prime Minister Kishida had presented Zelensky with one on his March visit. "I felt that people's message of peace was in the right place," the 60-year-old said. "This message gathers in Hiroshima, but it does not come only from Japan, it comes from all over the world, and is brought together when the cranes are burned."
Group of Seven leaders, including US President Joe Biden, are expected to visit peace sites in Hiroshima during this week's summit, where Kishida will push for action on nuclear disarmament. "Hiroshima is now a synonym for peace," said Saito. But it is also "a place that directly illustrates how terrifying and horrifying nuclear weapons are." "I want the leaders to understand what happened, to listen to what people say."
World News

Join the conversation and have your say on Thailand news published on The Thaiger.
Thaiger Talk is our new Thaiger Community where you can join the discussion on everything happening in Thailand right now.
Please note that articles are not posted to the forum instantly and can take up to 20 min before being visible. Click for more information and the Thaiger Talk Guidelines.