World News: U.N. recognises sovereign state of Palestine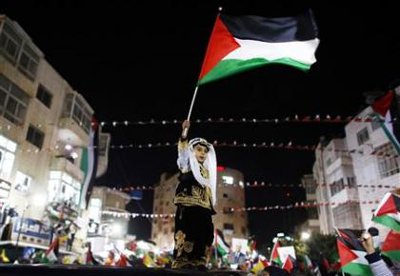 PHUKET MEDIA WATCH
– World news selected by Gazette editors for Phuket's international community
Palestinians win de facto U.N. recognition of sovereign state
Reuters / Phuket Gazette
PHUKET: The 193-nation U.N. General Assembly yesterday overwhelmingly approved the de facto recognition of the sovereign state of Palestine after Palestinian President Mahmoud Abbas called on the world body to issue its long overdue "birth certificate."
The U.N. victory for the Palestinians was a diplomatic setback for the United States and Israel, which were joined by only a handful of countries in voting against the move to upgrade the Palestinian Authority's observer status at the United Nations to "non-member state" from "entity," like the Vatican.
Britain called on the United States to use its influence to help break the long impasse in Israeli-Palestinian peace talks. Washington also called for a revival of direct negotiations.
There were 138 votes in favour, nine against and 41 abstentions. Three countries did not take part in the vote, held on the 65th anniversary of the adoption of U.N. resolution 181 that partitioned Palestine into separate Jewish and Arab states.
Thousands of flag-waving Palestinians in the West Bank and the Gaza Strip set off fireworks and danced in the streets to celebrate the vote.
The assembly approved the upgrade despite threats by the United States and Israel to punish the Palestinians by withholding funds for the West Bank government. U.N. envoys said Israel might not retaliate harshly against the Palestinians over the vote as long as they do not seek to join the International Criminal Court.
If the Palestinians were to join the ICC, they could file complaints with the court accusing Israel of war crimes, crimes against humanity and other serious crimes.
U.S. Secretary of State Hillary Clinton called the vote "unfortunate and counterproductive," while the Vatican praised the move and called for an internationally guaranteed special status for Jerusalem, something bound to irritate Israel.
The much-anticipated vote came after Abbas denounced Israel from the U.N. podium for its "aggressive policies and the perpetration of war crimes," remarks that elicited a furious response from the Jewish state.
"Sixty-five years ago on this day, the United Nations General Assembly adopted resolution 181, which partitioned the land of historic Palestine into two states and became the birth certificate for Israel," Abbas told the assembly after receiving a standing ovation.
"The General Assembly is called upon today to issue a birth certificate of the reality of the State of Palestine," he said.
Israeli Prime Minister Benjamin Netanyahu responded quickly, condemning Abbas' critique of Israel as "hostile and poisonous," and full of "false propaganda.
"These are not the words of a man who wants peace," Netanyahu said in a statement released by his office. He reiterated Israeli calls for direct talks with the Palestinians, dismissing Thursday's resolution as "meaningless."
ICC threat
A number of Western delegations noted that the vote should not be interpreted as formal legal recognition of a Palestinian state. Formal recognition of statehood is something that is done bilaterally, not by the United Nations.
Granting Palestinians the title of "non-member observer state" falls short of full U.N. membership – something the Palestinians failed to achieve last year. But it does have important legal implications – it would allow them access to the ICC and other international bodies, should they choose to join.
Abbas did not mention the ICC in his speech. But Palestinian Foreign Minister Riyad al-Maliki told reporters after the vote that if Israel continued to build illegal settlements, the Palestinians might pursue the ICC route.
"As long as the Israelis are not committing atrocities, are not building settlements, are not violating international law, then we don't see any reason to go anywhere," he said.
"If the Israelis continue with such policy – aggression, settlements, assassinations, attacks, confiscations, building walls – violating international law, then we have no other remedy but really to knock those to other places," Maliki said.
In Washington, a group of four Republican and Democratic senators announced legislation that would close the Palestinian office in Washington unless the Palestinians enter "meaningful negotiations" with Israel, and eliminate all U.S. assistance to the Palestinian Authority if it turns to the ICC.
"I fear the Palestinian Authority will now be able to use the United Nations as a political club against Israel," said Republican Senator Lindsey Graham, one of the sponsors.
Abbas led the campaign to win support for the resolution, which followed an eight-day conflict this month between Israel and Islamists in the Gaza Strip, who are pledged to Israel's destruction and oppose a negotiated peace.
The vote highlighted how deeply divided Europe is on the Israeli-Palestinian conflict.
At least 17 European nations voted in favor of the Palestinian resolution, including Austria, France, Italy, Norway and Spain. Abbas had focused his lobbying efforts on Europe, which supplies much of the aid the Palestinian Authority relies on. Britain, Germany and many others chose to abstain.
The traditionally pro-Israel Czech Republic was unique in Europe, joining the United States, Israel, Canada, Panama and the tiny Pacific Island states Nauru, Palau, Marshall Islands and Micronesia in voting against the move.
"Hope some reason will prevail"
Peace talks have been stalled for two years, mainly over Israeli settlements in the West Bank, which have expanded despite being deemed illegal by most of the world. There are 4.3 million Palestinians in the West Bank and Gaza.
After the vote, U.S. Ambassador to the United Nations Susan Rice called for the immediate resumption of peace talks.
"The Palestinian people will wake up tomorrow and find that little about their lives has changed save that the prospects of a durable peace have only receded," she said.
She added that both parties should "avoid any further provocative actions in the region, in New York or elsewhere."
Palestinian Prime Minister Salam Fayyad said he hoped all sides would use the vote to push for new breakthroughs in the peace process.
"I hope there will be no punitive measures," Fayyad told Reuters in Washington, where he was attending a conference.
"I hope that some reason will prevail and the opportunity will be taken to take advantage of what happened today in favor of getting a political process moving," he said.
Britain's U.N. ambassador, Mark Lyall Grant, told reporters it was time for recently re-elected U.S. President Barack Obama to make a new push for peace.
"We believe the window for the two-state solution is closing," he said. "That is why we are encouraging the United States and other key international actors to grasp this opportunity and use the next 12 months as a way to really break through this impasse."
— Reuters
Thai-owned Dusit D2 Hotel under fire in Nairobi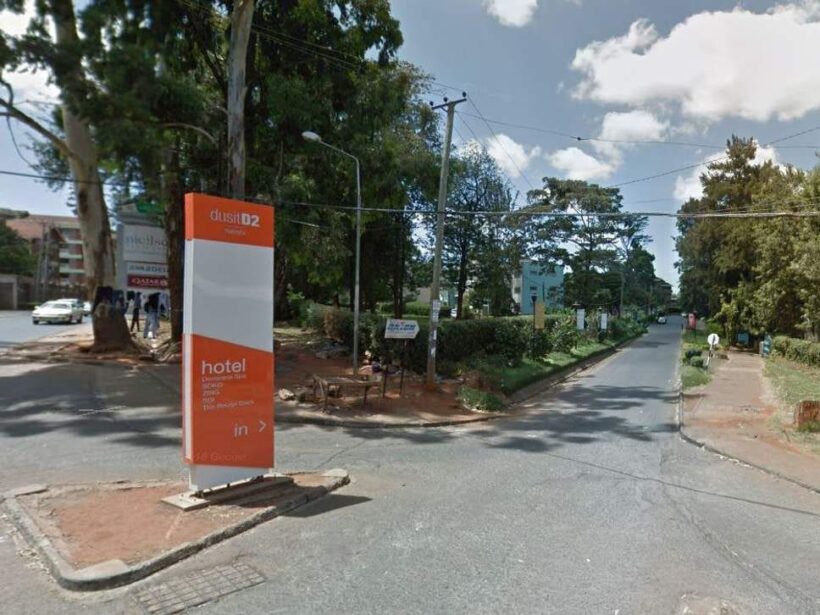 PHOTO: Google Maps
Two explosions and gunfire have been heard amid an apparent attack at an upscale hotel and office complex in Kenyan capital Nairobi. News just in from independent.co.uk
"We are under attack," another person in an office inside a complex in the DusitD2 hotel told Reuters, then hung up. Local television showed smoke rising from the area.
"I just started hearing gunshots, and then started seeing people running away raising their hands up and some were entering the bank to hide for their lives," a woman working in a neighbouring building told the news agency. She also heard two explosions, she said.
Nairobi police commander Philip Ndolo said officers had cordoned off the area around Riverside Drive due to a suspected robbery.
However, police spokesman Charles Owino told local media officials were not ruling out an attack by militants.
Read the rest of the Reuters report HERE.
Paralyzed from rare disease, Caroline returns home from Thailand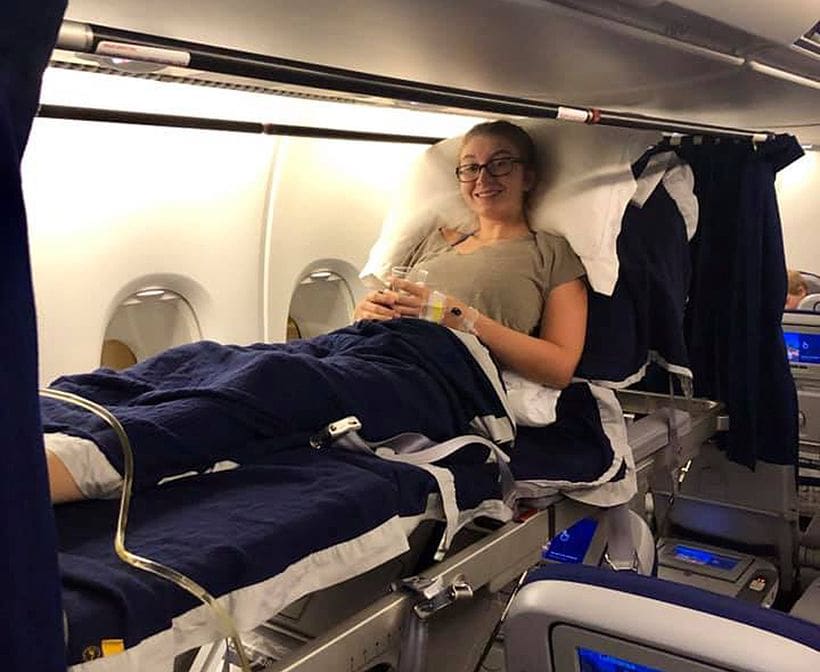 Original report by Karina Bolster and David Hylton. PHOTOS: Facebook/Jim Brader
A 22 year old woman from Virginia, US, who was paralyzed after her diagnosis of a rare auto-immune disease while teaching in Thailand, has arrived back home in the US.
Caroline Bradner was hospitalised in Thailand ever since.
A travel insurance company had agreed earlier this month to help Bradner get home. Caroline had originally travelled to Surat Thani in southern Thailand for a marketing internship but soon fell in love with teaching English to young children.
"She thought that would help broaden herself and also give back to other people," said her father Jim Bradner.
But two months in to her six month stay the unexpected happened.
On December 22 Caroline woke up in her apartment in Thailand unable to move, according to her sister.
"It's a punch in the gut," Bradner said.
Read more about Caroline's condition and the challenge to get her home HERE.

A friend, also from Virginia, took Caroline to the hospital after she started exhibiting symptoms of weakness, abdominal pain and paralysis.
Doctors in Thailand diagnosed her with Guillain Barre Syndrome, a rare auto-immune disease that causes your body's immune system to attack your nerves.
The family found out about Caroline's situation when they were picking her sister up at the airport.
Caroline's mother flew out Christmas Eve to help with her daughter's recovery while the rest of the family focused on finding a way to get her home.
Last night (Saturday), her father posted photos to Facebook as Caroline arrived home.
Friends, family and strangers donated to a GoFundMe page, originally created to help pay for transportation.
"Any additional funds will be donated to GBS/CIDP Foundation International," the fundraising page said.
Original article HERE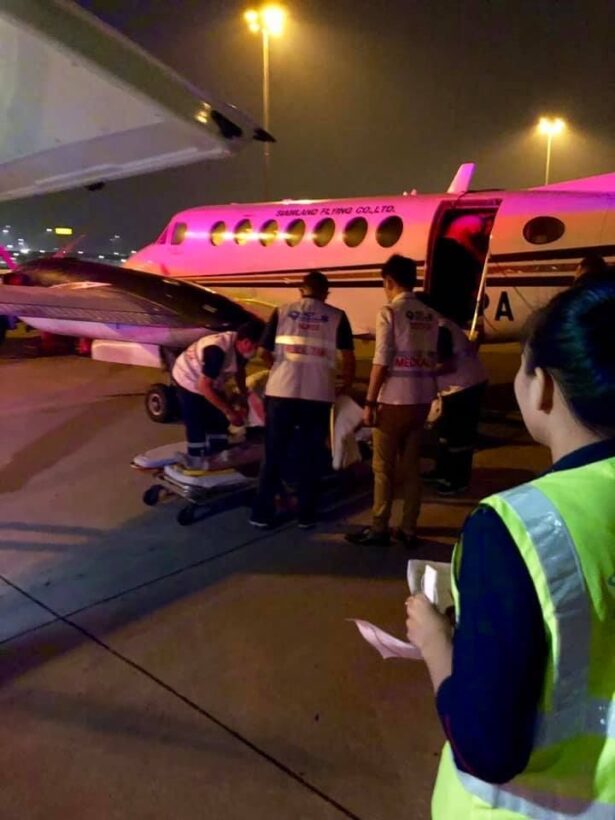 Rahaf al-Qunun arrives in Canada – no mention in Saudi media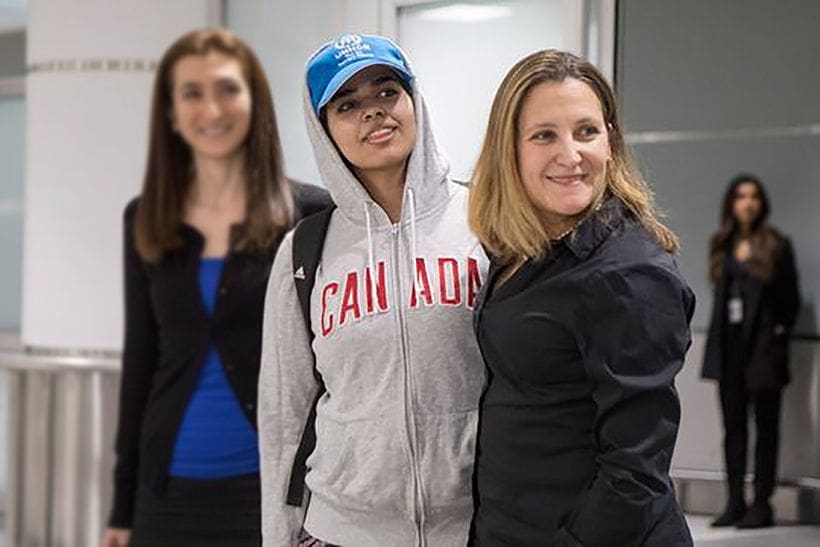 The 18 year old Saudi runaway who says she feared her family and possible death if she was deported back to Saudi Arabia, has arrived in Canada. Canadian officials offered her asylum in a case that became global news after the plucky woman mounted a Twitter storm, barricaded in her airport hotel room last weekend.
The Canadian Foreign Minister Chrystia Freeland met Rahaf Mohammed al-Qunun at Toronto's airport after arriving on a Korean flight from Bangkok, via Seoul.
"This is Rahaf al-Qunun, a very brave new Canadian." 
Al-Qunun smiled as she exited an airport arrival door wearing a Canada zipper hoodie and a UN High Commissioner for Refugees cap.
Her arrival in Canada ended a dramatic seven days that started with her fleeing her family while visiting Kuwait and flying to Bangkok. 
After a week of diplomatic 'push and pull' between the Thai, Saudi, then Australian and Canadian governments, the UN High Commissioner for Refugees was allowed to step in and assess the woman's request for refugee status.
On Friday, Prime Minister Justin Trudeau announced that Canada would accept Al-Qunun as a refugee. The Canadian PM said the situation has highlighted the cause of women's rights in Saudi Arabia.
Upon her arrival yesterday the Canadian FM said Qunun preferred not to take questions.
"It was a pleasure for me this morning to welcome her to her new home."
"She is obviously very tired after a long journey and she preferred to go and get settled. But it was Rahaf's choice to come out and say hello to Canadians. She wanted Canadians to see that she's here, that she's well and that she's very happy to be in her new home."
Freeland said Qunun commented about the cold weather and she responded that it gets warmer in Canada.
Qunun Tweeted two pictures from her flight. One with what appears to be a glass of wine and her passport and another holding her passport while on the plane #I did it and emojis showing plane, hearts and wine glass.
There was no immediate Saudi government reaction, nor any mention of her arrival in state media.