World
Phuket Gazette World News: Ukraine's Yanukovich defies protesters to meet Putin; France enters CAR; Clashes in Athens; Japan enacts state secrets act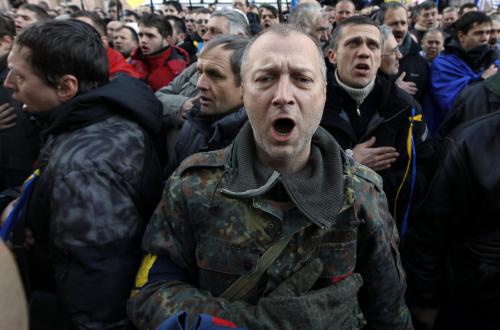 PHUKET MEDIA WATCH
– World news compiled by Gazette editors for Phuket's international community
Clashes break out in Athens
Reuters / Phuket Gazette
PHUKET: Police and protesters clashed in Athens on Friday on the fifth anniversary of the killing of a teenager by police, an incident that sparked Greece's worst riots for decades.
Thousands of protesters, many dressed in black, marched through the streets chanting "Cops, Pigs, Murderers" and holding banners reading "Alexis lives", in tribute to 15-year-old Alexandros Grigoropoulos.
Hundreds of riot police were deployed on the streets of Athens and around parliament, as lawmakers debated the 2014 budget plan, which inflicts a new wave of austerity cuts as the country struggles to exit the crisis.
The march was peaceful, but fighting later broke out in the bohemian Exarchia district, the site of the shooting. Police fired teargas at protesters hurling petrol bombs and stones at them and setting garbage containers on fire.
Earlier in the day, police arrested 10 youths after a separate march by 1,500 students earlier in the day.
On December 6 2008, hours after Grigoropoulos was shot dead, thousands took to the streets of the Greek capital, torching cars and smashing shop windows.
Fuelled by anger at unemployment and economic hardship in the prelude to Greece's worst financial crisis in decades, the riots lasted for weeks, turning central Athens into a no-go area and helping topple the then-conservative government.
In 2010, two policemen were convicted for the murder.
The anniversary of the student's killing in recent years has become a focal point for anti-austerity protests, though demonstrations against the government this year have largely fizzled out amid a sense of resignation among Greeks.
Tensions have risen again in recent months after anti-fascist rapper Pavlos Fyssas was stabbed to death by a supporter of the far-right Golden Dawn party.
Less than two months later, two Golden Dawn members were gunned down outside a local party office, in Athens. An anti-establishment guerrilla group that claimed the attack said it was to avenge the rapper's death.
French launch Central African Republic mission but deaths mount
Reuters / Phuket Gazette
PHUKET: France rushed troops to Central African Republic on Friday but violence between Muslim and Christian militias continued unabated, spiralling into widespread killings of civilians.
Hundreds of soldiers started arriving in CAR from neighbouring countries, hours after Paris was given a U.N. green light for the mission to restore order. French troops patrolled the main roads and warplanes flew low over town.
But residents and rights groups reported waves of killings in neighbourhoods despite major gunbattles easing off. The Red Cross said it had collected 281 bodies from two days of violence in Bangui, but many more had been killed.
The former French colony has slipped into chaos since mainly Muslim Seleka rebels seized power in March, leading to tit-for-tat violence with "anti-Balaka" militia formed by the Christian majority. The violence that began on Thursday was the worst the capital has seen during the crisis.
"This horrific cycle of violence and retaliation must stop immediately," a United Nations spokesperson said, citing cases of rival Seleka and "anti-Balaka" militias raiding homes and killing adults and children. "Civilians must be protected."
In Paris, French President Francois Hollande told a meeting of African leaders that the CAR crisis proved the urgent need for the continent to create its own regional security force.
"Africa must be the master of its own destiny and that means mastering its own security," he said.
France, which halted an advance by al Qaeda-linked rebels on the Malian capital Bamako this year, began assembling a new 1,200-strong force for CAR just hours after winning U.N. backing. The operation was codenamed Sangaris, after a red butterfly found in the country.
Fireman France
"We are grateful to France but it's not normal that it's forced to intervene to save us, like a fireman, 50 years after independence," Guinean President Alpha Conde told the Paris conference, urging the creation of an 'African NATO'.
"What's happening in Bangui, coming so soon after Mali, should make us all reflect and I hope that here we will … give ourselves the means to resolve conflicts in Africa."
Earlier this year, France launched a huge operation to dislodge al Qaeda-linked fighters from northern Mali. But Paris is keen to distance itself from the system of 'Francafrique' where, for decades after independence, it supported authoritarian regimes in return for business contracts.
Despite the French intervention, Friday saw fighting between Seleka Muslim former rebels now in charge of the country and a mix of local Christian militiamen and fighters loyal to ousted president Francois Bozize give way to reprisals in Bangui neighbourhoods and a mounting tally of the dead.
Joanna Mariner, part of an Amnesty International team in Bangui, said she had reports of pillaging and killing in the 3rd district. "The French are patrolling on the main axes, but the city isn't yet secure," she added.
A Reuters correspondent saw 26 bodies in the streets and in courtyards of houses in the 1st district, close to the centre of Bangui.
Officials at Bangui's Hopital Communautaire said wounded people had been streaming in all day. Dozens of bodies had been delivered to the morgue, which was now so full that corpses were being stored in other parts of the hospital.
Pastor Antoine Mbao Bogo, head of the Red Cross in CAR said staff had to stop work as night fell on Friday but the toll was likely to rise significantly when they resumed work.
"Tomorrow is going to be a monster of a day. We're going to work tomorrow and I think we're going to need a fourth day too," he said.
An aid worker in Bossangoa, about 300 km (200 miles) north of the capital, said at least 30 people had been killed there.
Central African Republic is rich in gold, diamonds and uranium but decades of instability and spillover from conflicts in its larger neighbours have kept it mired in crisis.
Gunmen door to door
A resident in the PK12 neighbourhood said Seleka fighters were "going door-to-door". "They are looting and they are killing people. They are calling everyone "anti-Balaka"," he said, asking not to be named for his own safety.
Under France's long-term plan, Paris committed to train 20,000 African soldiers in five years and provide military advisers to the West and Central African regional blocs – where most member states are its former colonies.
But French forces are under pressure to act immediately in CAR. They are due to be at full-strength by Sunday and Foreign Minister Laurent Fabius said they would initially focus on securing Bangui and roads leading to Chad and Cameroon.
They would also deploy with African forces to other towns including Bossangoa, where an African peacekeeper was killed after coming under attack by Seleka.
Highlighting the extent of the challenge facing French forces, the aid worker in Bossangoa, where tens of thousands of people, mainly Christians have fled their homes, said fighting between communities continued there on Friday.
Dieudonne Yanfeibona, a priest at the mainly Catholic mission said: "S
— Phuket Gazette Editors

Join the conversation and have your say on Thailand news published on The Thaiger.
Thaiger Talk is our new Thaiger Community where you can join the discussion on everything happening in Thailand right now.
Please note that articles are not posted to the forum instantly and can take up to 20 min before being visible. Click for more information and the Thaiger Talk Guidelines.